KOA vs. Jellystone Park Camping: Which Offers the Best Experience for You?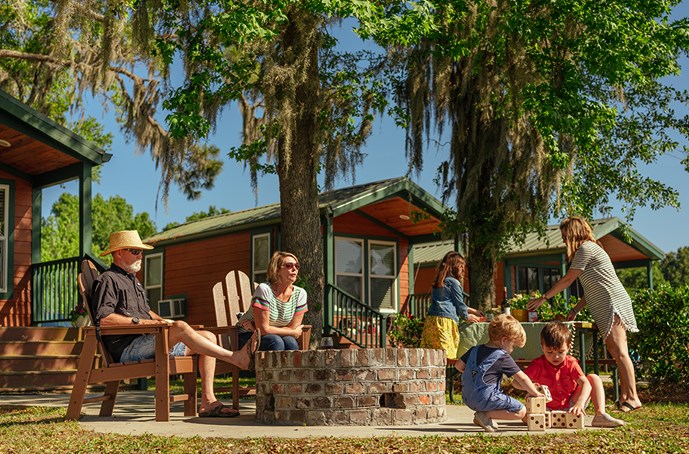 The KOA vs. Jellystone Park Camping Experience
Star-studded skies, scary stories told around a crackling campfire, the perfectly roasted marshmallow — these are the memories that camping adventures are made of. If you are planning a camping trip for you and your friends or family, there is a wide range of camping options across the 50 states and throughout Canada. Two of the most popular campgrounds in North America are Yogi Bear's Jellystone Park Camp-Resorts and Kampgrounds of America.
Jellystone Park or KOA: Which Offers the Best Camping Experience?
Whether you are traveling via RV or setting up your trusty tent, you may need a little assistance choosing between these two camping experiences. Here is a look at a few of the pros and cons of KOA and Jellystone Park so that you can find your perfect camping destination.
Volume of Campgrounds
Both KOA and Jellystone Park have an incredible number of campgrounds. Jellystone has over 75 locations across the U.S. and Canada. However, when it comes to volume, KOA has over 500 campgrounds across North America.
If you are planning to hit up the great national parks and attractions found in the West, KOA is the way to go. The majority of Jellystone locations are clustered in the Central Plains and east of the Mississippi.
Camp Your Way
KOA Campgrounds and Jellystone Parks appeal to every kind of camping enthusiast. Whether you prefer the homey comfort of a cabin, pulling through in your big rig or traditional tent camping, you will find first-rate accommodations at both of these campground franchises.
Jellystone Parks tend to be focused more on their theme park-like attractions and less on camping. For a more classic camping weekend, many KOA locations get you up close and personal with the great outdoors. Are you planning a romantic weekend getaway or just want a more elevated camping experience? KOA offers more luxurious options for glamping as well.
Unique Camping Experiences
Both KOA and Jellystone Parks offer a unique camping experience. When it comes to fun family vacations, these campgrounds ensure your little ones make unforgettable memories. Swimming pools, mini golf, rock climbing walls — while activities vary between locations, both campgrounds are chock full of fun things to do.
The main difference between KOA and Jellystone Parks is the customizable factor of the KOA experience. While KOA appeals to families with kids, that is not the only thing on offer. KOA makes a great option whether you are looking for a casual camping weekend or a destination experience. Jellystone primarily serves family vacationers.
Explore KOA Campgrounds Today
From Maine to California and beyond, if you are searching for affordable accommodations near some of the country's more exciting cities and destinations, look no further than KOA. Our campgrounds are as diverse as the places we are located in. You can plan your dream beach vacation or a rugged mountain escape. Get away with the kids or make it a private weekend for two. The choice is yours.
Explore our incredible campgrounds and start dreaming up your ideal camping experience.