KOA vs. Good Sam Camping: Which Is Best for You?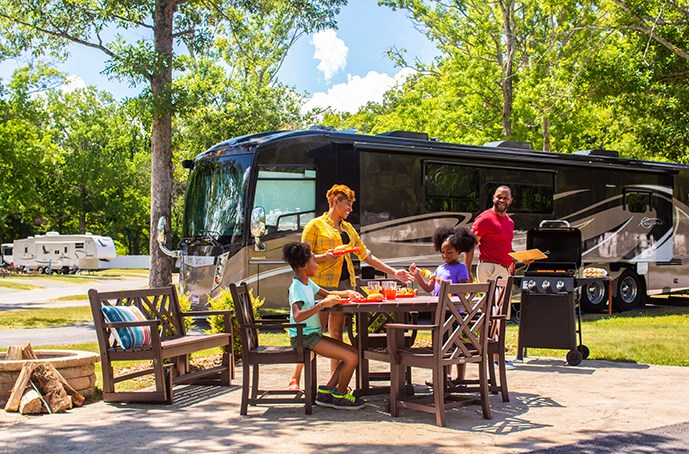 When you love camping, you dream of packing up your gear in your car or RV and hitting the road to find your perfect outdoor oasis. Having a camping membership or discount card gives you peace of mind knowing that you will always find your ideal RV park or campground where you can kick up your feet.
So which RV campground membership or loyalty program is best? There are quite a few options to choose from, but two of the most popular camping memberships and rewards programs out there are the KOA Rewards program from KOA and the Good Sam Camping Membership Club. If you're not sure yet about investing in a camping discount card or membership just yet, KOA may be the way to go as KOA does not require a membership to stay! This is not true of all Good Sam Parks
What Is the Difference Between KOA and Good Sam Camping?
KOA Campgrounds and Good Sam campgrounds are well known brands in the camping world. Both have locations across the United States and Canada. Both feature membership programs that provide guests with discounts. If you are debating between the Good Sam Membership Club and the KOA Value Kard Rewards loyalty program, here are some things to keep in mind.
Discounts and Perks
One of the main reasons to get a camping membership or discount card is special discounts. After just a few uses, it pays for itself. Both KOA Rewards and Good Sam offer benefits for their campers to enjoy, including:
Camping discounts at RV parks and campgrounds.
Exclusive offers from partner companies.
Discounted RV roadside assistance.
KOA Rewards campers, however, get an additional cash savings perk and peace of mind knowing they are getting quality campgrounds with KOA. More bang for your buck! The more you use your Value Kard Rewards, the more points you earn. These points quickly add up to cash off future KOA Campground stays.
Amenities
Whether you choose Good Sam or KOA, it all comes down to your camping experience. Amenities are those little extras that make your stay comfortable and cozy. If you are an avid RVer, you know the importance of RV-friendly amenities like:
Clean and family-friendly surroundings
Level sites
Full hookups with 30- or 50-amp service
Pull-Thru or Back-In RV Sites.
Laundry facilities
Other on-site features and activities
While many Good Sam Parks include these amenities, it is not always consistent. With KOA, however, these basic features come standard no matter which KOA location you choose due to the standards required to be called a KOA cmapground.
Camping Freedom
Good Sam is a membership club that exclusively caters to avid RVers. KOA, on the other hand, extends to every kind of camper. If you ever want to leave the big rig at home and enjoy a Camping Cabin or Tent Site, you can still use your KOA Rewards and all the exclusive benefits that come with it.
You can also camp at any KOA location without signing up for KOA Rewards. That is not true of all Good Sam Parks and the Good Sam Camping Membership Club.
KOA Rewards
If you and your family enjoy camping, even just a few times a year, then KOA Rewards may be the perfect option for you. For a low annual fee, you will enjoy discounted daily camping rates, reward points, free stays during our KOA Rewards Appreciation Weekend and tons of other special deals and coupons from KOA and their partners. While not a traditional camping membership, like Good Sam, your KOA Rewards soon pays for itself.
Explore our more than 500 KOA Campgrounds across the United States and Canada to discover your next great camping adventure.