Are you interested in camping at scenic state parks or friendly campgrounds in your recreational vehicle? If so, it's important to know how to measure your RV trailer's length. RV companies usually tell you the vehicle's length, but this number may only be for the interior length. You may also add various pieces of equipment and accessories to your RV, making it more critical to measure its length on your own.
With this guide to assist you, you will know how to measure the length of your fifth wheel RV or travel trailer and adhere to campground guidelines.
Key Terms to Know Before Measuring
The first step to understanding how to measure the length of your RV is knowing several critical terms behind this process, including:
Interior length. This term refers to the length of the living space inside. This RV length measurement goes from the front to the back wall inside the vehicle.
Exterior length. The exterior length of your RV is the outside length of the vehicle, from the back bumper to the trailer tongue.
Overall length. This measurement encompasses everything, from the accessories to the truck in cases where you own a towable RV. Consider taking two overall length measurements — one with the hitch and tow vehicle and one without — for situations when they may come in handy. For example, you may visit a campground that requires you to keep your tow vehicle attached.
Length of usable space. This phrase refers to the area available on a campground for an RV.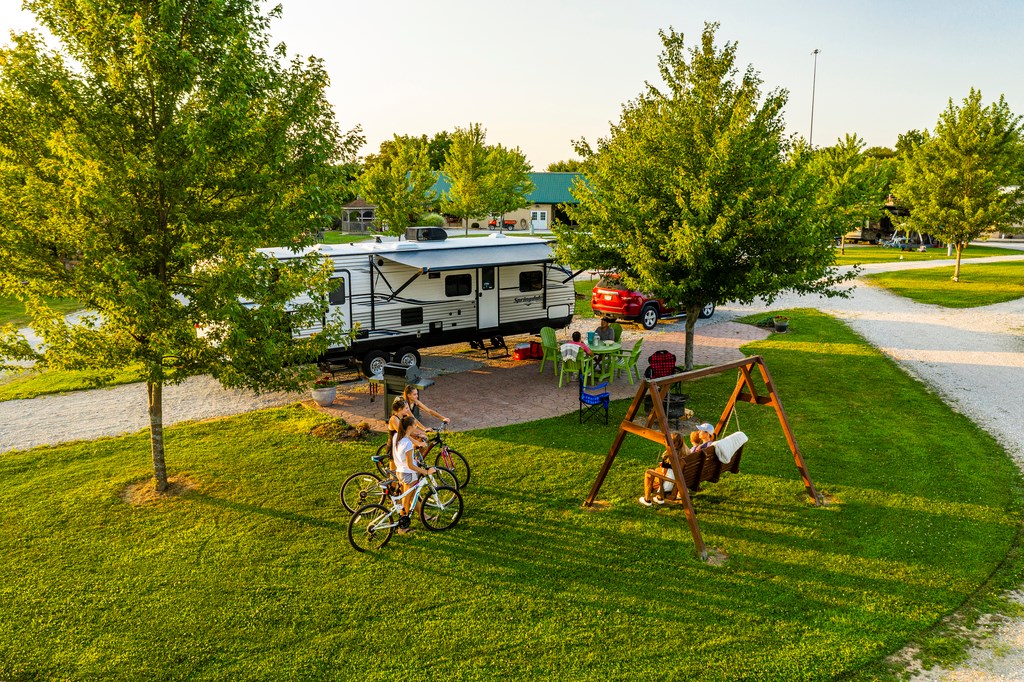 How to Measure RV and Equipment Length
It is time to dive into measuring your camping trailer's length. While this process may vary based on the type of RV you have and what measurements you are looking for, here are several key elements to keep in mind:
Gather your equipment and tools. When preparing to measure your RV, find an accurate tape measure long enough to span the entire length of the vehicle. You should also attach everything you will be taking on your camping trip, such as external storage units, add-on storage racks or propane tanks.
Measure various lengths. Some campgrounds have varying requirements for RV space, so it helps to take several measurements to prepare for all possibilities. For instance, if you have a fifth wheel, you should take measurements with and without the towing vehicle. Measure the trailer from the back bumper to the tip of the tongue jack, and add on the accessories or tow vehicle separately.
Ensure the measurements are accessible. Once you take the time to measure your RV, keep the measurements on hand for reference. Consider writing them down in a notes app on your phone or a sticky note that you attach to your dash. You could also write them on your RV manual to store with other important documents in the vehicle.
If you have a short tape measure, you can find the length of each half of your RV and add the two numbers together. You can also ask a friend or family member to help you measure the vehicle, as keeping the tape measure still on your own can be challenging.
Importance of Measuring Equipment Length Before Camping
Measuring your RV before you go on a camping trip is essential for several reasons, including:
Finding the correct measurements. RV manufacturers often list the vehicle's length, but it may not be the measurement you are looking for. To ensure you know how long your RV is with the accessories attached, you should measure the vehicle yourself.
Picking the correct route. Longer RVs may have more difficulty with tight corners and winding roads. Measuring your equipment length will help you choose the best path to the campground you visit.
Knowing where you can camp. The size of your RV plays a significant role in determining where you can camp, as many campgrounds have space restrictions. Correctly measuring, and sharing, your RV and equipment length will ensure you're a good camping neighbor and guest. The shorter your RV is, the greater chance you have of camping in certain areas. You want to avoid reserving a stay at a site too small for your RV.
Choosing the right RV. Measuring your equipment can be helpful before purchasing your RV, as longer options may be too heavy for your vehicle to pull if you are buying a towable structure. Also, knowing the length requirements of the parks you want to visit can help you select an RV that is an acceptable size.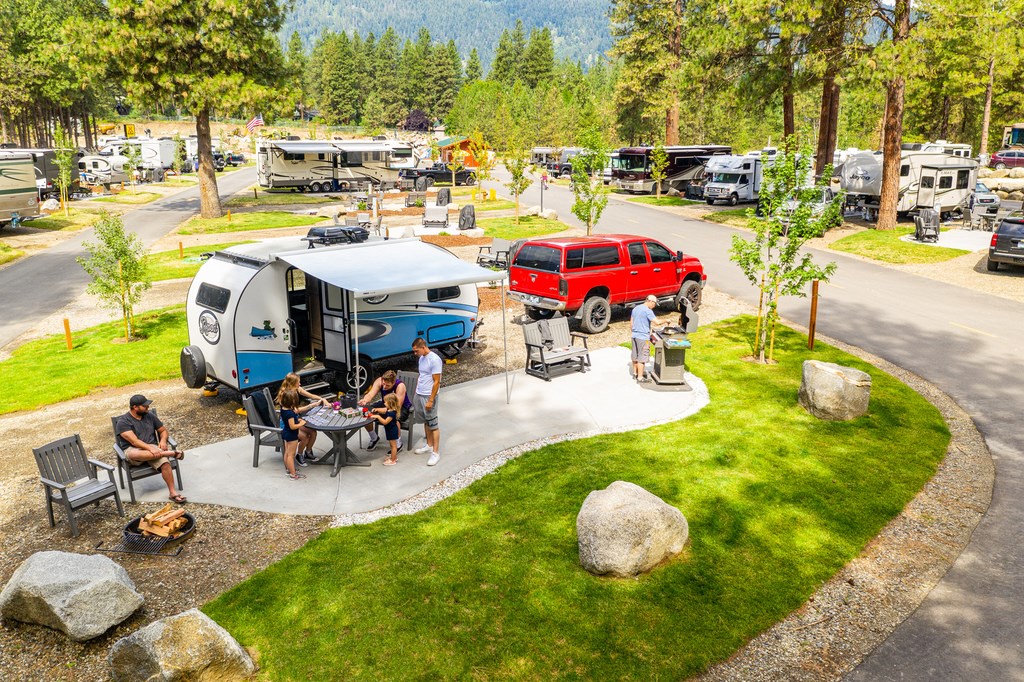 Tips and Tricks
Knowing your RV's length measurement is critical for camping successfully, whether you own a Class A, Class B, Class C, fifth wheel, travel trailer or another vehicle option. Here are some helpful tricks to keep in mind when measuring your vehicle's length:
Choose a smaller RV. While larger RVs offer more space for your comfort, many National Parks have sites with limited space. To ensure you can camp wherever you please, consider buying an option that fits in more areas.
Plan the trip in advance. Before traveling to a campground, call ahead and ask about its rules concerning RVs. Some may have a separate parking place for your tow vehicles, while others may require them to stay connected. Planning your adventure ahead of time also allows you to pick the best route based on your RV's length.
Reserve a site. RVing is more popular than ever, with 2021 bringing in two million new RV renters. You will benefit from reserving a site, especially if you have a larger RV, to confirm you have a place to stay. Early reservations are especially important near popular vacation spots or during busy travel seasons.
View the site online. Sometimes, a campground may list a site as a certain size without accounting for trees or rocks surrounding it. Check the space in advance to ensure your vehicle will sit comfortably in the designated area. You can also check if the site may be bigger than advertised, in which case you can park a larger camper there.
Planning Your Camping Trip to Kampgrounds of America? Measure Your RV Length Before Booking!
KOA offers many campgrounds near scenic locations that allow you to have exciting adventures in the great outdoors. Many sites available have RV capabilities, but the open space may vary. Before booking your trip at one of the locations across the U.S. and Canada, consider measuring your RV to ensure plenty of room.
When you camp at a KOA Campground, you may benefit from amenities such as back-in and pull-thru Rv Sites, full sewer hookups, knowledgeable staff members and more, depending on the location you choose. Want to experience the benefits of KOA for your next camping trip? Find a KOA by state or province today, and get the resources you need for your next fun trip!
---
About the Author: Kampgrounds of America
Kampgrounds of America is the largest system of open-to-the-public campgrounds in the world, with over 500 locations across the United States and Canada. Founded in Billings, MT in 1962, KOA's family of campground brands – KOA Journey, KOA Holiday and KOA Resort – today serve more than a million camping families each year. KOA is dedicated to "connecting people to the outdoors and each other" by providing people with a variety of camping experiences and the information they need to make the most of their camping trip. Read more of their camping and travel resources by visiting KOA.com/blog.
---