One of the best parts of RV travel is the ability to take your pets on the road. But the road can also mean unexpected hazards for your fury friend. Here are our tips to maximize comfort and safety for pets in your RV.
No matter how wonderful the beach vista or breathtaking the mountain scene, vacations can get old quick when you leave your pet at home. Though you might be having a wonderful time, sometimes you miss your dog or cat enough to want to end your vacation a few days early.
If you're a pet lover, then you get this dilemma. You want to get away—but not from your furry family member! That's what makes RVing so ideal. You can get away from home in a space that feels like home to you and your pet.
Traveling with one or more pets can be just the solution you need for a getaway without missing them dearly. To do so successfully takes a bit of forethought into comfort and safety.
Pets on the Road
While your RV may feel like your house on wheels, it is still a vehicle, so a loose pet is neither safe nor comfortable. They will definitely feel nervous if they are being jostled. Create a safety standard for your pet by deciding how they will be secured anytime the wheels are moving.
You can use a crate with a comfortable cushion or familiar-smelling blanket. Secure the crate so that it doesn't slide around with sudden stops or starts.
An adjustable harness that snaps into your existing seatbelt will allow your dog to sit up or lie down on the seat, but they won't be able to roam about or interfere with your driving.
A pet car seat, also known as a car booster, keeps them safe while also elevating smaller animals enough to see out the windows.
Using adjustable window shades or blinds on your RV windows can enhance your pet's travel experience. Just like humans, they can get bored easily. Raise the blinds or shades so your pet can easily see outside and lower them when the hot sun becomes too much as you cruise down the road.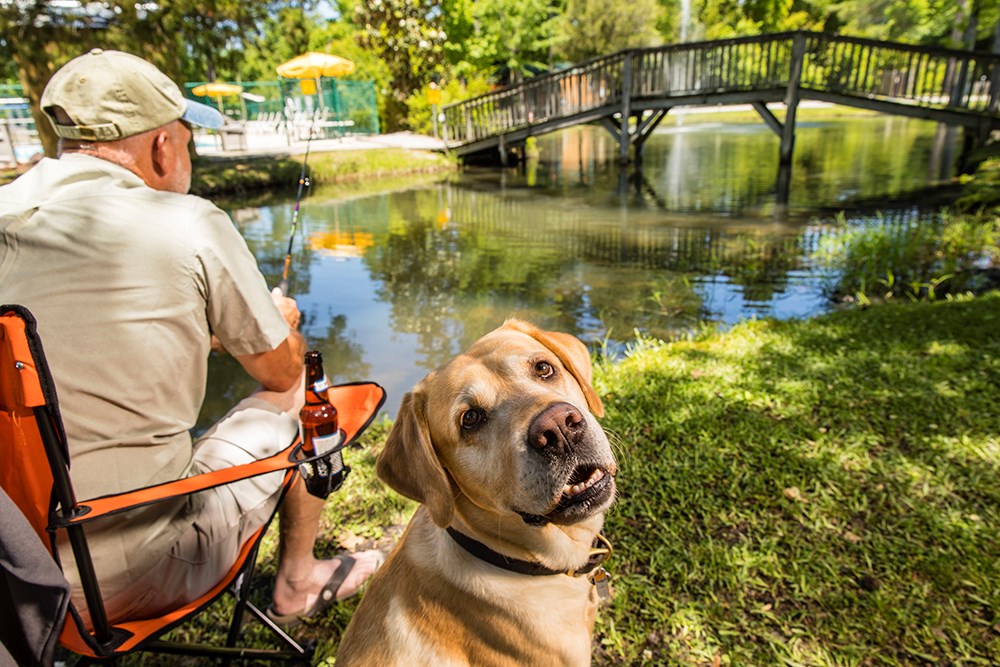 Sightseeing Without Your Pet
As you travel, you are bound to want to try out a restaurant or tour a museum that doesn't allow pets. There are many ways to make sure your pet stays comfortable and safe if you need to leave them in your RV. Just like a regular car, you can't close up your pet inside the RV and go about your day unless you are sure they can stay cool. If it is 80 degrees outside, temperatures in a closed car can climb to 114 degrees in just 30 minutes.
Before making plans for the day, start by checking that your campground allows you to leave an unattended pet. If they do, then it is better to plan a few shorter outings with breaks to return to check on your pet, walk them and visit with them. If you need to be gone for a long time, consider finding a local doggie daycare or hire a dog walker to check in regularly. Either way, these tips will help keep temperatures cool when your pet is in your RV.
If possible, choose a campsite offering some shade.
Take advantage of your window shades or blinds. Lower them to block the hot rays of the sun. Use the tilt wand to adjust the light so the RV won't be dark but the heat will be reflected. Swapping your existing window treatments for outdoor or patio shades can reduce up to 90 percent of UV rays coming inside.
If the weather is cool, open the windows, lower window shades on the sun side and run the vent fan.
All dogs can get too hot, but certain breeds (like those with thick, fluffy coats or a snub-nosed snout) are particularly susceptible to heat stroke. Invest in a smart dog collar that monitors your dog's temperature and sends updates to your smartphone. The heat sensor will inform you if your pet is getting too hot or too cold so that you can get back to your pet and solve the problem.
Running the air conditioner is great, but not foolproof—just one brief power outage can send temperatures soaring. Have a generator ready as a power back-up. Test it beforehand to make sure it works.
Equip your RV with a remote thermostat. You'll be able to keep an eye on temperatures through an app on your phone.
Add a smart pet camera so you can check on your pet remotely.
Always provide access to plenty of water.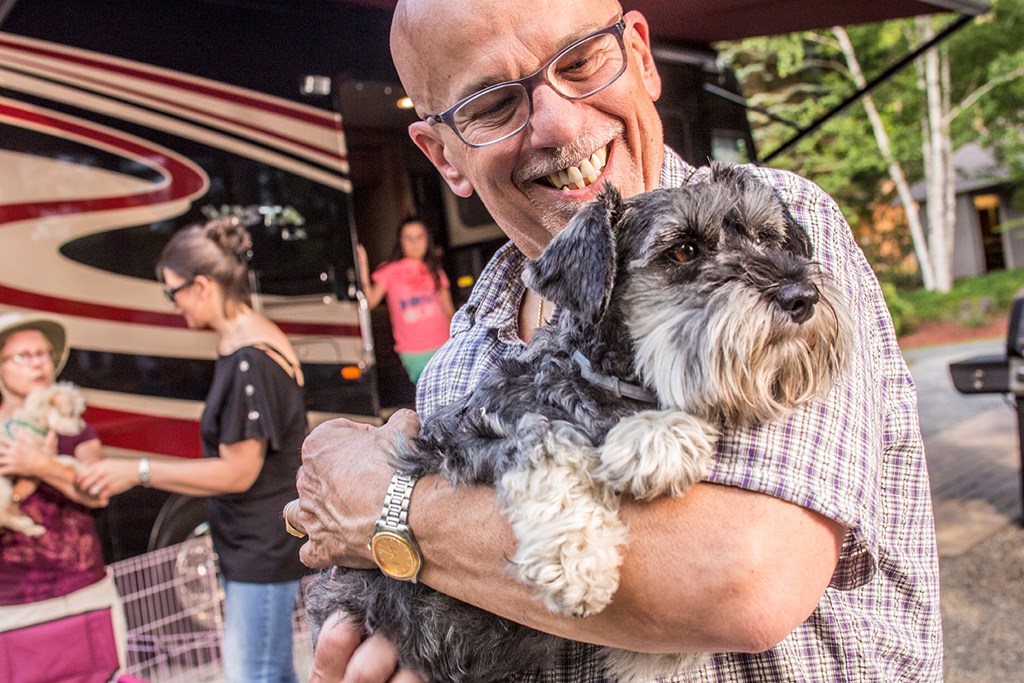 Out and About With Your Pet
Before you head out to explore with your pet, check out some of the pet-friendly apps for your phone. These databases will help you find things like the nearest dog park, pet-friendly restaurants with outdoor seating and dog-friendly campgrounds. Then, use these tips to keep your furry friend safe and secure on your adventures.
Always keep your pet on a leash.
Make sure your pet is wearing a collar or harness with identification tags that include contact numbers.
Invest in a tracking collar equipped with a GPS. These collars will allow you to follow and track your pet should you get separated from them. This is especially important when traveling. After all, in an unfamiliar area, your pet cannot find their way home.
Keep in mind that having microchip identification inside your dog and using a GPS collar is not duplication. They perform different tasks. A chip in your pet will help someone reunite you with your dog if you've kept the chip database up-to-date with your contact info. However, a chip will not help you in your hunt to find your missing dog, while a GPS collar will track and locate your dog's exact location.
Getting Ready to Go
Once you've considered all the safety factors, you are ready to pack your pooch or kitty into the RV. Just like a person, they require a lot of things, from nail clippers to toys to medications. Create a master packing list just for your pet. Be sure to include a copy of their medical records just in case they become ill. Don't forget to consider where your pet will sleep and pack their crate or favorite bed so they will have a home away from home.
---
Abigail Sawyer is a Senior Social Media Specialist for Blinds.com. She's a home improvement junkie who is currently restoring a 1972 cottage with the help of her husband and her goldendoodle, Biscuit. Abigail writes on a variety of décor topics, from household cleaning tips to finding blinds for your mobile home. You can find a wide variety of RV-ready window shades on the Blind.com website to keep your furry friend cool this summer.
---