8 Tips for Introducing Your Kids to Camping
For many of us, the first time we ever went camping is an unforgettable memory. Creeks and lakes to play in, a campfire to help build, and struggling to fall asleep in your tent due to the excitement are all elements of many first experiences in the great outdoors. So when you have children, it can be really exciting to give them that same opportunity — especially since you'll be there to experience it with them.
You want their first camping trip to be as fun and hassle-free as possible, and these handy tips for prepping and camping can help ensure a wonderful time for the entire family. Follow them and you'll help everyone make lasting memories they'll want to pass down to the next generation.
Before You Head Out On Your First Camping Trip
1. Do a Trial Run
It's always a good idea to do a quick setup of your tent and essential gear to make sure it's ready for the trip. While you're at it, why not give your kids a small sample of the camping experience? Younger kids may be worried about sleeping outside, or just concerned about being away from home, so treat your backyard as their first campsite.
Give them an opportunity to sleep in their tent, with their sleeping bags and flashlight. If they don't have siblings, suggest they try camping with a friend. This way, if they do get worried or there are technical difficulties, you're close to home. When they do get to the campsite, the experience won't seem so unfamiliar.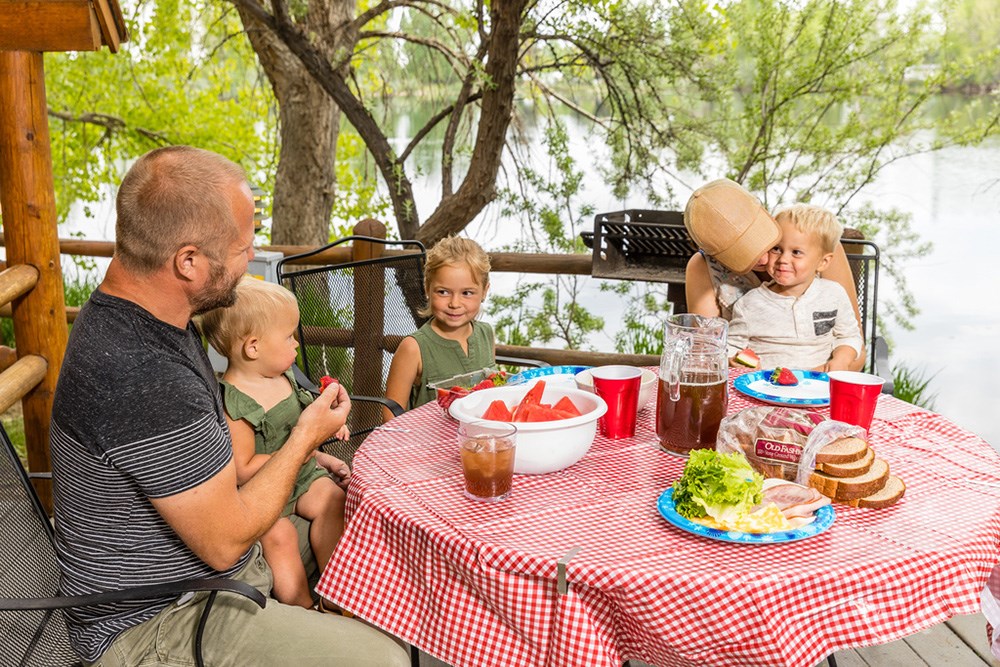 2. Locate Vital Resources
You likely have a spot in mind for the big outing. But do you know what's nearby that could come in handy, or in an emergency? Research the area and find out the closest grocery stores, gas stations and any other necessities to make sure you can respond to any need that could arise. KOA stores offer many necessities, so you won't have to go far if you realize you've forgotten something at home.
3. Think Comfort
You and your partner may have become accustomed to roughing it, but for children new to the experience, provide an extra level of comfort. Bring pillows they like and find a sleeping pad that will keep them from feeling every bump on the ground. Maybe even get them a cot or air mattress.
4. Bring Entertainment With You
While the outdoor experience has nearly limitless fun available, younger children may also want familiar activities and entertainment. Pack some of their favorite toys — especially ones that are suited for the outdoors. Get them away from their screens! What about some water guns? Maybe a soccer ball or a football. You can do arts and crafts, drawing or other creative activities outdoors. One especially fun, inexpensive option is to give them magnifying glasses and lead your kids on an exploration of the area.
While You're at the Campground
1. Encourage Them to Help
Show kids how setting up a tent works and have them hand you tent poles, or hold guide ropes and stakes. Have them help collect kindling for a campfire. Give them tasks that will be fun and easy, but also allow them to feel like they get to be responsible for the good times ahead.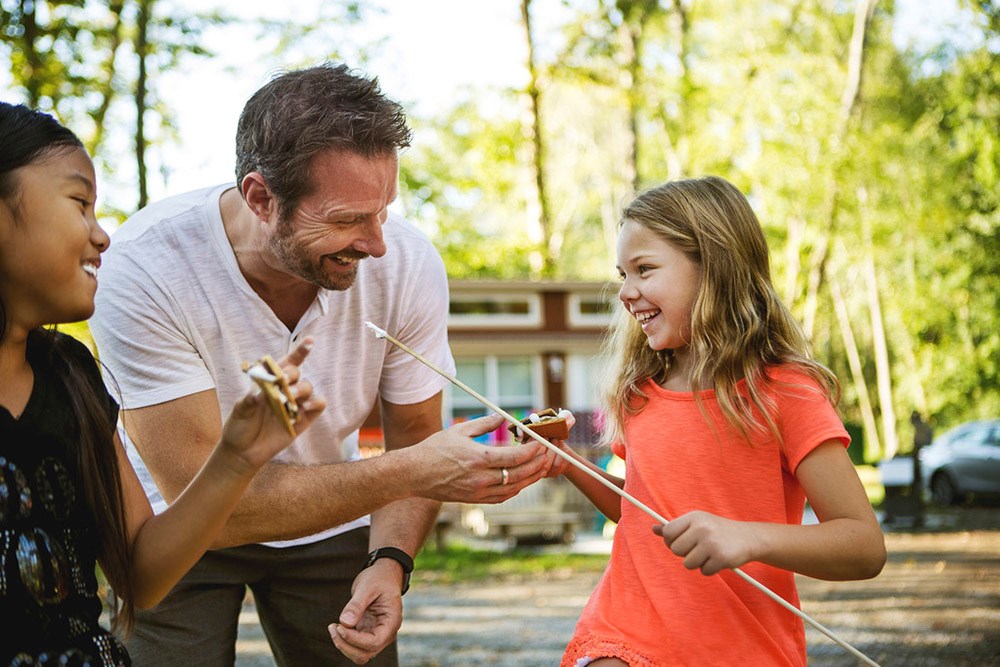 2. Make Safety a Priority
Oftentimes, a camping trip can mean a close proximity to new or unfamiliar hazards. A fire can be really exciting, and kids will want to toss sticks in to keep it burning. They may also show interest in some of the new camping tools around the campsite.
A safety talk should accompany any element of camping that could be potentially hazardous. Don't admonish or scare your kids, as you don't want to make them afraid of camping, but use each occasion as a talk about staying safe and being responsible.
3. Food Stays in the Car
Camping can often be a break from rules about sweets or snacking, which is great — the trip can be a vacation from some rules as well as their home. But explain about animals who make their home outside, and how fantastic their sense of smell is. Let them know they don't need to be afraid of most animals, but also that it's best not to encourage them to wander into the campsite in search of something tasty.
4. Instill a Love of Nature
Give them a chance to really appreciate the environment they're in. Teach them to follow "leave no trace" rules, having them pick up trash and dispose of it properly. Talk to them about how delicate the environment is and how little decisions can make a big difference to the plants, animals, water and air around them. By raising responsible campers, you'll be doing a wonderful favor for your children as well as the world around you.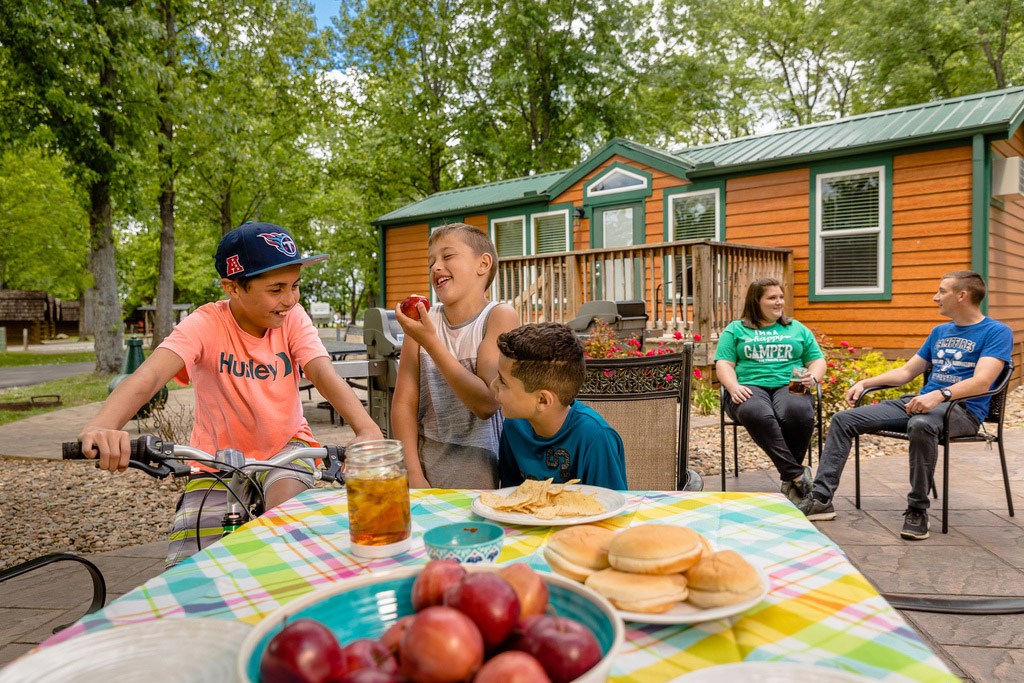 Looking for a Great Place to Take Them Camping?
With 500 locations across the United States and Canada, there's a perfect KOA for you and your family to create some unforgettable memories. And with opportunities to hike, fish, swim, play mini golf and tell tales around a campfire, everyone in your family is guaranteed to have as much fun as they can handle.
KOA also offers great lodging options for new campers, including clean and level Tent Sites, RV Sites, Camping Cabins, Deluxe Cabins and many more! Cabins can be the perfect option for easing children into camping and provide convenient features that take stress off of parents. For example, Camping Cabins and Deluxe Cabins offer beds and electricity, and Deluxe Cabins also feature a private bathroom.
Discover a great camping location and book your next camping adventure. Our friendly, passionate staff is waiting to help you make the most of your experience. We can't wait to see you!
---