Our guide to the best sites in and around Great Smoky Mountains National Park.
As one of America's most-visited parks, Great Smoky Mountains National Park is bound to impress. But visiting a national park requires a bit of planning: knowing which hikes are worth the hype, where to find a good scenic drive, and what lesser-known spots to explore can make the difference between a great trip and a life-changing adventure. Plus, with both Gatlinburg and Pigeon Forge (both wildly popular tourist cities) nearby, there are so many options for accommodation, food, and fun that sorting through everything can be almost daunting. Here's our guide for first-time visitors looking to experience the wonder and majesty of the Smokies.
---
Ah, the Smokies! There are tons of reasons why this park is so popular. For starters, it's beautiful year-round, with wildflowers in the spring, fall foliage in autumn and a special snowy peace in the winter. Late summer is probably the best time to visit; the weather is consistently nice, there's no risk of roads or spots being closed and crowds are a bit thinner than earlier in the season. Another reason the Smokies are beloved by all? It's free to visit! Plus, there are easy hikes, harder hikes, scenic drives, historic sites, waterfalls, mountains… it's basically got everything you could ever want, all in one amazing place. There are lots of visitor centers, bathroom facilities, and roads as well, making it easy to get around.
Tip: Make a point to arrive at the park early at least one morning. It'll be less crowded, and you'll get to see why they're called the "smoky" mountains.
Not far from Gatlinburg, The Sinks are natural pools of crystal clear water created by a unique bend in the Little River underneath a turbulent – and beautiful – waterfall. About 20 minutes for the Sugarland Visitor Center an easy walk down a concrete path leads to a perfect spot to enjoy the fresh mountain air, the sound of water babbling down the rocky falls and some peace and serenity. The best part? The Sinks is one of the more hidden natural attractions in the busy park which makes it perfect for a break from the crowds.
Tip: There are signs posted discouraging people from swimming, even though some people do. It's very rocky and the water is very strong!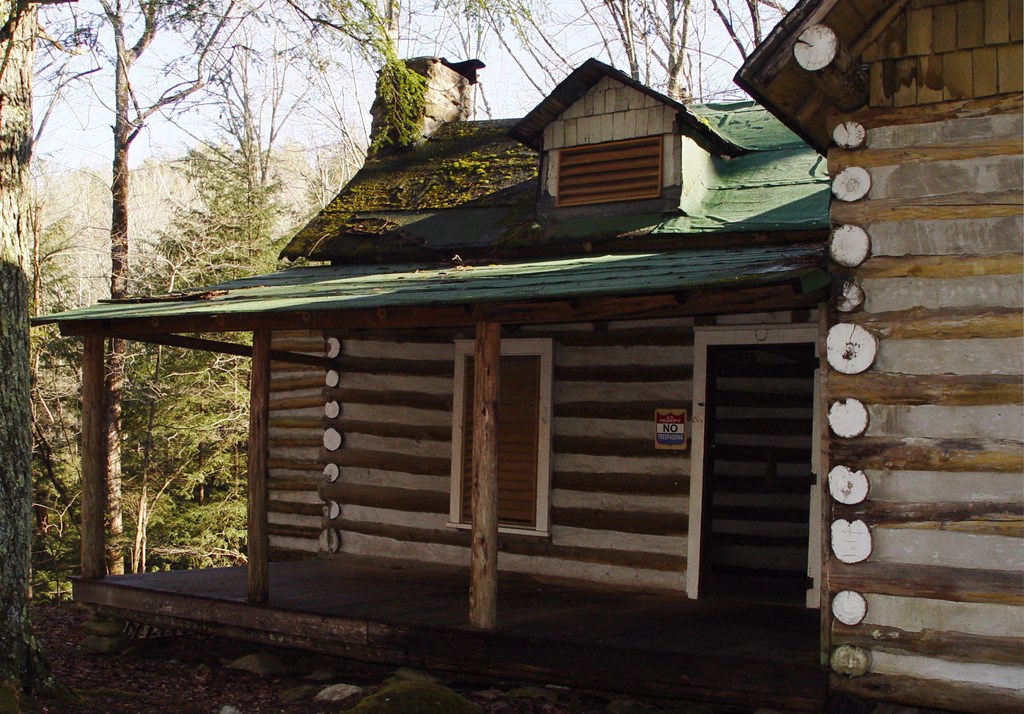 One of the coolest spots in the park has to be Elkmont, the Smokies' own ghost town! An abandoned former resort and community set back in the forest, it's an absolutely mesmerizing, and slightly creepy, spot to visit. Poke around the rows of ramshackle cabins, walk around the remains of the railroad tracks, even explore Elkmont's former city hall building and the old clubhouse, with its stone fireplaces still intact. It's a photographer's dream, and an experience that will definitely stick with you during your adventure through the park.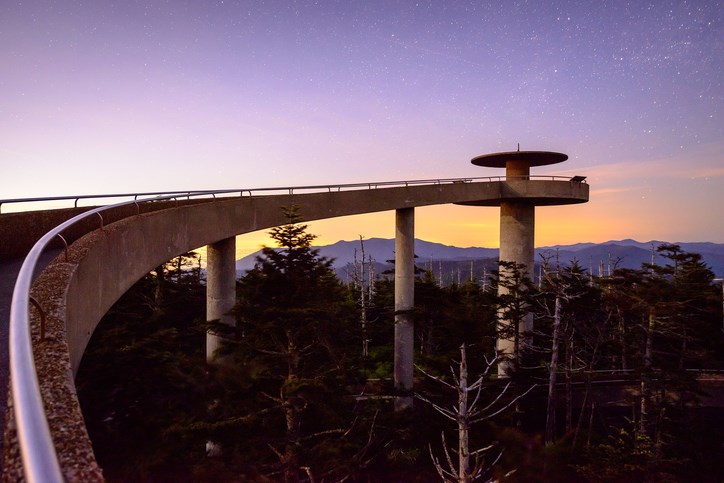 For the best view in the whole park, head to the observation tower atop Clingmans Dome, the tallest peak in the Great Smoky Mountains. On top of the 6,643 foot mountain is a 375-foot spiral ramp that leads to a covered deck that offers 365-degree panoramic views of the surrounding mountains. On clear days the impressive view expands over 100 miles (don't worry, even on a bad day you'll be treated to 20 miles of scenery). Be sure to check out the visitor center at the top for even more great info.
Tip: The hike all the way up the mountain is a little intense, but you can drive to the top… it's a short walk from the parking lot to the observation tower!
If you're looking to view wildlife, Cades Cove is a must-stop in Great Smoky Mountains National Park. Home to white-tailed dear, ground hogs, turkeys, coyotes and even the occasional black bear, this rich valley offers some of the best opportunities for animal sightings in the park. An 11-mile, one-way road looping around this verdant valley offers motorists a leisurely sightseeing opportunity. Along the way, there are three churches, a working grist mill, barns, log houses and other painstakingly restored eighteenth and nineteenth century structures give visitors the chance to explore the rich history of the area.
Tip: One lane means traffic can get kind of slow. Arrive early in the morning, enjoy the scenery, take advantage of the stops and maybe grab some snacks from the store at the campground.
There's definitely no better way to get that classic Smoky Mountains experience than by staying in a cabin. The Townsend / Great Smokies KOA Holiday has plenty of cozy cabins, including amenity-filled Deluxe Cabin, that you can reserve. Other guests will enjoy tent and RV sites for a more traditional camping experience. All the sites come with campfire rings, so remember to pack s'mores ingredients or pick some up in their camp store! It's an especially great stop for anyone traveling with kids since they have a pool, a playground, an arcade, cable and wifi. Swimming, tubing, and fishing on the river are added bonuses.
Tip: This KOA has a killer ice cream and fudge shop right on site.
For a mountain view like no other, a stop at this roadside attraction is a must. The Smoky Mountain Alpine coaster is the longest in America, at over a mile, and the downhill track takes 7-8 adrenaline-pumping minutes to complete. Since you're on a sled, you get to feel the air rushing in your hair and take in the natural setting as you fly along the track on your sled at 27 miles per hour. Grab a friend and hop on for the rush of a lifetime!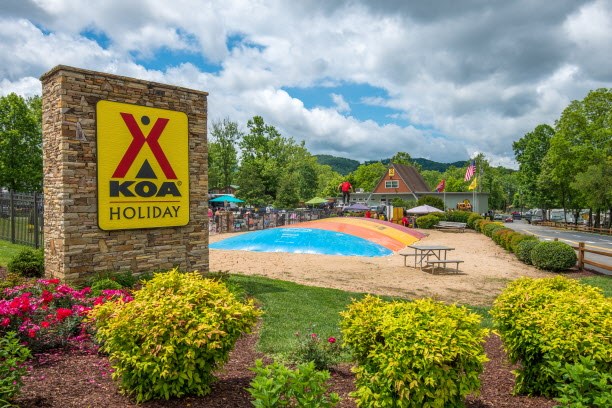 Located on the Little Pigeon River in the heart of Pigeon Forge, this KOA campground sits at the foothills of Great Smoky Mountains National Park. From waterfront spots for tenting to Patio RV Sites, Pigeon Forge / Gatlinburg KOA Holiday has something for every type of camper. While planned activities, a zero entry seasonal swimming pool, fun train, yard games, outdoor cinema, onsite cafe and more will keep you entertained on the campground, it's close proximity to attractions like Dollywood mean lots of fun off the campground, too. They even offer a concierge desk to help you plan! This KOA makes enjoying the fun to be had in Pigeon Forge easy.
Pigeon Forge is a kitschy town that has tons of fun (and sometimes slightly ridiculous, in the best way possible) restaurants and attractions. Goats on the Roof is a little place that is most famous for (you guessed it) the goats that live on the roof. Buy a little can of goat feed, then use their "goat cycle" to haul it to the top, where the animals chow down on the snack. But there's more than just the odd goat, here you can also mine for semi-precious gems, snack on homemade ice cream and fudge while relaxing on their porch swings, ride on their "goat coaster" and, of course, pick up some fun, goofy souvenirs.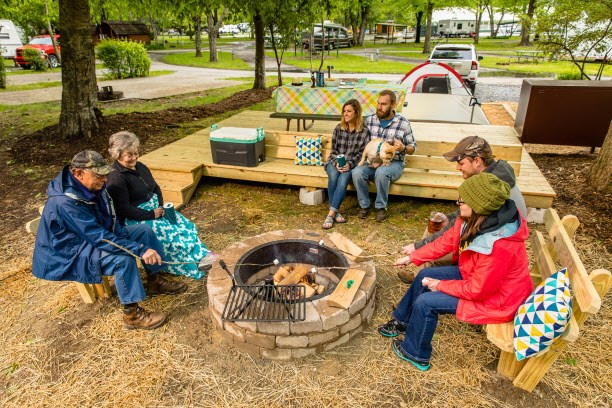 Another option for accommodations on the far side of the park is the Cherokee / Great Smokies KOA. In a quieter location in Cherokee, North Carolina, this campground offers loads of amenities. Indoor and outdoor pools, a hot tub, a waterslide, mini golf, fishing, a bouncy pillow, an outdoor cinema for family movie nights and tons more mean an exciting stay filled with fun. They can accommodate RVs and big rigs up to 136 feet long, and have hundreds of tent sites and loads of cabins… some of the cabins have spots right on the river, and there's even a designated "quiet cabin" in a more secluded spot.
Tip: They have a pet walk, which is perfect for anyone who wants to travel with their furry friend!
One of the most popular places in a town filled with restaurants has to be Gatlinburg's Pancake Pantry. This breakfast/brunch/lunch joint specializes in (what else?) pancakes, serving up 24 different flavors of flapjack. Buckwheat, cornmeal, Swiss chocolate chip, blintzes, silver dollar-sized, Swedish, Austrian, crepes and pigs in a blanket are just a small sample of the many menu items. Don't let the name fool you, however, they also have omelets, burgers, sandwiches and waffles (including a mouthwatering bacon waffle). No matter what you order, you're sure to enjoy the friendly service and down-home cookin'.
Tip: The huge menu might be overwhelming, so allow us to make a suggestion: Sweet potato pancakes
---
With so many things you can see and do, a visit to the Smokies can be overwhelming. Finding the campgrounds that best fit your budget and needs, the restaurants that match your flavor, the spots that will be the most fun for you, and the spots in the park that get you the most excited mean you can make the very most of a trip. Exploring Great Smoky Mountains National Park is the opportunity of a lifetime so go all in and make it count!
---
This article appears courtesy of Roadtrippers.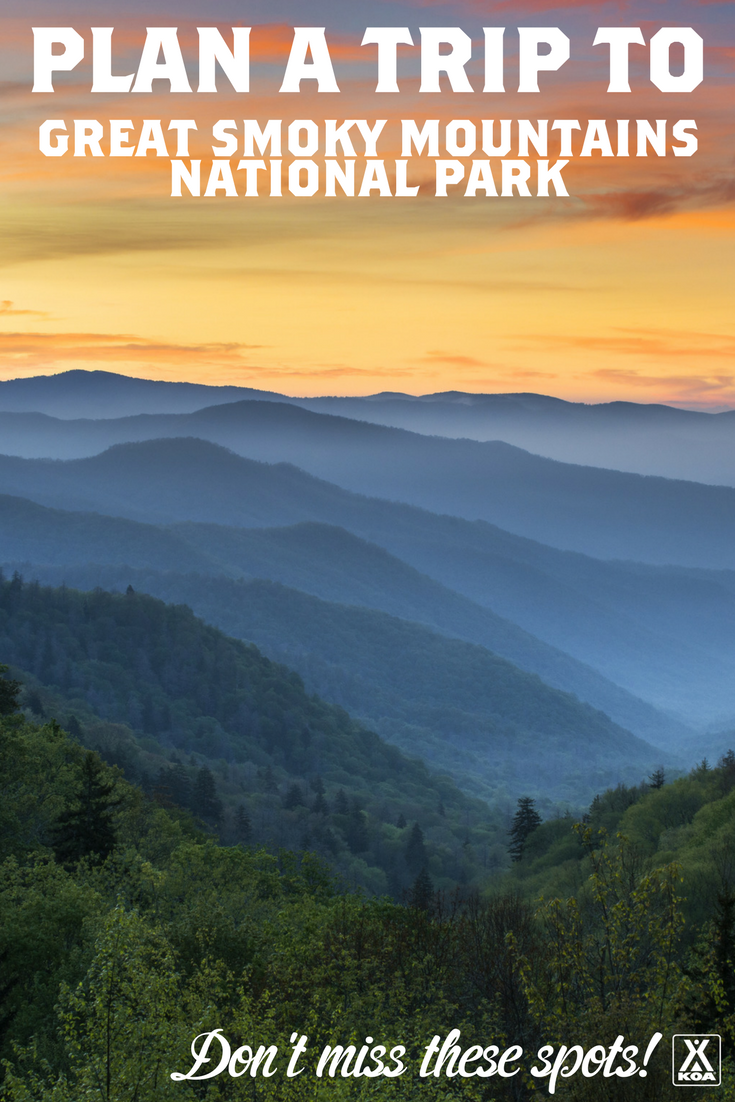 Save