Football season is here, so fire up the grill — it's time to go tailgating.
As any seasoned fan knows, tailgating is a great way to enjoy the game. You don't have to worry about buying tickets or any potential stadium closures we may face this year — and what's better than the company of friends and family while you cheer for your favorite team over a burger and brat?
But as you get your tailgating setup ready, don't forget about the most important part: the game itself. Make sure you can catch your favorite teams in true HD and on the big screen while not breaking the bank.
Also, keep in mind not all tailgating happens in the stadium parking lot. Whether you're on a cross-country road trip in your RV, or if you're camping for the weekend, you'll want to catch all the action wherever you are.
That's why you should get DISH Outdoors, the best option for watching the game on the go. They have reliable service that works anywhere, flexible programming options and a wide range of accessories and features.
Why You Should Consider DISH Outdoors for Tailgating
HD on the Road
Whether you're tailgating, camping or RVing, it can be tricky to get a crystal-clear HD picture. That's because most people use the Wi-Fi at the campground/stadium or their phone's data to stream the game. Problem is, these signals usually aren't strong enough to support any streaming at all — and especially not HD streaming.
You won't have that issue with DISH Outdoors. Because with a portable satellite antenna, you'll have a crystal-clear HD picture no matter where you go. Plus, you won't have to watch the game on your phone. After all, big games deserve the big screen: catch every sack, pick six and touchdown right on your TV.
The TV You Want, When You Want it
If you're getting a TV service for travel, then you want it to be flexible. Travel plans change, so you may not need the service for as long as you thought, or maybe you just want it for the football season.
DISH Outdoors has flexible programming options that are perfect for RVing and tailgating. There are no contracts, credit checks or commitments, and you don't need DISH at home to get DISH Outdoors. They also have monthly pay-as-you-go options to fit any budget. So you'll only pay for the months you use, and you can pause the service for as long and as often as you need.
Only need it for a two-month road trip? Then only pay for those two months. Only want it so you can tailgate during football season? Go for it.
But what if you already have DISH service at home? Simple. It'll be $5/mo. for DISH Outdoors and you can still pause the service whenever you want.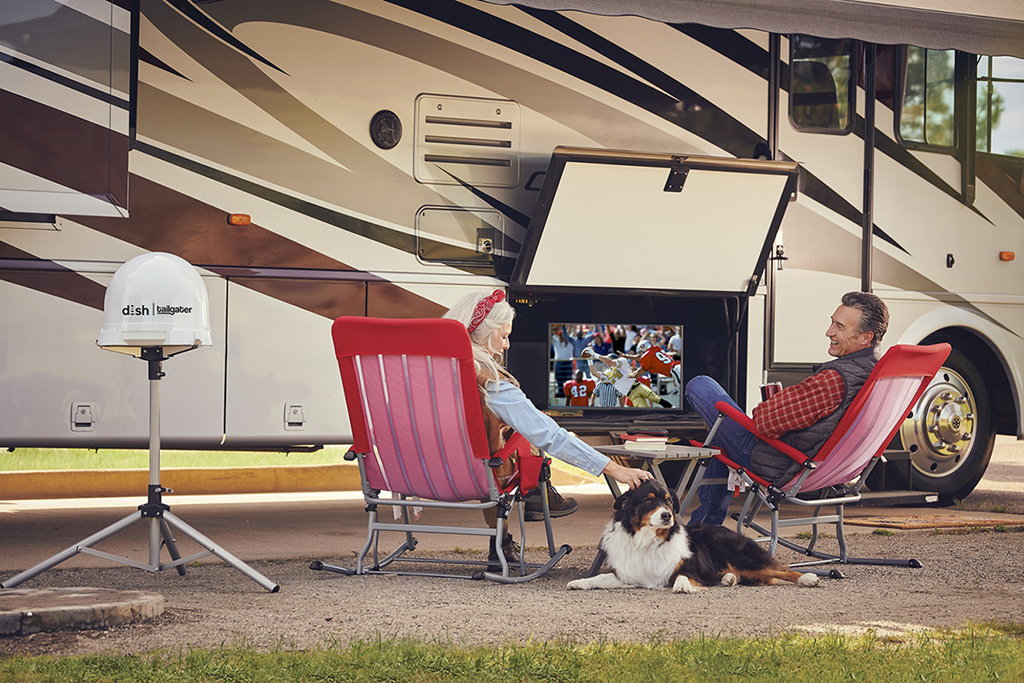 Tech That Won't Slow You Down
When you're traveling or tailgating, space is precious. You don't want to lug around heavy, bulky equipment. With DISH Outdoors, you won't have to.
They have a variety of antennas you can choose from and each one is designed to be compact, rugged and lightweight — so they're easy to take with you wherever you go. Also, they're quick and easy to set up, making them perfect for catching a signal on the go.
Then the antenna pairs with the Wally Receiver, which is the smallest and fastest mobile receiver — so you can start watching the big games and must-see rivalries across the league right away!
TV Made for You
Everyone travels and tailgates a bit differently. That's why DISH has a suite of accessories so you can customize your setup based on your needs. Also, let's be honest, it's the accessories that make your campsite or tailgating setup the one to beat.
Afraid you might miss the game or show? Maybe you're going to be roasting s'mores with your family or going on hikes — or maybe two of your favorite teams are playing at the same time. Whatever the case, upgrade to a DVR and record up to 100 hours of HD content to enjoy anytime.
Have some great Bluetooth devices like wireless speakers or headphones? Never fear. You won't have to leave them behind. The DISH Outdoors receiver is compatible with Bluetooth, so you can have crisper, louder audio.
Do you use apps such as Netflix, Pandora, and The Weather Channel? Watch On Demand movies? Good news. All of these apps and features come with the DISH setup. You'll just need to be connected to Wi-Fi to use them. No worries, DISH makes that part easy. They have a Wi-Fi adapter that connects to mobile hotspots or Wi-Fi networks, so your apps integrate seamlessly into your TV.
Special DISH Outdoors Offer for KOA Campers
Whether you're camping or tailgating, you shouldn't compromise. Get the best in TV as you travel with DISH Outdoors. For a limited time, they're offering a FREE Dish Outdoors Wally Receiver to KOA Campers when purchased with a portable antenna. Visit DISH Outdoors and use promo code KOAWALLY to purchase any DISH Outdoors bundle and save $99! Take advantage of this amazing deal today!