By Jeremy and Stephanie Puglisi, RV Family Travel Atlas
During the eleven years that Keith Sims starred as an offensive lineman for the Miami Dolphins and the Washington Redskins, he traveled all over the country by chartered bus and plane, spending most of his time in comfortable hotels and sold out football stadiums. He even made it to Hawaii for the Pro Bowl in 1993, 1994, and 1995.
But in some ways he didn't see much of America at all.
Flash forward years later and Keith is still passionate about football, and counts himself lucky to work with the Miami Dolphins organization on television and radio. Football is not his only passion, though. He is also passionate about travelling in his Class A Newmar motorhome with his wife Tia, and their three younger children K.J., Justin, and Jayson. This family loves hitting the road and exploring the best that our great country has to offer—and they love camping with KOA.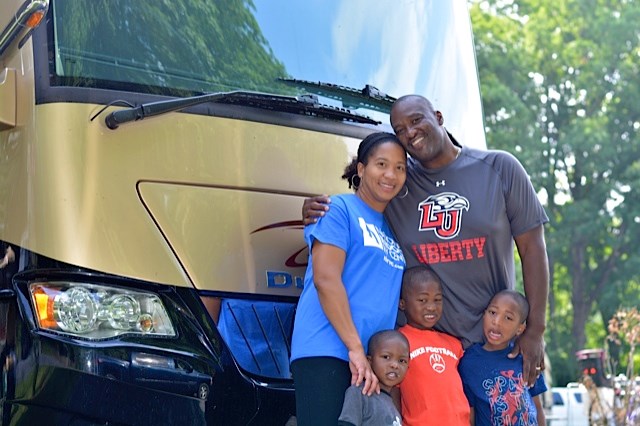 So how did this 300-pound retired NFL lineman and his family become such passionate RV advocates? Much credit goes to Tia, a loving mom and former social worker.
The family owns a home in Georgia, but Keith still works in Florida during the football season. This created a tricky situation, and they were confronted with a tough decision. Should they lease an apartment near Miami for Keith's work and pay rent during the off-season when it's unoccupied? No way, thought Tia. She decided that they should buy an RV for Keith to live in during the football season and use it to travel America during the off season. Brilliant, right?
They did, however, have concerns that almost held them back from the big purchase. Keith worried about travelling in the confined space of an RV with three young and energetic boys. As a big guy with lots of "battle scars" from his long career in the NFL, he also wondered if he would be physically comfortable. Both parents worried about what life would be like for a minority family on the road. There were a lot of unknowns.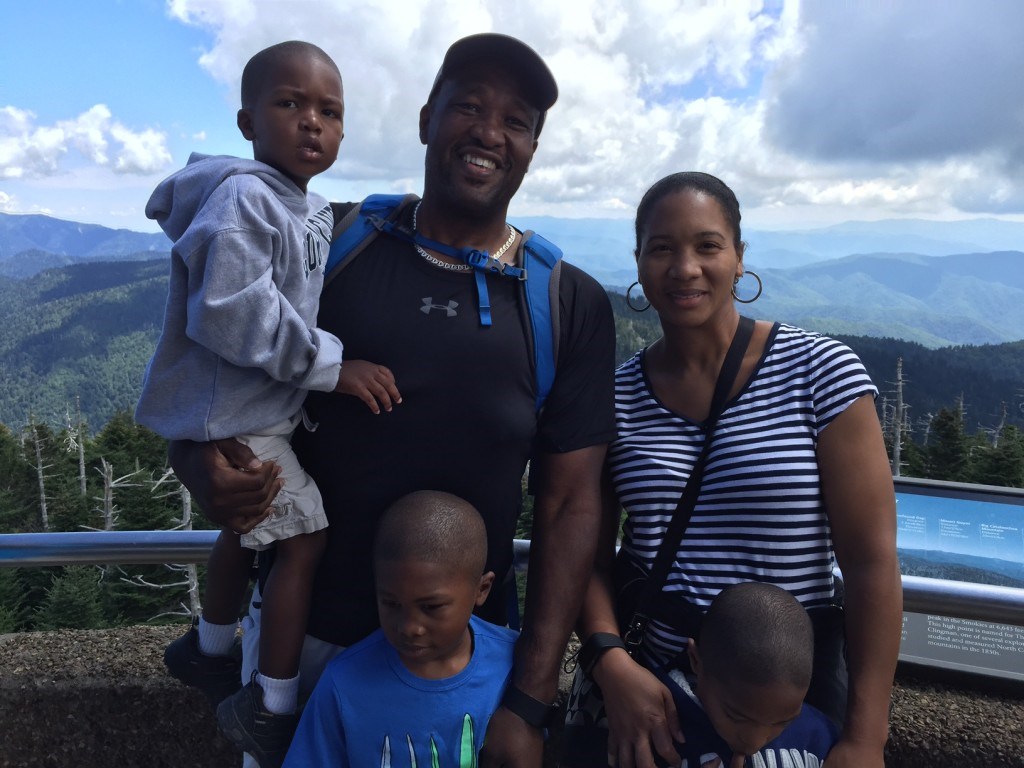 They did not know any other African-American RV owners, and neither of them grew up camping. But after dragging Keith to RV shows for three years, Tia finally convinced him that buying one was right for their family. She ended up being 100% right.
So why does the Sims family love camping with KOA? First of all, Keith lives part-time at a KOA in Florida during the football season—it's his home away from home. Keith and Tia also choose the yellow sign as much as they can during their summer travels. They stayed at four KOAs on their huge 24-day summer trip to Mount Rushmore and loved each one.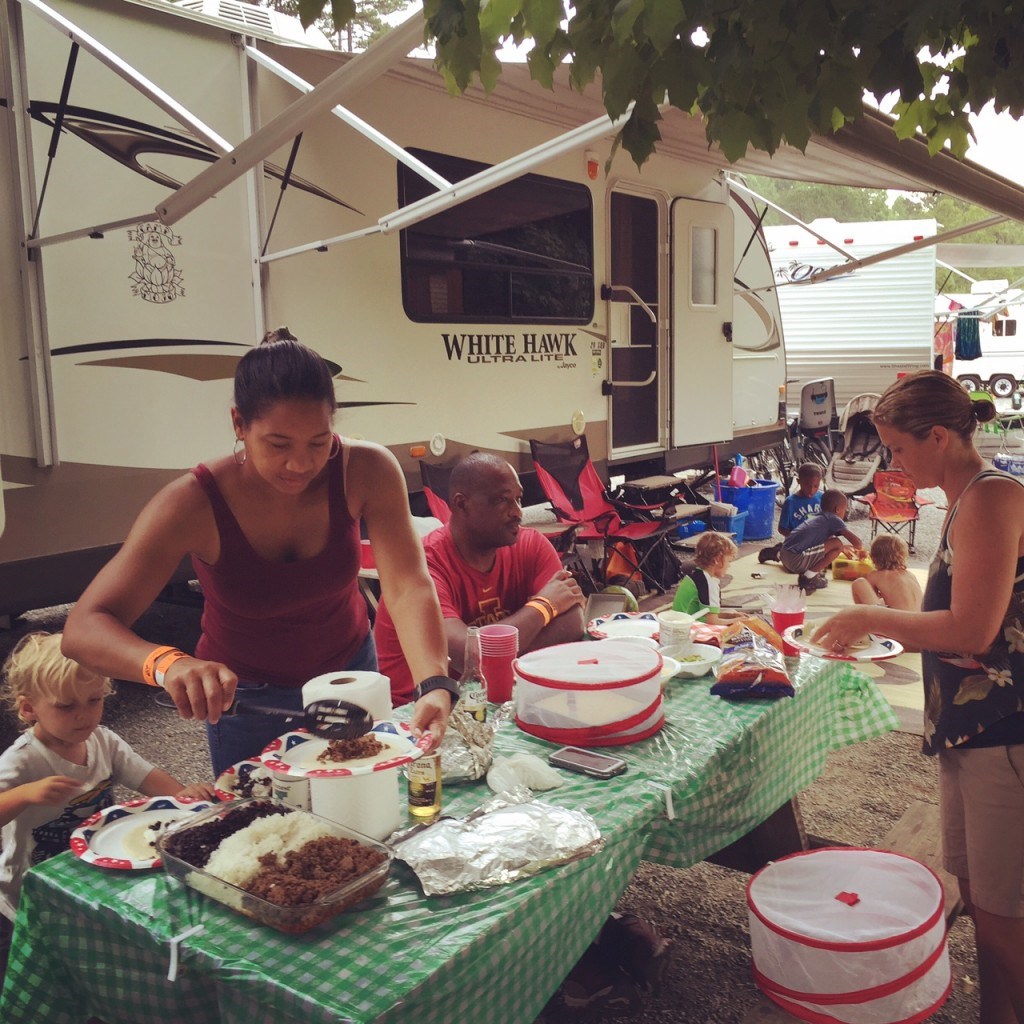 The boys love a good pool and bounce pillow, and Keith loves how "KOAs truly work hard to please their customers." But there's something even more important to them: Keith and Tia always feel welcome and comfortable at a KOA. They feel that it is a safe and reliable choice for them and their children. They also feel that if there is ever a problem, someone from KOA will help them resolve it.
Keith and Tia have fallen in love with RVing so much that they have started their own blog, called Soulful RV Family. They hope to share their journey with other families, and to serve as a resource for families thinking about buying their first RV or taking their first camping trip. They want to offer practical information for families that may be facing the same unknowns that they faced just a few short years ago.
The Soulful RV Family blog has a section called "Campground of the Month." Which campground did they choose first? I'll give you a little hint. It's a KOA. It won't be the last one either. Keith and Tia are already planning a big adventure for next summer and they see a whole lot of yellow signs in their future.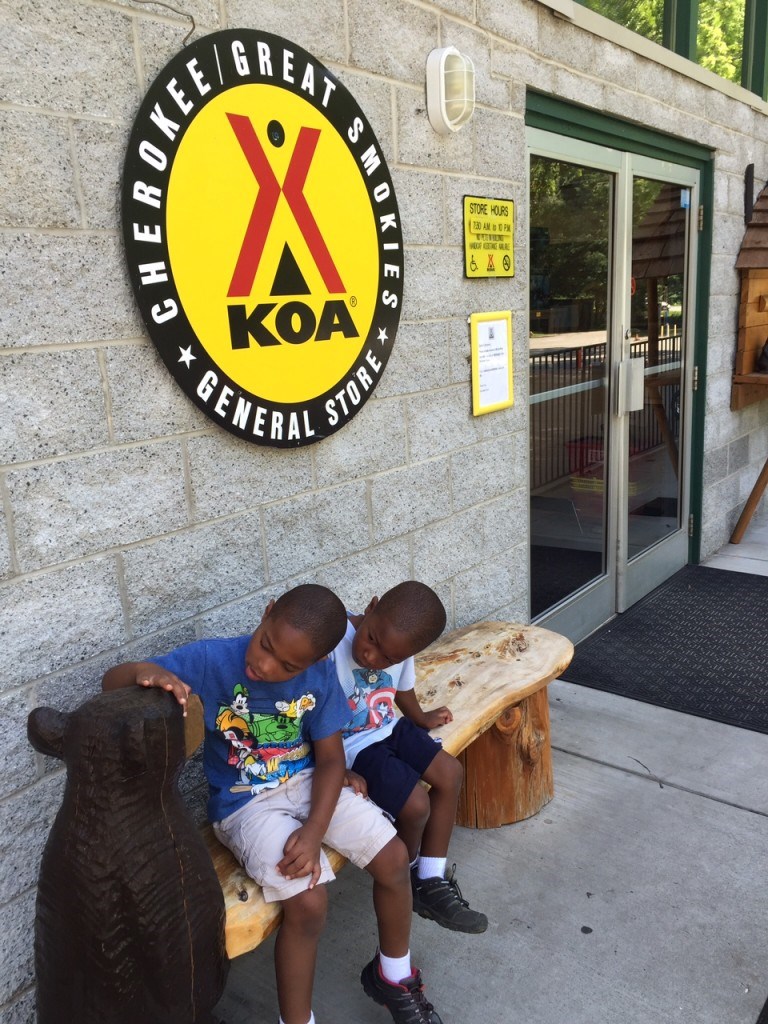 If you see Soulful RV Family sitting around the campfire at a KOA, pull up a camp chair and say hello. They'd love to meet you.
Stephanie and Jeremy Puglisi are the co-hosts of RV Family Travel Atlas, a weekly podcast available in the iTunes store and on their blog.  They are also parents and educators who seek out adventure with their three young children and an RV.  You can follow their family shenanigans on Facebook, Twitter and Instagram.
###