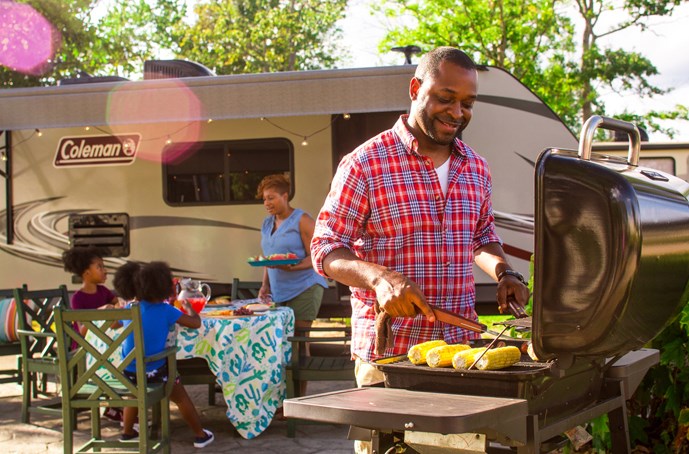 Oh Dads. Where would we be without them? Well, first of all, we wouldn't exist. But, looking past that minor detail, our dads have majorly shaped our lives and made us into who we are today. So we think that deserves a big "thank you." While a card is always a must for showing appreciation, sometimes you need to do a bit more. And this is especially true for your dad this Father's Day.
For your dad who is as avid about the outdoors and exploring as you are, we think getting him a gift that allows him to keep adventuring is the best way to go.
Here, our 2019 Father's Day gift guide that will knock your dad's socks off and replace them with something fabulous for him to enjoy the outdoors with.
2019 Father's Day Gift Guide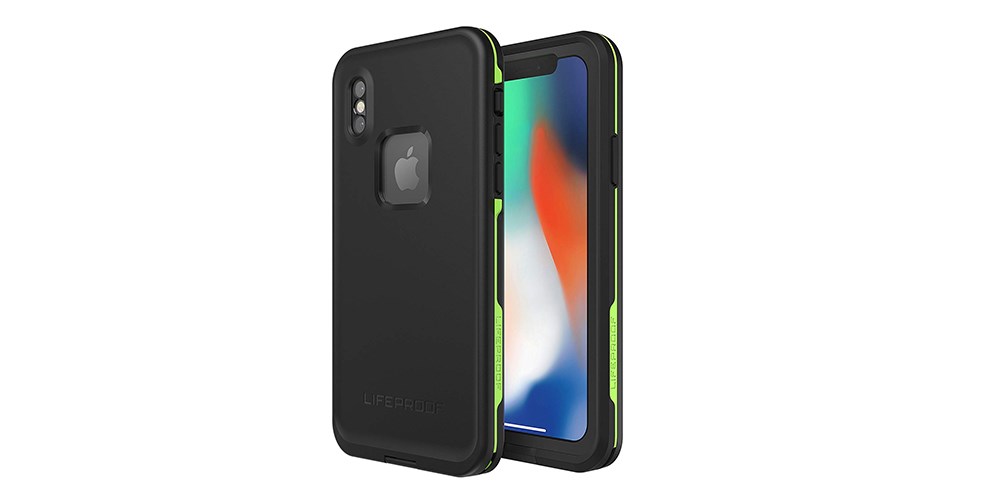 1. Lifeproof Waterproof iPhone Case
Whether he's exploring in the great outdoors or just at home, this waterproof iPhone case is something your dad not only wants, but needs.
You never know when he's going to find himself wanting to take photos while surfing some rad waves, or when he'll be thankful he has this case after he spills some coffee on it at home. In fact, this phone can be fully submerged to nearly 7 feet for an entire hour. That means lots of room for mistakes with your dad, as long as he has this case on his phone.
In addition to it being waterproof, it is also shockproof and can survive a drop from nearly 7 feet up. Phew.
Lifeproof's Waterproof iPhone case has a built-in scratch protector, and is able to protect all parts of your phone without making your phone unusable. Charging ports are still easily accessible, as well as buttons and everything else he needs to be able to use his phone like normal.
Take the stress out of owning such an expensive piece of technology and buy your dad this case.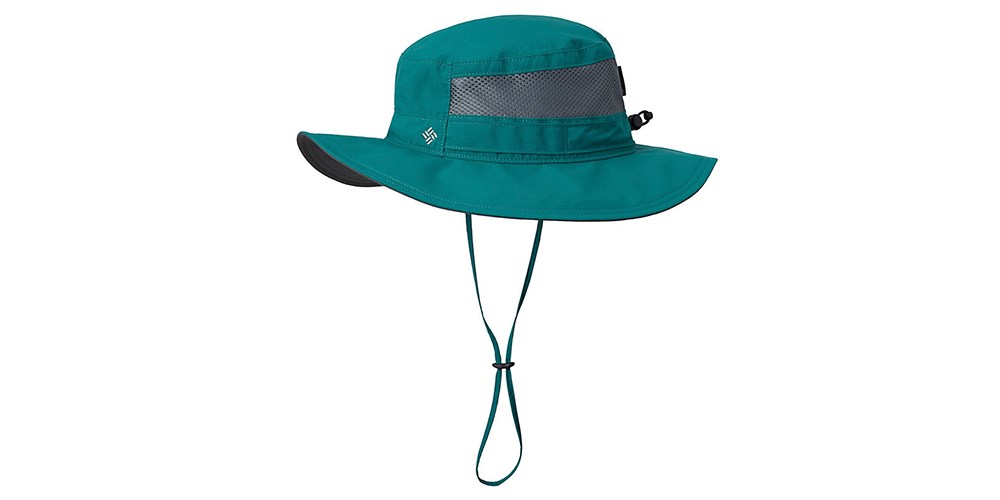 2. Columbia Sun Hat
Keeping the sun off your face is one of the best ways to protect your skin and also keep your head cool while adventuring in the great outdoors. That's why your dad is going to love this sun hat from Columbia. He'll even score some fashion points, as these hats are very on-trend right now.
But more important than fashion is the fact that this hat has built into it Omni-Shade UPF 50 technology that will block out 98% of the sun's harmful rays.
This hat is made of Omni-WIck fabric that will keep your dad sweat-free while he's running about. It also has a mesh vent to help keep the air flowing so your dad stays nice and cool in the sun.
The fit of this hat is comfort at a whole new level — it is fully adjustable and stays snug without being too tight.
In short, your dad is going to love this hat and will likely want one in every color.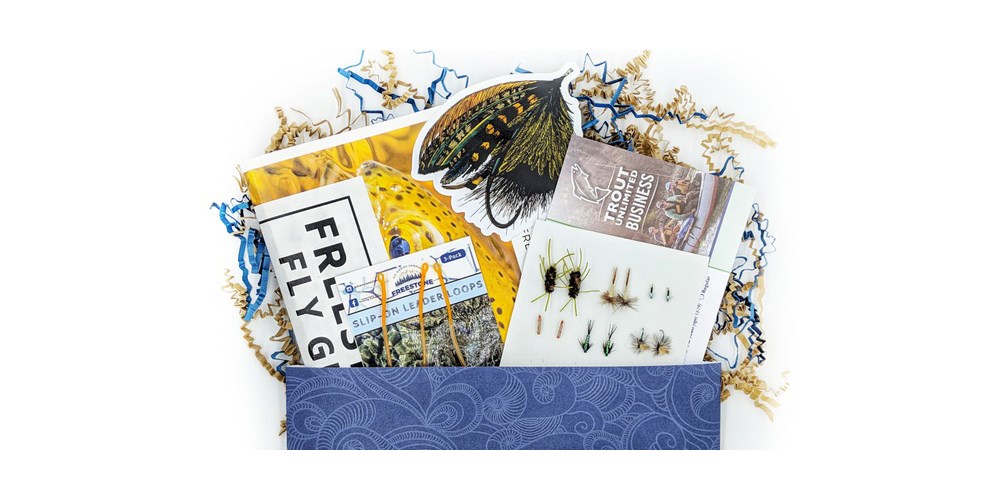 3. Freestone Fly Fishing Company Subscription Box
If your dad is someone who would always rather be fishing that doing whatever else he's doing, then this subscription box is for him.
From Freestone Fly Fishing Company, this monthly box is full of fishing goodies your dad will go gaga over.
Every month he'll get delivered right to his door fishing flies, gear, snacks, stickers, and readings that will help him improve his fishing skills.
The box comes complete with instructions on how to use the top-notch flies he'll be receiving, as well as a 1-year membership to Trout Unlimited.
Choose from either the Freshwater Trout or Fly Tying box option, and watch your dad's fishing skills improve like he never imagined with this box.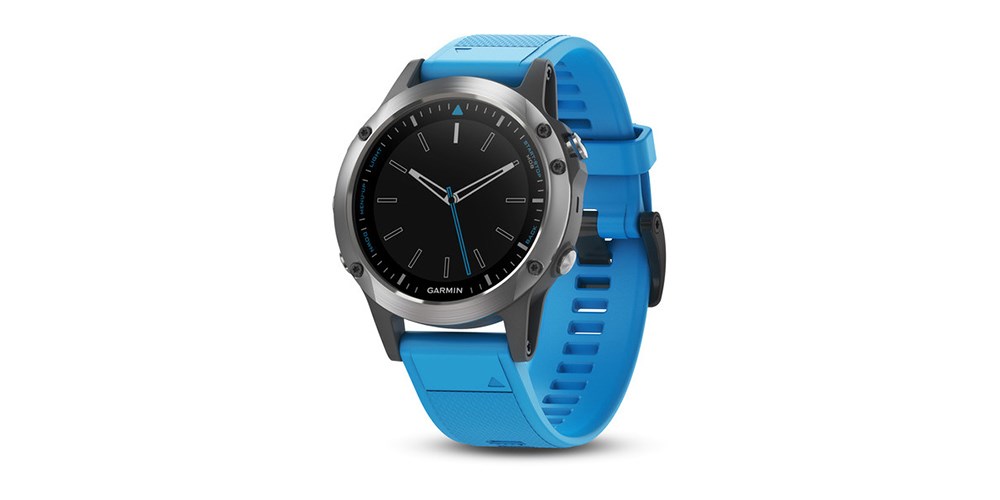 4. Garmin Quatix 5 Watch
If you're looking to drop some dollars on your dad this Father's Day, and he happens to be a watch guy, then this watch should be on your radar.
Autopilot will no longer just be a saying — with this watch your dad will actually be able to connect with Garmin chartplotters to hook up to autopilot control. This means he can control the boat even if he's not standing at the helm. He'll also be able to stream data via his watch as well as get help with his sail racing, if that's what he's into.
While wearing the watch your dad will get smart notifications and have the option to automatically upload all of his movements to Garmin Connect's online fitness community.
This watch provides your dad the opportunity to use preloaded activity profiles to track his adventures in the outdoors, including things such as kayaking and canoeing.
He'll also be able to keep his heart rate in check while wearing this watch, and just feel all around cool with all the bells and whistles this watch has to offer.
And the battery on this baby is something he'll love to. It stays alive for up to 2 weeks when in smartwatch mode, and up to 24 hours in GPS mode.
5. YETI Rambler Mug
Dads survive off of coffee, and we are guessing your father is no exception to this rule.
And after his hard work as a dad, he deserves to drink coffee out of a mug that is high-quality and that will keep his coffee tasting fresh for hours.
So, this Father's Day, pick him up a YETI Rambler mug.
This vacuum-insulated mug is double-walled with a stainless steel body, so you don't have to worry about your cup of joe getting cold.
Your dad also won't have to worry about spilling, as this mug comes equipped with YETI's MagSlider Lid, which is the only lid that uses magnets to keep spills from happening. He'll also love the fact that this mug is dishwasher safe and BPA-free. Oh yeah, and it comes with a No Sweat Design so that when his adventures get heated, he can still have his mug in hand.
And whatever color you think fits him best will stay that way, thanks to the mug's use of DuraCoat — a paint that won't fade or crack over time.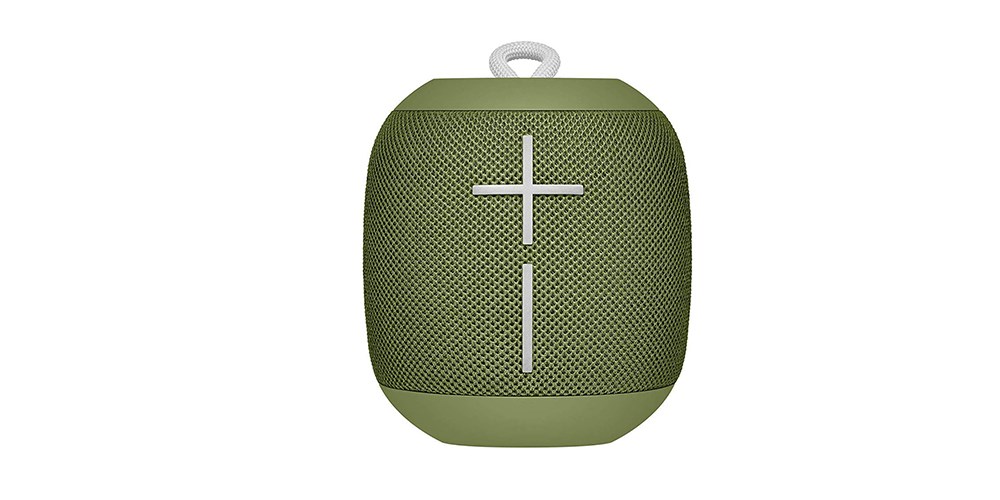 6. UE Wonderboom Waterproof Bluetooth Speaker
Small but mighty, this little speaker packs a lot of punch. And your dad will love that when he gets into full adventure mode and needs some music to act as the soundtrack to his life.
It's small size makes this the perfect speaker to take hiking, camping, biking, really anywhere your dad wants to be with music in tow. Some great features include the fact that it is waterproof — which always seems to be a good idea when you're in the outdoors.
The other bonus about this speaker is its bluetooth abilities — that way you don't have to fuss with chords or anything. Just connect it wirelessly to your phone, and off you go (or rather, your dad).
Your dad will also love that this speaker's life lasts a whopping 10 years on one single charge. That means even more rocking out with less charging interruptions. And if he really wants to get the party going, he can connect this peaker to other Wonderbooms for the ultimate sound experience.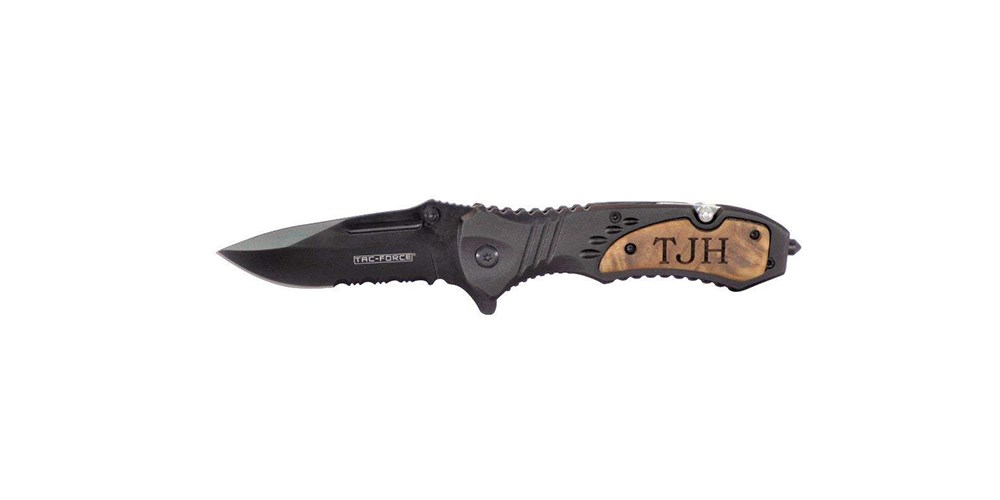 7. TAC FORCE Engraved Pocket Knife
We are guessing your dad already has a pocket knife, given he's a rugged outdoorsman and all. However, he probably doesn't have a personalized, engraved one. And Father's Day is the perfect opportunity to get him one.
Opt for his initials, his full name, or anything else that will let everyone know that this knife is your dad's and no one else's. With this knife you get up to two lines of engraved text, so you can write your dad's favorite quote on it too, if you'd like.
This pocket knife is lightweight, durable, and comes equipped with a 4.5" long blade. It's handle is made of burl wood, and it has a belt clip so your dad can easily access it when he needs it.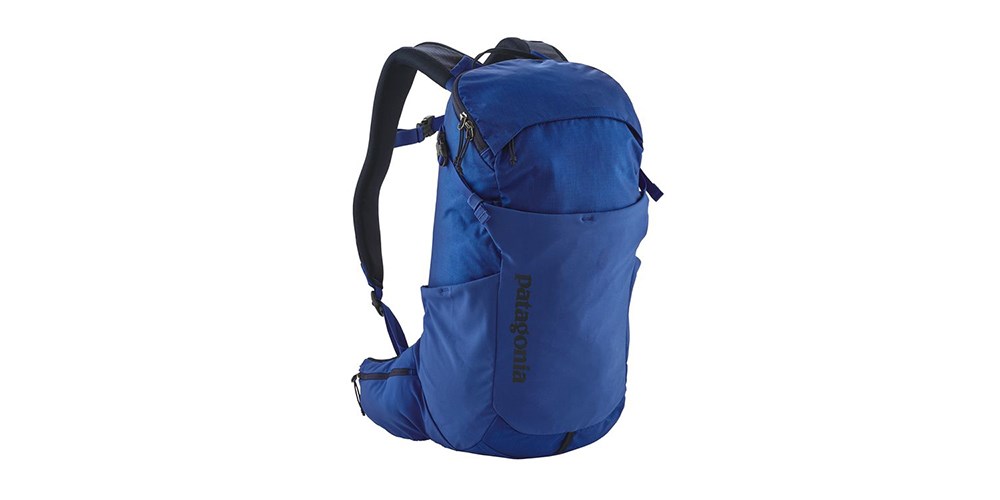 8. Patagonia Nine Trails Backpack
Your dad needs a good pack for all of his adventures and we've found the perfect one. This pack from Patagonia gives him major style points as well as the ultimate functionality.
First of all, we love this one because it is water-repellent. You never know when your dad's adventures are going to get him caught in a downpour, and he will want to make sure his gear stays dry. This pack will come to his rescue during a rainstorm and keep everything safe.
Secondly, this pack is super lightweight, but incredibly durable. That's thanks to it being made of CORDURA nylon ripstop which is meant to undergo a lot of use and abuse in the wild.
Additionally, the shape of this bag makes it easy to grab things when he needs them. It is U-shaped which means he can grab things out of the main part without any hassle and easily access things in the stash pockets.
The padding on the shoulders of this bag make it a very comfortable carry and the waist belt helps balance out the weight to keep your dad's back safe as he's trekking around.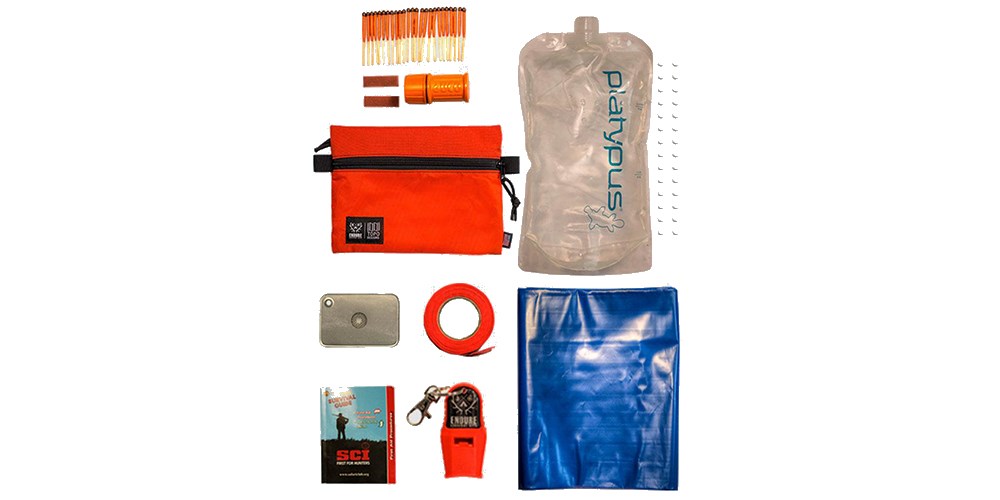 9. Endure Basic Wilderness Survival Kit
Put your mind at ease when your dad heads out into the wild outdoors by gifting him this wilderness survival kit.
This covers all four of the vital area: shelter, fire, signal, and hydration.
This means that it comes with a bag for a makeshift shelter in case of emergencies, a metal match kit to light a fire, a whistle to call for help as well as flagging tape and a signal mirror, and finally a water bladder and a tab to purify water as a last resort.
And all of these things come in a stylish bag that will keep your dad safe in case his camping trip ends up being a bit different than he'd originally planned.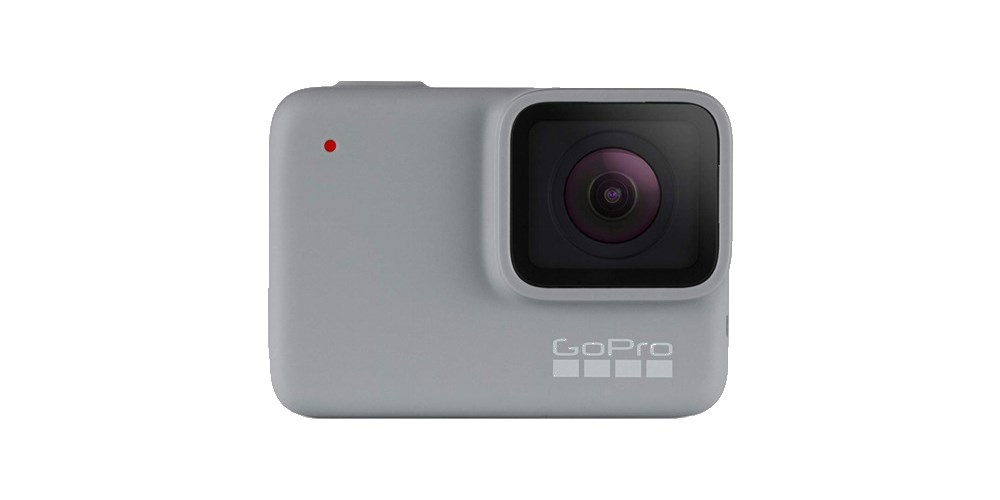 10. GoPro HERO 7 Camera
GoPros are not new to the scene but they may be to your dad, and we know he will have a blast with this gadget.
The GoPro HERO 7 is a great model for your dad to play around with for a number of reasons.
One: It is waterproof. We've already established the importance of that.
Two: It's small. That means your dad won't have to pack around a bunch of gear to get some great footage of his adventures.
Three: It has a touch screen. This means simple and no-fussing with buttons.
Four: It records in HD. No grainy photos or videos for your dad to relive his adventures with. He'll get high-quality content.
Five: It has built-in stabilization. No worries about shaky videos — this camera will smooth things out.
Six: It has a timer. This provides optimal group selfie opportunities or other shots that would work better with a timer.
These are just some of the reasons your dad will love this GoPro. It's a toy we guarantee that will make it well worth the money.
11. Darn Tough Hiker Micro Crew Cushion Socks
Okay, we know. You may roll your eyes at the idea of getting your dad socks for Father's Day. How boring can it get?
But these aren't just any socks. These are socks made specifically for outdoorsmen like your dad, and we know this socks will quickly become his favorite to wear both while adventuring and also while at home.
These socks wick away moisture in no time to keep your dad's feet dry while he's exploring and they are also naturally antimicrobial so he can say goodbye to stinky feet and the bacteria that comes along with it.
They're made with Merino wool which means they are breathable and help keep feet cool in the summer, and warm in the winter.
The quality of these socks means they're guaranteed to last for life, and stay in good shape throughout every use.
12. KOA Value Kard Rewards Membership
For someone who loves camping as much as your dad does, why not give him something that will allow him to do even more camping?
A KOA Value Kard Rewards membership will open up the doors to many more adventures for your dad, including adventures in saving.
These savings start with him getting a 10% discount on daily registration rates every time he camps. They continue on to include him accumulating rewards points that he can use on future camping trips and the ability to camp for free during the Value Kard Rewards Appreciation Weekend.
Every dad loves a good deal, so your dad will love that with this membership, he can save a bunch of money with KOA partners that include Dish TV, Route 66, RV Trader, and more.
Give him the gift that will make him want to keep adventuring — it'll help him stay young.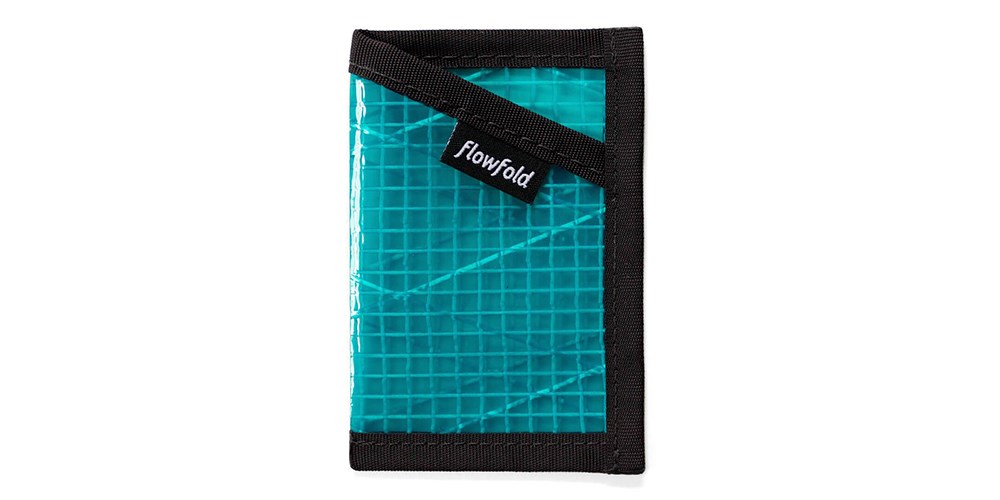 13. Flowfold Minimalist Card Holder Wallet
Every dad needs a nice wallet for at home, and a more functional one for the outdoors.
This Flowfold wallet is the perfect adventure wallet to keep his cards and money safe. Made out of recycled sailcloth, this wallet is built to last and its quality is not a question.
Your dad will love how thin and lightweight this wallet is. He won't even know its there with it weighing in at less than ½ ounce. Despite its small size and weight, it is able to hold up to eight cards as well as folded bills.
Without any bells and whistles (hence its name "minimalist"), this wallet will be fully functional for your dad when he's on the go.
Available in a variety of colors, you can choose his favorite for him.
14. Chaco Z-1 Classic Sandals
If there is one pair of sandals your outdoors-loving dad needs as a gift, it is Chacos. This top name in sandals has a great reputation for a reason, and your dad deserves a pair of these on his feet.
The Z-1 Classics are a great pair to get your pop, and here is why.
These sandals are about simplicity. Made of just 8 parts, classic and simple is at the heart of these Chacos. Adjustable to fit your dad's feet just right, these sandals are sure to be the most comfortable shoes he owns. That's thanks to their LUVSEAT PU footbed that is podiatrist-approved for all-day wear that keeps your feet happy and comfy.
These Chacos also come with Chacogrip, meaning their traction make them great for wet conditions. With these, your dad will be able to go where other sandals can't.
And it he wants to take these on a hike, all he's gotta do is throw on a pair of hiking socks and he will be rocking the hottest fashion to go exploring.
These gifts are so fabulous that you may find yourself ordering two and keeping one for yourself. Shopping for your dad for Father's Day can actually be a lot of fun, especially when he loves the outdoors just as much as you do.
Take this opportunity to thank your dad for being the great guy he is and doing all he's done to make your life so, well, full of life! Aside from the tangible gifts above, you can give your dad the gift of a camping adventure together. We are guessing nothing would make him more happy than exploring the great outdoors with his kid. So plan something fabulous and get some of the great gear above to make your trip that much better.
Want to give your dad the gift of a camping trip for the two of you this year?
Check out all the KOA locations across the United States and Canada and start planning your adventure today.
---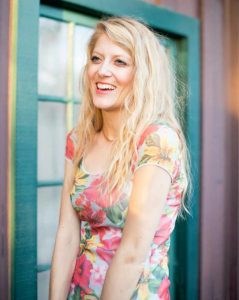 Leslie, a.k.a. Copy Girl, is a copywriter who gets butterflies from telling stories through words.
Her voice comes from a place filled with passion, dreams, and lots of sugar. "Cake over steak" is her go-to motto.
With over 10 years of experience in crafting words, and years of embarking on travels that have taken this Montana girl to some incredible places, Leslie love the adventures of both body and mind her writing takes her on.
Everywhere she goes, she takes this advice with her:
"Hold on to your divine blush, your innate rosy magic, or end up brown." – Tom Robbins, Jitterbug Perfume
To see what Leslie's up to in the writing world, visit her website here.
---