How to Plan a Family Reunion | Checklists, Reunion Activity Ideas & More
Are you looking to plan a family reunion? Whether you are working with a group or tackling the challenge by yourself, there are a lot of details to consider.
These steps can help you plan an epic family reunion — your entire family will have an unforgettable time with each other and make lasting memories.
The Benefits of Planning a Family Reunion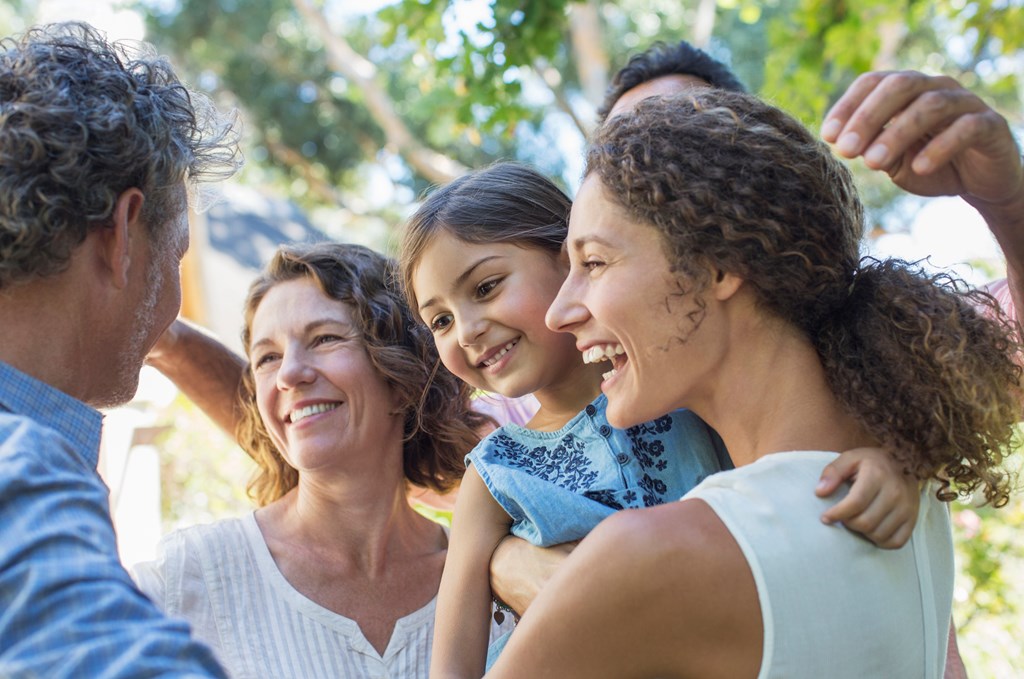 Although it is easier for loved ones to stay in touch today using technology and social media, families are often still separated by distance or kept apart by day-to-day responsibilities. Family reunions have become more important than ever and offer several benefits.
1. Reconnect with Family
Many family members live states — sometimes countries — apart from one another, so family reunions let everyone reconnect. Loved ones use this time to catch up on each other's lives and well-being. For some, a family reunion may be the only opportunity to introduce the rest of the family to a new baby or spouse.
2. Celebrate an Event
Many families use reunions as a time to celebrate milestone anniversaries or birthdays. You can also celebrate new marriages at reunions. For family members who were unable to attend the wedding, this is their chance to enjoy time with the couple.
For families who have lost loved ones over the year, reunions offer the chance to honor that person's life and celebrate their memory together.
3. Embrace Your Heritage
Family reunions are a time when all generations, old and new, come together. They are a way of preserving your family's history and sharing it with the younger generations, including old family stories, beloved recipes or timeless traditions.
A family reunion is also the perfect time to start new family traditions to be passed down, allowing the younger generation to contribute their own values and ideas.
Family reunions give your family a chance to learn about your ancestry as well. If your family has any cultural traditions, highlight them at your gathering. Celebrate what makes your family unique.
4. Have Fun Together
When all is said and done, family reunions can be a lot of fun. It is time set aside for enjoying quality time with loved ones, including participating in fun activities together and sharing delicious food.

How to Plan a Family Reunion
Once you know you are going to have a family reunion, start planning it as soon as possible. You'll have many details to consider, so begin preparations at least six months to one year in advance. This gives you plenty of time to get ready, and it gives your family members enough time to request time away from work and make travel arrangements.
Use the following family reunion planning checklist to keep you on track throughout the planning process.
1. Consult the Family
Before you begin, consult with your family regarding any special requests or considerations such as preferred dates or venue locations. Take note of any dates to avoid, such as a family member's wedding or graduation ceremony. Also, unless you intend to make your reunion into a holiday affair, avoid scheduling during the holiday season.
Speaking with your family before you begin planning will also give you a better idea of how many people can attend.
2. Choose a Date
If your family has a reunion on the same date every year — like Labor Day weekend or the fourth of July — then this part will be simple. If not, choose a time that works for the majority of your family.
Many families plan their reunions in the summer months because it is easier for family members with school-aged children to attend. Summer also often offers more options for outdoor venues and recreation. However, if you are working on a limited budget, you might consider booking your reunion during the off-season when venues and entertainers usually offer special discounts.
Determine the duration of your family reunion, too. While some families set aside an entire week or weekend, others choose to celebrate in a single day.
3. Decide the Budget
Next, you need to break down your budget. If you are working with a family reunion planning committee, the person in charge of finances should have a record of how much money was spent at the previous year's reunion.
Once you know how much money you have to work with, decide whether more funds will be required and how you plan to get those funds. Use a spreadsheet to keep track of all expenses.
If you are planning a family reunion on a budget, look for off-season discounts while reserving your venue, caterer or entertainer. You can also send electronic invitations, make do-it-yourself decorations or host a potluck to cut costs.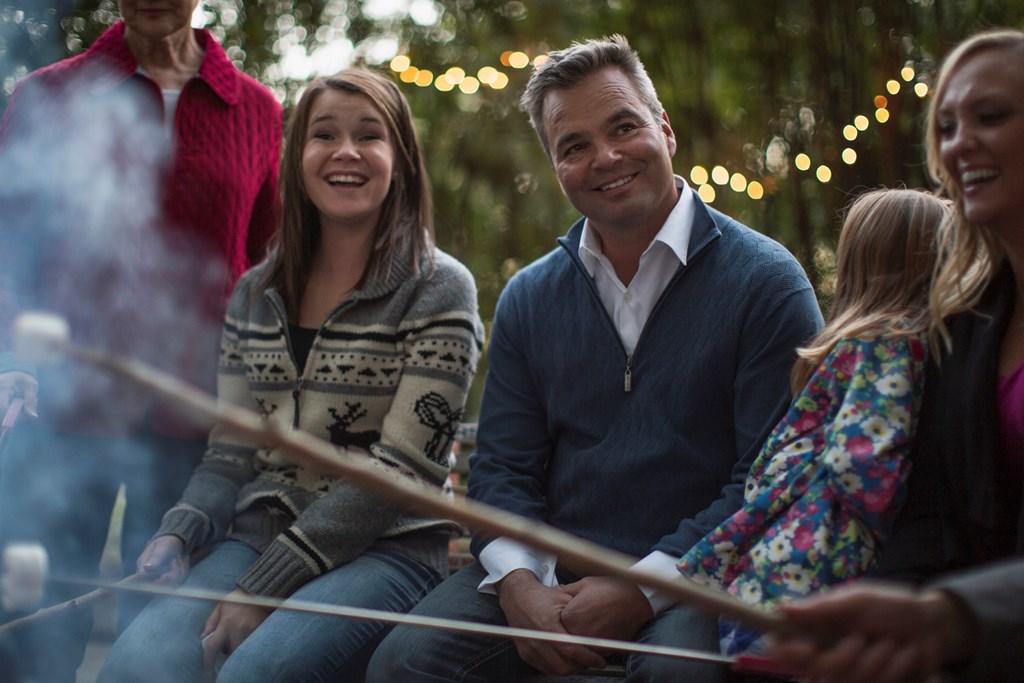 4. Choose a Location
If you are unsure of where to have a family reunion, there are a few ways to make the decision easier. Take into account your budget, as well as the distance each venue is from the majority of your family. Select a place that offers you the most value for your money — for example, family reunion campgrounds offer lodging and fun amenities all in one location.
These are some of the best places for a family reunion:
Campground: Having a family reunion at a campground is a great option if you want to create lasting memories and get the most value for your money. Many campgrounds come with party spaces, such as covered pavilions, where you can host your reunion activities. Campgrounds also often offer several different campsite options to suit all your family's needs – Whether they prefer to stay in a tent, RV or furnished cabin. Your loved ones will enjoy the opportunity to stay on-site, within walking distance of one another. Many campgrounds also include fun amenities, such as swimming pools, rock climbing or bike rentals. When choosing a campground, look for one that offers group camping options, like Kampgrounds of America.
Backyard: You could have your reunion in the backyard of your home or a loved one's. Backyard events eliminate the need to reserve the venue ahead of time. However, you may need to reserve backyard tents, seating, a stage and other features that professional venues might provide.
Bed and breakfast: Depending on the size of your family, a bed and breakfast might be a suitable venue. Talk to the owner about the possibility of booking the whole house for your event.
Destination reunion: Destination reunions take a bit more time and money to organize, but they offer your family the chance to go on vacation together. Choose a destination that offers something for everyone, like a beach town, state park or mountain retreat. Save money by choosing a location that provides alternative lodging options. Remember to send invitations early if you are planning a destination reunion, as your family will need time to plan travel arrangements.
5. Send Invitations
Send invitations as soon as the date has been decided and the venue reserved. If you are not sure when to send the invitations out, consider how far people will have to travel for the reunion, the overall cost of travel and lodging and the time of year the reunion is. For example, autumn reunions will require more planning for school-age kids, while summers may not.
You can send traditional paper or digital invitations. Consider creating a social media event to provide live updates and conduct polls for your family throughout the remainder of the planning process. Even if your reunion is held on the same date every year, be sure to send reminder invitations a few months before the event.
An excellent way to invite and keep all your family members updated about the reunion is by creating a dedicated group Facebook page. Most people from every generation have a Facebook account and are active on it, and if they aren't, they likely know someone who is. A group Facebook page acts as a central communication location, making it easy for everyone to discuss plans, share pictures and stay up to date with the latest changes.
Follow three simple steps to create a Facebook page:
Build the page: Facebook has a guide you can follow to easily create a group page. Change the privacy setting to "private" to ensure it stays between family members, and customize it to fit your planning needs.
Invite your family members: Once your group page is running, send invites to your family members who are active on Facebook. Let them know what the group page is for and how it will help everyone stay connected. If you have older family members who are not on Facebook, this might be a great time to teach them how to use the social network so they can connect with their grandchildren and other family members.
Create a hashtag, posts and events: Take advantage of social media's features. Create polls to learn more about your family's wants for the reunion and see who can help with various tasks. You could also make a fun hashtag based on your family name for guests to include when uploading social media posts.
Make running the page easier on yourself by setting several family members as administrators for the page. They can help manage communications and ensure everyone remains civil during discussions. The family members you choose as admins will likely be those already a part of your family reunion planning committee.
The group page is an excellent communication tool before your big event, but you can continue using it long after your reunion, too. Its central location makes it a perfect place for everyone to share the many pictures and videos they take throughout the get-together.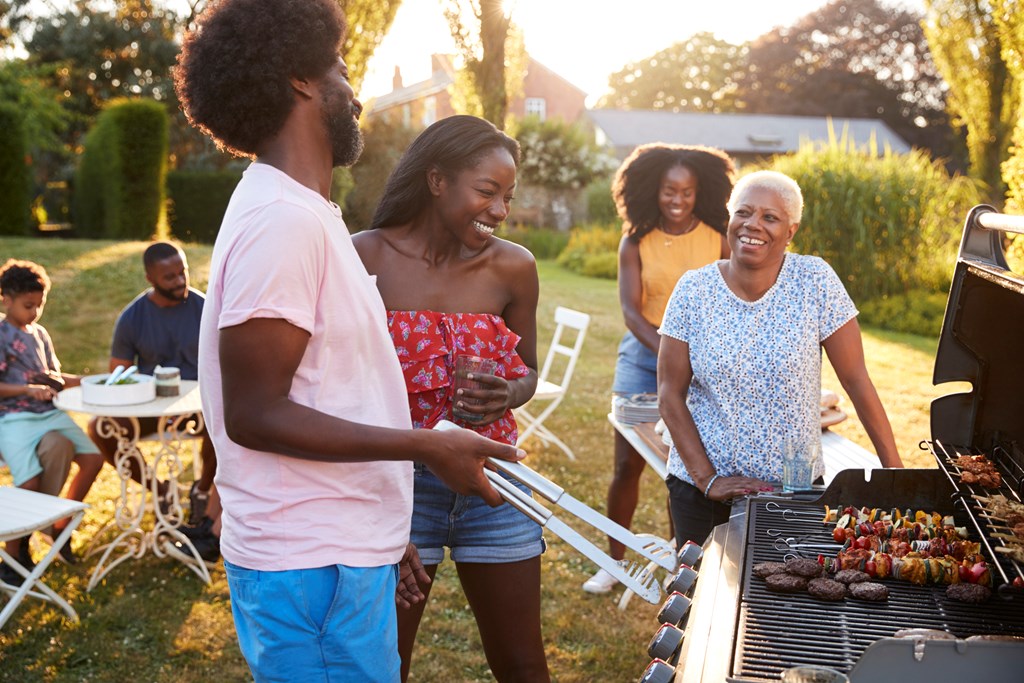 6. Plan the Menu
When planning the menu for your family reunion, there are a few things you need to consider:
Venue: Familiarize yourself with your chosen venue. Is there an on-site kitchen available? Is there electricity to plug in food warmers? Some places may not allow outside food and provide on-site catering options only. Talk to your venue about your options before you start planning your menu. You can also use your choice of venue for menu inspiration. For example, if you have your reunion at a campground, plan a camping-themed menu with s'mores and other campfire favorites.
Time of year: Tailor your menu to fit the season. If you are planning a summer reunion, include summer foods and in-season produce. Fall reunions call for heartier meals and comfort food. If your gathering takes place during the holiday season, use that for meal planning guidance.
Heritage: Let your ancestry inspire your family reunion menu. Serve food that reflects your family's culture or country of origin. This is the perfect way to celebrate what makes your family unique and to share beloved family recipes.
With these considerations in mind, it is time to plan your menu. Some popular family reunion foods are:
Soup: Soup is easy to serve and is suitable for both cool and warm temperatures. Serve it with bread and salad.
Grilled goods: Fire up the grill and serve classic hamburgers and hot dogs, or consider having an all-out barbecue.
Potluck: A covered-dish potluck is a great way to get the entire family involved and ensure there is a variety of foods. Have each family bring their favorite meal in a covered dish, then line the dishes up on a buffet table for the reunion. Consider making a list of foods ahead of time. Let family members sign up for an entree, side-dish, appetizer, dessert or drinks. This way, you will not end up with four pasta salads and no hot entrees.
Holiday feast: If you are planning to hold your family reunion during the holiday season, make your menu a holiday feast.
Pizza: For smaller family reunions, consider ordering pizza from a local shop. Many pizza places offer on-site delivery. Remember to call the pizza shop several days before the reunion to place your order if you're going to need more than a few pizzas.
Taco bar: Design a taco bar with tortillas, taco shells and a variety of taco toppings.
Have it catered: Save yourself the trouble of cooking and preparing your family reunion food by having your event catered. Contact a local restaurant or private catering company.
No matter how you choose to design your reunion's food menu, serve several different dishes. When you send out invitations, encourage family members to let you know about any existing allergies or food preferences. You may want to include a few vegetarian, gluten-free or dairy-free dishes just in case.
7. Plan the Entertainment
The key to a successful family reunion is to offer activities that suit everyone. Keep in mind, your venue might have some fun amenities to incorporate into your entertainment plans. Some ideas include:
Auction: Some families have an auction during the reunion to raise money for next year's event. Auctions are also a fun way to be competitive. Make it even more exciting by hosting a silent auction or a white elephant sale.
Trivia: Have a family trivia event. Your trivia questions could be about pop culture, television, general knowledge — or they could be questions specifically about your family. For example, ask questions like "Who is the oldest living family member here?" or "How many redheads are in our family?" This is a fun way to get everyone involved and learn more about each other along the way.
Yard games: Get active with yard games like cornhole, ladder ball or croquet.
Sports: If you come from a family of sports lovers, make sure there are some football, baseball, kickball or basketball games for people to enjoy. Friendly competition is an excellent way for families to get closer.
Card tournament: Separate into teams and have a card tournament. Classic card games, like Euchre or Gin Rummy, will be a hit with the older generation. Newer card games, like Uno or Phase 10, are also fun choices.
Professional entertainers: If your budget allows for it, consider booking a professional musician, magician or comedian for your reunion. Let them handle the entertaining while you sit back and enjoy yourself.
Scavenger hunt: Separate your family into different teams and host a scavenger hunt. This is an excellent way for distant family members to break the ice and get acquainted with one another. Involve your entire family by asking each attendee to write down an interesting fact about themselves ahead of time, such as "I have six dogs" or "I am a concert pianist." Use these questions to create your scavenger hunt list, and family members need to get signatures next to each item. This way, players have to engage in conversation with all attendees to learn more about them and win the game.
Pool party: If your venue has a pool on the property, take advantage of it. Pools can keep everyone cool on a hot summer day, and they offer endless entertainment for children.
Talent show: If you have a large enough group, a talent show could be a lot of fun. Include sign-up instructions in your invitations. Maybe your cousin is an excellent singer or your great-uncle tells the best jokes — use this opportunity to showcase those talents.
If you choose to have a destination or vacation reunion, look into local tours, sightseeing opportunities, amusement parks and other attractions. The place you're staying may also offer opportunities for activities. For instance, if you stay at a KOA Campground, you could bond while camping, going on nature walks, sitting by the campfire and participating in the campground activities.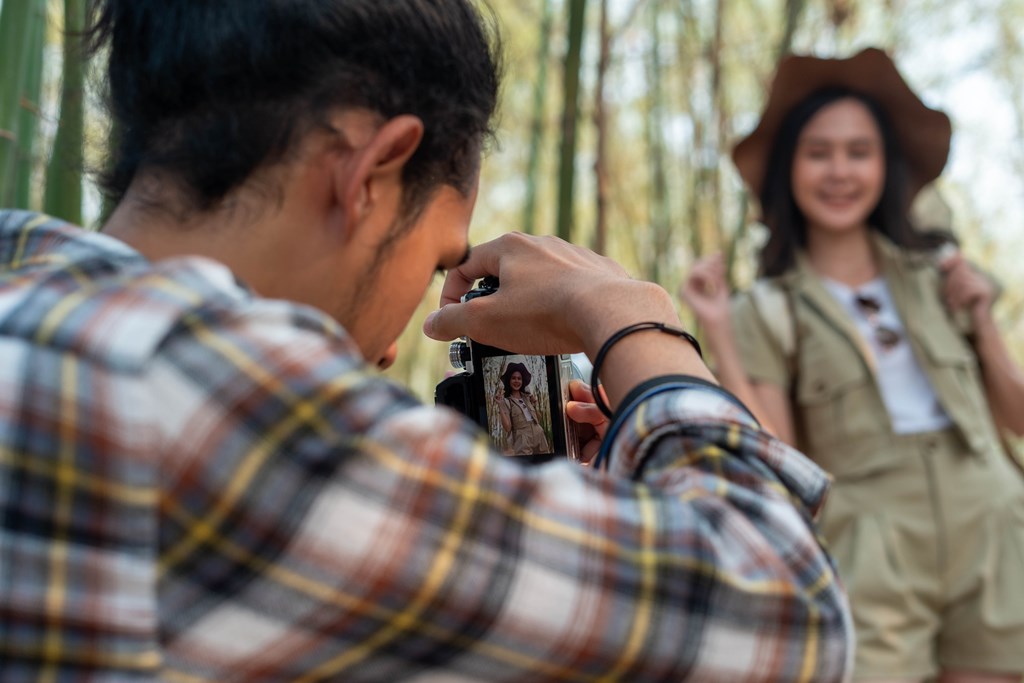 8. Delegate Responsibilities
Once you have a game plan created, it is time to delegate responsibilities. Make a list of family members willing to help prepare and those willing to help you during the event. A lot of work goes into planning a family reunion, especially for large families. If there is not already one in place, create a family reunion planning committee. Recruit volunteers and assign each person a different task, including:
Financial management
Photography
Greeters/registration
Food preparation and servers
Entertainment and activities
Clean-up
9. Have a Back-Up Plan
When you are planning a large-scale event — especially when planning it a year or more in advance — anything can happen. Have a back-up venue, entertainer or lodging in place. If your venue is outdoors, you need a back-up plan in case of inclement weather. You should also have a back-up organizer in place in case you are unable to complete your duties due to sickness or other personal obligations.
10. Incorporate Family History
Make your family history present throughout the event. Let it inspire your decorations and your menu. Use the reunion as an opportunity to teach younger generations where they came from and tell your family's story with pictures, videos and more.
A reunion is all about family, so make that the focus as much as possible:
Introductions: Begin the event by formally introducing new family members, like babies or in-laws.
Celebrations: Maybe it is great-grandma's 100th birthday, or a cousin has returned home from military deployment— whatever it is, celebrate and honor your family members during the reunion.
Memorials: Say a few words or present a memorial in honor of family members who have passed away since the last reunion.
You could create a family reunion website to house all your family members' special memories, photos, videos and memorabilia. While running and organizing a website may sound daunting, there are many online companies that make building one simple by providing templates. Some may charge a monthly fee and give members more features to work with, while others are free and have standard components.
Regardless of what sites you use to create your own, your family will appreciate having a digital archive of all the memories made at your family reunion. In addition to archiving your reunion stories, you could use the website to keep track of family history. If multiple family members have access to editing the site, you all can add unique perspectives to show how your family has lived, grown and changed throughout the years.
With how accessible digital platforms are, generations can refer to the website as long as the Internet exists. Even if only some of the information you want on the website is uploaded, you could still use it during your reunion to reminisce and learn from the elders about their younger years.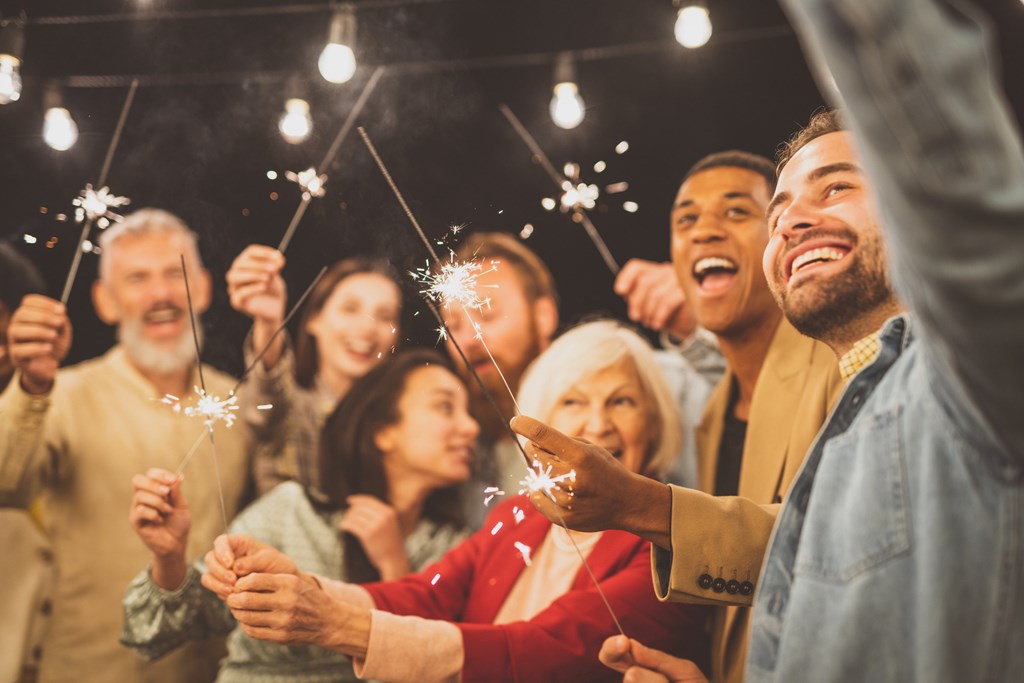 11. Confirm the Essentials
Ensure a perfect family reunion by taking time to confirm essentials. A few weeks before the reunion, call and confirm your venue, caterer and lodging. Touch base with family members who have agreed to help during the reunion. Let them know what time to show up and remind them to bring any necessary items with them.
By confirming these details, you are leaving yourself with enough room to make alternative arrangements if necessary.
12. Figure Out the Details
This is the part where working with a reunion planning committee or recruiting volunteers is beneficial. Make a list of all details — and the contact information of the person responsible for handling them — that need to be taken care of for the big event, including the following:
Parking: Make sure your venue has ample parking available. Reserve those spots closest to the reunion site for elderly or disabled family members if possible.
Transportation: If the parking lot is a significant distance away from the reunion site, figure out how you will shuttle people back and forth.
Food service: How will the food be kept warm and served? Do you have a way to keep beverages cold? Make sure these details are finalized before the day of the event.
Seating arrangements: Decide how to acquire and set up seating, serving tables and comfortable chairs.
Decorations: If you have chosen a theme for your reunion, decorate accordingly. Display photos of previous family reunions and family members.
Clean up: Recruit clean-up volunteers before the end of the reunion. If you wait too long, people may start leaving before you have the chance to ask for help.
Emergencies: Have a first-aid kit ready in case anyone gets any minor injuries during the reunion, like a scraped knee or bee sting.
13. Create a Keepsake for the Reunion
Ensure everyone has a way to remember all the fun you had at the family reunion by creating a keepsake, like a t-shirt or a group photo.
If your budget has room to purchase matching t-shirts for everyone attending the reunion, you could create a design to commemorate the event. A family reunion t-shirt is a great way to make everyone feel included. Plus, it makes identifying people as part of your party much easier when you're at a public location like a KOA Campground.
To make your shirts:
Consult with your creative family members: Design a fun logo or picture for your family reunion shirt. It could represent the theme of your reunion that year or include a meaningful image.
Make your shirts colorful: Decide if you want everyone to have the same colored shirt or distribute colors per family at the reunion.
Find the fit: Determine how you want the shirt to fit. Should it have unisex sizing or specific styles for men and women? Gather everyone's sizes via your online platform or through your physical invitation when they RSVP.
Compare vendors: If you need to bulk order shirts, find a vendor that meets your needs while staying affordable. Various companies offer bulk prices and color and design varieties.
Consider do-it-yourself methods: Consider making your family reunion t-shirts with your family during the event for a fun craft. You could get a stamp pre-made with your design and use fabric markers to decorate it — then stamp it on your shirt. Tie-dye is another fun activity to help everyone make unique shirts. Your family members could bring their own white shirts to design.
Once the reunion ends and everyone returns home, seeing the shirts after a while can bring up the fun memories of the reunion.
Another keepsake you could include in your family reunion planning is ensuring at least one group photo happens during the event. In most cases, you'll have family traveling from out of town to attend, so getting everyone together is challenging. Plan a specific time, and possibly a day if your reunion lasts several days, to get a group photo. You could hire a professional photographer or ask someone nearby to take the picture with a cell phone.
14. Conduct a Survey After the Reunion
Before guests leave the reunion — or in the weeks following the event— ask family members to complete a survey. What did they enjoy about the reunion? What could be improved? Ask them to list any ideas for the next gathering. Honest feedback will be valuable for you to use or pass on to the next planning committee.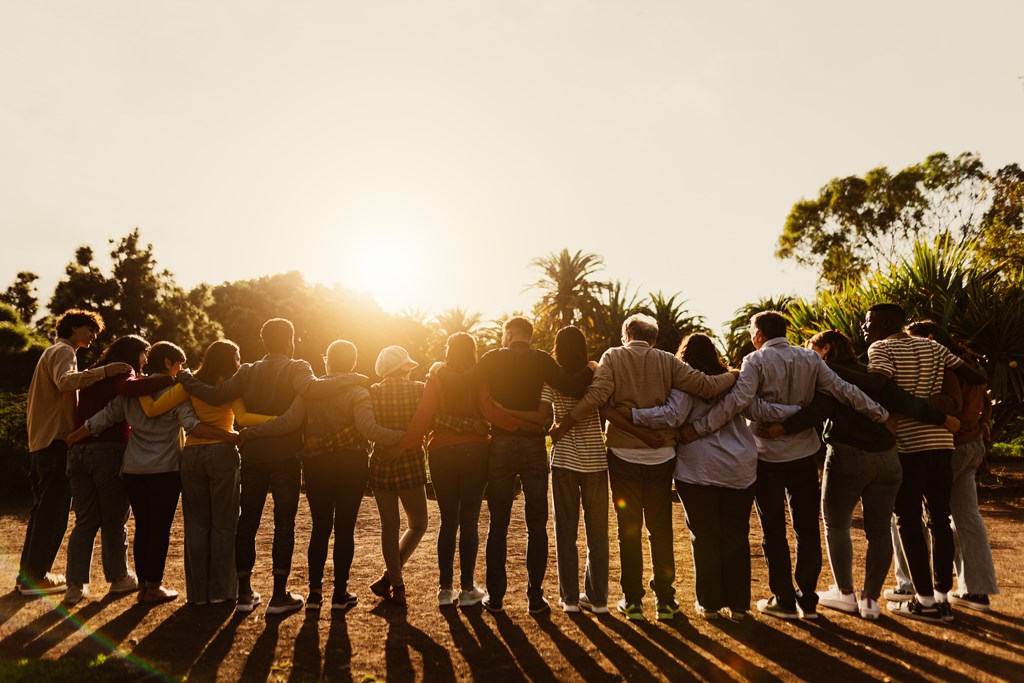 15. Remember the Reason You Are Getting Together
When the big day finally gets here, remember to relax. You worked hard to make this family reunion happen — now it is time to enjoy it. Do not let yourself become overwhelmed with the planning process or last-minute hiccups. Instead, remember the reason for the reunion in the first place. Spend time with your loved ones and have fun. Be sure to take plenty of photos throughout the event to mark the occasion!
Plan Your Next Family Reunion at KOA
Plan your next family reunion at KOA. KOA Campgrounds are cost-effective and have plenty of room for large groups.
A camping family reunion is an easy way to please everyone in your family. Camping balances peace and relaxation with adventure and the great outdoors. After a day of fun activities, family members can relax by the campfire at their campsite. KOA offers several different campsite options for all your family's needs, including Tent Sites, RV Sites, Camping Cabins and Deluxe Cabins. Every guest has access to clean restrooms with hot water. Some locations also offer additional amenities like swimming pools, playgrounds, trails, game rooms and more. Call ahead for a complete list of available features.
With over 500 locations all across North America, KOA is never too far away. Reserve your family reunion site today.
---
About the Author: Kampgrounds of America
Kampgrounds of America is the largest system of open-to-the-public campgrounds in the world, with over 500 locations across the United States and Canada. Founded in Billings, MT in 1962, KOA's family of campground brands – KOA Journey, KOA Holiday and KOA Resort – today serve more than a million camping families each year. KOA is dedicated to "connecting people to the outdoors and each other" by providing people with a variety of camping experiences and the information they need to make the most of their camping trip. Read more of their camping and travel resources by visiting KOA.com/blog.