For over 50 years, KOA has been the one-stop source for family friendly fun across North America. So it makes sense that KOA campgrounds also make the perfect base camp for family reunions.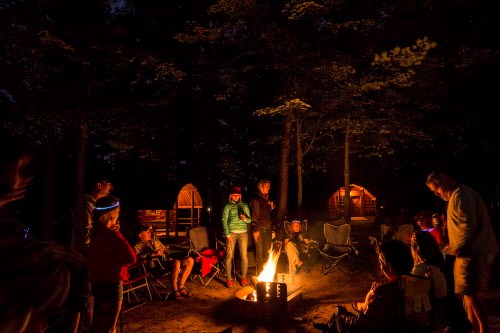 "We probably host twenty to thirty family reunions each year," says Karl Kozak, Manager of the Waterloo / Lost Island Waterpark KOA Resort in Waterloo, Iowa. "Groups range in size from anywhere from 20 people up to 100 or so. "
According to Karl, the resort is attractive to families because of the many amenities it offers such as paddle boats, kayaks and bicycles, as well as its themed weekends throughout the summer. Its location across the road from one of the largest water parks in the Midwest is also a draw for many families.
"The nice part is that we have a little bit of everything," Karl says. "Here on the campground we have a lake with a swimming beach, a disc golf course and fantastic activities. We also are near golf courses and other attractions so that there's something for everyone to do."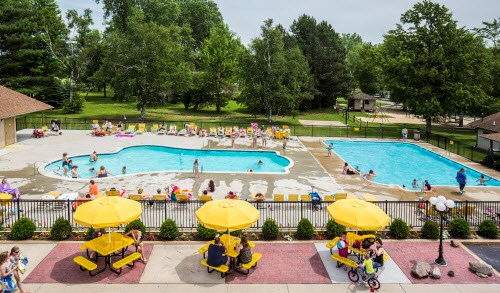 Cathy Reinard, who owns the Copake KOA Holiday with her husband Gary, says offering a variety of options has also made their campground a popular family reunion destination.
"With our pool, mini-golf and bike rentals we have a lot of fun things to do here on our campground," she says. "But we're also close to Catamount Aerial Adventure Park which has over 50 zip lines, and near historical attractions, an interactive fireman's museum, wineries, distilleries, presidential museums—so many fantastic opportunities."
---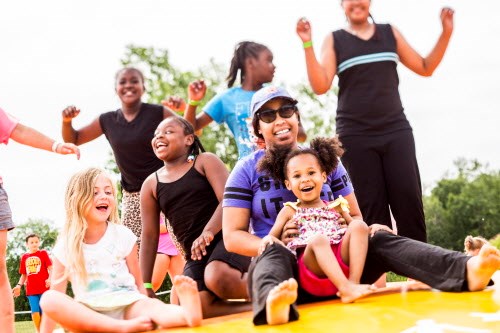 Fun for Generations
It's not surprising there has been an increase in the number of family reunions being held at KOAs. Memories have been made for decades across the U.S. and Canada under the summer sun and around roaring campfires. Parents and grandparents now hope to create similar experiences for the next generation.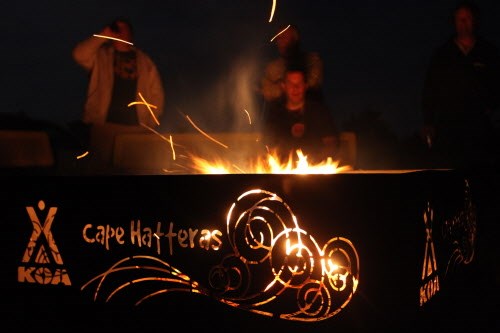 "Family reunions, and the entire concept of multi-generational vacations is growing," says Dr. Renee' Scialdo Shevat. "There is so much interest in it, in fact, we're building lodges to accommodate three generations under one roof. Children are in bunk beds in one room, their parents in another and the grandparents sleep in the third."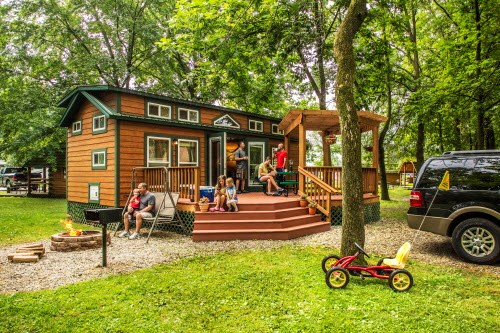 Dr. Shevat, who owns the Herkimer Diamond KOA with her husband, Sam, and parents, Rudy and Rena Scialdo, notes that up to one-third of guests at their campground during weekends throughout July and August are there for family reunions. Like the other campgrounds, the size of groups vary, from 10 or 12 guests to several times that.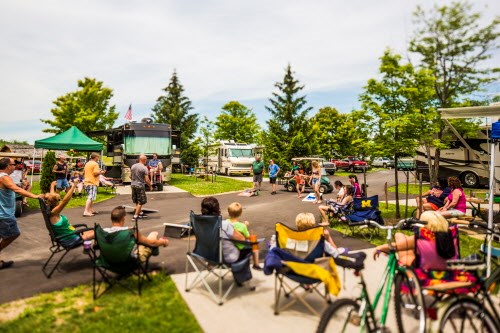 These campgrounds and other KOAs across the system offer a variety of accommodations to various types of campers. Reunions may have some who have RVs or campers, some who'll stay in tents, and others seeking cabins or other rental accommodations. Although it can be challenging, campground owners and managers do their best to put the reunion participants as close together as the can whenever possible. The campgrounds also seek to create individualized experiences for campers based on guest needs and preferences.
"One of the reasons we've heard people like to host their group stays with us, including family reunions, is our flexibility," Cathy says. "We tailor the event to them, finding out first what they need and then seeing how we can best accommodate them."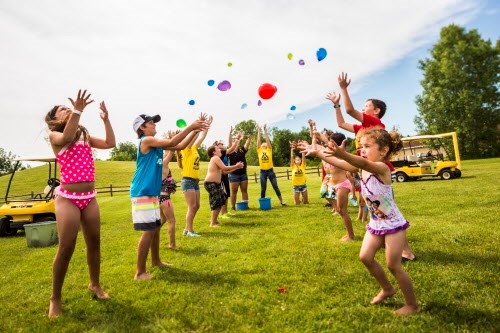 Dr. Shevat agrees.
"If they envision a slower-paced vacation that includes fishing, playing board games and roasting marshmallows over a fire, we can do that," she says. "But many of today's grandparents are very active, and they'll want to going kayaking, spend the day mining or do other, more adventurous things, and we can make that happen too. They get to carve out the things they'd like to do."
At the Herkimer Diamond KOA Resort, the diversity of activities expands into lodging options as well. The campground offers a colony of three solar-powered lodges, an astronomy lodge complete with telescopes, and a robotics lodge designed by engineering students at nearby Binghamton University and, new this year, a lodge devoted to drone technology.
---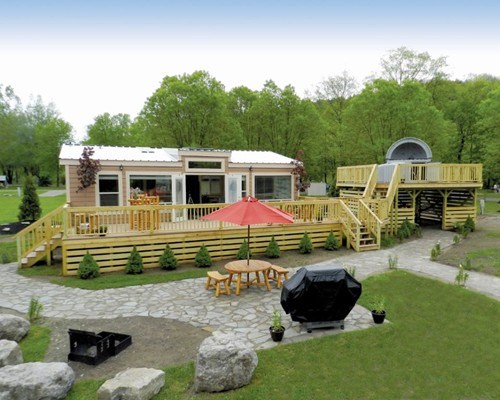 Options Everywhere, for Everyone
It's certainly easy to see why families choose these KOA campgrounds for their reunions. Each offers the kinds of activities and accommodations groups of all sizes need for a great get-together. But the fun definitely doesn't end there.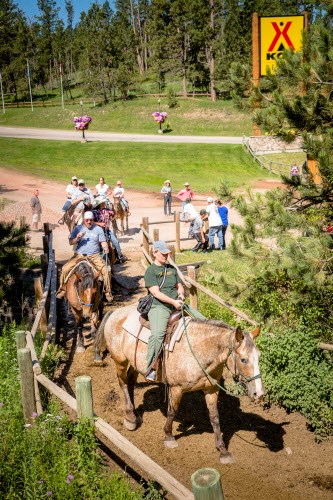 "In our experience, families rotate where they have their reunions," Karl says. "They'll hold it at our KOA one year because several family members live nearby and others will travel here. The next year, they'll hold it closer to someone else's home. Fortunately, there are nearly 500 KOAs, so they have a lot of places to choose from."
The Mt. Rushmore KOA at Palmer Gulch Resort, for instance, offers western adventures complete with guided horseback rides, hayrides and chuckwagon dinners—all just a short drive from Mt. Rushmore and the Crazy Horse Memorial. Or at the Dallas / Arlington KOA Holiday, families can take advantage of the campground's barbecue facilities for a true Texas-style dining experience, then head out to see the Dallas Cowboy Stadium or Texas Rangers Ballpark. Spend 15 minutes on koa.com, in fact, and you'll soon find out that there are as many great places to hold family reunions as there are campgrounds on the site!
---
Word of Advice: Plan Ahead
So what is key to hosting a family reunion at KOA? Start planning early, especially if you're considering holding your reunion on a national holiday, such as Memorial Day, Canada Day or the Fourth of July.
"Most families are planning their reunions when kids are out of school, meaning from mid- to late-June to the middle of August we are most likely to host that type of group event," Cathy says. "If you have specific dates in mind during those months, it's never too early to start getting those spots reserved."
"We start taking reservations for the upcoming season at the beginning of each year," he notes. "Especially for family reunions—or any groups, really—reserving their sites in January or February will save them from difficulties trying to arrange something at the last minute, which can be difficult."
Once reservations have been made, everyone is settled in to their sites and the reunion is underway, it's time to just have fun.
---

"My Family Went to KOA and I Got More Than a Tee-Shirt"
"Camping is all about bringing people together to enjoy something special," says Cathy. "Having a family reunion at a campground can be a wonderful opportunity to make that experience even more memorable."
"Making a memory is so much more important just receiving something tangible like a postcard or a tee-shirt," agrees Dr. Shevat. "If we can provide those experiences for families to have those treasured experiences, we'll have succeeded in our efforts."
---
Planning a Family Reunion? Check out these resources:
Family Reunion Planning Guide
Family Reunion Recipes
Family Reunion Activities
Organizing Your Family Reunion on the Web

---
Save
Save