Many people do not consider the fall season when thinking about making their next Great American RV Road Trip. That is a shame because fall is a gorgeous time for RV camping! Plus, during the off-peak season, crowds are fewer, and travel expenses and admissions fees are usually lower.
If the idea of less traffic, cooler weather, potentially lower prices and fall foliage is screaming your name, read on to learn about some favorite fall RV destinations to visit in the September-October-November period.
These months offer beautiful fall foliage (or significantly reduced crowds), and they allow for the opportunity to see other exciting attractions in the immediate area. We bet you will find some that you have never considered before.
Best Fall RV Destinations
One of the best camping tips is to venture out in the autumn. Fall is an excellent time to explore in your RV, with stunning colors and fewer summertime crowds. You can also experience the best that fall offers, including vibrant leaves, fresh apple cider and exciting festivals. Here are a few top fall RV destinations to add to your fall road trip route. You can also find RV campgrounds nearby to make planning your trip easier.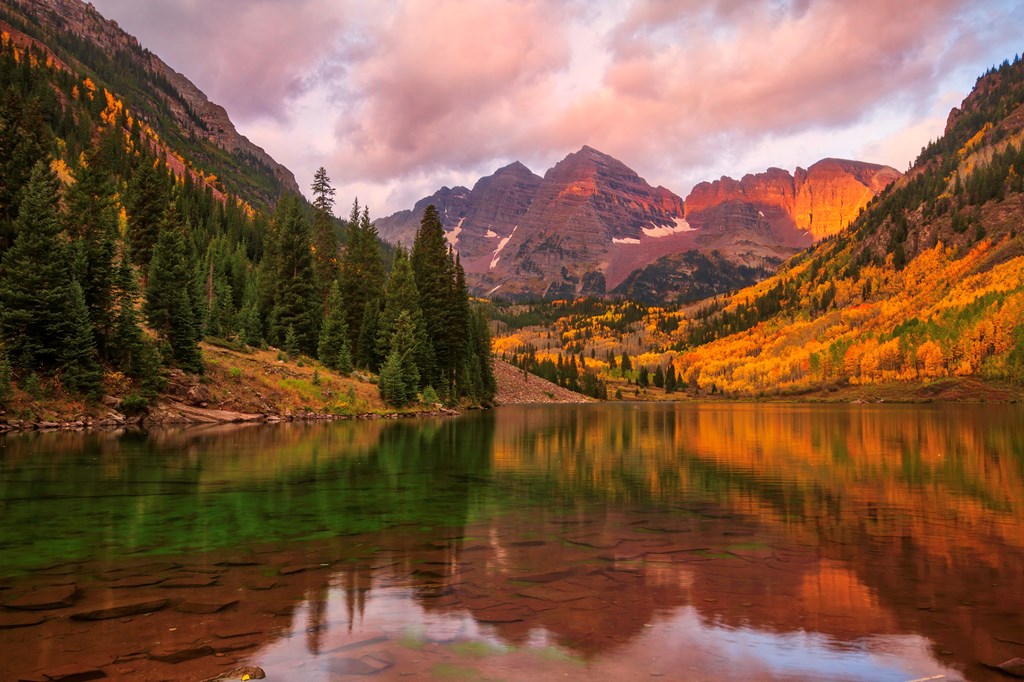 1. Aspen, Colorado
Aspen is a prime fall destination to watch the leaves change. From late September through early October, the area's dense foliage turns orange, deep yellow and auburn.
The Maroon Bells, 14,000-foot-high twin peaks, are among Colorado's most photographed landmarks. Revered for their natural beauty, the Maroon Bells reflect over Maroon Lake. Pet-friendly hiking trails provide endless scenic views of majestic mountains, vast fields of wildflowers and aspen trees.
Do not miss:
Independence Pass: Drive up Highway 82 (note: many hairpin curves) to Independence Pass for its breathtaking views in early fall.
Grottos Trail and the Cascades: Head further along Highway 82 from Independence Pass, park in the designated lot for Grottos Trail, and look for "ice cave" signs. Follow the path to see the stunning grotto rock formations. If you still want more, stay on the trail to reach the Cascades, a series of waterfalls that pour into the Roaring Fork River. Picture perfect.
2. Boone, North Carolina
Named after American pioneer Daniel Boone, the town of Boone is the economic hub of the seven-county western North Carolina region known as the High Country. Boone is located in the famous Blue Ridge Mountains and has a population of about 20,000.
Boone is on the Blue Ridge Parkway, which runs through Virginia and North Carolina. This 469-mile-long road has long stretches with speed limits of 45 mph or less, letting you appreciate the mind-blowing mountain views and orange, gold and red explosions as the leaves change.
Fall color usually begins in the upper mountain areas around the first week in October and works down to lower regions by mid-November. These are the peak times for viewing fall foliage, but really any time you visit, there is beauty to enjoy.
Do not miss:
The Rhododendron Tunnel at Craggy Gardens in nearby Black Mountain offers spectacular landscapes and beautiful mountain views. On clear nights, the vast grassy area becomes a popular stargazing spot.
The Watauga County Farmers' Market is an excellent place to find local seasonal foods, art and crafts. The location also features live music, food trucks and a kids' corner.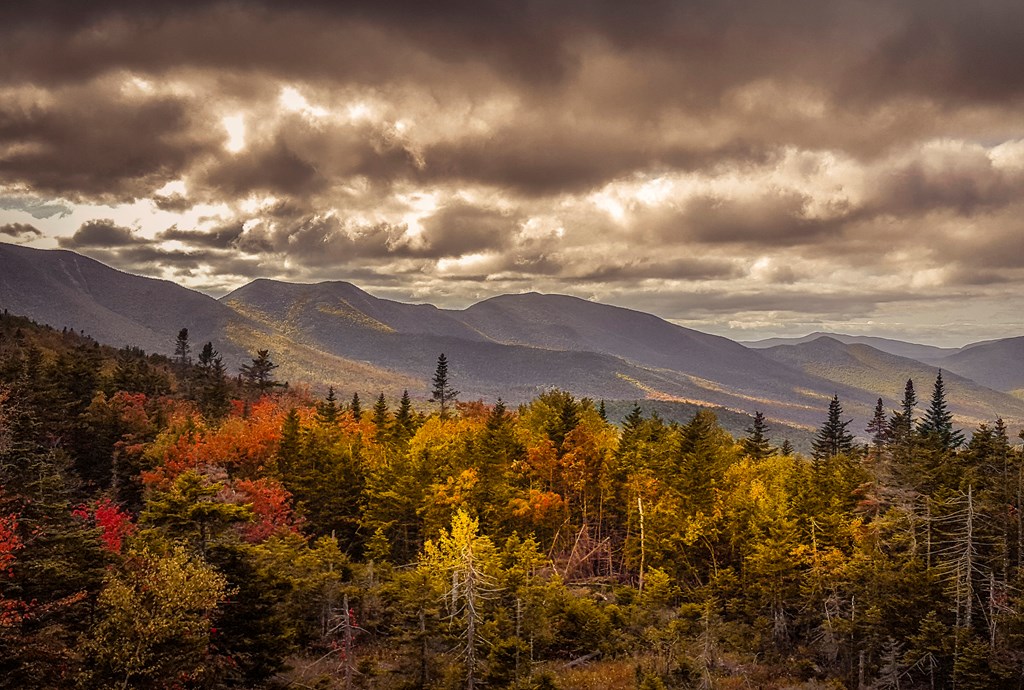 3. Conway, New Hampshire
In the center of the White Mountain National Forest, Conway is the central commercial area for several surrounding counties. It is also the eastern terminus of State Highway 112, called the Kancamagus Scenic Byway. It is the perfect place to go for an RV road trip.
Although the byway only runs for 34 miles, it is one of the best drives to view fall foliage. The "Kanc," as it is known, is bursting with beech, birch and maple trees. On average, the prime viewing season runs from late September through mid-October.
Do not miss: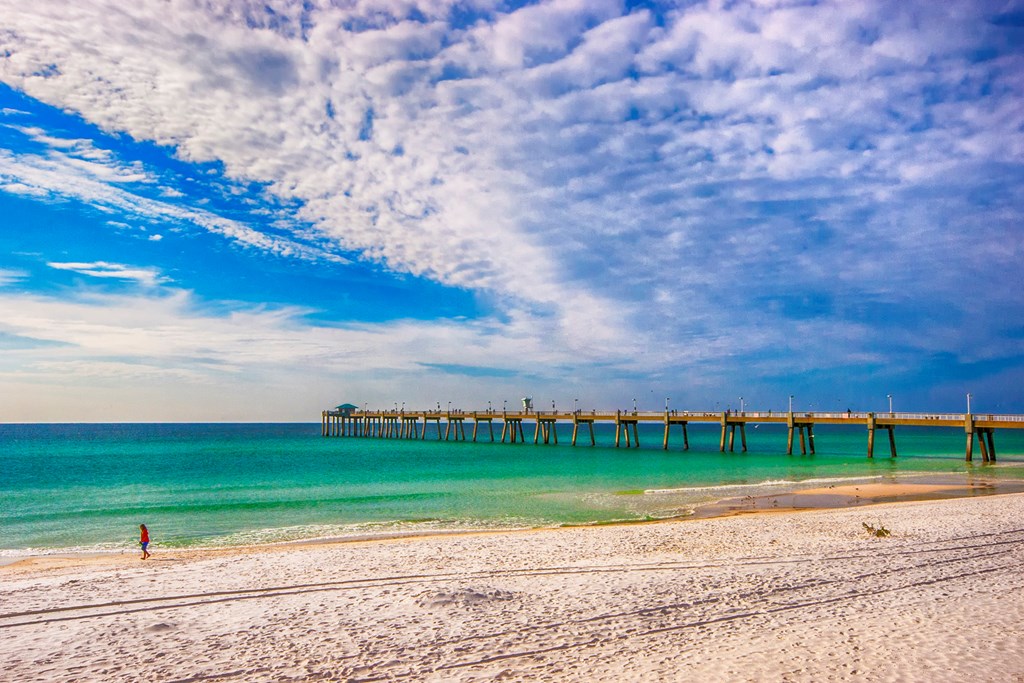 4. Destin, Florida
Who goes to the beach in the fall? Smart travelers, that is who. During the fall, excellent beaches are often blissfully devoid of crowds and not as hot and humid (although still warm). Situated in the northwestern part of Florida on the Gulf of Mexico, Destin is known for its white sands and emerald-green waters.
Do not miss:
A private sunset cruise from Destin Harbor aboard a luxury pontoon to spot dolphins frolicking in the water and watch the sunset over the Gulf of Mexico.
A visit to The Track – Destin, an amusement park offering racing, mini golf and many rides right next to the beach. Soak up the sun and enjoy summertime fun even as fall begins.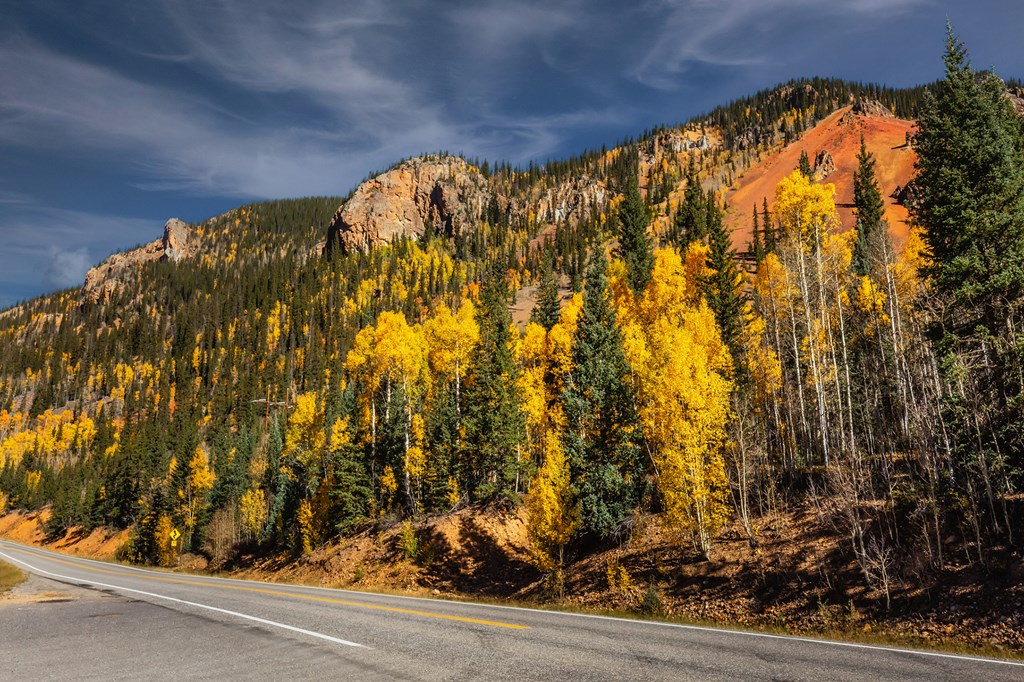 5. Durango, Colorado
Durango was established as a railroad town in 1880 and today provides that small-town feeling thanks to its population of just 20,000. It is located on Colorado's Million Dollar Highway (Route 550), which runs from Silverton to Ouray.
The Million Dollar Highway is a paved, two-lane road that climbs 2,000 feet from Silverton to its summit at Red Mountain Pass and then drops another 3,000 feet en route to Ouray. At 25 miles, it is not a long drive, but with its hairpin curves, steep climbs and lack of guardrails, you will want to take it nice and slow — for safety and to take in all the stunning views.
The aspen trees along Route 550 fade to a lovely golden hue, peaking around late early October.
Do not miss: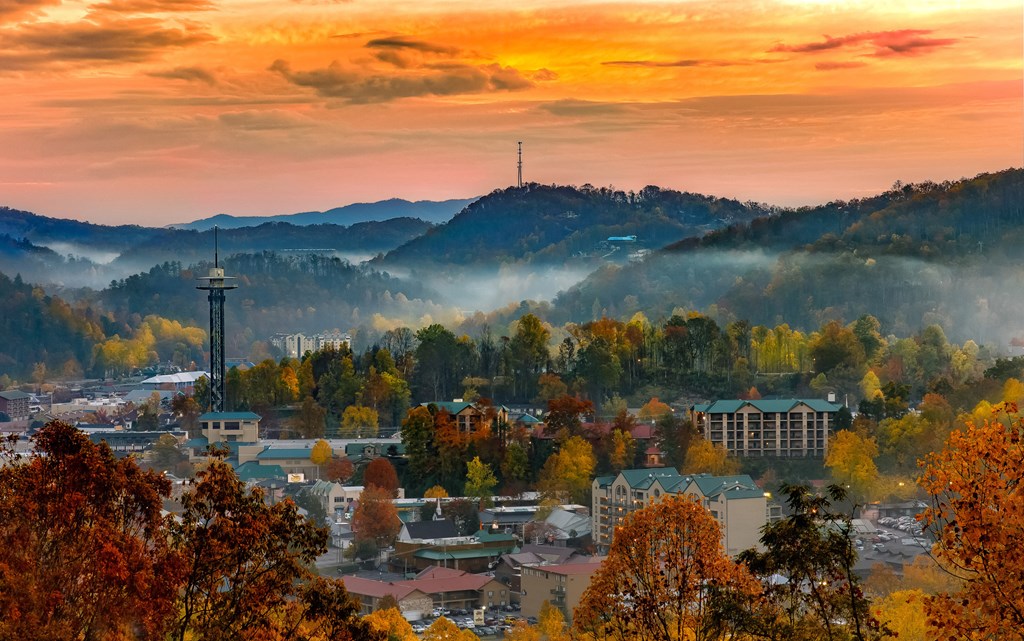 6. Gatlinburg, Tennessee
Gatlinburg's 407-foot Space Needle is its most iconic landmark. You ride a glass elevator to the top for sweeping 360-degree views of the surrounding area. However, that is not all there is to enjoy here. Every fall, Gatlinburg hosts the Smoky Mountain Harvest Festival, during which Gatlinburg businesses decorate their storefronts with yellows, oranges and reds.
The notion that peak color season in the Great Smoky Mountains is in mid-October is a misconception. The colors of autumn light up the Smokies for seven weeks or more, moving from the peak elevations down to the foothills. The seven-week period generally runs from mid-September through the end of October.
Do not miss:
Oktoberfest at Ober Gatlinburg, where people dress in traditional costumes, musicians perform authentic German tunes, and iconic German-inspired foods like schnitzel, bratwurst and strudel are served. The outdoor Bier Garten is open every day.
Kyker Farms offers plenty of fall fun and entertainment. Stop by in October to explore the corn maze, pick pumpkins and take a hayride around the farm.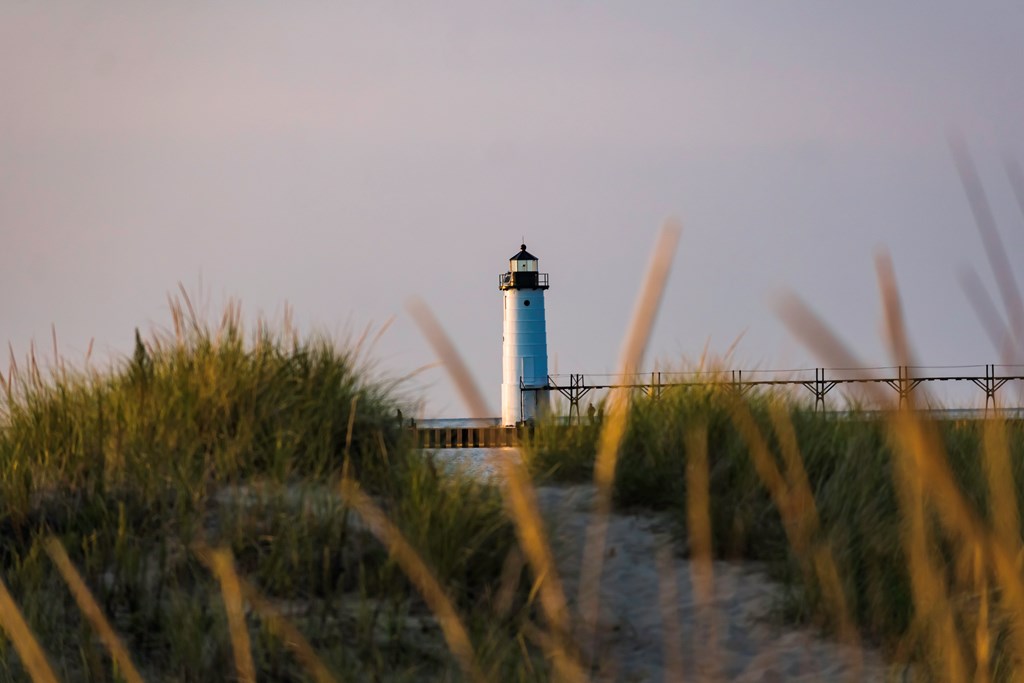 7. Harbor Springs, Michigan
Harbor Springs sits in a sheltered bay on the north shore of Little Traverse Bay on Lake Michigan. Driving through the Tunnel of Trees (Highway 119) on Michigan's Lower Peninsula, which begins in Harbor Springs, feels like something out of a dream.
Highway 119 winds for 20 miles along a bluff high above Lake Michigan. It travels through a lush forest that flames into bright shades of red and gold by late September. This area is stunning and certainly worth visiting in your RV in the fall.
Do not miss:
The charming General Store in Good Hart, the only town along the Tunnel of Trees. It is a grocery, bakery, deli, post office and gift shop in one, known for homemade pot pies.
The Little Traverse Lighthouse is a historic lighthouse on the Harbor Point peninsula.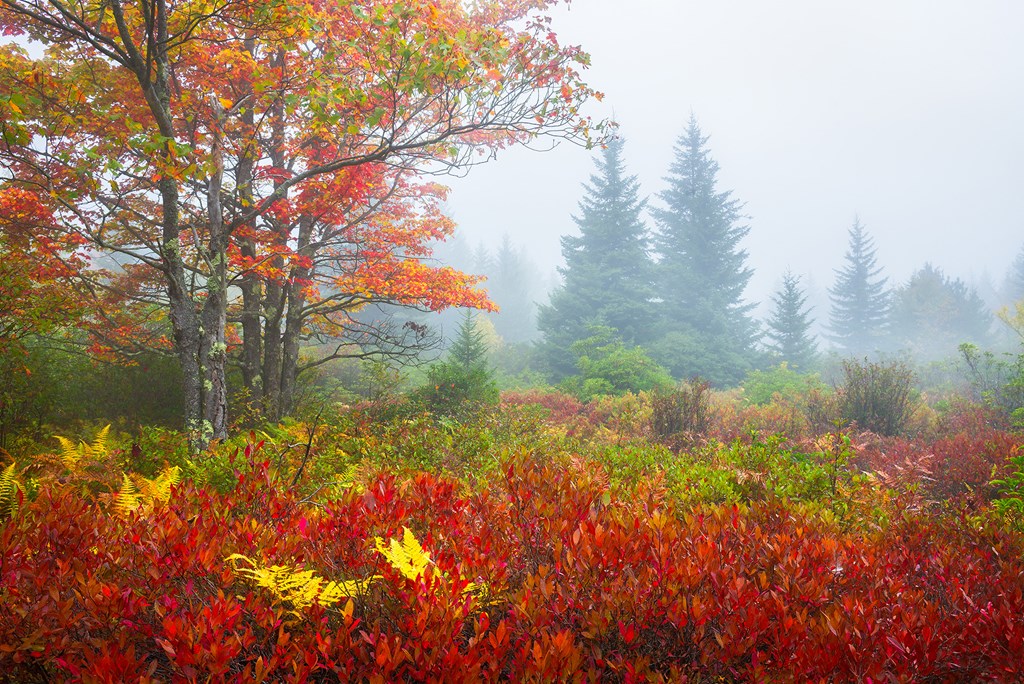 8. Highland Scenic Byway, West Virginia
This two-lane byway runs through the Monongahela National Forest in southeast West Virginia for 43 miles. It begins in Richwood, extends along Route 39/150 and ends at Route 219, seven miles north of Marlinton.
You will find four scenic outlooks along your RV road trip with mesmerizing views of the Allegheny Highlands. This fall destination becomes painted in red and orange colors by the end of September and into mid-October. Just imagine the views from your RV window . . .
Do not miss:
Honeycomb Rocks Trail, with its lattice-patterned rocks resembling honeycombs. The stones get their unusual patterns from weather and other factors over millions of years.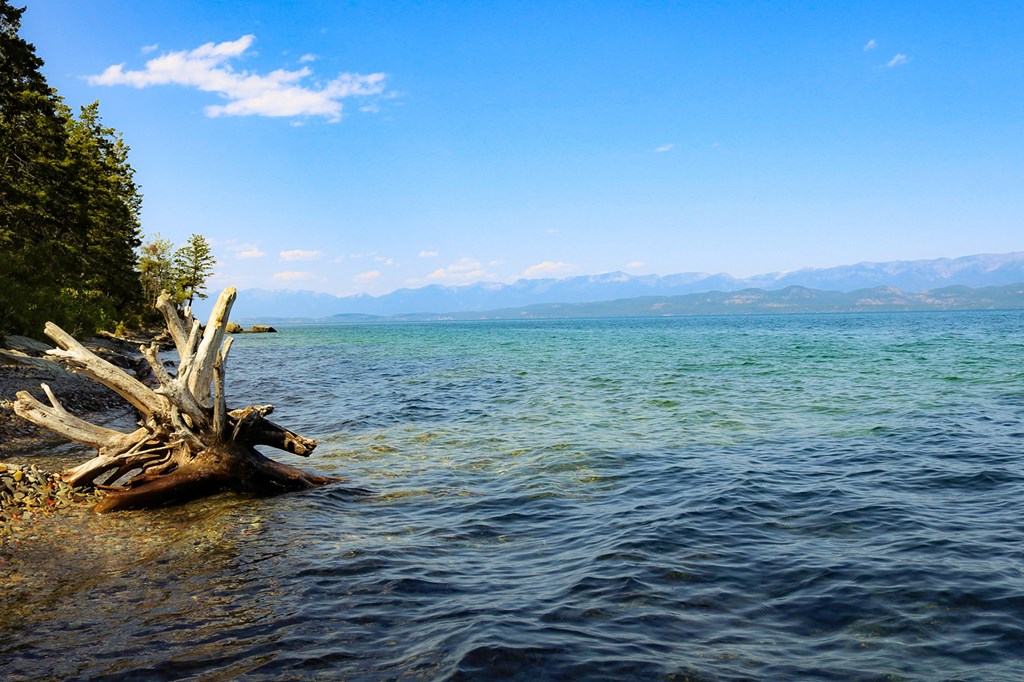 9. Kalispell, Montana
Kalispell is in the Flathead Valley, 22 miles from Hungry Horse Dam. Here, area tribal schools offer classes in the Kalispell–Spokane–Flathead language. If hitting the greens is your idea of fun, the Buffalo Hill Golf Club, designed by Robert Muir Graves, is also nearby.
Seven miles outside Kalispell, Flathead Lake is the largest freshwater lake west of the Mississippi. Fall finds the lake awash in crimson and gold reflections along the shoreline. Drive around the entire lake or down Highway 35 on the east side and into Flathead National Forest and the Jewel Basin to get the full effect.
Do not miss:
The Conrad Mansion Museum offers daily guided and self-guided tours of the restored 19th-century mansion of Kalispell's founding family.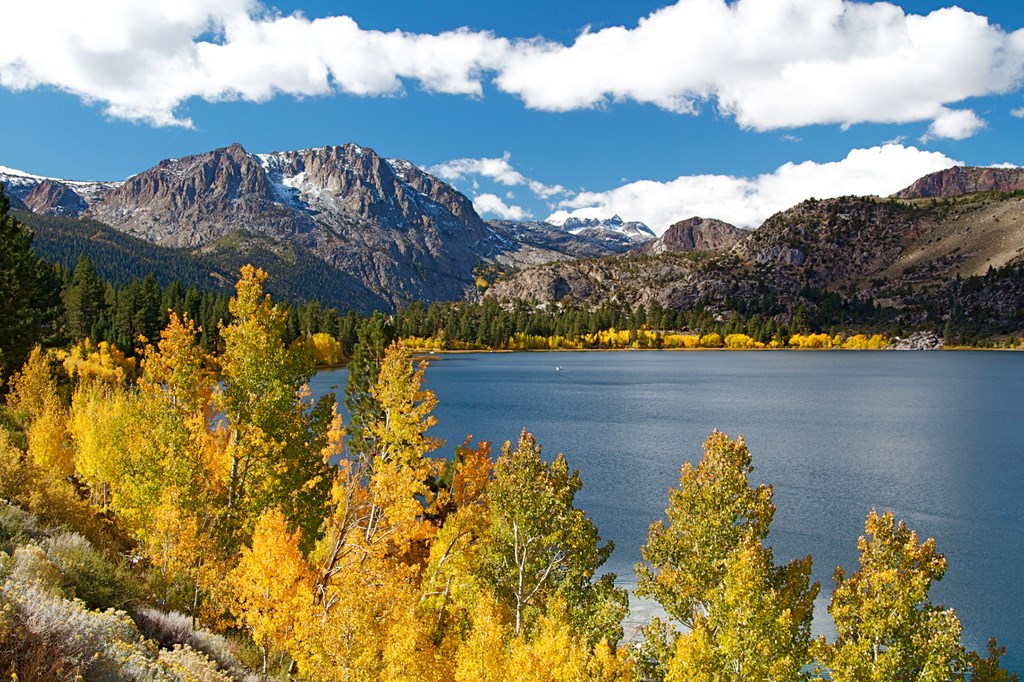 10. Mammoth Lakes, California
With only 7,500 residents, Mammoth Lakes is the only incorporated town in the immediate area. Located about 20 miles from the June Lake Loop, Mammoth Springs is California's most popular ski resort in the winter months.
In an area already known for its eye-popping scenery, June Lake Loop manages to stand out. The roads here wind through the Eastern Sierra Mountains — the 16-mile route branches off Highway 395 to take you past four sparkling alpine lakes, several of California's most scenic drives. Aspen trees along the route fade to yellow, gold and lime green in the fall, peaking by mid-October.
Do not miss: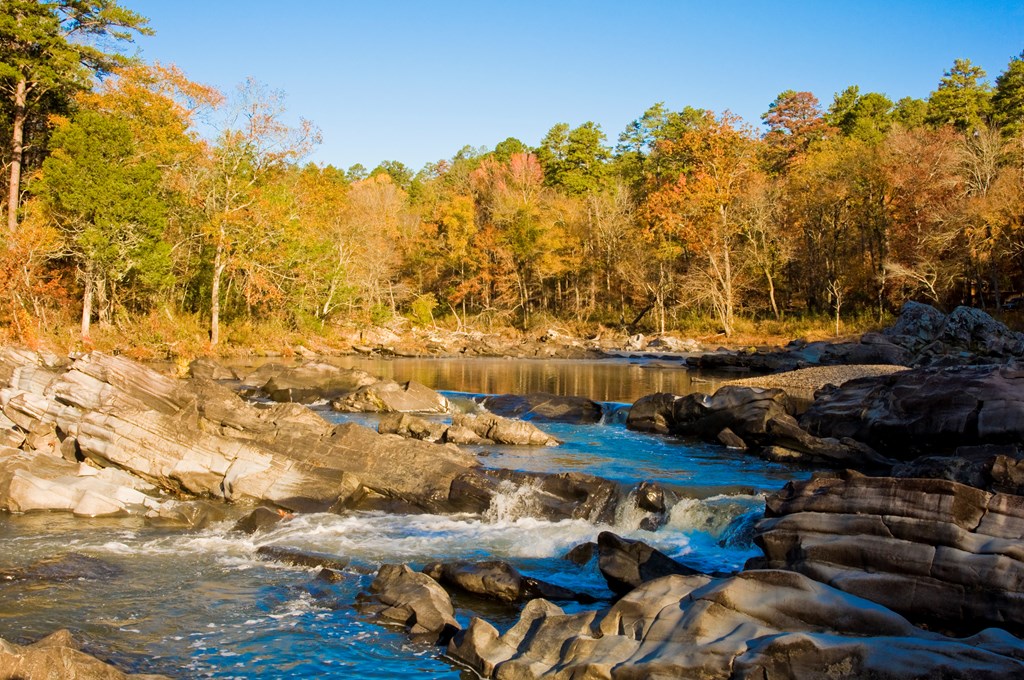 11. Mena, Arkansas
Originally founded as a railroad town in 1896, Mena is the gateway to Arkansas' most popular outdoor attractions, including the Queen Wilhemina State Park, Cossatot River, Lake Ouachita and the Black Fork Mountain Wilderness.
The nearby Talimena Scenic Byway, a National Scenic Byway, is a winding 54-mile drive through the Ouachita National Forest. The route erupts with gold, red and orange colors in late October and early November. Along the way, you can stop at many trails, like the Ouachita National Recreation Trail, to go hiking with your dog.
Do not miss: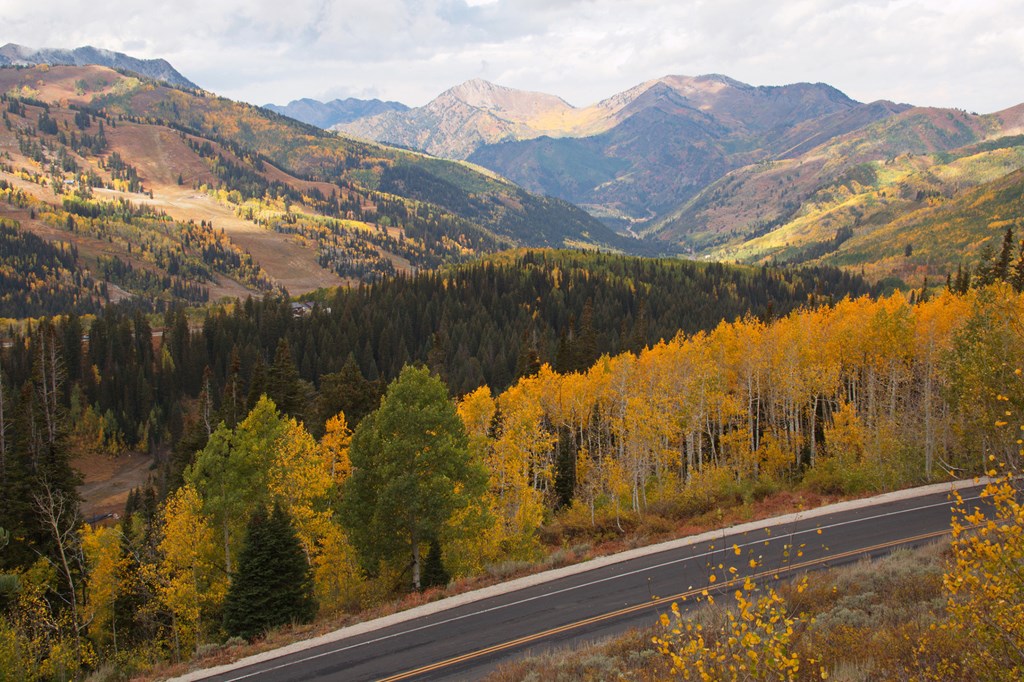 12. Salt Lake City, Utah
The mountains and canyons east of Salt Lake City are a nature lover's favorite spot for viewing fall foliage. Leaves here start turning at higher elevations in mid-September, and the lower elevations begin by the end of September and last through mid-October. This peaceful part of the country is a must-see.
You can also take day trips across the state to explore national parks like Arches and Zion when the weather is more moderate, and the summertime crowds have left.
Do not miss: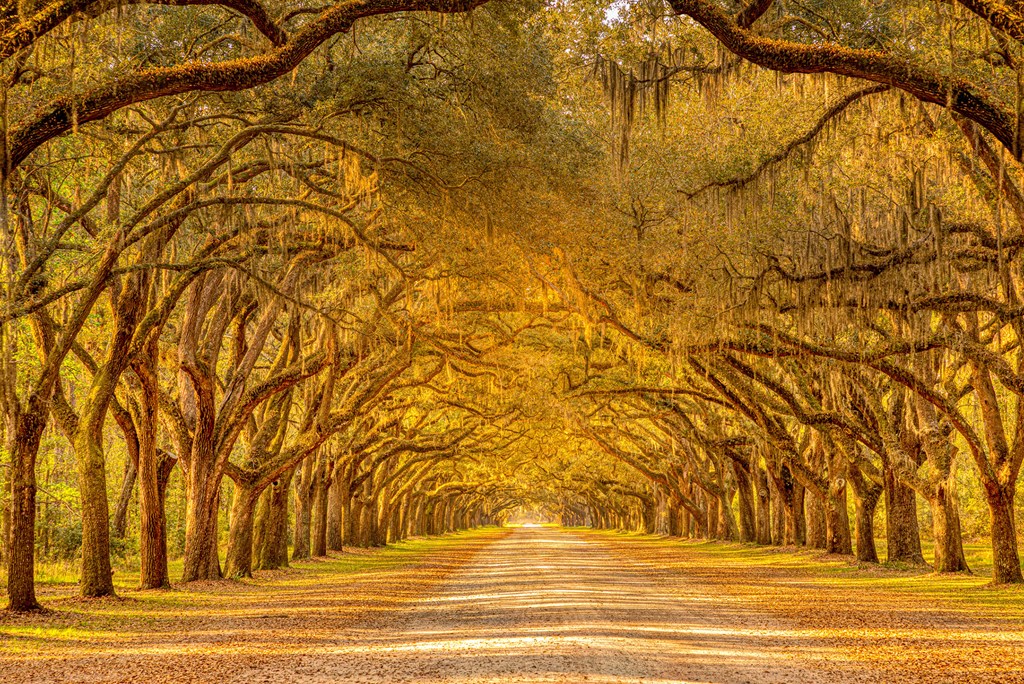 13. Savannah, Georgia
Spanish-moss-swathed oaks throughout Savannah make a fantastic backdrop for a visit any time of year. While you will not see much in the way of changing leaves during the fall, you will still get to enjoy the Southern charm of this port city and its surrounding areas when the weather is more forgiving than the humid summers.
Do not miss:
Leopold's has been serving its premium ice cream since 1919 and is a long-time favorite of former President Jimmy Carter.
Avoid the summertime crowds by visiting Fun Zone amusement park in the fall. You will enjoy the perfect weather while racing go-karts or competing in a game of mini golf.

14. Stowe, Vermont
Stowe is a classic New England town at the base of Vermont's highest peak, Mount Mansfield. It is located on the 138-mile Vermont Route 100, one of the country's coasting routes for what is referred to locally as "leaf-peeping." The season runs from September through late October.
In addition to watching the leaves change, fall means hiking numerous trails, fishing off Lake Champlain and paddling down the Lamoille River.
Do not miss:
Horrid Observation Site offers gorgeous views (despite its name) of the Champlain Valley. Reaching the outlook requires a half-mile uphill hike, but the payoff is a vast panorama of the Green Mountain National Forest and Champlain Valley. You can also go hiking with dogs on the trail.
Percy Farm Corn Maze is the perfect fall activity to do in Vermont. It is surrounded by gorgeous countryside, creating beautiful views and picture opportunities. The maze is well-designed, and the farm area also offers candies and syrups for sale.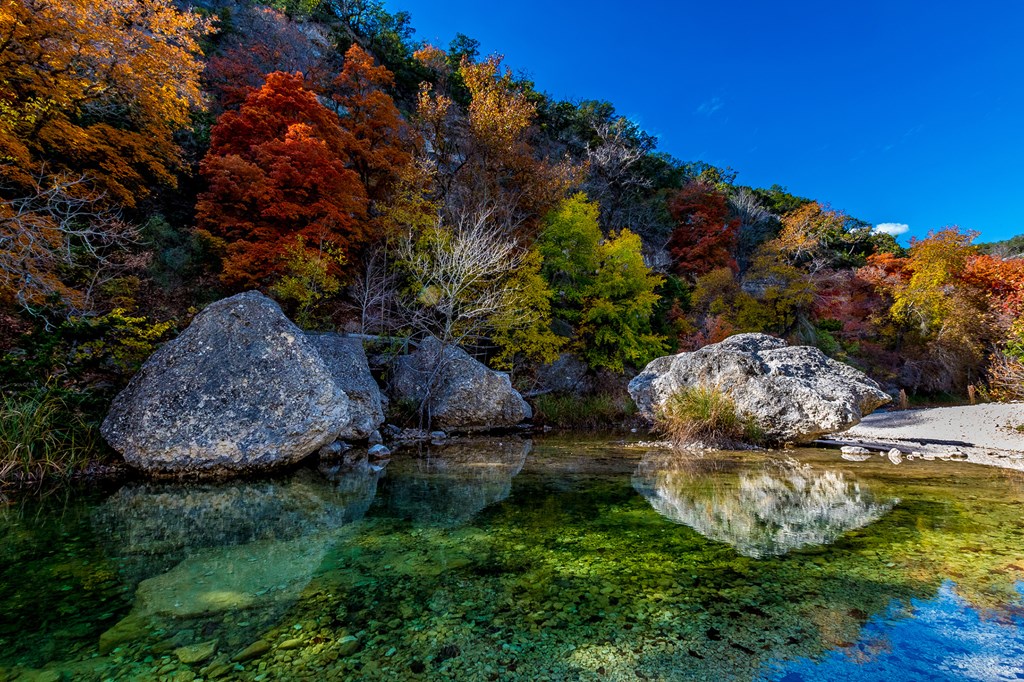 15. Vanderpool, Texas
Vanderpool is an unincorporated community 10 miles North of Utopia, with fewer than 100 residents. Sheep, cattle and goat ranching are what reign as popular here.
It is home to Texas Hill Country and has some of the best scenic views in all of Texas, including rolling hills, fields of bluebonnets, old oak trees, crystal-clear lakes and rugged terrain. Many say the Lost Maples State Natural Area is the best place to see changing leaves in Texas, especially on the East Trail in late October through early November. It is worth a visit in your RV.
Do not miss: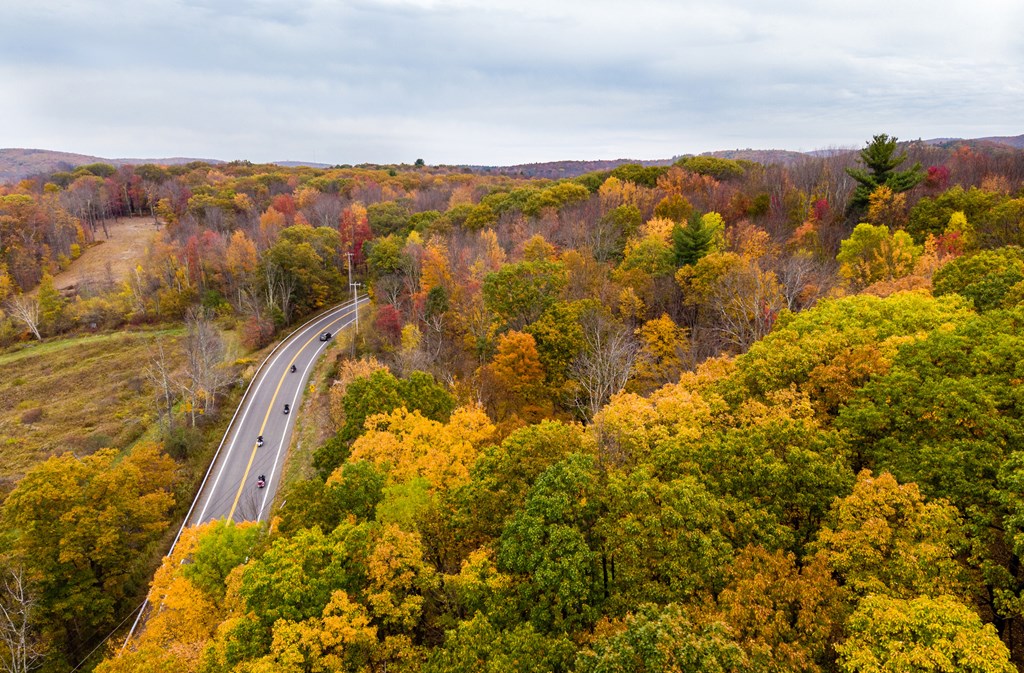 16. Watertown, New York
Near Lake Ontario and the Canadian border, 70 miles north of Syracuse, Watertown has about 25,000 residents. Nearby Fort Drum is a 107,000-acre U.S. Army base home to the 10th Mountain Division.
The 170-mile Olympic Byway stretches from Lake Champlain to Lake Ontario, winding through the High Peaks of Adirondack Park. The area greets fall in mid-to-late September with warm shades of crimson, gold and orange that you will want to see.
Do not miss: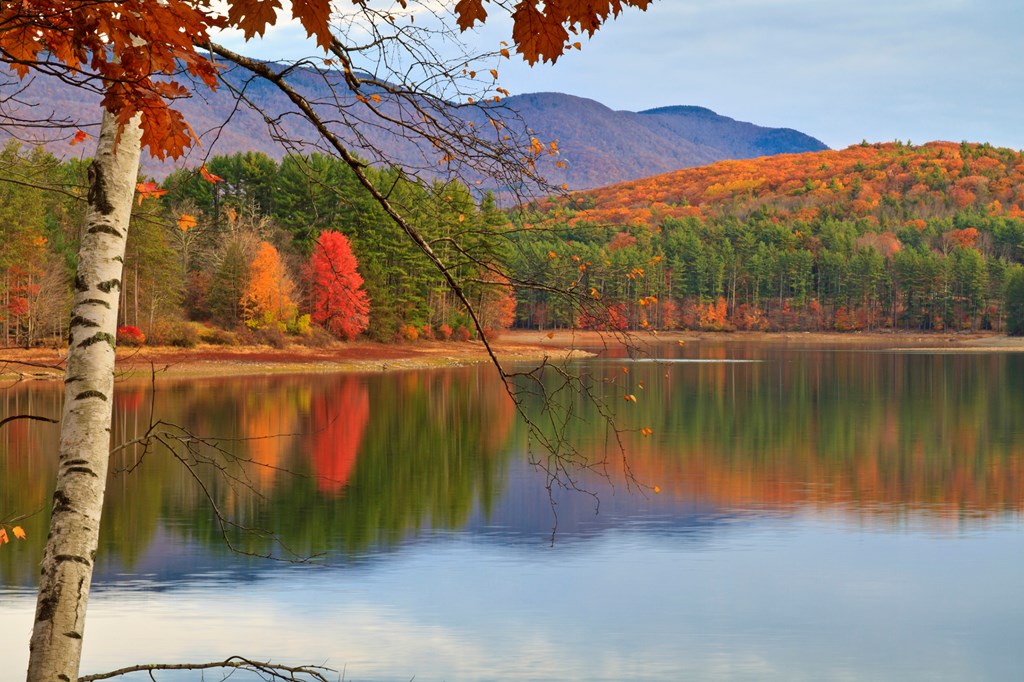 17. Woodstock, New York
It is often assumed the Woodstock Music Festival took place in the Catskills town of Woodstock, but it took place in Bethel, about 1.5 hours away. The 1969 summer festival got its name from the former, though, and Woodstock has since maintained a bohemian art scene.
In general, leaves in the Catskills and northern New York State peak between the last week of September and the first week of October, making this an ideal part of the country to enjoy in the fall, especially from behind the wheel of your RV.
Do not miss:
Find a Camping Destination This Fall
Fall is one of the best times to hop in your RV and see the beauty that this country has to offer. As the seasons change, so does the nature surrounding us, providing a new opportunity to be grateful for the peace and happiness that nature brings.
RV camping at a Kampgrounds of America location provides the ideal experience with access to local attractions and plenty of amenities to make your fall RV trip more comfortable. KOAs have RV Sites where you can bring your camper or check out lodging options at local campgrounds. Some locations offer RV rentals to give you the RV camping experience without the need for you to bring an RV.
Want to cut down on travel expenses while still getting a luxury experience? Bring your RV to a local KOA Campground. Find one near your travel destination by exploring various locations online.
---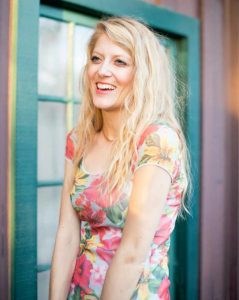 Leslie is a freelance travel and health/wellness writer who gets butterflies from telling stories and sharing information with readers across the globe. Her voice comes from a place filled with passion and dreams.
With over 10 years of experience in crafting words and years of embarking on travels that have taken this Montana girl to some incredible places, Leslie loves the adventures of both body and mind her writing takes her on.
To see what Leslie's up to in the writing and design world, visit her website here.
---
Save