Five Places to Learn About Dinosaurs and Fossils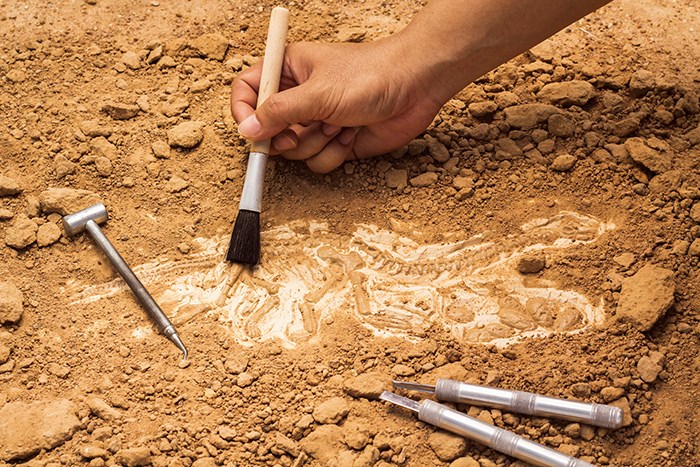 Learn about North America's prehistoric past with five don't-miss national parks, monuments and museums dedicated to dinosaurs.
There's no better way to fire the imagination than to look at dinosaur fossils right where they were found, and imagine our world as it used to be. Bring a sunhat, closed toe shoes, water bottle, magnifying glass and curiosity to five of our favorite fossil finds in the U.S.
Dinosaur National Monument, Colorado & Utah
Start your time travel at Dinosaur National Monument's Dinosaur Quarry Exhibit Hall and get hands-on with 1,500 dinosaur bones encased in the rock. Mornings at 10am, the more mobile can join a ranger-led 1.2 mile hike down the Fossil Discovery Trail to meet these 150-million-year-old creatures on a 90-minute tour. Alternatively, ask for the Self-Guided Tour brochure and let the kids lead the way. Afterwards, examine the human and animal-like stick figures of petroglyphs (patterns chipped or carved into the sandstone) and pictographs (painted patterns) left by Fremont Indians.
Badlands National Park, South Dakota
The nefarious sounding Badlands has been a stop on the classic Rapid City, S.D. to Yellowstone road trip since the first dinosaur discoveries in 1846. At Badlands National Park, you'll be amazed by the fossils of camels, three-toed horses, rhinoceroses, rabbits, creodonts, land turtles, rodents and more. Marine fossils from the Cretaceous (75 to 67 million years ago) can be seen nearby. A full schedule of daily activities includes a ranger led geology walk (not disability-friendly and best for school-age and older kids) and fossil talks. A bonus: at the Visitor Center, watch scientists at work on rare fossils.
Just 5 miles from Badlands is the Badlands / White River KOA. After a hot, hot day of exploring fossil beds and watching bison, bighorn sheep, prairie dogs and black-footed ferrets, come back to a pool, mini golf, playground and even a pet park (yes, bring your own dinosaur!)
Museum of the Rockies, Montana
The intriguing Museum of the Rockies (MOR) in Bozeman, MT is world-renowned for the Siebel Dinosaur Complex led by Dr. Jack Horner who, as consultant to the "Jurassic Park" films, allowed the computer-generated dinosaurs to be pictured without feathers, which paleobiologists now believe they had. MOR has lots of other surprises, like a living history farm and a Children's Museum that illuminate the wonders of nearby Yellowstone. Start outside for a selfie with Big Mike, the bronze T-Rex who guards the 40-foot-long fossilized skeleton of Montana's T.rex.
Mammoth Cave National Park, Kentucky
Another fascinating fossil stop is the 400-mile Mammoth Cave National Park in Kentucky, where park rangers give free guided hikes. You'll get up close to unusual marine fossils etched into the karst – including the teeth of fossil sharks formed in the shallow Mississippian Sea that covered the land 300 million years ago. Stay at the Horse Cave KOA nearby, then head out the next day to explore other caves which offer easy to extreme style underground tours.
Denali National Park & Preserve, Alaska
Back in 2005 when researchers first found two dinosaur footprints and fossilized bird tracks, no one associated Alaska's beautiful Denali National Park with dinosaur hunting. Today, paleontologists have uncovered thousands of tracks left by several late Cretaceous dinosaur species – even baby ones – in the sedimentary rock of the Cantwell Formation.
There's a wonderful illustrated Kids Study Guide (available here for download) that creates a treasure hunt from the most easily seen dinosaur fossils – a worthwhile guide no matter where you fossil hunt.
Most free National Park Service programs operate daily between late May and mid September.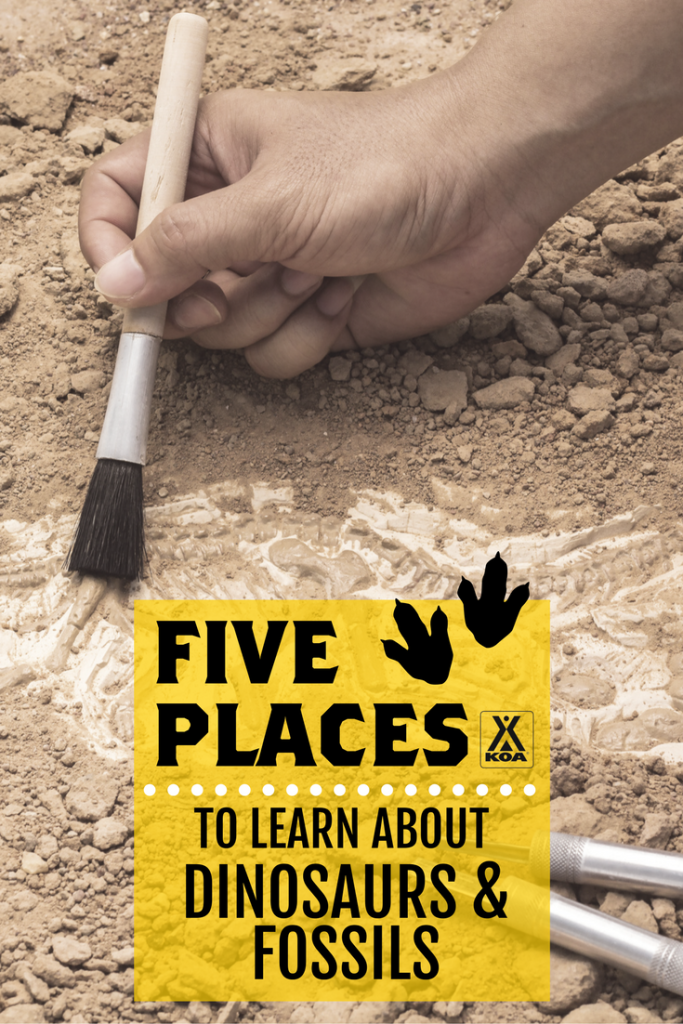 ---
Kyle McCarthy is co-founder and editor of Family Travel Forum, the online community trusted by family vacation planners since 1996. Ask her about more outdoors fun on Facebook, Twitter, Instagram, Pinterest and LinkedIn.