Amusement parks are a solid choice for family vacation destinations, but there are other cool trip options across the U.S. and Canada for families to experience together. Get immersed in a new landscape like the desert, rocky mountains, and seaside. And enrich your travels by learning about the critters and people who call these places home. Here are a few family-friendly trip ideas that'll fill your next vacation with amazing memories.
What Cool Trips Are Perfect for Kids? Start with these!

1. Arizona's Sonora Desert, Tucson, Arizona
A trip to Arizona's Sonora Desert is full of fun, dust-kicking Wild West activities families will enjoy doing together.
Discover where saguaro, the country's largest species of cacti, thrives in Saguaro National Park. See the prickly symbol of the American West at every life stage, from sprouting branch arms to producing flowers, with the oldest cacti rising to fifty feet. Walk the cactus gardens at the park's visitors' centers and pose with a towering saguaro for a photo op! Another park highlight is Signal Hill Petroglyph Site, where two hundred Native American petroglyphs, ancient rock drawings, are etched on boulders.
Visit the Arizona-Sonora Desert Museum to get up close with the mammals, birds, and reptiles in the surrounding desert environment. The museum's Raptor Free Flight showcases native birds of prey, like the raptor, great horned owl, and red-tailed hawk. Feel them fly by overhead and get all your questions answered about these majestic animals.
It's like you've stepped into a movie set at Old Tucson's western experience, complete with a train depot and an adobe one-room schoolhouse. Ruckus cowboy gun fights break out in the town square, and folks travel via horse-pulled wagons or board a train to get places faster. Old Tucson's petting zoo, shooting gallery, and gold panning station allow visitors to develop their Wild West survival skills.
Nearby KOAs:
Tucson / Lazydays KOA Resort
Benson KOA Journey
Picacho / Tucson NW KOA Journey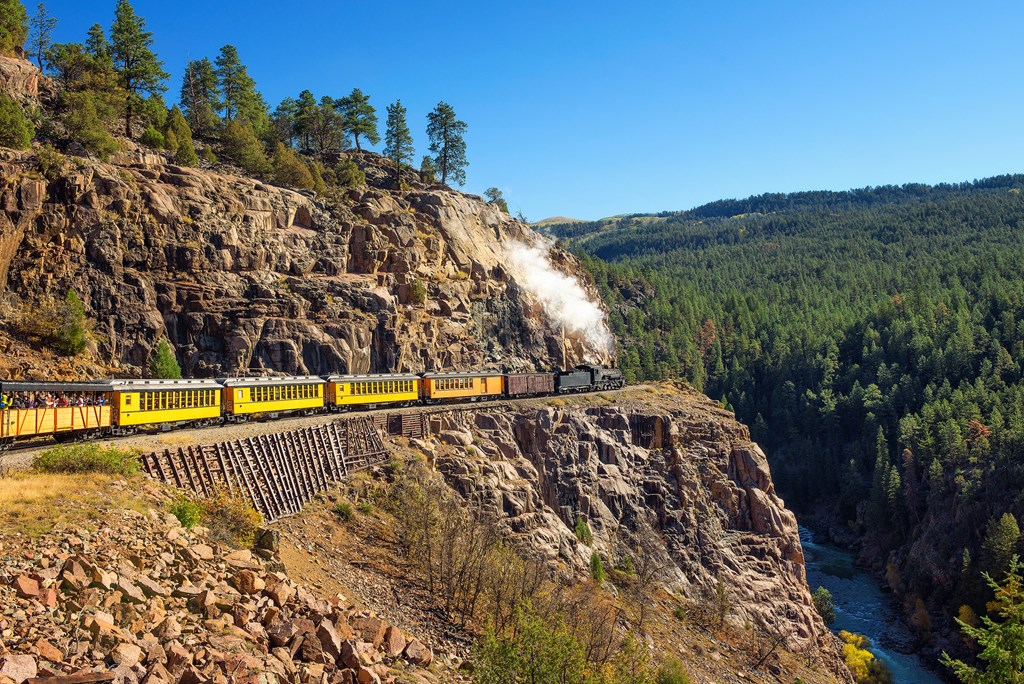 2. Mountain Railroad, Durango, Colorado
The railroad stop town of Durango, Colorado, was founded when the Durango & Silverton Narrow Gauge Railroad's tracks came to the area in 1882. Train lovers of all ages can ride the rails between San Juan National Forest mountain slopes along the banks of the Animas River.
The vintage steam and diesel trains run all year long on an all-day journey to the mining town of Silverton and back. Beautiful mountain scenery passes by dining car windows, and fresh alpine air wafts through the open-air viewing car.
A visit to Durango's historic electric power plant, the Powerhouse Science Center, will charge your kids up about science. Hands-on exhibits inspire creativity and empower youth to interact with scientific principles.
Experience San Juan National Forest's abundance of nature on a ziplining adventure with Durango Adventures. Climb up timber towers and over a bouncy rope bridge to a zip line launch pad surrounded by rocky mountain tops. Let loose and fly across a series of exhilarating zip lines through ponderosa pine treetops. If height and speed aren't your thing, there are other fun family things to do, like axe throwing and going on an off-roading trek.
Nearby KOAs:
Ouray KOA Holiday
Montrose / Black Canyon National Park KOA Journey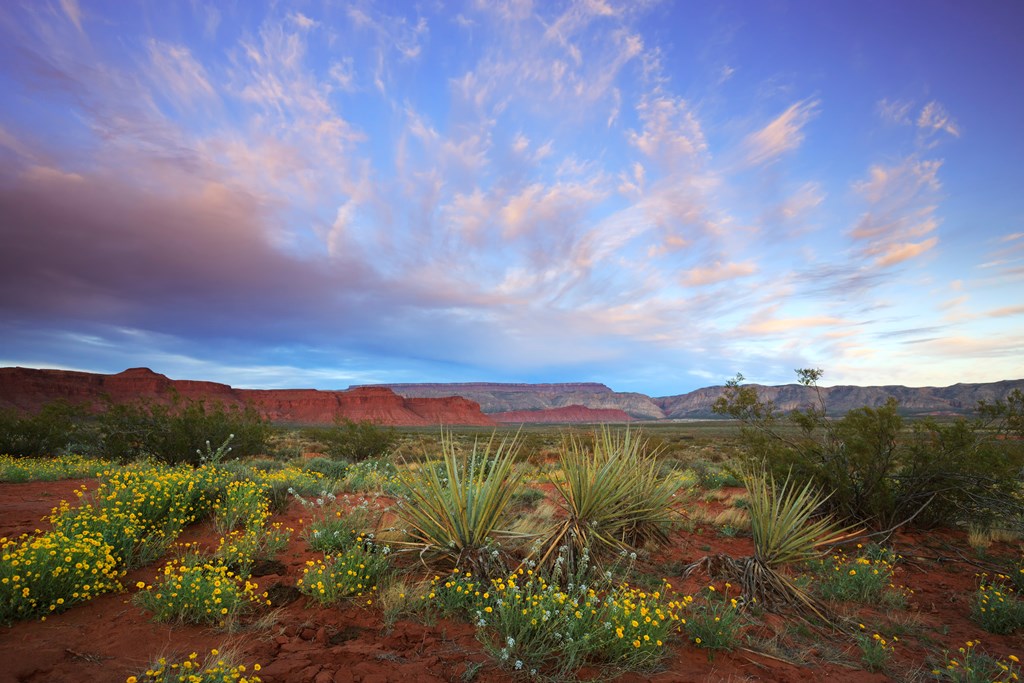 3. Dinosaur Tracks, St. George, Utah
If you've got dino lovers in the family, then St. George, Utah, will unearth roars of delight.
The St. George Dinosaur Discovery Site shelters the prehistoric animal footprints preserved in a sandstone layer. The prints were made by living dinosaurs two hundred million years ago as they walked, swam, and crouched in waiting. You can see how the dinosaurs moved, making it easy to imagine what the museum's dinosaur models would do if they came alive!
Pioneer Park in the Red Cliffs National Conservation Area around St. George is a unique landscape of rust-red canyons and mesa tops. Hike rock formation summits for a view over the city below and out to Zion National Park and the Arizona border. Squeeze through slot canyons and look for cave openings and petroglyphs carved onto rock walls. The park is a gateway for hiking trails that'll get the family scrambling over rocky outcrops in no time.
Nearby KOAs:
St. George / Hurricane KOA Journey
Beaver KOA Journey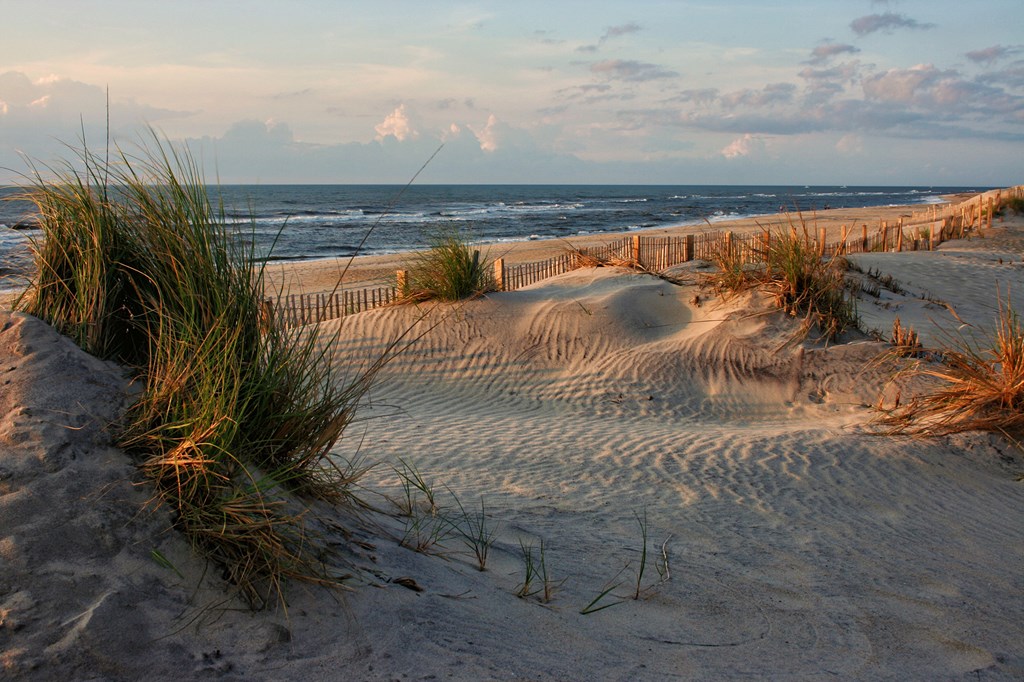 4. Outer Banks, North Carolina
Discover where many important historical "firsts" took place along the coastline of North Carolina's Outer Banks.
Walk the path of the world's first flight at the Wright Brothers National Memorial, where the brothers successfully flew their 1903 Flyer aircraft along the breezy Atlantic dunes. Visit recreated worksheds where the brothers experimented with building and flying aircraft, and hike Kill Devil Hill, their glider launch pad.
The Cape Hatteras National Seashore's long stretch of sandy beach welcomes migratory birds and nesting sea turtles. Cool off on warm days with a dip in the ocean, enjoy a picnic, and a long walk down the shore. Visit Cape Hatteras' three historic lighthouses and journey down the coast to Ocracoke Island to glimpse the resident herd of banker ponies.
And visit the site of the first English settlement in the New World at Fort Raleigh National Historic Site, established on Roanoke Island in 1587. Learn about colonists' struggles as they tried to make a new life in a harsh landscape and their mysterious disappearance. You'll also discover the importance of Roanoke Island as the ancestral home of the Carolina Algonquian people and the Freedmen's Colony site, where formerly enslaved people prepared for life after the Civil War.
Nearby KOAs:
Cape Hatteras / Outer Banks KOA Resort
Outer Banks West / Currituck Sound KOA Holiday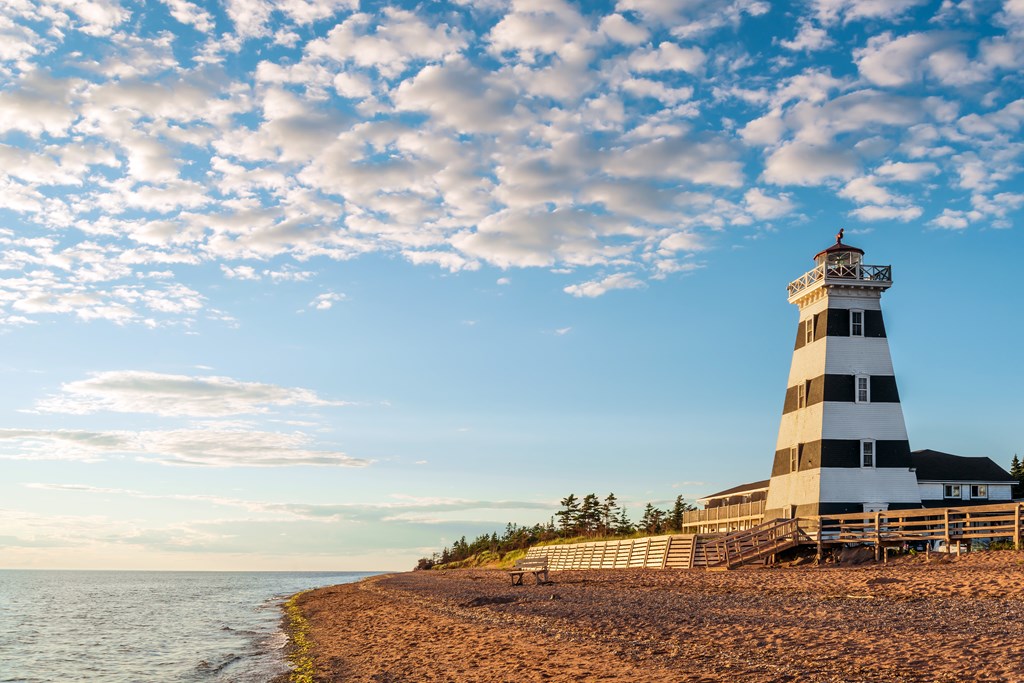 5. Prince Edward Island (P.E.I.), Canada
If you don't know the story of Anne of Green Gables before taking a trip to Cavendish on Canada's Prince Edward Island (P.E.I.), make reading it a family activity when you get there. The classic novel series, written by P.E.I. author Lucy Maud Montgomery is based on her adventures growing up on her grandparents' farm in the late 1800s.
Learn about Montgomery's life, author career, and the island's rustic landscape at Green Gables Heritage Place. The author's childhood home, "Green Gables House," is decorated as detailed in her novels, making the world of her beloved character, Anne, come to life.
Experience the refreshing ocean breeze at nearby Cavendish Beach, part of Prince Edward Island National Park. The island's green grass grows right to the edge of the red cliffs, which drop to inviting sandy beaches below. Enjoy a family bicycle ride along the shoreline path and a hike to one of the park's scenic lighthouses.
Nearby KOAs:
Cavendish KOA Holiday
Borden / Summerside KOA Journey
Cornwall / Charlottetown KOA Holiday
---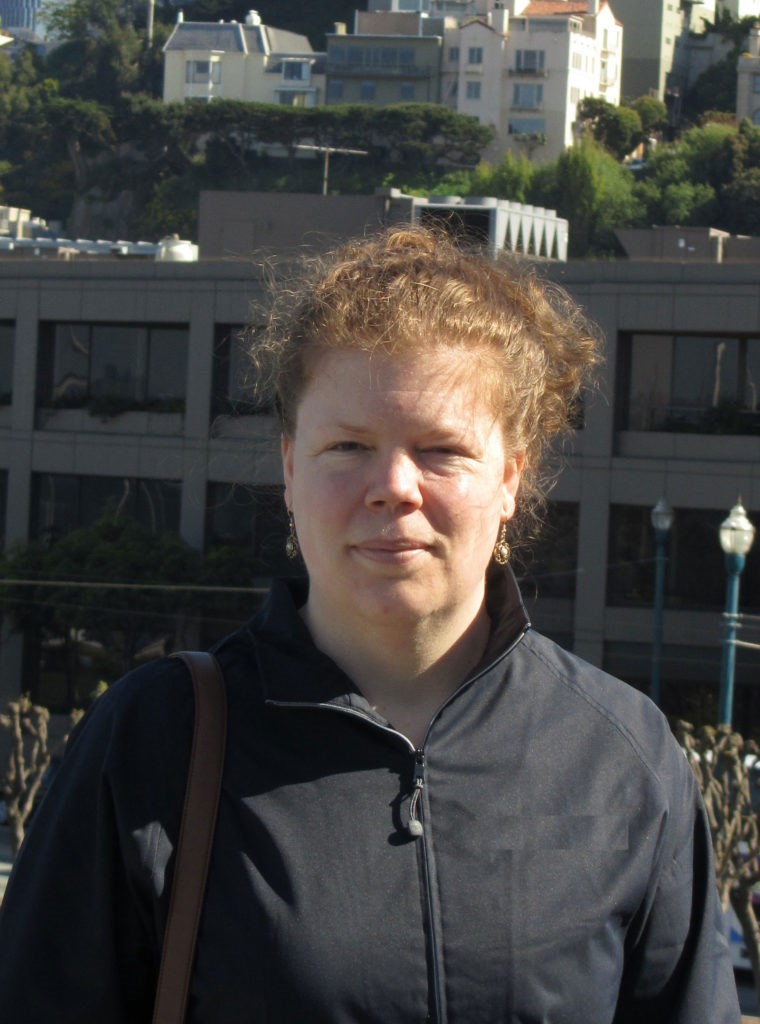 Eva Barrows is an accomplished San Francisco Peninsula freelance writer and book editor. She writes for regional magazines like PUNCH and Edible Silicon Valley and was editor-in-chief of Live&ThriveCA magazine. She founded the online literary journal Imitation Fruit in 2007 and has enjoyed promoting fellow writers and artists ever since. Read more of her travel writing at www.evabarrows.com.