This college football camping guide will help you make sure your college football camping experience is a win!
There is something special about college football. It's not just the game. It's the entire experience that's bigger than your standard sporting event. School loyalty runs deep and through its century-plus history, some of sports' most famous rivalries and legends have made their mark on Saturdays in the fall.
---
That deep-running loyalty is only one of the factors that makes college football such an incredible experience. You can also throw the pageantry, atmosphere, and tradition into the mix among many others. Perhaps the best part of college football is the camaraderie that comes along with being a fan. College football fans proudly wear their team colors wherever they go and you can bet that if you walk into a bar or restaurant sporting your team gear, that any other fans of that team will welcome you with open arms.
What does all of that have to do with camping? Well, tailgating before (and after!) a game is one of the things that makes the entire college football gameday experience so unique and amazing to experience. Walk into the area surrounding any college football stadium on a Saturday and you'll will see countless fans grilling, playing games, chanting, and getting ready for the big game the way collegians (you know, academics) know how. Add camping into that mix and that's a combo worthy of tradition and each year you'll find yourself stadium-side singing along as the band marches in proudly playing their fight song in the crisp fall air. What's wrong with that? (psst…the answer is nothing.)
---
Big 10 camping spots
The Big 10 football conference has some of the most passionate fans in the country. Based in the Midwest and Northeast regions of the U.S., the Big 10 offers some of the best fall camping you'll find.
---
Ohio State Buckeye fans will want to consider Tree Of Heaven Campground in Westerville, Ohio which is about 30 minutes away from downtown Columbus. It earns its name by having a ton of trees around the campground which will be in brilliant fall color if you time your trip right. It is far enough away from the hustle and bustle of the city to offer a peaceful retreat the day before you head into the city to check out the festivities on Lane Avenue, grab breakfast at the Grandview Café or get a seat at the weekly skull session at St. John's Arena to hear the Ohio State Marching Band (otherwise known as The Best Damn Band in the Land).
For those farther north in the land of beer and cheese (Wisconsin), a great place to camp before a game at Camp Randall Stadium is Lake Kegonsa State Park. There are plenty of activities around the scenic lake like fishing, hiking, boating and swimming to enjoy before the Badgers take the field on Saturday. Only a 25 minute drive to Madison's Camp Randall Stadium, it won't take long for campers to start enjoying Breese Terrace to the sounds of House of Pain or enjoying a few brats and beers at Lucky's Bar & Grille or Jordan's Big Ten Pub which both turn into outdoor beer gardens with plenty of grub for even the heartiest of appetites.
---
There is great camping to be found nearby to whatever team you are loyal to. Some other ideal spots for fall college football camping for Big 10 fans are Maryland in the Northeast for great fall foliage viewing opportunities and Iowa for some of the best pregame grilling to be found anywhere.
---
Here are a few times to help you cheer more and stress less:
Pack Extra Eats
This is a great tip for several reasons. For starters, camping tends to build up pretty hearty appetites. Sure, college football camping doesn't require the effort of say backcountry camping. However, you'll still be hungry when it's time to eat and running out of food is never fun. Plus, you'll almost certainly meet some new friends and offering food is the perfect way to break the ice. If you are really nice, you could even offer the opposing team's fans a bite to eat after your victory. Bottom line is that food goes fast during college football festivities for a lot of reasons so pack more than you think you'll need.  Tot get started check out this handy list of KOA Tasty Tailgating Recipes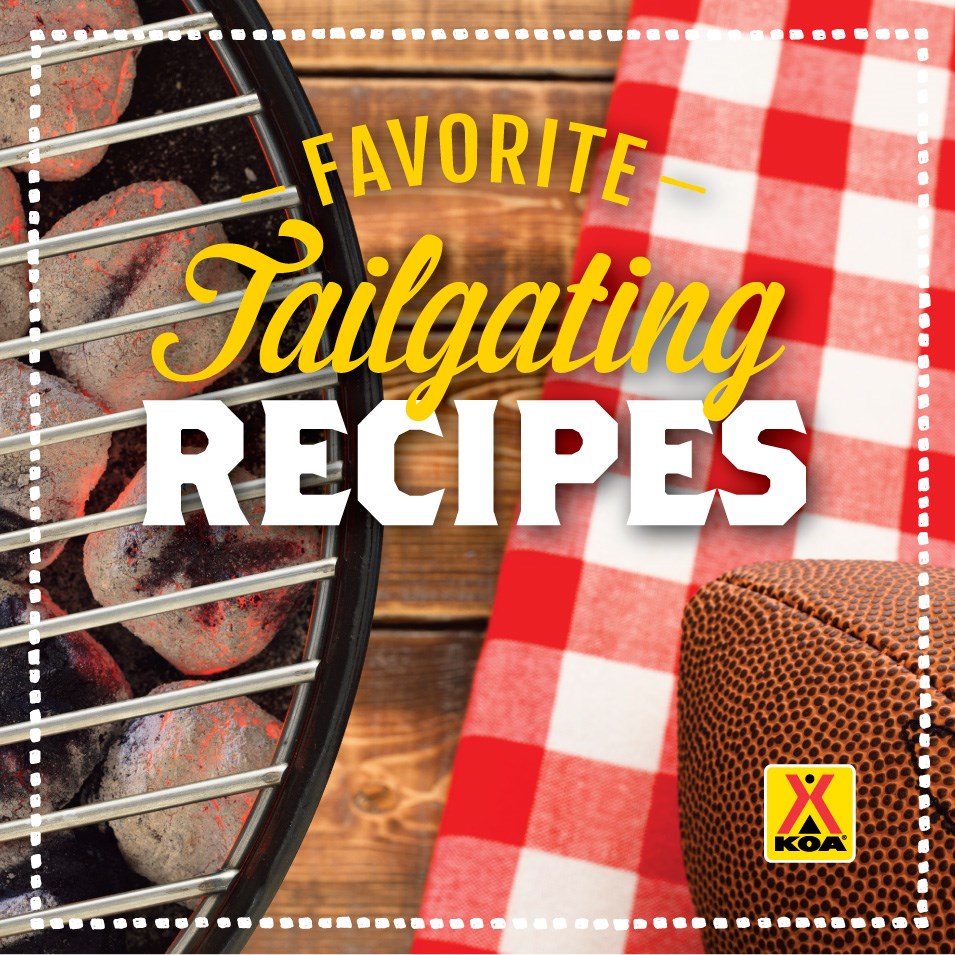 ---
Get Into the Spirit
Since you are either considering or planning to go camping for a college football game this far, I'm going to go ahead and assume that you are already in the spirit. What I'm trying to tell you here is to really go for it. Learn the fight song, challenge another group of campers or tailgaters to a cornhole competition, or join in with the next round of cheers. There are a ton of ways to get involved and have a great time. Remember that you aren't just there for the game, but the entire experience.
---
Partake in the Local Tradition
If you are a seasoned college football fan and have been to a lot of games, this tip probably won't be of much use to you. However, if you are new to college football or are simply going to a game for the first time, make sure you learn about a local gameday tradition and take part in it. Two that come to mind off the top of my head (as an Ohio State fan and Big 10 supporter) are having a bratwurst and beer (or several) near Camp Randall Stadium in Wisconsin and taking part in Ohio State's famous O-H! I-O! chant which will happen often and loudly. (The food isn't too shabby in Columbus either!)
---
---
All in all, combining college football with camping is a great way to spend a fall weekend. Do a little research before you go and you are sure to find some great campsites close to the stadium and some insider information on the best bars and hotspots to hit when you head into the city for the game. Remember to have fun and drink responsibly and you'll likely make college football camping an annual tradition.
Writer. For Roadtrippers. For KOA. For sanity. Catcher of fish. Baseball fanatic. Proud to call Ohio home.
Brought to you by KOA and our partners at: