Tasty Tailgating Recipes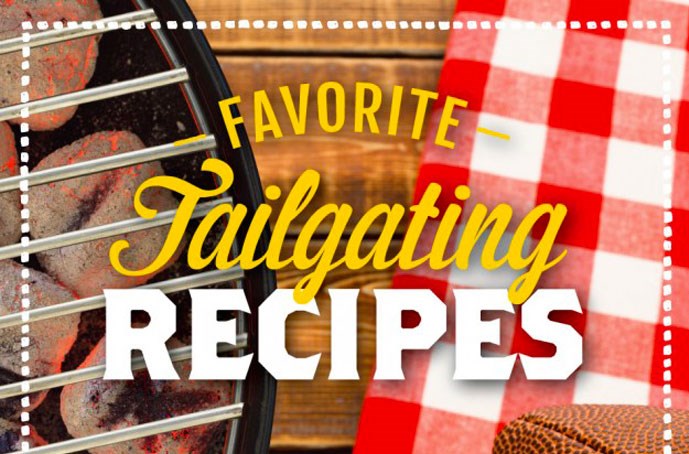 We've cooked up some of our favorite, crowd-pleasing recipes perfect for game day. Add these to your next tailgate!
Keep the gang happy with a spirited tailgate menu, or load up the camping gear, make some tasty food and head to your favorite KOA. These easy recipes are a hit no matter when you decide to make them.
Below, find three recipes just in time for football season; creamy Spinach Artichoke Dip, easy and flavorful Beer Brats and to finish it off, sweet and spicy No-Bake Pumpkin Pie Bars with Gingersnap Crust.
Got your own go-to recipe? Share your favorite tailgating snack ideas in the comments below.
---
Beer Brats

Nothing brings out the flavor of brats like a good bottle of beer.
Ingredients
2 Tbsp. butter
1 Tbsp. olive oil
1 large yellow onion, thinly sliced
2 bottles lager-style beer
10-12 bratwurst
Sauerkraut, spicy mustard, hearty buns, for serving
Directions
Heat oil and butter in a sturdy Dutch oven.
Add onions and saute over medium heat until soft, golden and caramelized, about 10 minutes.
Add beer, scraping bottom of pan to get all the golden bits.
Add brats and cook for 10 minutes.
Remove brats from pot and grill each side until golden brown. Continue simmering onions while brats are cooking.
Serve brats with cooked onions, kraut and mustard.
---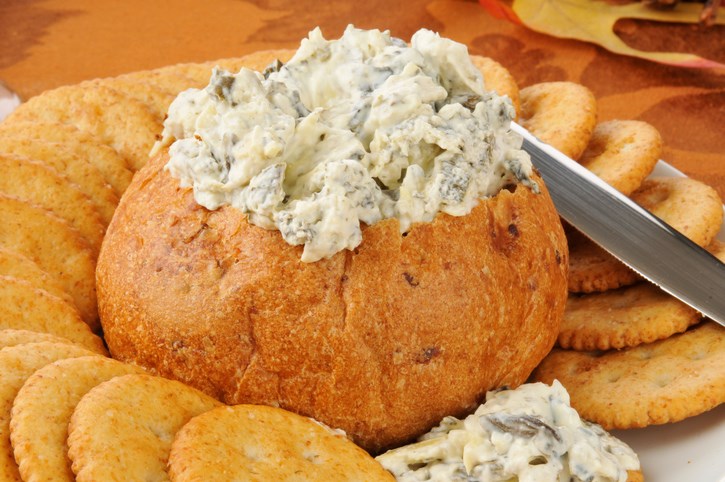 Spinach Artichoke Dip
Cheesy, creamy & yummy.
Ingredients
1 (10 oz.) pkg. frozen chopped spinach, thawed
1 (14oz) can artichoke hearts, drained
1/2 cup 2% Greek yogurt
8 ounces cream cheese or Neufchatel cheese softened
¼ cup mayonnaise
2 tsp. minced garlic or 1 tsp. garlic powder
½ tsp. freshly ground pepper
1/2 cup shredded Parmesan cheese, divided
1 cup shredded mozzarella cheese, divided
Directions
Preheat oven to 350 degrees.
Drain spinach and squeeze out any excess liquid. Chop artichoke hearts, set aside.
In a medium bowl beat together yogurt, cream cheese, mayonnaise, garlic and pepper until smooth. Stir in ¼ cup Parmesan, ½ cup mozzarella, spinach and artichoke hearts.
Spread mixture into a 1 ½ quart baking dish and sprinkle with remaining ¼ cup Parmesan and ½ cup mozzarella.
Bake for 30 minutes until bubbling. If desired, broil for an additional 2-3 minutes to brown cheese.
Serve with veggies, chips or toasts. Alternately, spoon into a hollowed out round loaf of sourdough bread. Makes about 2 ½ cups dip.
---
No-Bake Pumpkin Pie Bars with Gingersnap Crust
Bring fall's favorite dessert, pumpkin pie, off the plate and into your next tailgate.
Ingredients
Crust
1 1/2 cups gingersnap cookie crumbs (crush in a food processor or using a plastic bag and rolling pin)
2 Tbsp. sugar
1/4 cup butter, melted
Filling
2 cups whole milk
4.6 oz package of vanilla, cook-and-serve pudding mix
1 cup pumpkin puree
1/2 tsp. cinnamon
1/4 tsp. salt
1/4 tsp. ground ginger
Dash of cloves
Directions
Mix gingersnap crumbs, sugar and butter together until well combined.
Press mixture into the bottom of an 8×8 baking pan. Allow crust to chill while making your pumpkin filling.
Begin making filling by bringing milk to a gentle boil over medium-high heat.
Add pudding mix and stir with a whisk to thicken as milk returns to a boil.
Reduce heat to low and add pumpkin. Stir until smooth before adding cinnamon, salt, ginger and cloves.
Pour filling mixture over gingersnap crust. Smooth by softly tapping the container on counter.
Chill until filling is firm, about three hours.
Slice and finish bars with your favorite whipped topping before serving.
---
Other Recipes
If these recipes have you hungry for more, checkout a few more dishes to add to your game day menu such as Deviled Eggs, Buffalo Chicken Dip, Game Day Apps, Hot Dogs and Killer Chili, BBQ Pork Sandwiches and Carrot Cake! And don't forget to visit our collection of favorite camping recipes submitted by campers just like you!
---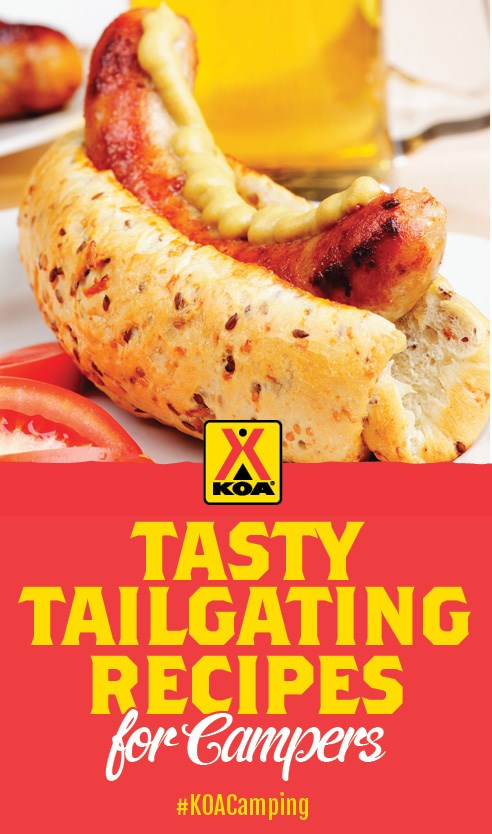 Save