Stuff We Gotta Have! The Coleman Quad Lantern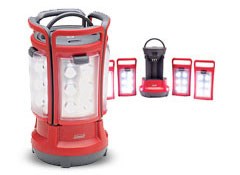 ---
The Coleman LED Quad Lantern separates into 4 smaller units that are easily rechargeable.
Nike did it for shoes. Starbucks did it for coffee. Facebook did it for sharing information.
Each has taken something old school—and revolutionized the way we think of it. They're the names we know, the products we want, the things we can't live without.
And now Coleman has done it too. They've taken the idea of your grandpa's camping lantern and made it so new, so different and so…well…amazing that campers everywhere are asking for them.
Now we've told you about the Quad Lantern before…but we decided that we didn't just want you to take our word about just how great it is. That's why we asked our KOA Facebook fans if they'd test them for us. And the response was phenomenal.
So now, take a few minutes to read what these five lucky KOA campers had to say about the Coleman Quad Lantern. We think you'll be just as excited as they are about this gotta-have camping item.
---
Reviewer: Rhonda and Brett Nicholas, Virginia KOA Campers
First, I must say I was impressed with the speed in which we received this test product. Given time was short, I thought of many uses for our test light. Our camping trip was to start on the last day to submit our entry, so I knew there wouldn't be much time to use our light.
I was wrong.
We arrived and I used this light for hooking up the water connection, cable and putting together the rack on the end of our picnic table. I would say this is a must-have item. The uses are endless and the ease of the separate lights is wonderful. On Friday when our friends come, I can't wait to show off our light and take a late night walk with my husband.
Thank you for choosing us to test this product! Awesome!
---
Reviewer: Krista Pomeroy, Oregon KOA Camper
Cons: This lantern is a bit heavy if one was to carry it very far. It was a little hard for me to get the bottom back on after putting in the batteries, though I do have small hands.
Pros: It is very bright. The removable sections are a genius idea–very easy to carry for those middle of the night walks. They are lightweight enough for children to use. I can see us using the removable sections at different ends of a table for more light distribution, unlike one large lantern.
We tested the lantern in our backyard and can't wait for our next camping trip to use it.
Overall, we love this lantern. Thank you for this opportunity.
PS: Our cat has to check out everything that comes in the door, and he approves.
---
Reviewer: Scott Pepi, Massachusetts KOA Camper

I received my Quad Lantern today when I got home from work. I opened it up, and I was like "WOW! This is awesome." I am always looking for extra lighting for when I walked the dogs when we went camping.
First thing I did was opened it up, turned it on…and nothing. So I noticed how each light popped off the base. They worked. So a little more looking around (no, I didn't look at the directions) and noticed it unscrewed from the bottom—the battery compartment. I was surprised that a larger battery didn't go in, but 8 D batteries.
So I went out and bought 8 D batteries, put them in, and turned it on. Uh-oh…one light is flickering out of the box. LED lights never need replacing–but flickering.
I thought it may be some cool alerting bulb, until it went out. So I turned the light out, waited a minute, and turned it back on, to find another bulb on the same removal panel started to flicker.
Now, if I didn't get this for free, I would have been able to return this and get a replacement. I don't think I have this option here, unless I send a warranty claim to Coleman, which I may do.
It's an excellent idea, and great to have when I need some light in the compartments of my camper, or even looking under appliances in my house, or just needing some extra light. I wouldn't say it has the light of a LED headlight, but plenty of light to get the little bit you may need to get SMOAS [sic] ready.
I will definitely be bringing this along on all my trips, especially to KOA in Bar Harbor, Maine this summer. I would rate this at an 8 for engineering, but a 4 for the bulbs already going dead out of the box. (In the picture, you can see the 2 dead bulbs.)
Editor's Note: We forwarded Scott's comments onto Coleman, a great company committed to outstanding customer service–and with a reputation for standing behind their products. That's why they're sending Scott a new Quad Lantern, and we look forward to hearing his comments as soon as the replacement arrives.
---
Reviewer: Kristen Hollis, Nevada KOA Camper
We are KOA kampers from Reno, NV, and are new fans of the Coleman LED Quad Lantern!
We love the removable panels attached to the side of the lantern, which allow each of us to have our own light to go exploring, or to individually move around the kampsite without taking the whole lantern!
We were pleased to discover that the panels come equipped with rechargeable batteries inside, which are charged with the replaceable batteries of the main lantern. The panels can last up to 1.5 hours each, plenty of time for us to explore the riverside at dusk or take a long walk. Smart!
Also innovative are the LED lights, which remain cool and never need replacement. And the energy usage is less than conventional lights, so the lantern can last up to 75 hours on one set of batteries. The lantern is weather resistant, another plus.
Recommended product!
Thank you again!
---
Reviewer: Arlene Monroe, Michigan KOA Camper
We were lucky enough to test the Coleman Quad-Lantern. The lantern arrived about 45 minutes before our power went out so we played cards by the light of the Coleman Quad Lantern; when we needed to go into another room we just unsnapped one of the lanterns and went. My husband also used the lantern for lighting the deck while using the BBQ.
Our best backyard adventure was lighting the way from the house to the lake with the lantern, we had a fire going in the pit, and I was snapping pictures of everyone with the lantern. My grandson let the dog out and he started running for the dock (he's a swimmer). I set down my camera to grab the dog, well to make a long story short, the camera took a swim and so did my pictures.
But I still have my lantern and I love it!!!