Dreaming of a wild, west adventure? Look no further than a road trip to Cody, Wyoming – a family-friendly town with rich western history.
We recently embarked upon a weekend road trip from Billings, MT to Cody, WY – a relaxing trek that took less than two hours and rolled through flat plains. With a new mystery audiobook on play, a few salty snacks, and full tank of gas, our travels to Cody were quite the adventure. Using a couple of KOAs as basecamps for a long weekend, we certainly weren't disappointed.
Top 10 Things to Do near Cody, Wyoming – a list of our favorite travel finds in and around this historic town:
Cody is located just 55 miles from Yellowstone's East Entrance. Drive around the Yellowstone Lake and make a pit stop at the West Thumb Geyser Basin, an area where thermal features sit in and along the lake's freshwater. Whether you begin or end your Yellowstone vacation in Cody, it's a great base camp for National Park adventures.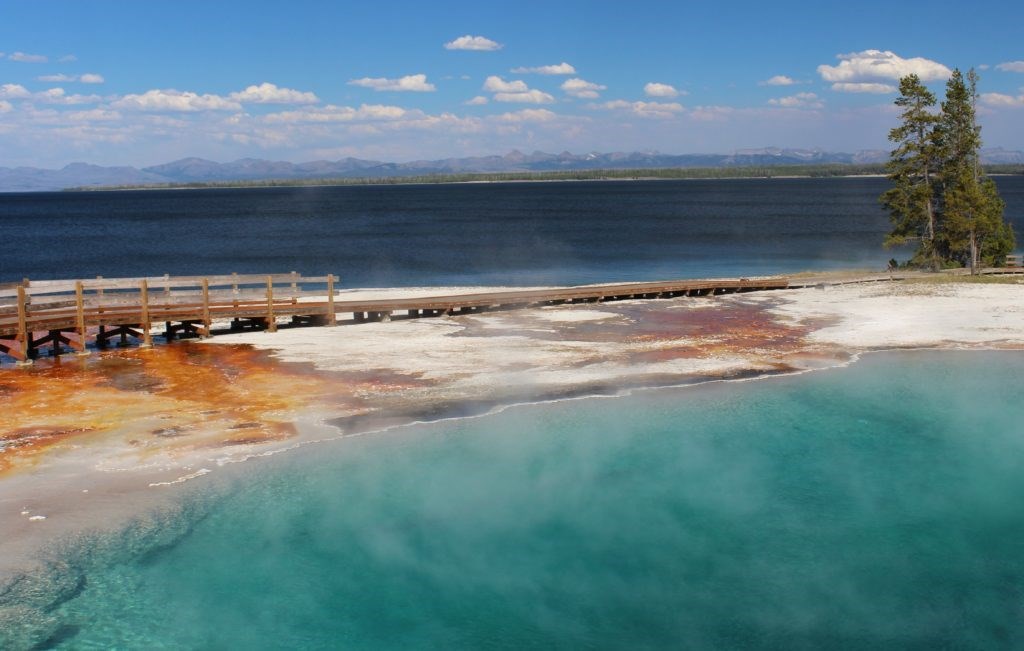 KOA Insider Tip: If traveling from Yellowstone, begin your trek back to Cody in the late afternoon as most restaurants close early in town. Another option to consider is traveling through the park for a stay at a pair of West Yellowstone KOAs – Yellowstone Park / West Gate KOA and Yellowstone Park / Mountainside KOA Journey.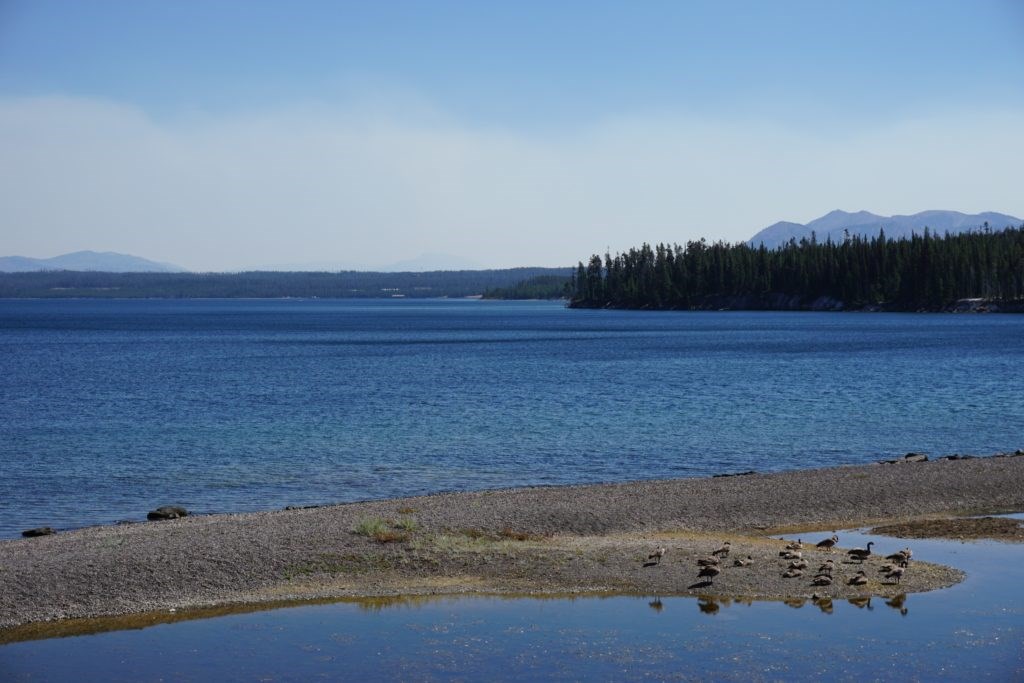 The Buffalo Bill Dam is a must-stop before entering the town of Cody – the visitor center parking lot hugs the stunning Buffalo Bill Reservoir and is easily accessible for vehicles of all types (motorcycles, cars, RVs, etc.). Feel free to walk or hop on board their free shuttle to the actual Visitor Center which overlooks the dam. Bring a jacket as it can get windy on the dam overlook. Inside, there is a gift shop, bathrooms, and museum documenting the dam's 1910 establishment.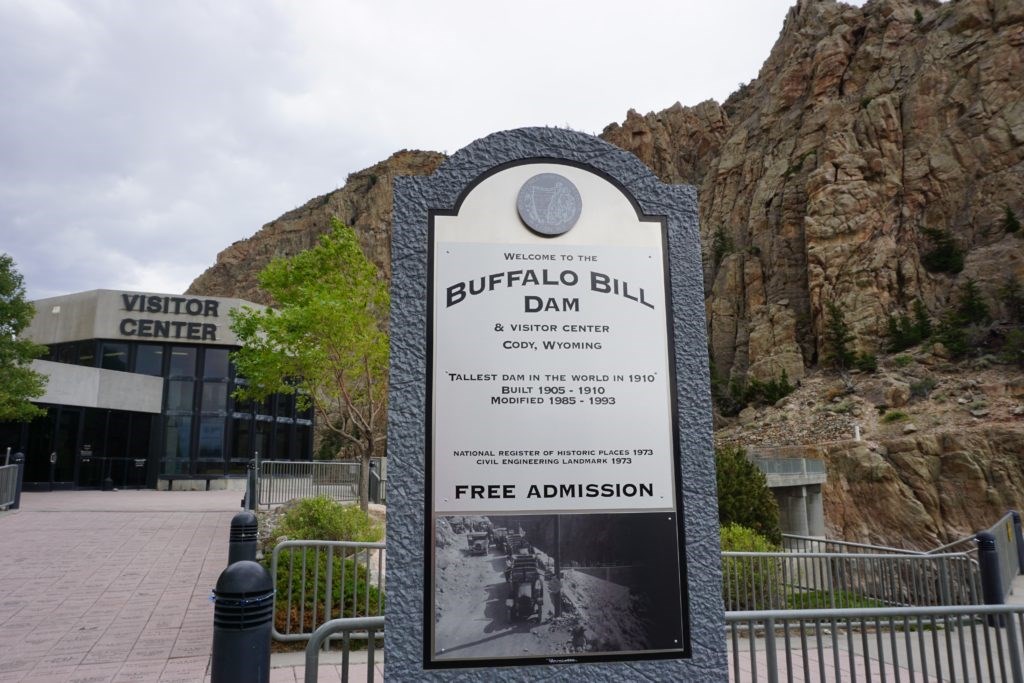 KOA Insider Tip: Hike the "Old Dam Road" – the original road from Cody to Yellowstone before the current US-14 was built. The original road is now closed to cars, but open to pedestrians/bicycles. If heading towards Cody, drive through the mountain tunnels before turning left at a Shoshone Canyon Public Access road and park at the fishing bridge. This short paved trail winds through canyons, follows the Shoshone River, and leads to the base of the Buffalo Bill Dam. Bring water and a camera.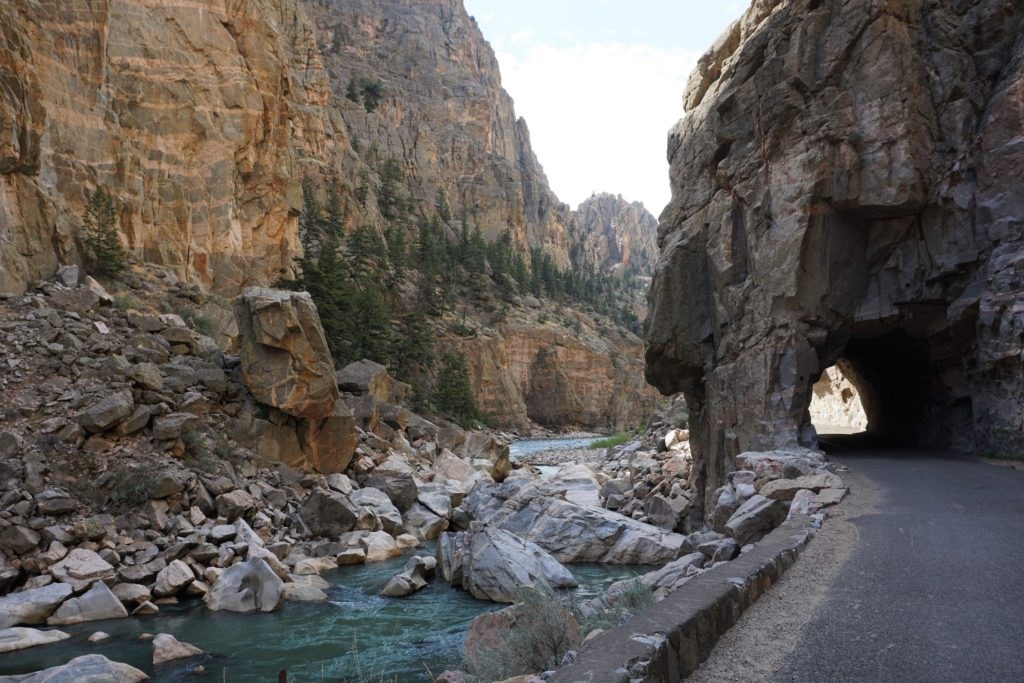 3.) Old Trail Town (5.8 miles from Cody KOA Holiday)
Old Trail Town is an absolute must-stop. For $9, you can step back in time to admire original log cabins, and western artifacts. Old Trail Town preserves the history of the Old West and Colonel William F. "Buffalo Bill" Cody's dream to establish the town of Cody. It's also located next to Stampede Park which hosts nightly rodeos each summer.
KOA Insider Tip: Make sure to read the gravesites of the mountain men re-buried at Old Trail Town. These men each had a unique role in local and national history.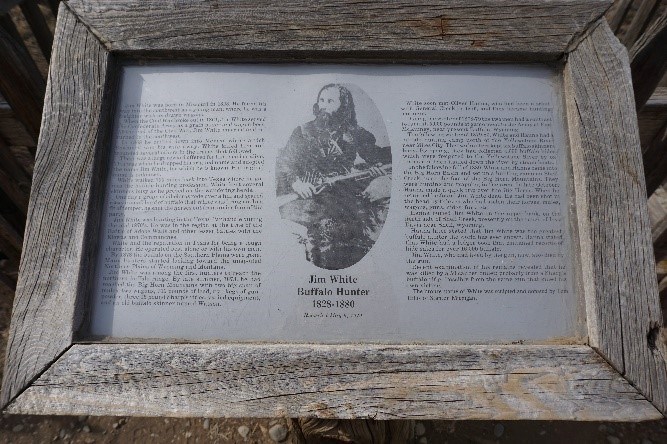 4.) Downtown Cody (3.6 miles from Cody KOA Holiday)
Park along a side street in Downtown Cody and stretch your legs by perusing the local gift shops. Grab a drink at the Irma Hotel, a historic landmark named after Buffalo Bill's daughter and built in 1902.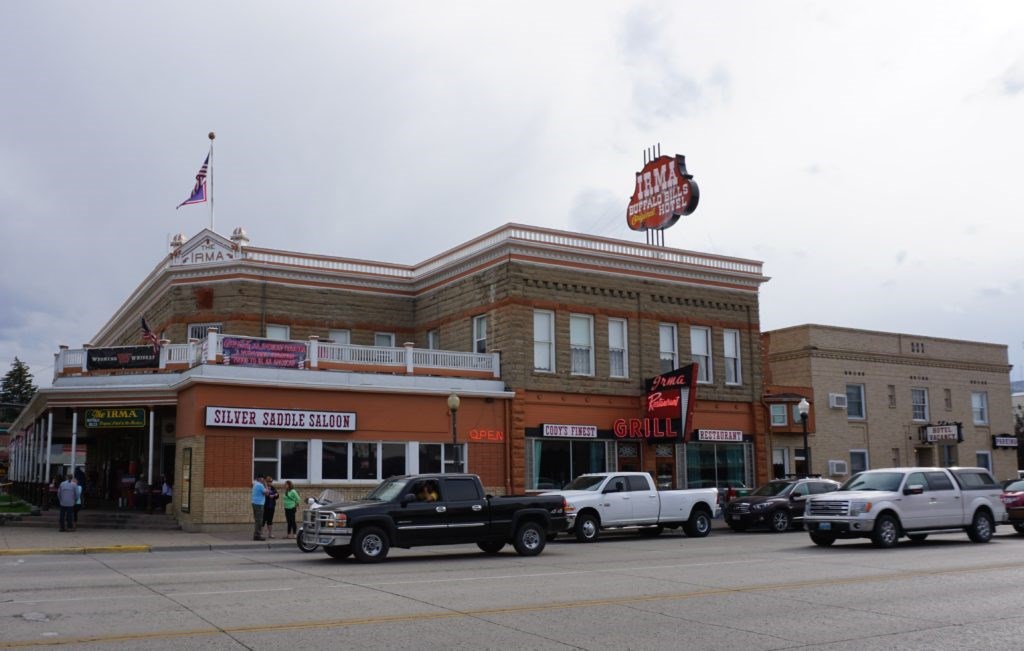 KOA Insider Tip: Grab coffee and a hearty breakfast at Rocky Mountain MoJoe. For a healthy lunch, order the Wild Caught Mahi Mahi Tacos at The Local restaurant. Sit in the back patio and order a glass of wine at Juniper.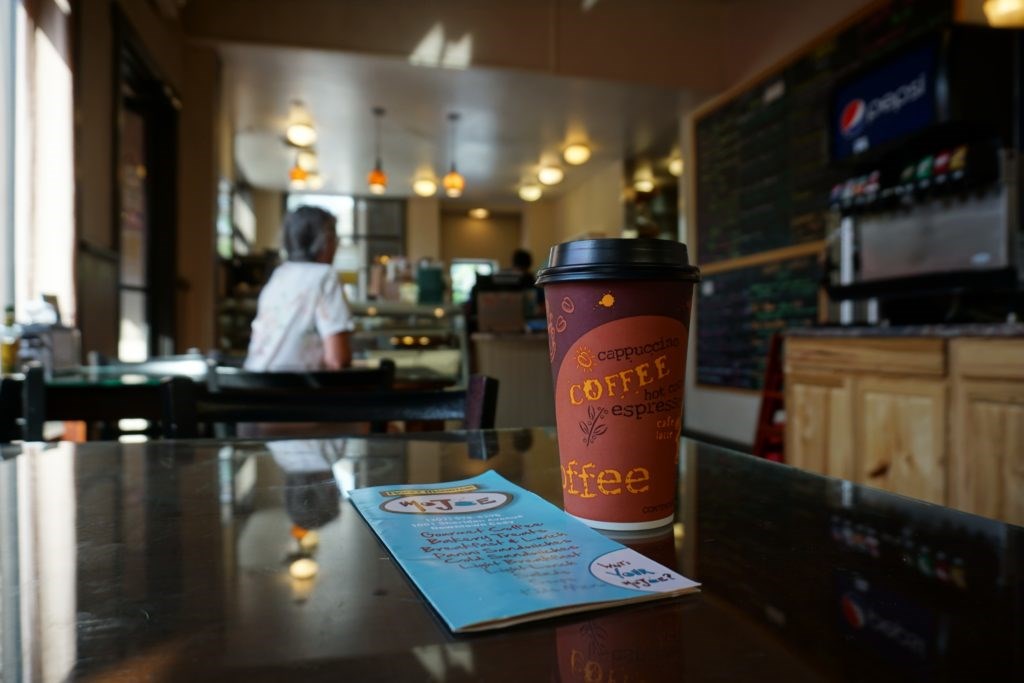 Open from May 1 – September 30, the Cody KOA Holiday is extremely convenient for summer travelers. This campground is only 5 minutes from town and an hour away from Yellowstone National Park's east entrance. We brought our own linens and stayed the night in a cozy Camping Cabin. This KOA has a heated pool, hot tub, jumping pillow, and free Wi-Fi.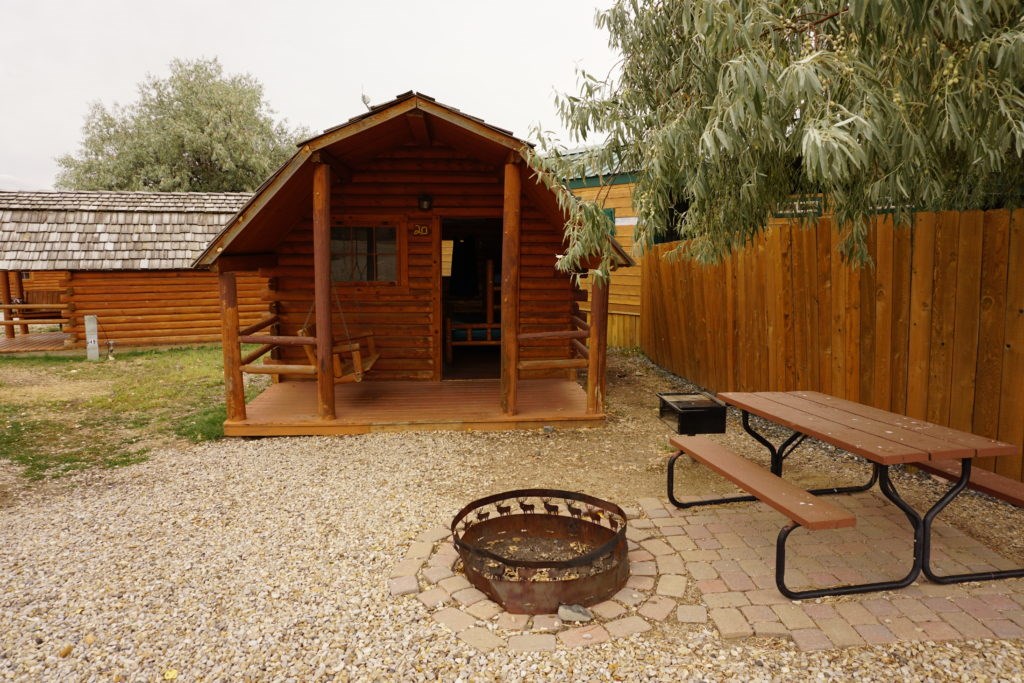 KOA Insider Tip: During the summer season, the Cody KOA Holiday offers free breakfast pancakes for campers at a picnic pavilion. Yum!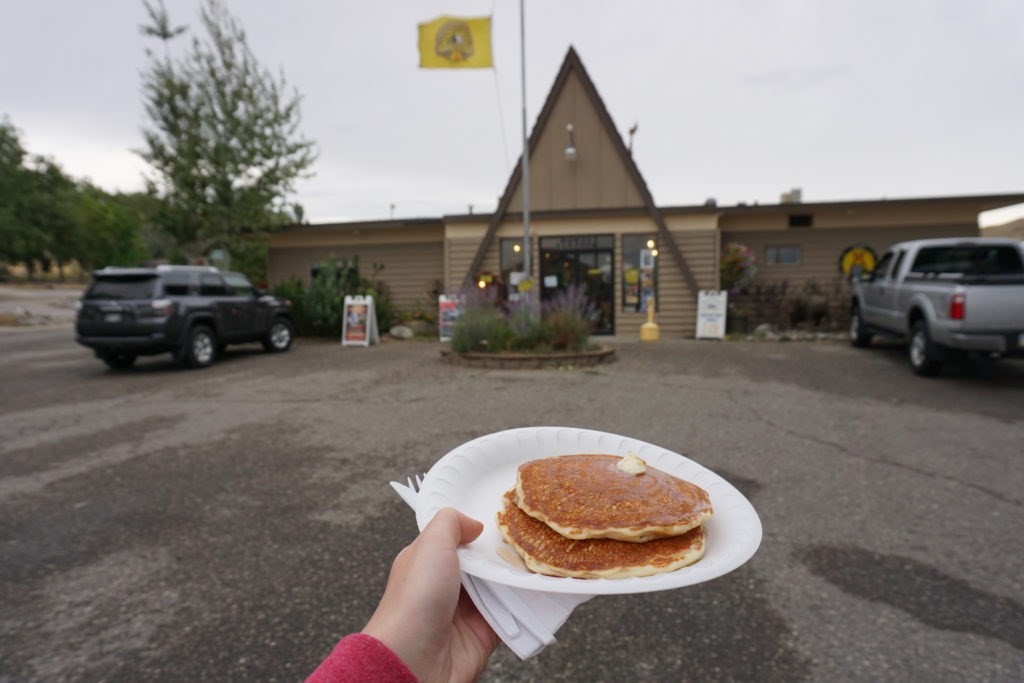 After camping at the Cody KOA Holiday, drive east to the Greybull KOA Holiday. Open April 3 – October 15, this KOA campground is located in the small town of Greybull, WY. In the foothills of the Bighorn National Forest, the Greybull KOA is located halfway between Yellowstone and Mt. Rushmore. Greybull is a small town with a population of 1,847; it has an active rail yard and the "airplane graveyard" of the west – the Museum of Flight and Aerial Firefighting.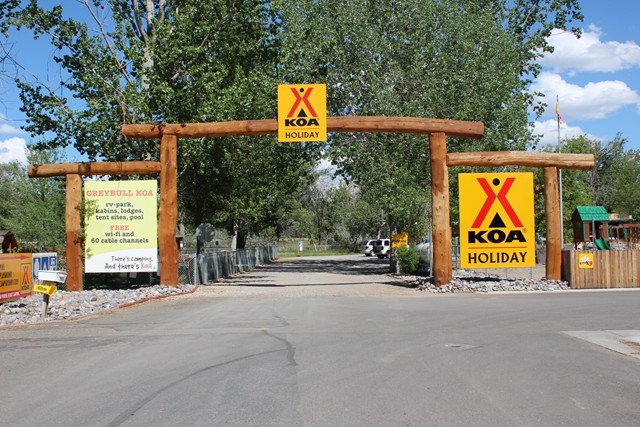 KOA Insider Tip: Fill up for gas in Greybull before cruising up the Bighorn Scenic Byway. You'll lose cell service when entering the Bighorn National Forest, so make any last minute calls here as well.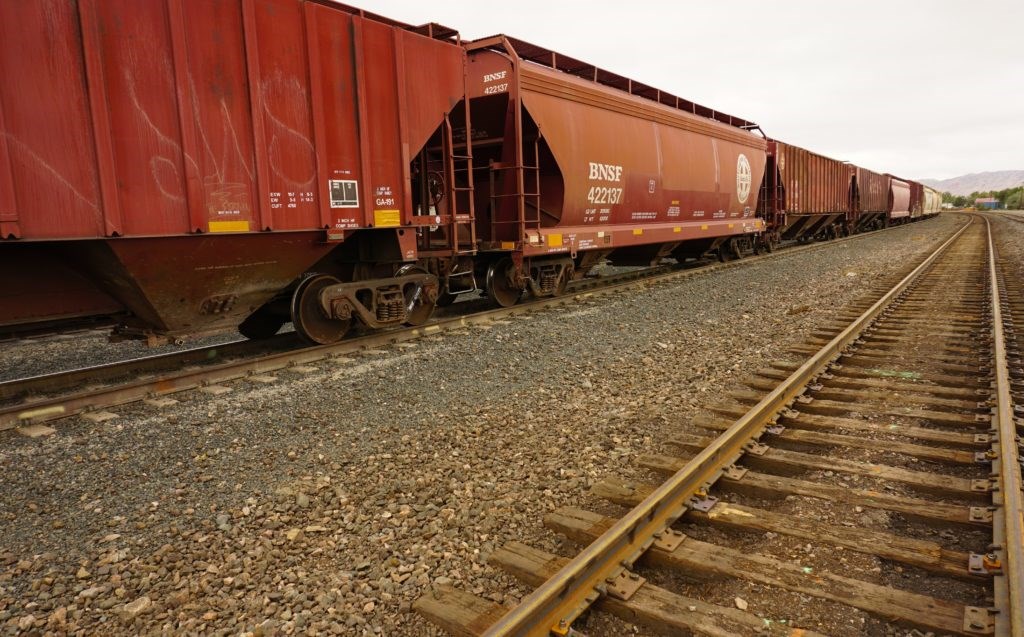 7.) Devil's Kitchen (15 miles from Greybull KOA Holiday)
We heard rumors of this "Mars-like" place while filling up for gas in Greybull. Not to be confused with "Hell's Half Acre" near Casper, WY, the Devil's Kitchen is a bit difficult to find. Driving towards the Bighorn National Forest from Greybull, you'll see a "Devil's Kitchen" brown sign –  turn left at Davis Road, a Bighorn Country Road which crosses Shell Creek. Travel along the gravel road and follow the signs to reach this colorful geological area in what feels like "the middle of nowhere."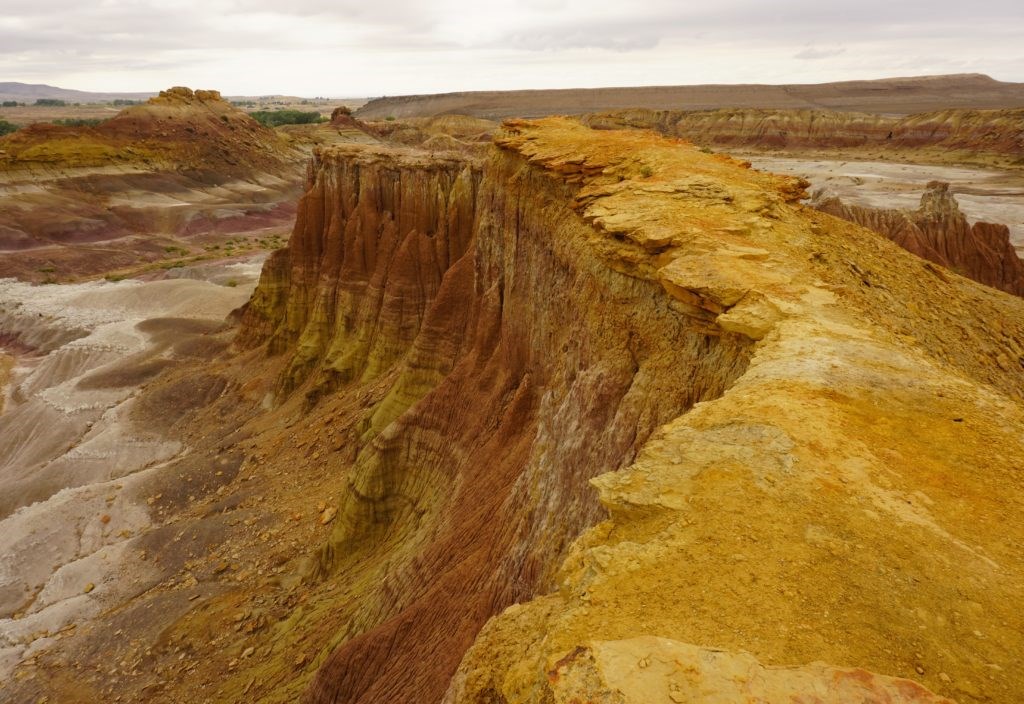 KOA Insider Tip: When we visited, the 2nd sign on the gravel road which pointed towards the Devil's Kitchen was blown upside-down. Simply turn left at the fork in the road and drive a few more miles before reaching the overlook.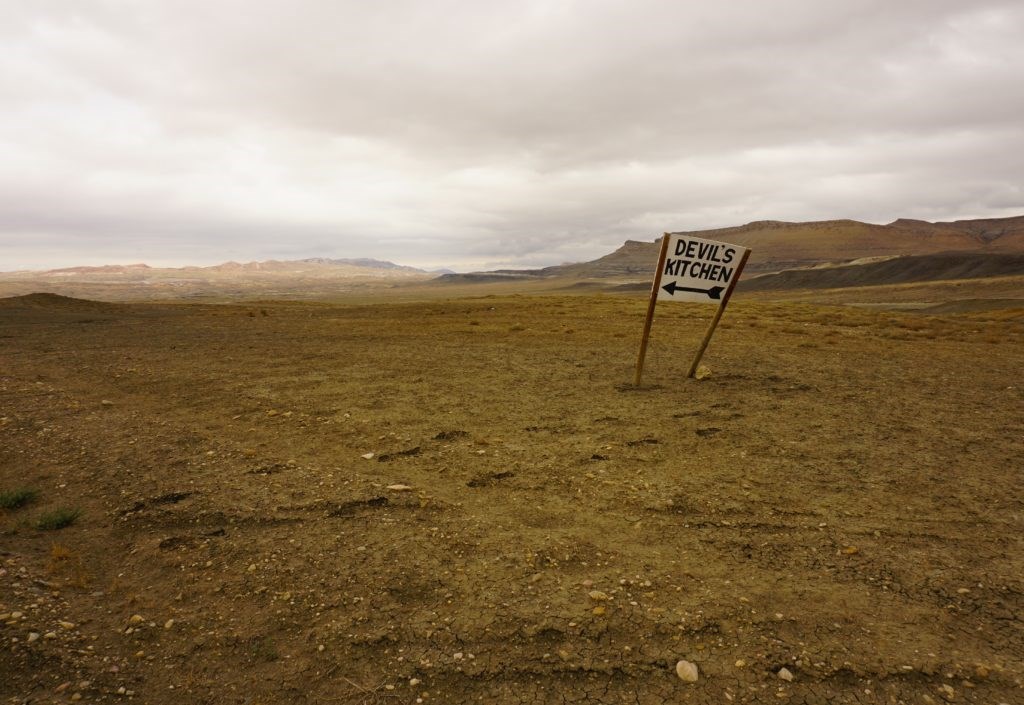 If you're looking for a joyride with stunning views, the Bighorn Scenic Byway is it. Beginning at the Shell, Wyoming entrance, this mountain pass winds through old rocky canyons and follows the rushing waters of Shell Creek. Park at a scenic overlook and gaze over the majestic canyon walls, sometimes covered by thick gray clouds.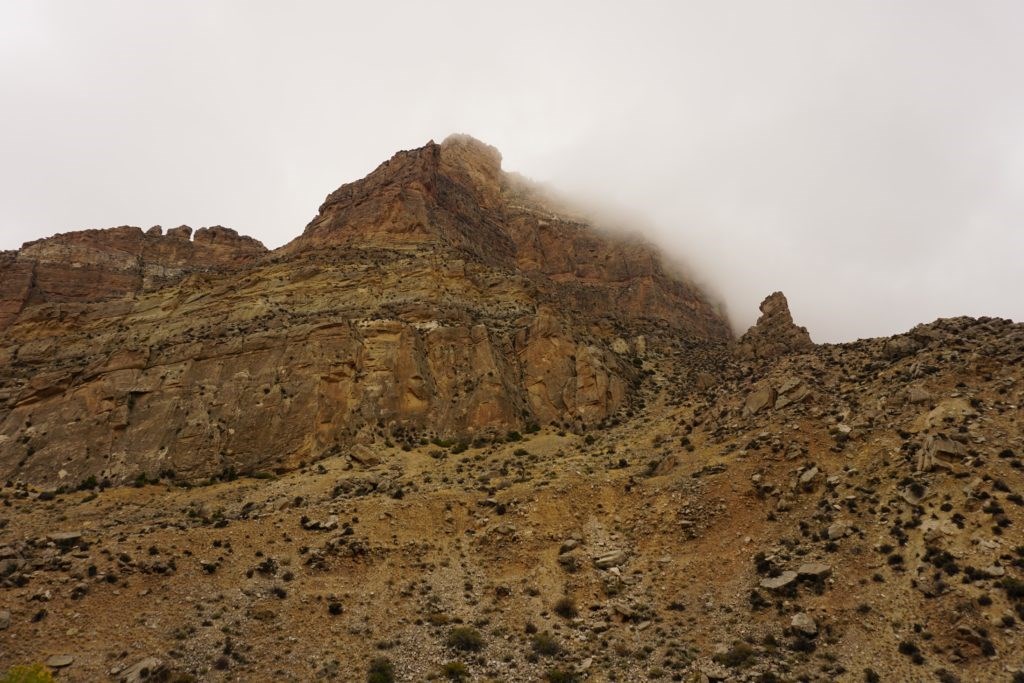 KOA Insider Tip: Be extremely careful when driving on this mountain pass as the weather conditions can quickly change. In early September, moist clouds hung low and most vehicles drove with flashing emergency lights while winding through the pass. When going downhill, use the turnouts to give your brakes a rest and let others pass if needed. Also, much of the Bighorn Mountains is open range, so cattle may roam across the road unexpectedly.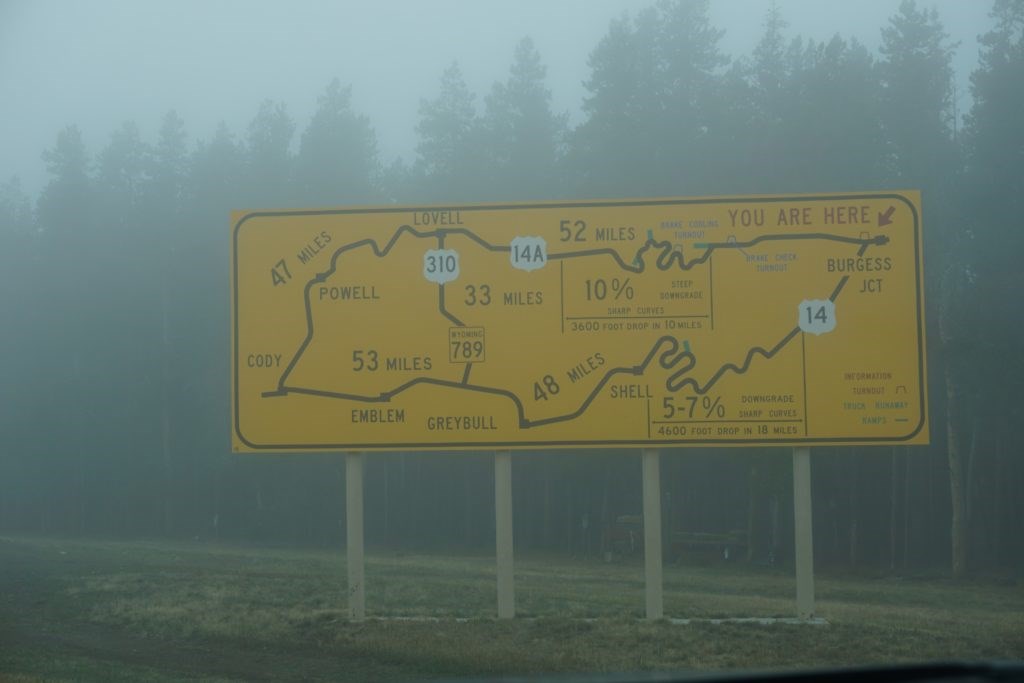 9.) Shell Falls (26 miles from Greybull KOA)
Shell Falls is conveniently located along the side of the Bighorn Scenic Byway – a short distance from Shell, WY. This interpretive site is the only visitor center in the forest and offers bathrooms, a small museum, and walking trail. For folks traveling with RVs, there is a large parking lot to accommodate your rig. The waterfall is named after the many shell fossils found in its stunning, rocky canyons.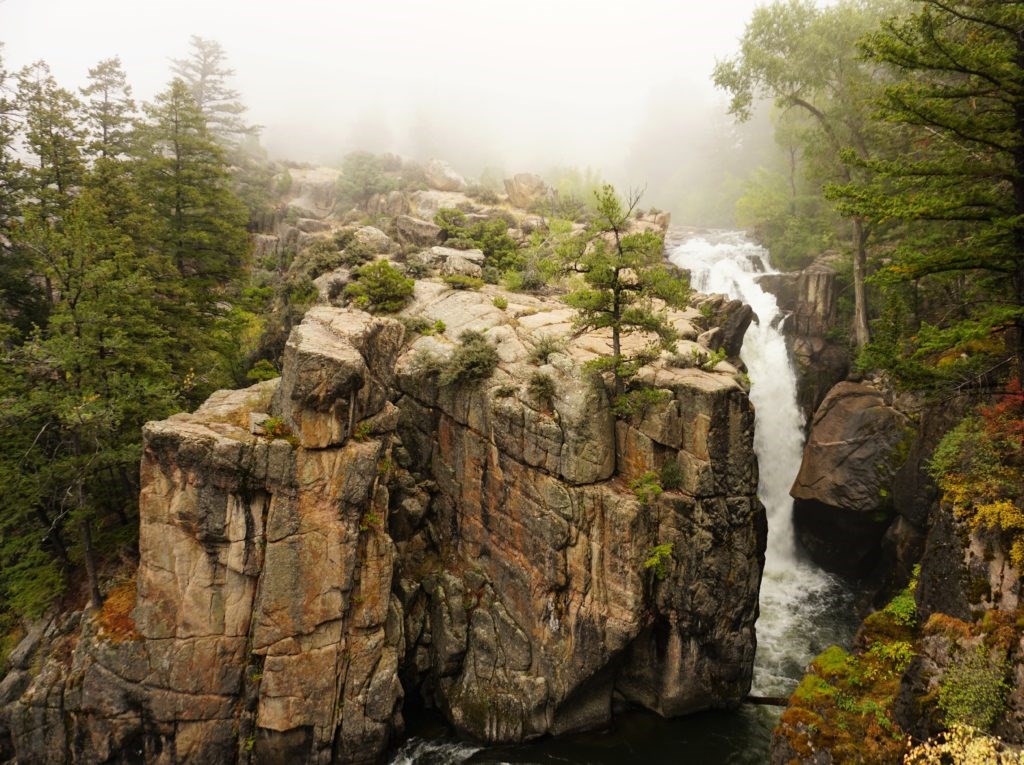 KOA Insider Tip: No dogs are allowed near the interpretive site – if you leave them in the car while checking out the falls, make sure the windows are cracked and water is handy.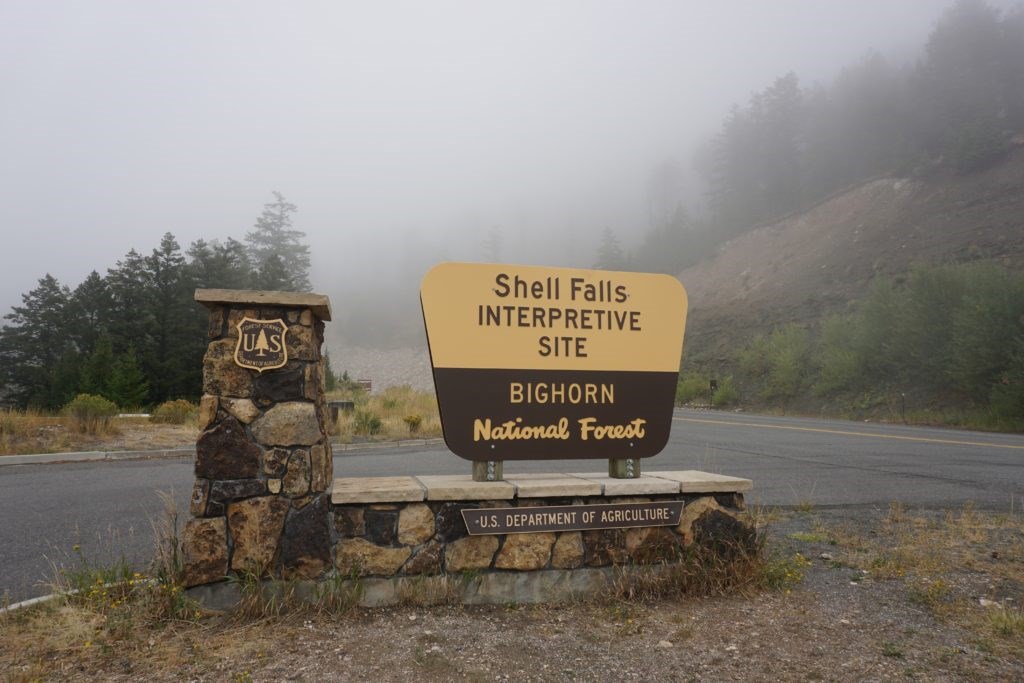 Bighorn Canyon is a popular recreation area for boating, hiking, fishing, and other outdoor activities. Visit Devil Canyon Overlook for beautiful views of the shimmering green Bighorn Lake and massive canyon walls. Wear sturdy shoes and be careful not to get too close to the canyon rims.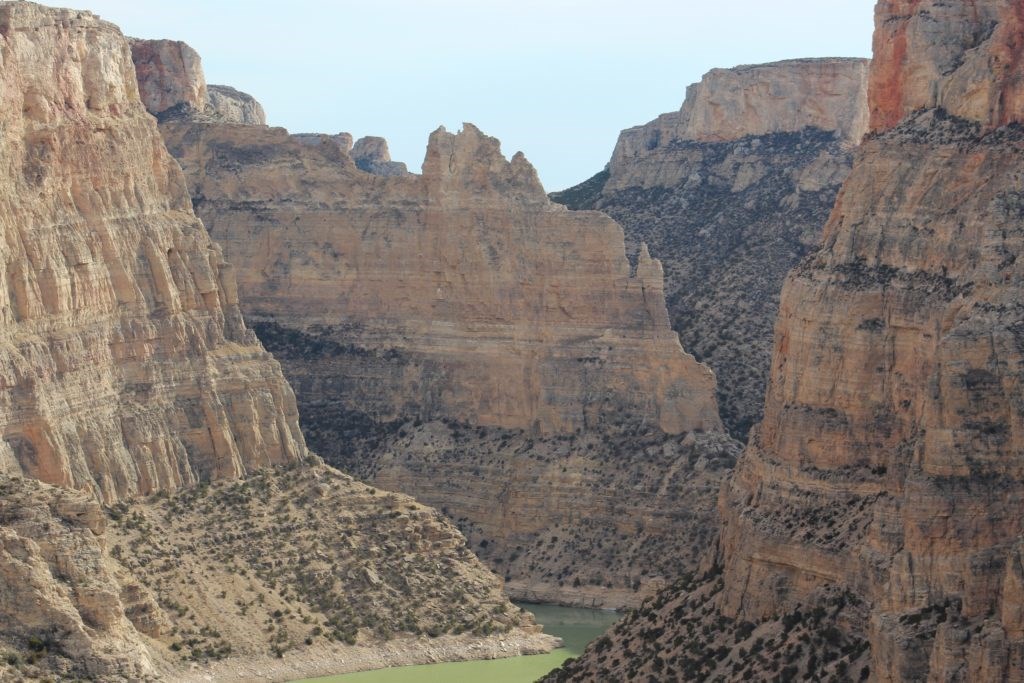 KOA Insider Tip: Bighorn sheep and wild horses are known to wander this area. Keep your eyes peeled, have your camera handy, and keep a safe distance between them.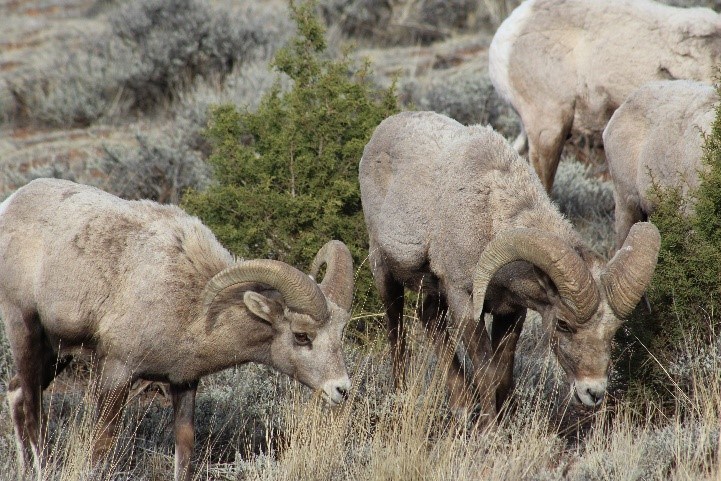 Distance to Cody, Wyoming:
104 miles SW of Billings, MT
168 miles E of Buffalo, WY
177 miles NE of Jackson, WY
205 miles SE of Bozeman, MT
Other Travel Tips:
Bring a good camera – it's beautiful country!
Travel with a water bottle and extra jugs of water
Fill up on gas whenever you see a station and be mindful that there isn't much cell service
These KOA's have great western souvenirs inside the campground store
Pass carefully as many RVs and other big rigs are on the road
---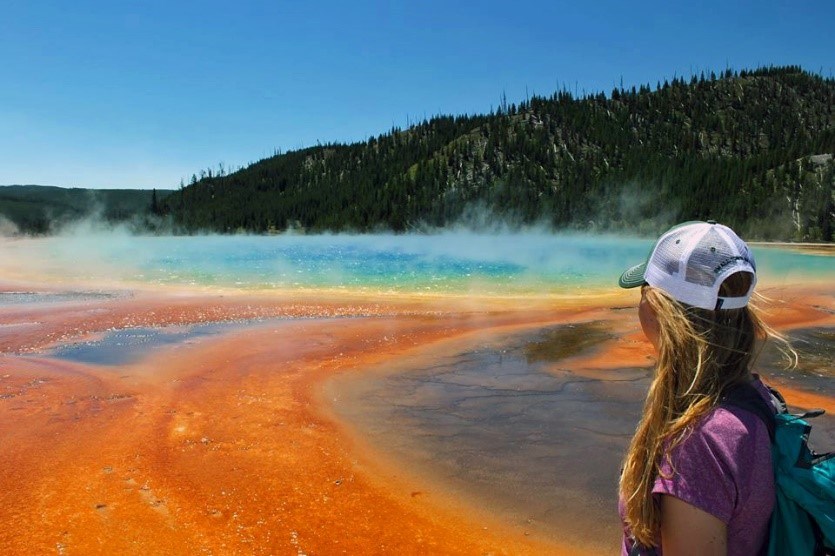 Shannon May is a Florida girl who moved to the mountains. Prior to moving to Montana, she lived in New York City for five years and worked at a large advertising agency. Currently, Shannon is a Freelance Marketing Consultant who creates digital content for various brands and simultaneously shares her travel adventures on YouTube. Follow Shannon on her website, Instagram and Twitter.
---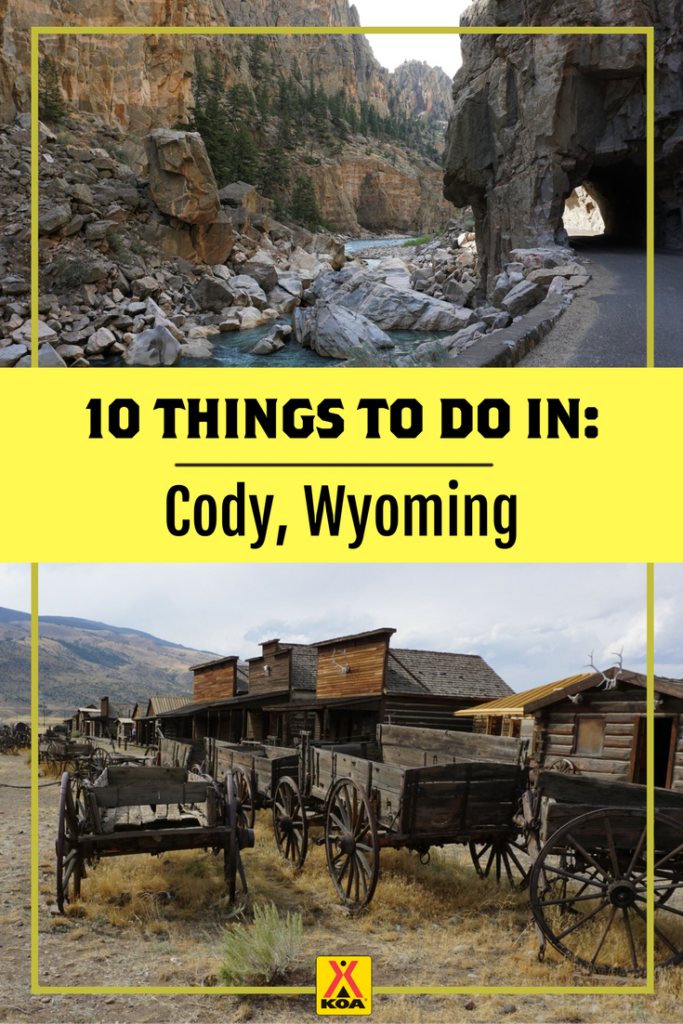 Save
Save
Save