Chris Epting Shares the Secrets of Yosemite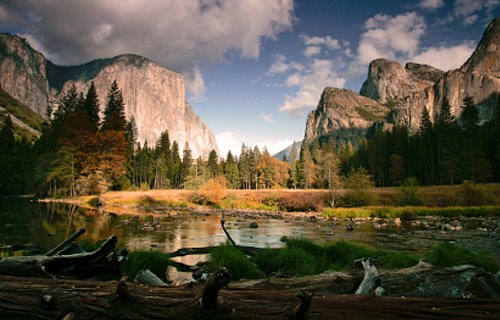 I'm always curious what it will look like — the entrance to our next KOA.
No two are alike, they all have their own personality and physical presence, and so I look forward to seeing how that big, familiar yellow sign will pop out and catch our eye. I think I look forward to it because in one way, that part of our trip ends — we have reached our destination. But in another way, things are just beginning — because we have reached our KOA. At least that's how it is when we use KOA as our base camp like we did recently when visiting Yosemite National Park for several days.
My teenaged daughter and I had planned a special spring break getaway to this most special of places, and we decided to stay just outside the park — an easy 20-mile or so drive away, at the Yosemite West/Mariposa KOA in Midpines.
And we are so glad we did.
Tucked up in the soaring ponderosa pines, this particular KOA was a little escape unto itself. And it's not just close to the majesty of Yosemite. The historic and charming gold rush town of Mariposa is just six miles up 140, the beautiful Merced River runs right nearby (excellent fishing for rainbow trout, German browns and smallmouth bass), and the area boasts some wonderful wine tasting.
You can even fish right at the campground if you prefer. And once you try the KOA homemade fudge at the incredibly stocked campground store, or one of their bottles of local wine, you may feel like just kicking back by your camper and taking in all off the sweet scented pines and gentle rush of the nearby water.
We resisted the urge to get too comfy too quickly — after all, Yosemite beckoned. So each morning we hit the road down 140, a gentle and winding route that flanks the emerald green Merced River for a good part of the journey (KOA also provides a shuttle if that's easier for you). Acres of orange and purple wildflowers were bursting along the hillsides near the river from recent spring rains, and the air was heavily scented with that wonderful great outdoors smell — impossible to describe but you know it when it envelopes you. Windows down!
The days were spent as they should be at Yosemite: hiking to Vernal Falls and Nevada Falls, wandering in the shadow of El Capitan, and get getting wet from the powerful mist at the base of Lower Yosemite Falls. Driving back after (a tiring) day one, I said to my daughter, "We'll be home in just a bit." And she knew what I meant. When you know you're at KOA for a few days, that's just how you think of it.
As home.
True, this was also the first time we'd tried one of the KOA lodges, those marvelously equipped, rustic-but-roomy-and-functional cabins — so the term "home" felt more than appropriate. Yes we all like to camp — in tents, RVs, whatever — but if you get the chance, even if just once, I seriously recommend a lodge. Oh, we still grilled outside and toasted umpteen marshmallows, met fellow campers, took night hikes and studied the stars and planets and listened for the glorious gobbles of that wild turkey that seemed to want company every night — but we also slept in an amazing cabin. For me, climbing up into a bunk made me feel like a kid again — and isn't that part of camping, too?
When it was finally time to pack up and leave, we both were hit with that bit of melancholy that usually accompanies leaving nature and heading back into civilization. Up on that hill, surrounded by those fragrant and towering pines, we had one of our best KOA experiences ever (even though we always say that).
The great naturalist John Muir, so responsible for recognizing and protecting Yosemite in the first place, once said, "To sit in solitude, to think in solitude with only the music of the stream and the cedar to break the flow of silence, there lies the value of wilderness."
He was talking about Yosemite. But he could also have been describing our KOA campsite.
See you down the road, at the next KOA,
Chris Epting
Travel writer and author Chris Epting loves staying at KOAs. This summer, he'll be sharing some stories and chronicling some of his adventures and experiences with us.