Camping With Toddlers: A Parent's Guide to Outdoor Vacation Success
What to pack
Where to camp
Tips for a successful trip
Safety tips
Camping activity ideas
You love camping. You love your children. If you're like a lot of parents, though, the thought of combining these two loves might seem more than a little ambitious. Just know that camping with toddlers is completely and one hundred percent do-able. All it takes is a little bit of advanced planning and a lot of flexibility.
Is it worth it? Only you can answer that question for sure. When you see your little one roast their first marshmallow or hike over their first bridge or spot an animal they've never seen at home, however, you just might say "yes."
Tips for Packing for You and Your Little One
You've decided to take the plunge and plan a camping trip with your toddler. First things first, you've got to grab your gear. If you're a seasoned camper, you may have made a game out of seeing how little you can pack for your weekend in the great outdoors, but when you take a young child along, less isn't always best. In fact, less can spell disaster. You should plan to take an extra bag — or three. Think practical and necessary instead of minimal.
While your child's needs may vary based on their personality and where you're camping, there are some basics that you'll want to make sure to have on hand when you head out.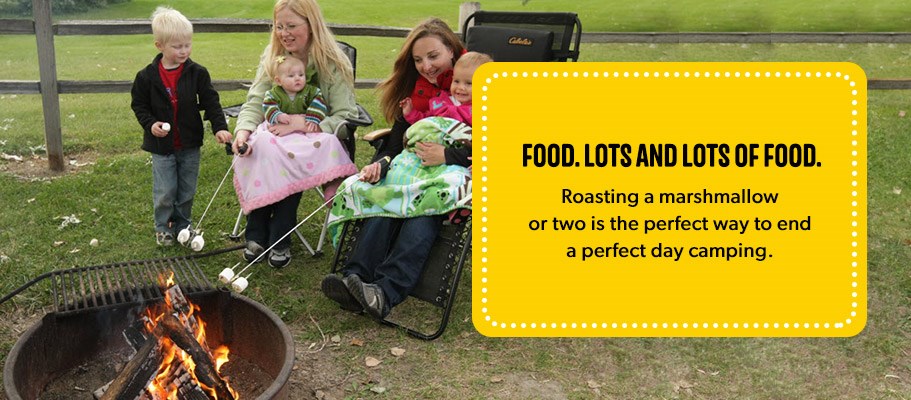 1. Food. Lots and lots of food.
Kids love to eat and growing children often seem like bottomless pits when it comes to food. When you're camping, all that exploring means they'll be burning extra calories, which also means they'll be even hungrier than usual. Make sure you pack a lot of simple but nutritious snacks, things like granola bars, fruits, veggies, nuts and crackers. For mealtime, you'll still want to keep it simple, so plan on things kids can eat with their hands, such as the campfire classic hot dogs. You also can't go wrong with good old peanut butter and jelly sandwiches if your child is skeptical of traditional camping food, a fantastic choice because kids love them and they 're quick and easy to make.
Don't forget the marshmallows. After all of those healthy snacks, roasting a marshmallow or two is the perfect way to end a perfect day camping.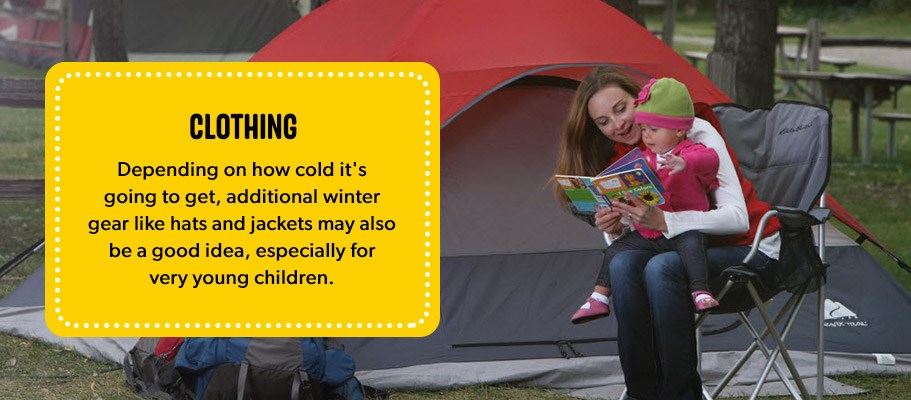 2. Clothing
What you pack for your little one to wear is going to depend on two things: the weather where you are going and the activities you have planned for your time there. In general, layering works great for kids, just as it does adults. It guarantees that your child can add or subtract clothing items, depending on how warm or cold the day gets. Hats are a good idea, as are gloves if the weather promises to be a bit cool. Don't forget to plan for appropriate bedtime attire. Make sure you have a dry pair of pajamas for your child to change into at the end of the day and, if it's going to be cold at night, add socks and other layers as needed. Depending on how cold it's going to get, additional winter gear like hats and jackets may also be a good idea, especially for very young children. The best rule of thumb is to dress your children like you'd dress yourself and then some.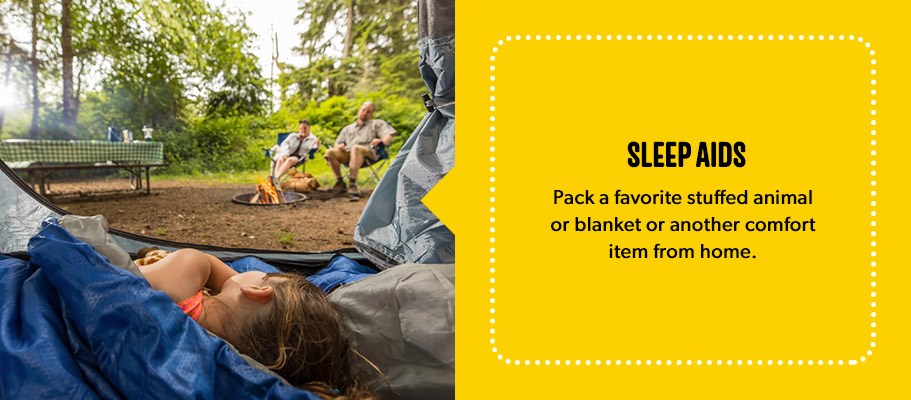 3. Sleep Aids
Let's be honest here. Most likely your toddler isn't going to sleep soundly through their first night in a tent. You aren't going to be able to avoid that, but you can ease their initial discomfort with sleeping somewhere unfamiliar. Pack a favorite stuffed animal or blanket or another comfort item from home, such as a pacifier or favorite toy. They're still likely to wake up — most children do when they're not sleeping in their own beds — but having something comforting nearby may help them calm down and get back to sleep faster, which means you get back to sleep faster too.
Doing a trial run at home in your backyard can also help children become comfortable with sleeping in a tent before the time for the trip comes.
4. Baby Gear
Depending on how old your child is, you might want to bring along a pack-and-play and baby backpack or your preferred baby-carrying device. There will be plenty of time for exploring, but these items are great for those times when you need your hands free to prepare food or pitch a tent. You'll also likely want a backpack or baby-carrying device for hikes since your little one probably hasn't done much hiking and may tire even before a short hike is finished. These items can also help keep your toddler in a more controlled environment, avoiding risks such as dangerous plants. If your child is too old to contain in a pack-and-play, bring a kid-sized chair for them. This can come in handy during mealtimes or when you need them to sit a safe distance away from the fire. Establishing it as "their" chair can make them feel special and put your mind at ease when they're safely seated there.
For infants or younger toddlers, make sure you pack a lot of diapers. More than you think you will possibly need. They're light and easy to shove into a backpack if you're worried about space, and you'll regret it if you have to leave early because you didn't bring enough. You should also bring lots of diaper wipes. You can use wipes to clean a variety of things, especially when you're camping. They're perfect for wiping dirty hands, cleaning sticky faces and even wiping down questionable surfaces.
5. Sunscreen and Bug Spray
Sunscreen and bug spray are a must when you're exploring the great outdoors with little ones. You'll want to pack enough that you can reapply as needed. Make sure you're using types that are made for children's sensitive skin.
6. First Aid Kit
It should go without saying, but we'll say it anyway. Pack a first aid kit so that you're prepared with plenty of antibiotic ointment and bandages when your little one scrapes their knee. If you aren't sure what you need in a first aid kit, you can buy them pre-made or you can build your own using the recommendations from the American Red Cross.
Where Should You Stay?
When it comes to camping with toddlers, there are a few things you'll want to keep in mind. Taking these factors into consideration will help you relax and enjoy your family camping experience.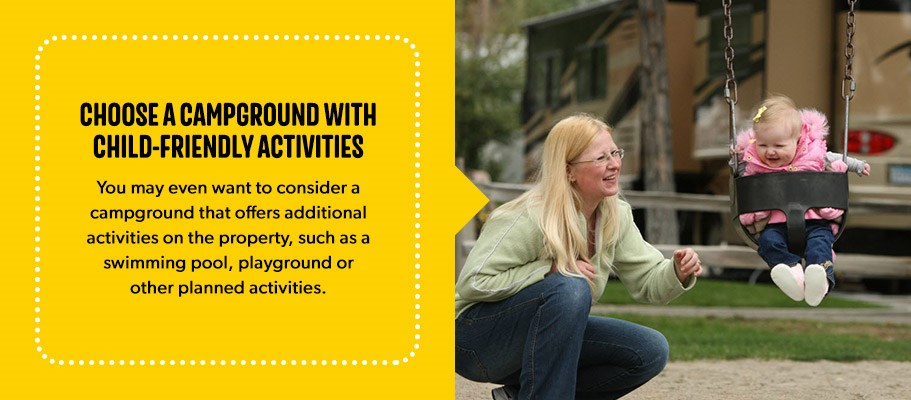 Choose a family-friendly campground: Choose a campground with family-friendly lodging options and amenities. This will help make sure that your child has the best possible experience camping and will make your life as a parent easier as well. KOA campgrounds offer great amenities such as clean bathrooms with hot showers and KOA stores for those last minute items that you might have forgotten at home. KOA also offers a variety of lodging options, such as Camping Cabins and Deluxe Cabins, which are perfect if your little one isn't quite ready for tent camping under the stars. Both Camping Cabins and Deluxe Cabins feature beds and electricity, and Deluxe Cabins even feature a private bathroom.
Choose a campground with child-friendly activities: Your toddler may not be able to scale a steep peak or wade through a stream, so make sure you select an area with kid-friendly activity options, such as shorter hikes or easily accessible areas to explore. You may even want to consider a campground that offers additional activities on the property, such as a swimming pool, playground or other planned activities.
The Logistics of Camping With Toddlers
You're going to want to keep it simple. Long hikes and elaborate campfire meals aren't likely to happen. So check your expectations and plan activities on their level to ensure that everyone enjoys the trip.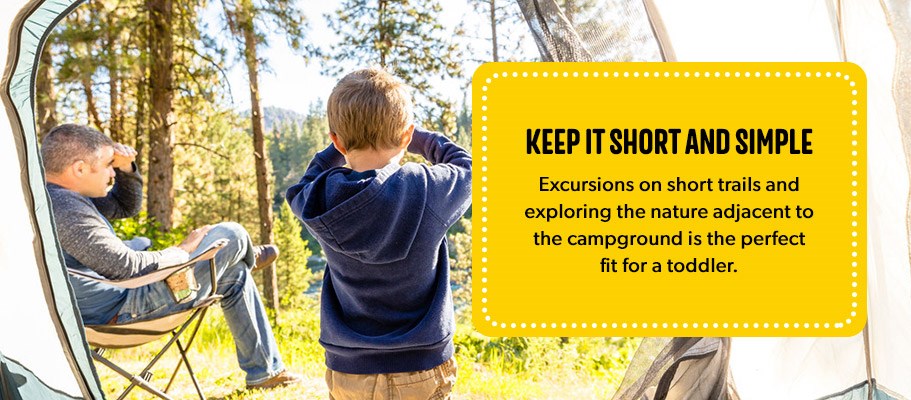 1. Keep It Short and Simple
Excursions on short trails and exploring the nature adjacent to the campground is the perfect fit for a toddler. It may seem small to you, but they'll likely spend the rest of the day talking about the caterpillar you found together or the creek you threw rocks into.
2. Cooking Together
If you're at a campsite, odds are that you'll be building and using a fire at least once. Use the opportunity to teach your child a bit about fire safety and then let them enjoy "helping" make hot dogs or s'mores over an open flame. Even if you don't have a fire, you can hand them a spoon and let them help make their own peanut butter sandwich. When you're outside, you don't need to worry about messes as much as you do at home, so relax and let them pitch in.
3. Don't Skip Naps
While you probably won't be able to follow your usual schedule to the letter, it's important to try to maintain a somewhat familiar routine. Don't skip naptime — incorporate it into your plan for the day, even if it won't be as long as it would be at home. Your toddler will need the rest after all of the exploring and new experiences. And, since your child may be more active than they are at home, plan extra snack times as well to help them replenish all the calories they're burning while they explore.
Safety Considerations to Keep in Mind On Your Camping Trip
When you're camping with a toddler, there's nothing more important than safety. You want them to have fun, but you also don't want your family time cut short by an unexpected accident or emergency. To prevent this, there are a few things you should do when you first arrive to make sure you're set up for success.
1. Check the Area
If you're able to, select a campsite that has barriers on at least three sides, whether these are actual fences or shrubs separating your site from the next. This will act as a natural gate of sorts and prevent your little one from trying to wander over to the next campsite. After you arrive but before you set up, take a few minutes to explore your site. Pick up any trash you come across and identify potential hazards, such as poison ivy, or access to water.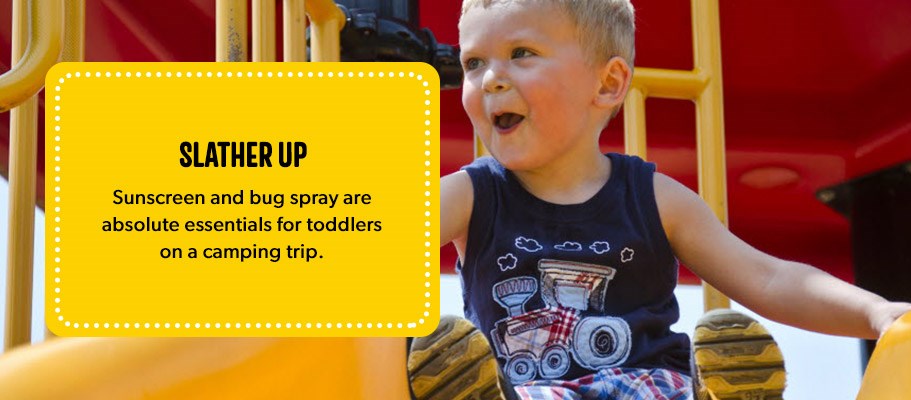 2. Slather Up
Sunscreen and bug spray are absolute essentials for toddlers on a camping trip. They should be applied frequently, so check the labels to figure out how often your child will need more. Don't forget plenty for you and the rest of your group as well. Nothing ruins a camping trip faster than a painful sunburn or a bunch of itchy mosquito bites. If you're scratching and miserable yourself, it will be hard to help your child have a good experience.
3. Set Up Camp First
When you're camping with toddlers, your lodging will be for much more than just sleeping. You'll use them for diaper changes, naptimes and to escape from an unexpected rain shower. Because of that, it's important to set up your tent, cabin or another type of lodging before you do anything else. Trust us on this one — don't wait.
4. Keep a Safe Distance From the Fire
You will likely need to use a fire or grill to cook during your camping trip. While it's important to take some time to teach your toddler the dos and don'ts of fire safety, you're likely to accomplish more by making sure the fire is lit a safe distance away from your child. You may want to try setting up a "special" chair for your toddler that is set back from the fire. You can tell them it's the perfect spot to watch the fire, but still keep them far at a safe distance.
If you bring toys or games for them to play, make sure they have a safe place to engage in activity that isn't right next to the fire.
Camping Activities for Toddlers
Planning activities for toddlers can be difficult. Their attention spans are short, especially when they're somewhere new and different. In the beginning, they'll most likely to be perfectly content exploring what's around them, but you may find that after a few hours, they're in need of something more. This is where you'll need to get creative.
1. Cloud Watching
Find a clear spot between the trees and engage your little one in a conversation about the clouds. They may not understand terms like stratus or cumulus, but this can be a great alternative to stargazing if you're camping in the summer and the stars don't make an appearance until after your little one's bedtime. Point out interesting shapes you see and let your toddler tell you what they see too.
2. Stargazing
This activity depends on your toddler's bedtime, but if you're camping at the right time of year, the stars may be out in time to see them before they drift off to sleep. Kids love looking at stars. Depending on your child's age, you can introduce them to the idea of constellations and planets. Or, simply be content to watch them twinkle and shine above you. Don't forget to watch for shooting stars and make a wish!
3. Make Your Own Nature Explorer Kits
You can't go wrong with a do-it-yourself nature explorer kit. Grab a few glass jars, a magnifying glass and a net, and you have all the equipment you and your little one need to explore what's around you. Just make sure if you catch anything in the jars that you release it when you're done observing it.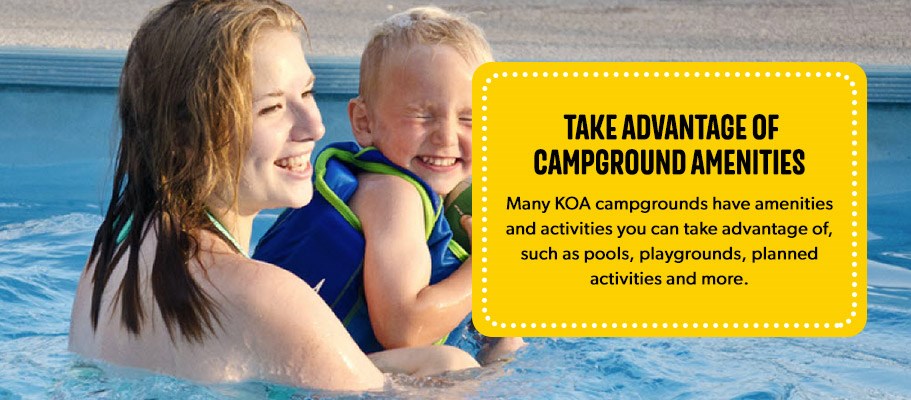 4. Nature Scavenger Hunt
One of the best ways to explore nature is to send your little one on a supervised nature scavenger hunt. You can print one out online or make your own list of items to find. If you keep it simple and there's an adult to help, this shouldn't be too hard for a toddler to master, but you can make it even easier by making a list with pictures instead of words. It's a great way to keep them busy while one parent is cooking a meal or setting up a tent.
5. Take Advantage of Campground Amenities
Many KOA campgrounds have amenities and activities you can take advantage of, such as pools, playgrounds, planned activities and more. Since your goal on this trip is to help your child feel comfortable and enjoy their camping experience, it's okay to forego the long, steep hike in exchange for a trail walk and some playground time. By easing them into camping slowly when they're younger, you will set your child up to be more likely to enjoy it when they're older.
Plan the Perfect Family Camping Trip at a KOA Campground
Take your family off the beaten path and enjoy the sights and sounds of nature. When you choose to camp at a KOA campground, you'll get the joy of stepping away from the hustle and bustle of your busy life to enjoy beautiful scenery, and you'll find the amenities and facilities you need to keep your little ones comfortable and begging to come back.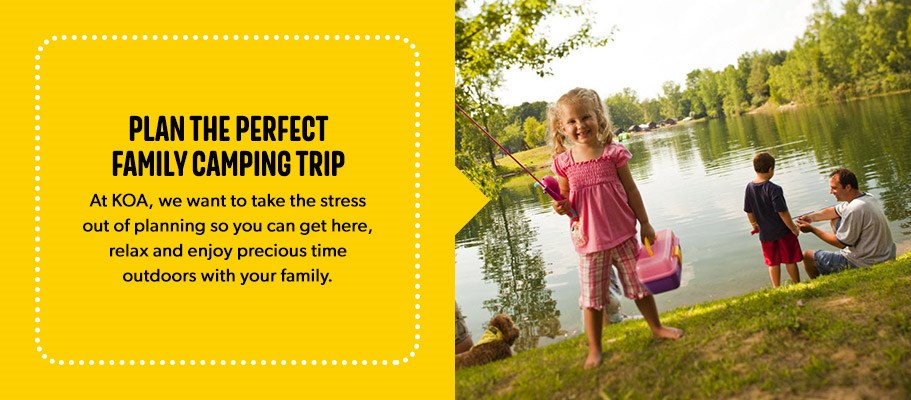 KOA campgrounds offer a variety of lodging options – from Tent Sites to Glamping Tents to Deluxe Cabins – as well as plenty of space to sleep and play. Many families find that cabins provide more of the comforts of home and make their camping experience easier and more enjoyable.
With KOA, all the campgrounds have a variety of amenities, including convenient restrooms, laundry facilities, playgrounds and a KOA Store. Some of our campgrounds also have pools, fun activities and even pet parks for your four-legged family members.
Camping with young children doesn't have to be stressful. It can be a fun, memorable experience that sets you and your children up for a love of camping in the years to come. At KOA, we want to take the stress out of planning so you can get here, relax and enjoy precious time outdoors with your family. Reserve a campsite today or contact us for more information.
---