These campgrounds are some of the best spots to spend your winters.
The cold weather is upon us, and that means it is time to spread your snowbird wings and migrate down south.
If you're on the hunt for a new fabulous place to spend your winter, look no further.
With top-notch campgrounds all over the south (and the entire country, too), KOA has everything you could ever want in a place to call your winter home.
And home is exactly what staying at a KOA campground will feel like. Spending your winter at one of our parks means you'll be living in comfort and convenience, as well as in a place where stress is merely a distant memory.
Now is the perfect time to plan your winter getaway at a KOA campground. Don't wait too long, or you'll miss out on getting your first choice spot. Our snowbird campgrounds are hotspots for travelers escaping winter from all over the country, and even the world.
To find your new winter KOA home, check out our favorite winter escapes below, and book your extended stay today.
---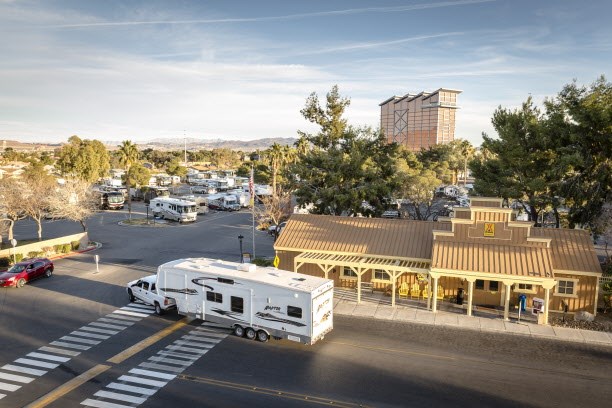 Here at Las Vegas KOA at Sam's Town, fun, convenience, and comfort are key. While staying at this campground, you will be just steps away from one of the largest Casino resorts on the Boulder Strip, Sam's Town Hotel and Casino.
The RV park itself has all you need to live in luxury in your RV, and more! It includes pull-through, and big-rig friendly 30 and 50-amp sites. The fabulous bonuses of staying here include enjoying the park's two pools with hot tubs, laundry and shower facilities, cable TV and WiFi, as well as a BBQ area for you to cook up your favorite summer foods.
And if you decide to extend your stay, we make it easy. Extended stay opportunities are available at this KOA.
Not only will you loving staying and playing here at Sam's Town, you will also love the ease of getting to the world-famous Las Vegas Strip and Downtown Las Vegas. Sam's Town offers a FREE shuttle service to Vegas' top spots, so you won't miss out on any action.
And what would a trip to Vegas be without all-star entertainment? Whether you're here for the whole winter, or just a few days, you will have ample opportunity to take advantage of what Sam's Town Hotel and Casino has to offer.
Play to your heart's content in the 133,000 square-foot casino, or try your hand at bowling at the casino's 56-lane bowling alley. You can also watch your favorite move at the casino's in-house theatre featuring 18 screens.
If that's not enough, be sure to check out the indoor gardens and waterfall park that has a fabulous laser light show every day, as well as some of Vegas' top entertainment at Roxy's and Sam's Town Live.
The entertainment here extends to your plate as well. While staying at Las Vegas KOA at Sam's Town, you'll enjoy tasty food of all types — from mouth-watering steaks, to authentic Mexican cuisine, casual dining, and so much more.
---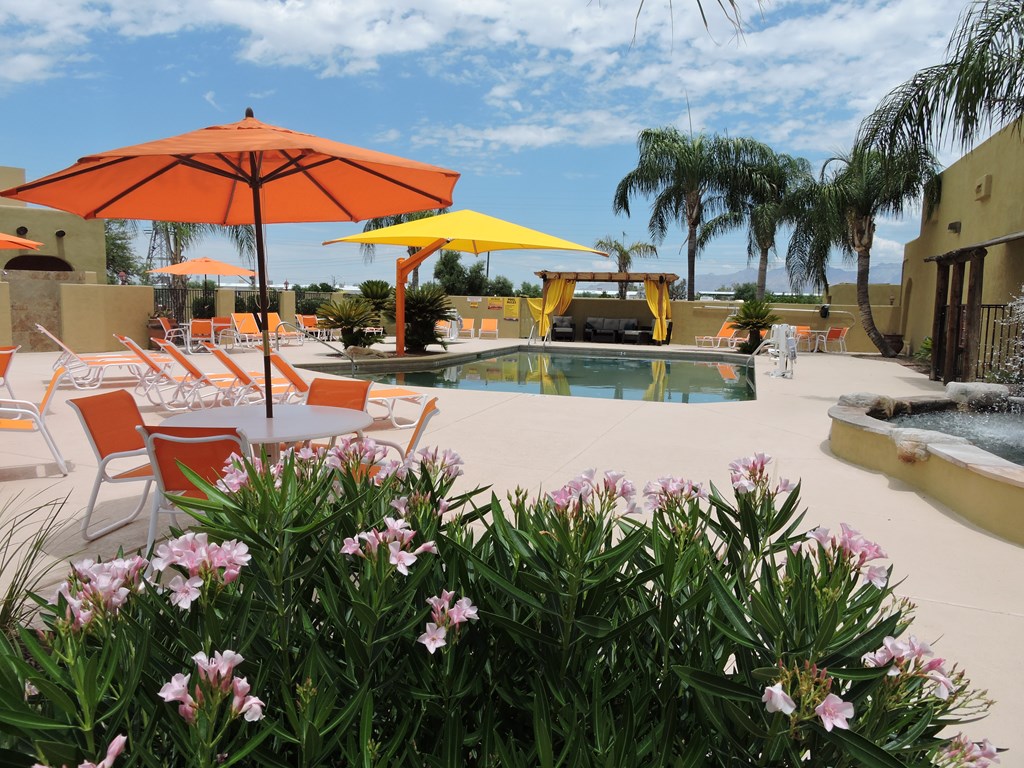 What better place for a warm weather lover to spend the winter than in the deserts of Arizona? And this Tucson / Lazydays KOA is sure to quickly become your desert oasis.
Offering both 30 and 50-amp hookups, luxurious and grassy sites, and Southwest style patio sites that include a fireplace, you are sure to love winter at Tucson / Lazydays KOA.
And how about doing good for the planet while you're here? The park recently completed installation of two PowerParasols solar shade structures that allow guests to camp, relax, barbeque and more under a structure that produces clean solar energy! With those solar structures shading more than two acres of the campground, guests will be able to take advantage of 30 covered RV sites here. You can still enjoy the sun but between 5-10 degrees cooler than the rest of the park.
One of the greatest things about this KOA is what sits right next door: Lazydays, a full-service RV dealership that includes a service department.
While staying here, you will also get to take advantage of the park's bar and grill, event center, meeting rooms, fitness center, off-leash dog park, and free WiFi! Even more, the luscious expanse of green extends to an array of fruit trees that surround the park. Guests are welcome to pick ripe fruit and use the bounty as they like. Talk about camping luxuries!
---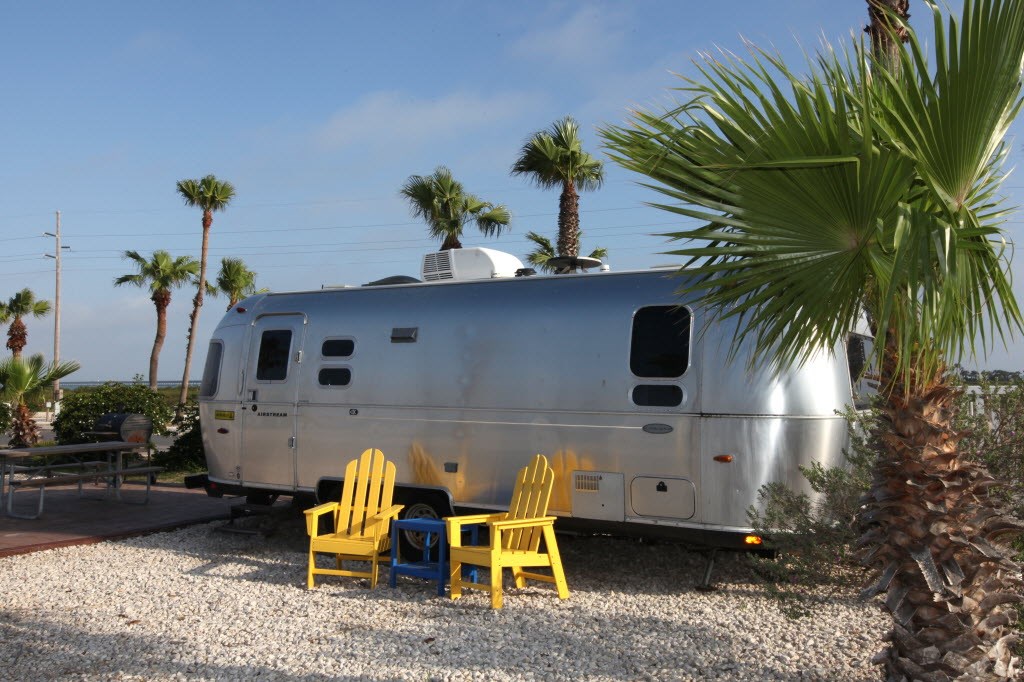 If you love relaxing under palm trees, with some of the best beaches in Texas nearby, then South Padre Island KOA Holiday is definitely the place for you.
And the views from your RV site aren't bad either. Here, you'll enjoy parking your RV where views of Laguna Madre Bay will start your day off on the right foot, every day. Some sites here also include decks and patios, as well as 80-foot pull-through sites that all come will full hookups and 30 and 50-amp service.
The social scene at South Padre Island KOA Holiday is one of the biggest draws of this particular location. The resort offers winter activities that include sunset socials with live music, water Zumba, themed parties (such as the park's annual tropical luau!), and much more.
Amenities at this KOA are quite fabulous as well, and include the Pier 19 Restaurant and Bar, Osprey Fishing Trips, a massive hot tub, a 25-meter pool, an exercise room, a playground for kids, and a play area for your favorite furry friends. There is even a large commons room that serves up ping pong and other games, as well as a big screen to play video games or watch your home team.
---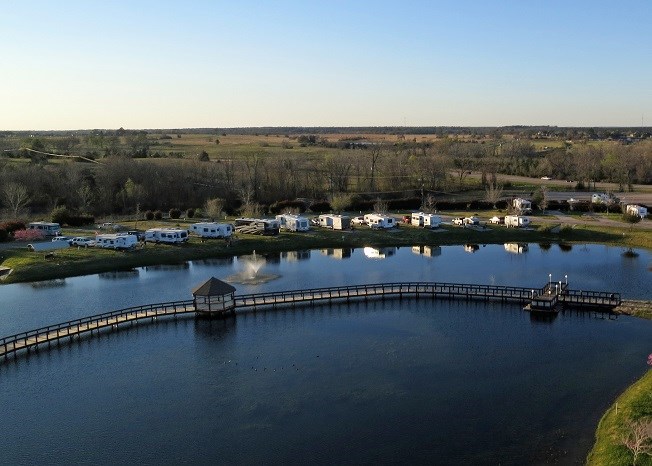 Just two minutes away from Lake Conroe and it's 21,000 acres of fun, Lake Conroe / Houston North KOA Holiday is the perfect homebase for your fun-filled winter.
The city of Lake Conroe offers water recreation, golf courses, shopping, and restaurants for you to indulge in daily. Coffee shops, grocery stores are easily accessed right out of the campground.
However, chances are you may not feel the want or need to leave this campground! At Lake Conroe / Houston North KOA holiday, fun comes in the form of a stocked fishing lake, basketball, horseshoes, ladder golf, a covered heated swimming pool and hot tub, a playground, paddle boats, banana bikes, and more!
This park has plenty of sites to fit your needs. Patio RV Sites to pull-thrus with views of the pond are a the ones to snag. This campground also has plenty of cabins, so you can bring the whole family for fun in the sun down south.
---
The saying goes that "everything is bigger in Texas," and this KOA is no exception. Boasting 100-foot pull-through and 50-amp sites, Dallas / Arlington KOA, this campground is proud to be "Big-Rig Friendly."
Close to some to some of the most exciting attractions in the whole state of Texas, you'll find this campground to be a wooded camping oasis where you can rest in peace, or hop quickly over to the area's famous attractions that include:
Six Flags Over Texas
Hurricane Harbor
LEGOLAND
Sealife
Texas Rangers games
Dallas Cowboys games
"Ripley's Believe It or Not" Museum
Legends of the Game Baseball Museum
Planetarium at the University of Texas at Arlington
Stockyards Station
Daily cattle drives in Fort Worth
And if you're fixin' to try some Texas fare, then you'll love having more than 200 restaurants within 2 miles of Dallas / Arlington KOA.
While this campground is situated right in an urban center, it is nestled in a wooded area. Inside the park you won't believe you are so close to all the fun. Guests also enjoy a beautiful community area with laundry, lounge and an outdoor pavilion.
---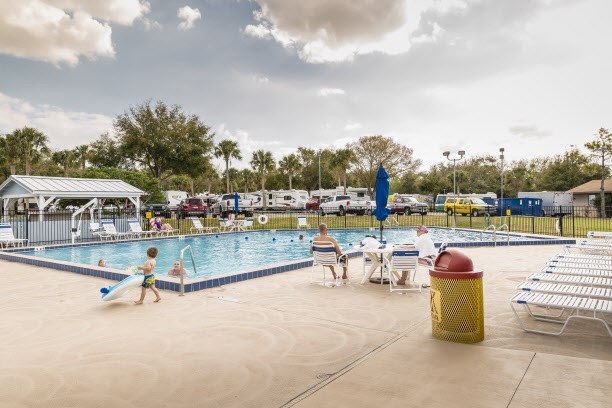 Location, location, location. You'll love this KOA's proximity to Orlando's world-famous theme parks. Just 25 minutes from Walt Disney World Resort, SeaWorld, Universal Studios, and LEGOLAND Florida, there is no shortage of fun to be had here during the winter.
Just the right distance away from all the excitement Orlando has to offer, Orlando SW KOA offers a break and some peace and quiet for those days when you just want to enjoy life at a little slower pace.
This KOA offers back-in RV sites and pull-through RV sites with cable TV, WiFi, and a fire pit.
Take advantage of Orlando SW KOA Holiday's swimming pool, as well as its bike and golf cart rentals. The campground's play areas for kids, exercise room for adults, and two leash-free Kamp K9 parks for your favorite furry friends are sure to be hits during your stay here as well.
---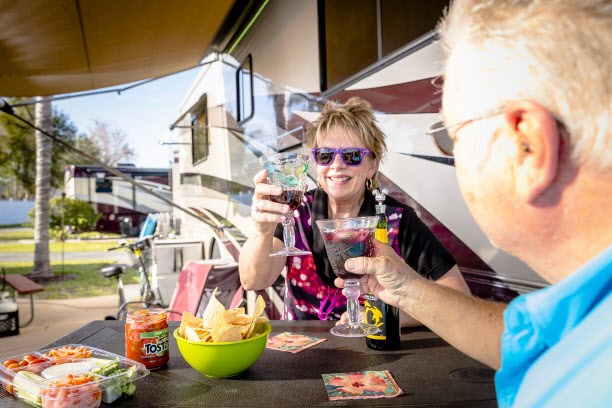 If you're looking to be close to all the action that Central Florida offers, then you'll find that, and more at this KOA.
Just minutes away from Walt Disney World Resort, Universal Studios, SeaWorld, Gatorland, LEGOLAND Florida, and so much more, convenience is this campground's middle name.
And after a fast-paced and fun-filled day at the parks, you'll love coming home to this KOA to rest. This park's swimming pool and hot tub are open 23 hours a day, so feel free to take a dip (almost) anytime.
With a playground for kids, a fitness room for adults, and an off-leash Kamp K9 for the pups, there's something for everyone at Orlando / Kissimmee KOA Holiday. The park is kept immaculate, while sites are closer to eachother, the pristine landscape makes you feel like the campground is more of a boutique hotel.
Plus, you'll also be close to nearby golf, helicopter tours, and fabulous food!
---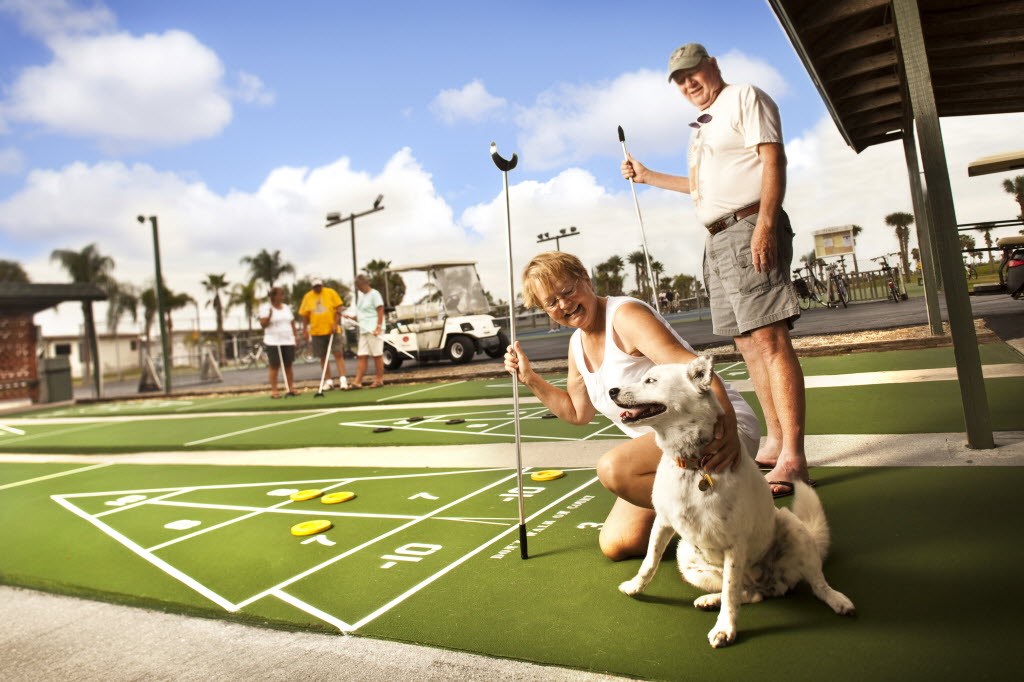 Okeechobee has much to offer its guests looking for fun-filled activities, and all-star on-site amenities for snowbirds.
Forget it's winter and enjoy a round of golf on this KOA's 9-hole course fringed with palm trees (which happens to be the largest KOA with a 9-hole golf course), or hop onto the tennis courts and enjoy a game of tennis. The list of things to do goes on at the resort,  enjoy exercising at the park's fitness center, swimming pools (including one that is for adults only), or hiking at the Big O trail.
Nearby Lake Okeechobee is a top place to boat and fish, so don't forget your pole.
Also, don't forget your party hat! At Okeechobee KOA Resort, your social calendar will be full of parades and parties. With seasonal celebrations that include Mardi Gras festivities, a Christmas tree decorating contest, a Full Moon Bike Ride, and much more, you'll leave this place with some fabulous new friends.
---

St. Petersburg / Madeira Beach KOA Holiday is every active snowbird's dream.
Just minutes away from sugar-white beaches, the St. Petersburg / Madeira Beach KOA Holiday is bordered by a mangrove-lined bayou, as well as the Pinellas Trail, where you'll find miles of wonderful hiking.
Enjoy staying active on-site as well, with this campground's activities that include:
Shuffleboard
Bocce ball
Petanque
Mini golf
Volleyball
And take advantage of some of the campground's fabulous programs that include:
Water aerobics
Yoga
Quilting
Watercolor classes
Jog, walk, or bike around the Pinellas County Fitness trail that runs in front of the campground, and offers 47 miles of stunning trail.
Or, rent a kayak and take in the beautiful wildlife of the Long Bayou waterway. You'll spot herons, egrets, dolphins, and more!
---

Save