Find the perfect campsite for your next RV adventure is easy with these tips from our travel experts.
Do you often find yourself at home or work, ignoring other responsibilities, and spending countless hours researching the perfect campground for your next weekend getaway or family vacation?  If so, don't worry. You are in good company. We won't tell on you if you don't tell on us!
Should you pick a campground with a view of the mountains near a great national park? Or should you pick a campground where you can hear the waves breaking just over the dunes? Either way, KOA has got you covered with lots of great options, but picking the perfect campground is only half the battle.
You also need to book the perfect site.
Your dream campground may have sites that don't fit your camping style or personality. So how do you find that Instagram-worthy site for your next adventure?
Just ask these 8 questions before making reservations…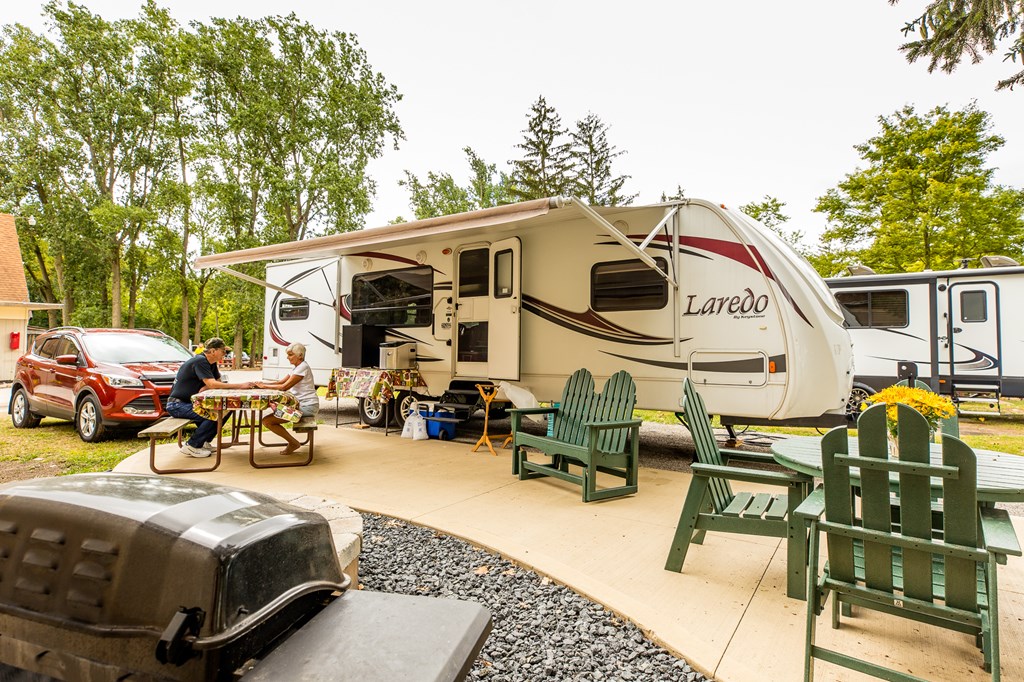 1. What kind of hookups do I need?
KOA campgrounds offer a variety of hookup options at each RV Site, and there is no one size fits all.  If your RV requires 30 or 50 AMP service then it's best to only look at those options. Conversely, If you are in a tent (or certain smaller RV's) that don't require 30 or 50 AMP, why bother paying more? Tent campers should pay particular attention here–if you book a site with 50 AMP service you may be surrounded by large motorhomes in an area without much privacy.
It's also worth mentioning that some waterfront sites–and even some remote sites–may not offer sewer hookups. If you have your mind set on getting the prettiest site then you may need to pass on certain hookups. If you are willing to use the bathhouses, or dump your tanks at the end of the trip, then this might not be a problem.  Many KOA's also offer honeywagon service and they come and dump your tanks for you if you don't have sewer.
2. Do I want a pull thru site or a back in site?
The majority of KOA's will offer a wide variety of pull thru and back in sites. Those with larger rigs that are difficult to back in may prefer the ease and convenience of a pull thru site.  If you are making a quick overnight stop at a KOA Journey on your way to another destination you'll appreciate the convenience of KOA Pull Thru Sites because they are "easy in, easy out" – perfect for hitting the road in no time.  If you have a towable unit and are just overnighting, you may not even need to unhitch, which can save precious travel time as you move to your final destination.
While Pull Thru Sites are more convenient to navigate, they are often less private and less scenic. Instead of having woods behind your rig, you will have a road.  So if you care more about privacy than convenience, then you should probably take a close look at the back in options.  Remember, there are exceptions to every rule and some back in sites are not private, while some pull thrus may be the prettiest sites at the campground.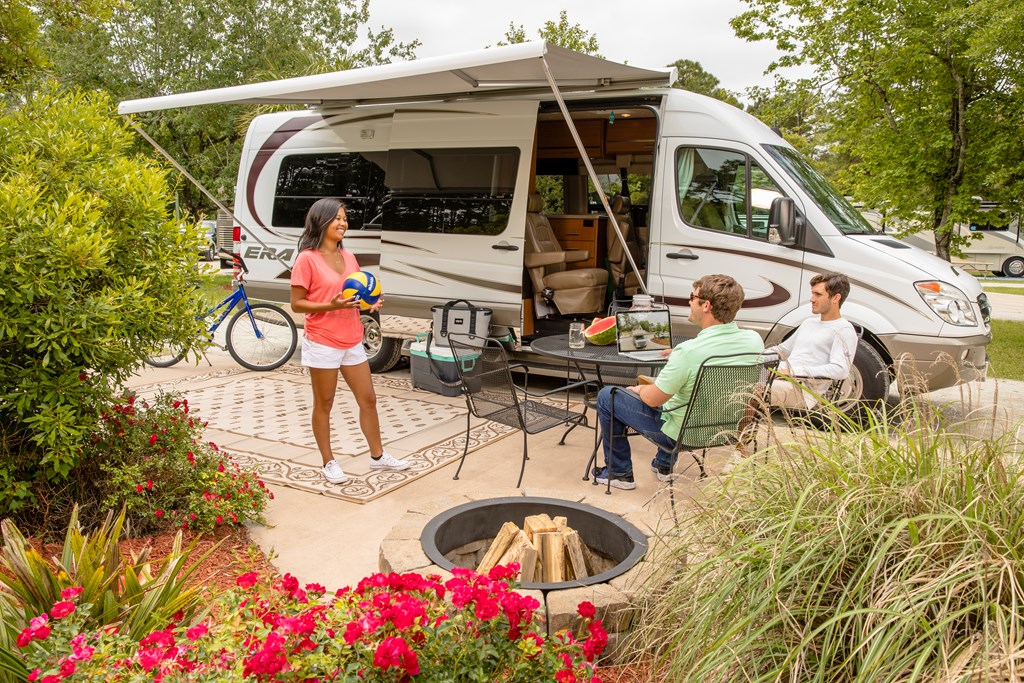 3. Do I want to be close to the pool, playground, and other amenities or far, far away?
If you are traveling with small children your dream site may be right across from the playground so that you can sit under your own awning and watch the whippersnappers play. However, if you are not traveling with kids you might want to get as far away from the playground as possible. The same principle applies with the pool. If you will be swimming several times a day, then having a site close to the pool could be nice. If you aren't planning on swimming, why book a site in a highly trafficked area?
4. Do I want to be close to be close to the bathhouses or far away?
If you are camping in a tent you might want to have a site near the bathhouse for late night potty runs. Conversely, if you are camping in an RV with its own bathroom you might want a site that is further removed from the foot traffic and safety lighting that can be found near a bathhouse.
5. Do I want sun or shade?
Many KOA's will offer a mix of sunny sites and shady spots, and some may offer both at the same site depending on the time of day.  If you are traveling in Utah or Arizona in the summer you will probably want the relief from the sun that a shady site offers, but if you are traveling in Maine or Nova Scotia in the summer you may want to soak up as much sun as you can get.
6. Can I hear road noise from my site?
Some campers can get grumpy when they show up to their dream site and discover that it is next to a noisy road. While many KOAs will try to lessen road noise, if you're particularly sensitive it's best to make sure you know before you go. Consult a map of the campground or call and ask if your site is near a noisy road. If you are traveling in a motorhome or travel trailer and like to blast the AC all day, this may not matter. But if you are traveling in a tent, pop up, or hybrid, too much road noise can make or break your vacation.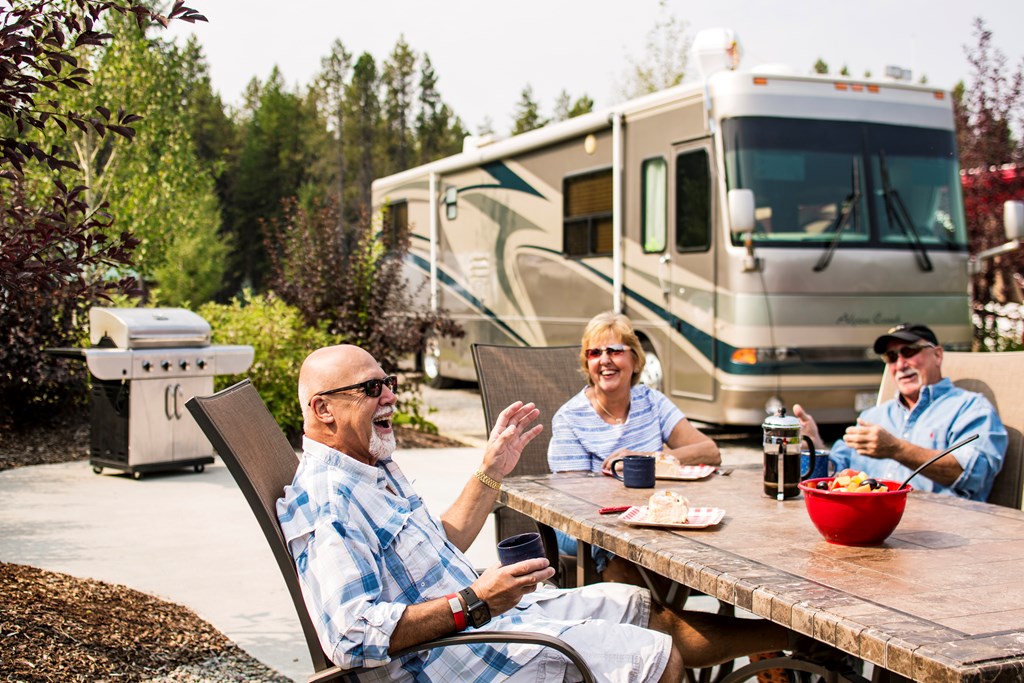 7. Do I want a waterfront site?
A waterfront site is dreamy for all campers, right?
Not always.
When our three boys were young, we quickly discovered that having a site right near a river or stream made us both a nervous wreck. So we asked for sites away from the water so we could relax a bit more. Now that our boys are older we try our very best to get those dreamy waterfront sites, and if we book early enough, we often do.
8. Do I want a buddy site?
If you are traveling with friends and family you may want to inquire and see if the campground has buddy sites. Buddy sites allow two RV's to face each other, awning to awning. This means two families are able to create a large shared area in the middle of their sites so kids can play together and meals can be easily shared.
---
Next time you are researching your perfect campground, remember that you also need to do some research and advance planning to get your perfect site.  The extra time and thought invested will make your next great camping adventure one for the record books!
---
Stephanie and Jeremy Puglisi are the co-hosts of RV Family Travel Atlas, a weekly podcast available in the iTunes store and on their blog. They are also parents and educators who seek out adventure with their three young children and an RV. You can follow their family shenanigans on Facebook, Twitter, and Instagram.
---