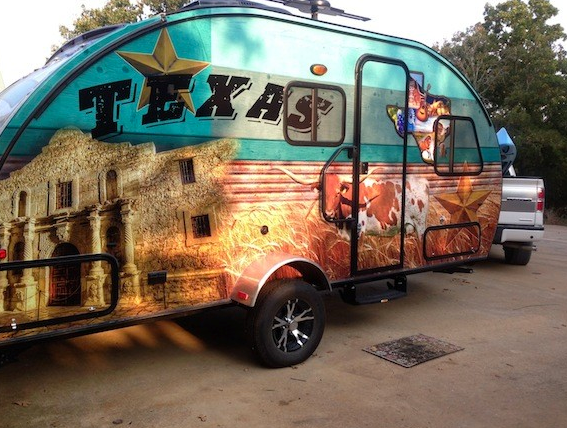 They can appear out of nowhere. Long strings of pickup trucks and SUVs hauling a wide assortment of vintage trailers down North America's highways.
Yet this is a caravan like no other. These brightly painted antiques are the "adventure homes" for more than 4,000 sister-members of a totally just-for-fun organization called Sisters on the Fly (SOTF).
SOTF was born in 1999 in Montana when two biological sisters, Maurrie Sussman and Becky Clark, decided to turn their lifelong passion for the outdoors, fly fishing and camping into a profession. They both credit their mother, Mazie, for instilling their love of being independent in the outdoors.
Before long, they each had creatively decorated antique trailer and were inviting other like-minded girlfriends along.
The rules for the group are simple: No men, no pets, no kids and "be nice."
Sisters range in age from 21 to 92, and the group is geared to women with a desire for adventure. "SOTF is for women who have a desire to go on a quest for themselves, to be their own person, to take away comforts, and overcome thoughts like 'I must be nuts for doing this,'" says Sussman. The group's events can pop up all over the country, and Kampgrounds of America parks are proud to have often played a role as "resting spots" along their travels.
There are now 14 regions of the U.S. where SOTF "hostesses" organize their own Cowgirl Caravans, based on the particular group's interests, be it fishing, hiking, horseback riding, cooking or even cattle roundups. All this for an annual membership fee of $60.
The members' trailers often take on personalities of their own. Sussman is quick to point out that a trailer certainly isn't required.
"Some prefer tents, Bed and Breakfasts, pickup truck beds or any other place you can roll out a sleeping bag," she said.
Membership now includes women from the U.S., Canada, England and Australia.
And it isn't that these women don't have men and families waiting at home. They just aren't invited.
"Our goal is to bring women together to challenge themselves to be all they are capable of," Sussman said. "It's a pleasure to watch women catch their first fish, tow their trailer alone for the first time and get it into a campsite, cook their first Dutch oven meal or paddle their first kayak."
If it all sounds like great fun (and you're a woman, of course) you can find out more at the group's website.
Their next scheduled events are a Southwest Gathering in California in early April, followed by a trip to follow the caddis fly hatch in Colorado later that month. And, of course, there is mother Mazie's 95th Birthday Bash from May 9-12.
The fun just doesn't stop.