Road Specialists From Down Under Visit U.S. To Promote Australian RV Touring
A team of Australians are touring the Southwest U.S. this month to promote RV touring Down Under.
"Australia's Best Drives" is a collaboration of three tourism boards promoting their respective touring routes:  Sydney-Melbourne Touring, The Legendary Pacific Coast (Sydney-Brisbane) and Great Southern Touring Route (Victoria).
Teaming up with San Antonio, Texas-based travel company "About Australia," the Aussie travel professionals are on a whistle-stop tour of California, Arizona and Nevada to share their expertise on RV and motorhome touring Down Under.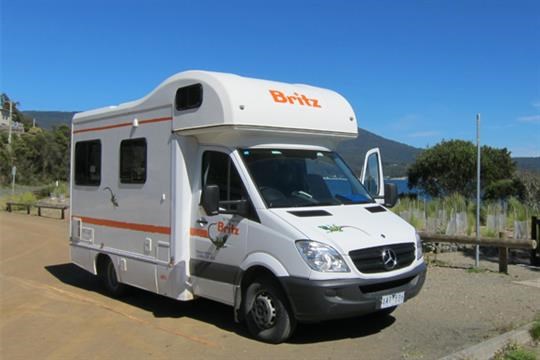 Australia is roughly the same landmass as North America, but much less populated. As the world's largest island and smallest continent, Australia is well suited to RV travel, blessed with thousands of miles of spectacular coastline, islands, temperate and tropical rainforest, World Heritage wilderness and fertile agricultural land ringing the continent's vast desert interior.
In preparation for their US trip, the Australia's Best Drives team shared some pearls of wisdom with KOA for those who've ever dreamt of a touring vacation Down Under. We hear they are also giving away a great prize: A trip for two lucky people to Australia, flying into it's harbour city, Sydney. For more information, visit www.australiasbestdrives.com or www.aboutaustralia.com.
So, here are their tips:
The Legendary Pacific Coast – A journey of 580 miles along the east coast of Australia linking the cities of Sydney and Brisbane.  Along the way you'll experience the superb food and wine of the Hunter Valley, Australian wildlife in its natural habitat at Port Stephens, ample opportunities for sailing, boating, fishing, diving, whale watching and surfing at Port Macquarie, Coffs Harbor and Australia's most eastern point, Byron Bay.  The spectacular coastline, National Parks, excellent roads, subtropical climate, Australian heritage and rural hospitality  combine to make this a classic Australian touring experience.
The coastline between Sydney and Melbourne is some of the most spectacular in Australia, with tranquil coves, long golden beaches and wild, rocky shorelines carved by the mighty Pacific and Southern oceans. Here, there's no end to the fun that can be had on the water – from surfing, sailing and snorkeling to seeing dolphins, penguins and whales in the wild.  The alternative Sydney-Melbourne Heritage Drive leaves Melbourne and makes its way through inland Victoria, pauses in Canberra and then heads east to the harbor city, Sydney.
The Great Southern Touring Route is a round-trip touring route starting and finishing in Australia's second largest city, Melbourne.  You'll see the star attractions of the south as you wind your away along the spectacular coastline of the Great Ocean Road, hike in the magnificent Grampians National Park and soak up the riches of the rural Victoria's natural mineral springs, fascinating Aboriginal culture, and gold-rush and maritime history.
Although there are vast tracts of desert in the interior, vegetation covers nearly 4.4 million square miles or 91 percent of Australia.
The Indigenous 'Dream Time' is the foundation for tens of thousands of years of spiritual aboriginal art, traditions, legends, myths, folklore and culture.
Before the arrival of humans, Australia was home to mega fauna: three-meter-tall kangaroos, seven-meter-long goannas, horse-sized ducks, and a marsupial lion the size of a leopard.
It takes about an hour longer to fly from Los Angeles to Sydney than from Sydney to Los Angeles. Aussie's claim it's because you're flying uphill when you head Down Under (just kidding folks!)
An RV trip Down Under is made easy with BIG4 Holiday Parks. BIG4 is an Australian company similar to KOA who operate 180 parks spread across Australia.There's also THL Online, specialists in motorhome and campervan rentals in Australia and New Zealand under a range of brands including KEA, Maui and Britz.