The song does a pretty good job of describing one. But in short, Merriam-Webster defines a winter wonderland as "a place that excites admiration or wonder." Is it cold? Probably. But if you're a fan of winter camping you know that with low temperatures comes snow and ice. These two magic ingredients can elevate even the most picturesque of places into the realm of ethereal. From Alaska's aurora borealis – courtesy of Mother Nature – to an ice castle compound in New Hampshire – courtesy of professional ice sculptors – here are eight bucket list-worthy winter wonderlands to check out this season.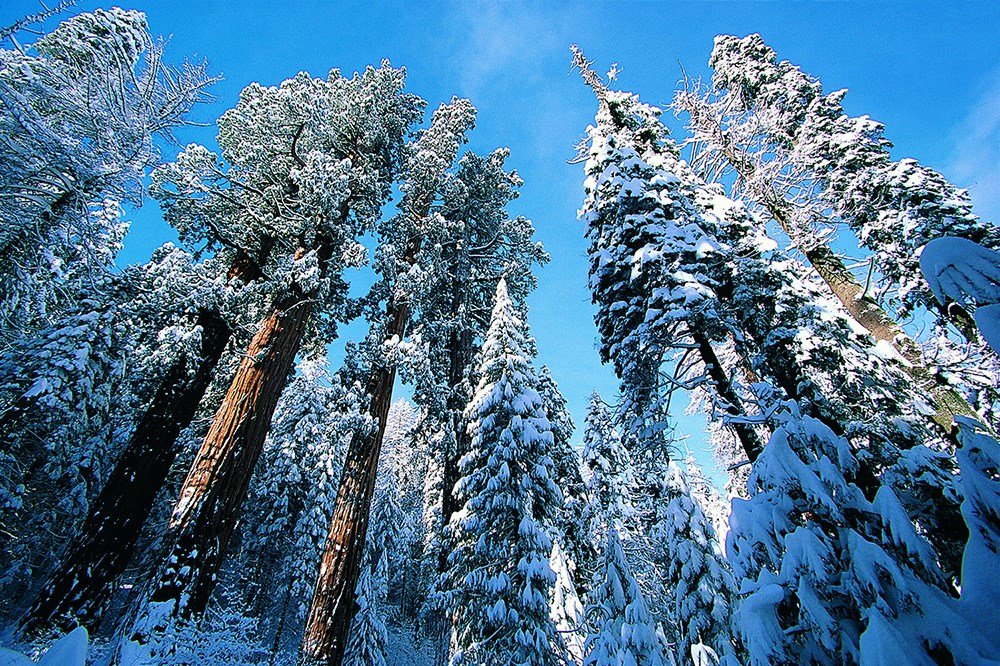 1. Sequoia National Park, California
It's hard to get more picture perfect than a frosty forest of the world's largest trees blanketed in snow. But the best part about visiting Sequoia National Parks in the winter is the sense of solitude and clear, blue skies. In the summer, traffic can be bumper to bumper and California wildfires can take away from the park's beauty. While some areas of the park may be closed due to heavy snowfall, most roads are open year-round. And if you have a 4WD vehicle and/or snow tires, you should be fine. Check out the park's calendar of events for activities like ranger-led snowshoe or cross- country treks. (Several local outfitters offer rentals.)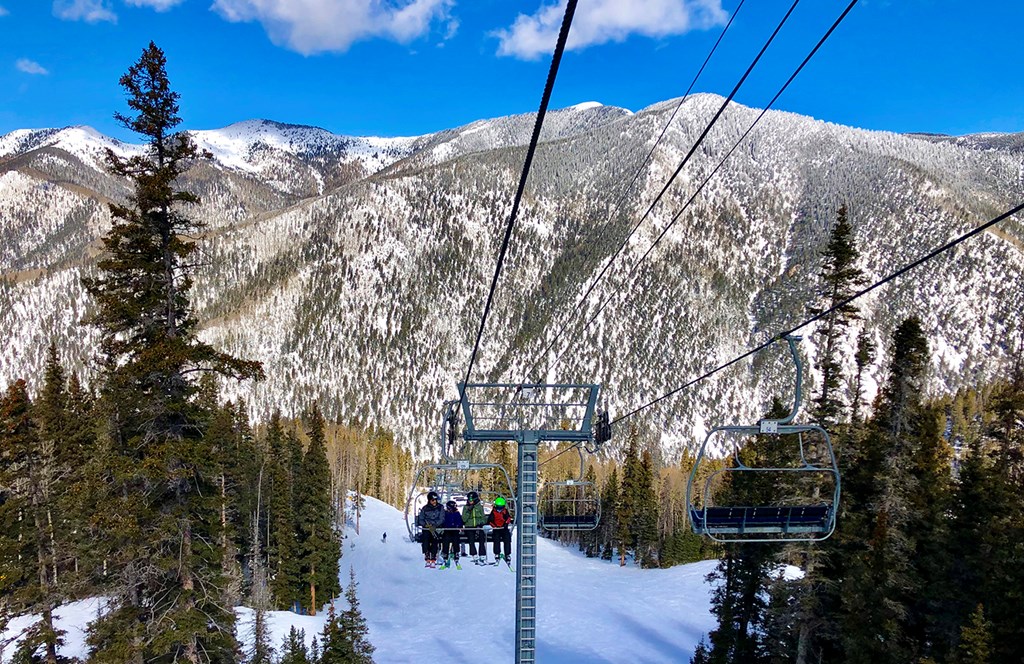 2. Taos, New Mexico
Most people don't think of New Mexico when they think of states with the best skiing. But Northern New Mexico is home to the southernmost subrange of the Rockies. With an elevation of nearly 7,000 ft. Taos is pretty much guaranteed to have snow. Enjoy world class expert level skiing at Tao Ski Valley or kick back and cruise the Enchanted Circle Scenic Byway. This 83-mile loop provides high alpine views and plenty of opportunities for pulling over to snowshoe or cross-country ski in the backcountry. Not afraid of heights? Rise above the Rio Grande Gorge – home to one of the tallest bridges in the country – in a colorful hot air balloon. Rides are offered year-round.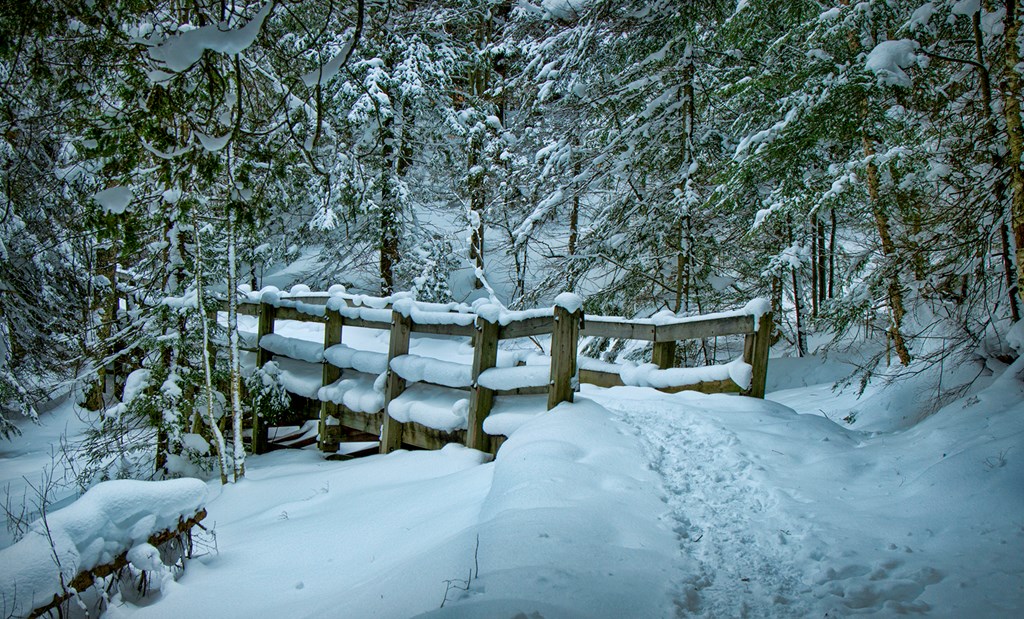 3. Keweenaw Peninsula, Michigan
If you love to snowmobile add Keweenaw Peninsula, located in the northernmost part of Michigan's beloved Upper Peninsula, to your list. The area receives nearly 300 inches of snow each year and boasts nearly 250 miles of trails. Sled along the coast of Lake Superior, maybe stopping to chat with the fishermen drilling holes in the ice in search of trophy-sized trout and Coho. Keweenaw's Cooper's Harbor was recently named one of the 8 best places for ice fishing in 2022. If the Iditarod is more your speed, visit in March for the Copper Dog 150. Follow 10-dog teams as they race more than 120 miles for an $18,000 prize.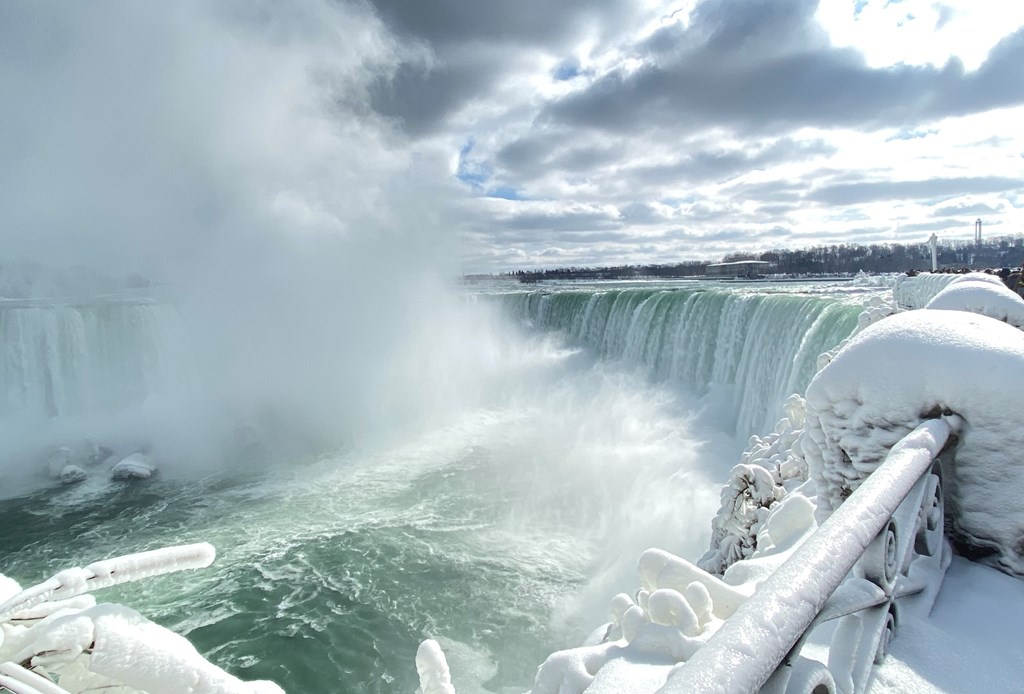 4. Niagara Falls, New York
The Niagara Falls are majestic 365 days/year. But the phenomenon known as "Frozen Falls" is almost ethereal. When it happens, the ice-covered cascades are almost on pause, waiting until it warms up to come crashing down. Winter is also ideal if your goal is to avoid the throngs of people who flock to this state park straddling the U.S. border with Canada. Bring your passport and cross the border if you can. "Experience the thrill of the chill" reads promotional material advertising the annual Ontario Power Generation's Winter Festival of Lights that runs through February. It's Canada's largest free outdoor light festival.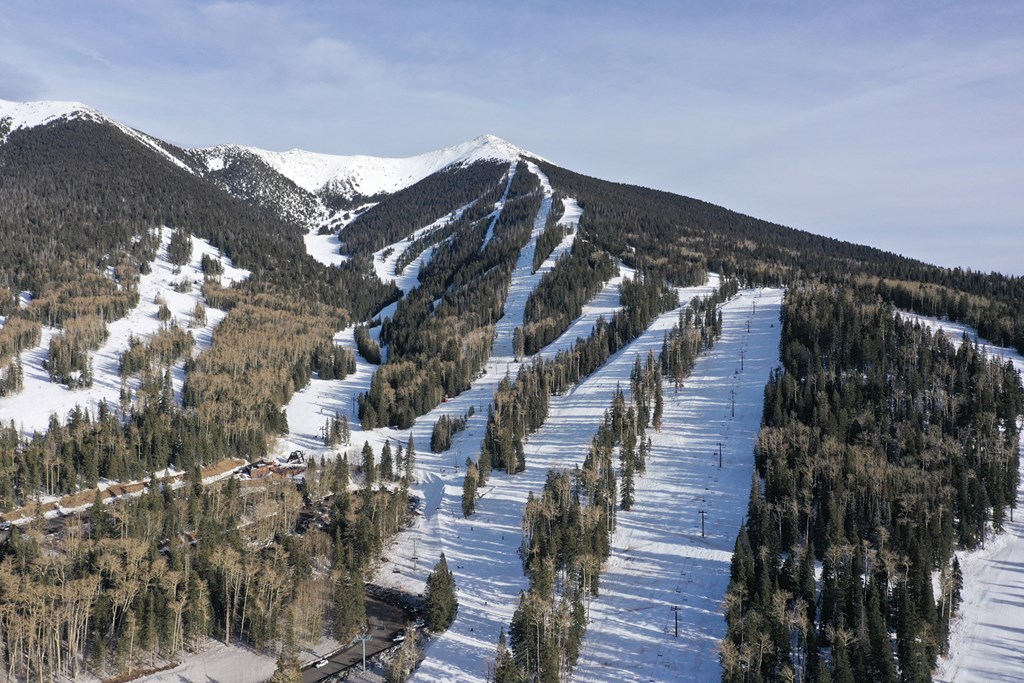 5. Flagstaff, Arizona
Most people picture golfing in Phoenix when they think of going to Arizona in the winter. But if it's a winter wonderland you want to envision, head to Flagstaff, just 150 miles north of the state capital. This popular getaway in the San Francisco Peaks receives more than eight feet of snow in the winter months. Head to its ski hill, Arizona Snowbowl, to lay tracks at 11,500 ft. Not keen on skiing but love views? Ride the state's only gondola. It boasts views of the impressive Grand Canyon below. Flagstaff is also home to Arizona Nordic Village, an outdoor playground with miles of groomed trails for cross country skiing, skate skiing and snowshoeing.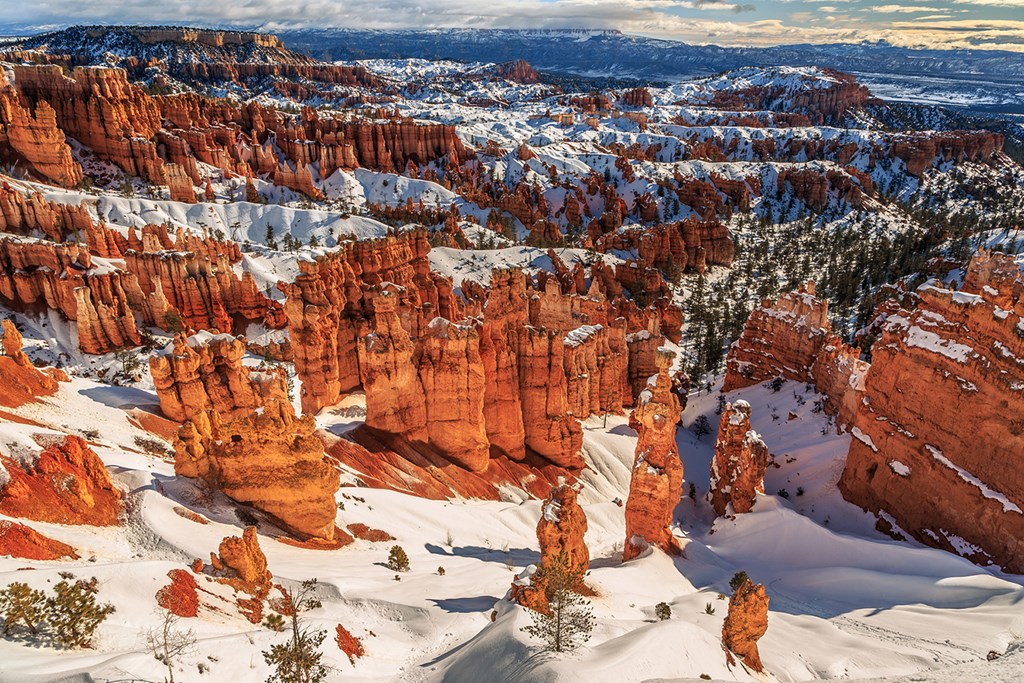 6. Bryce Canyon, Utah
As one of the most photogenic places in the world, Bryce Canyon is a beautiful destination any time of the year. But to really capture the iconic red rock hoodoos and crimson-colored cliffs, visit in the winter when they're dusted in contrasting white snow. Explore the backcountry by snowshoe or go for a ranger-led winter hike. If your trip falls in February, check out the Bryce Canyon Winter Festival held in nearby Bryce Canyon City where you can demo everything from skis to kayaks and fat bikes. Attend a photography clinic or compete in archery. You can even enter the kids in a snow boot race.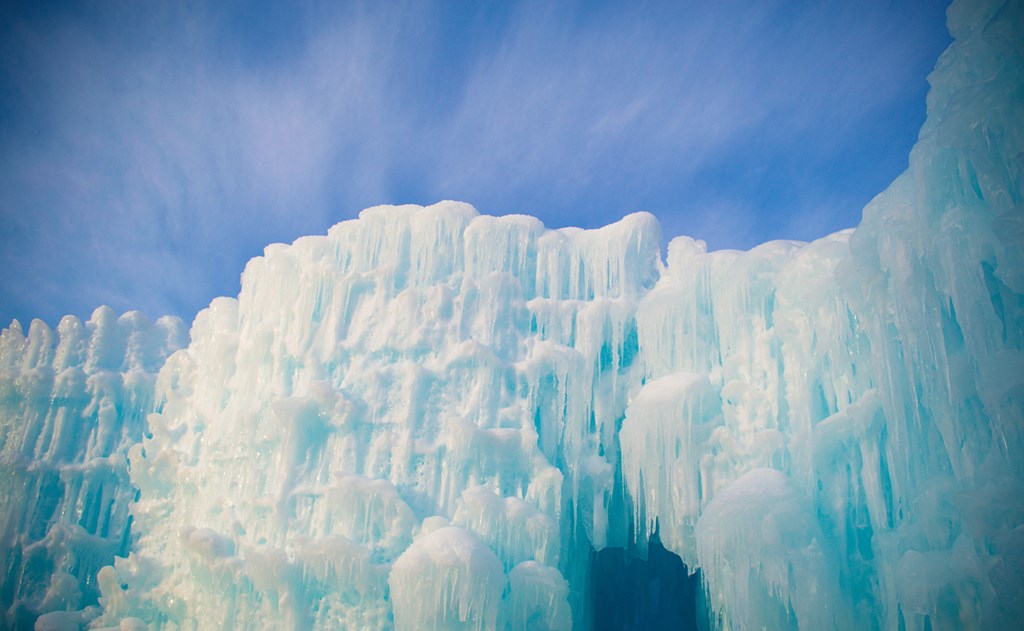 7. Ice Castles, New Hampshire
For the ultimate manmade winter wonderland, visit the alluring 20-million-pound ice castle extravaganza in North Woodstock, New Hampshire. This frozen fairy tale-inspired experience (worthy of being a Cirque du Soleil set) is created by professional ice artists. They painstakingly create icicle arches, frozen thrones, jaw-dropping sculptures illuminated with LED lights and plenty of other icy surprises. For example, go for a ride down an ice slide, crawl through secret passageways carved in ice and ventureinto the mystic light forest. You can also enjoy sleigh rides and tubing on a groomed sledding hill. Looking for a one-of-a-kind place to propose to your partner? Book the Arctic Alcove – an exclusive space set aside for special events. Note: Ice Castles also takes place in Utah, New York, Wisconsin and Minnesota. See the website for tickets and dates.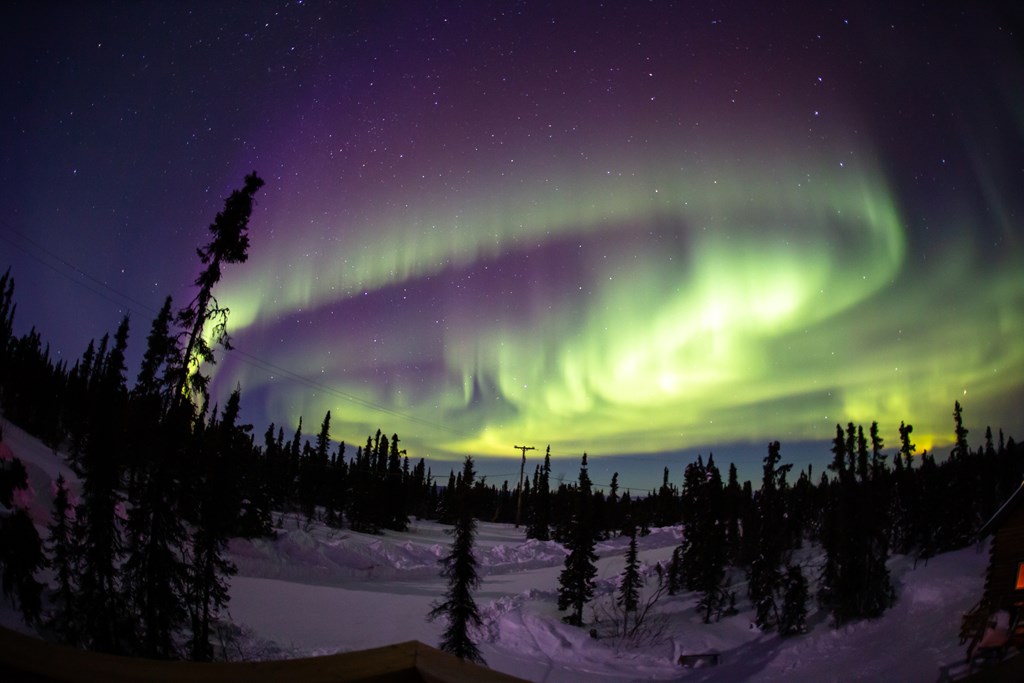 8. Fairbanks, Alaska
If you hate cold temperatures, Alaska may be the last place you want to visit in the winter. But if you love viewing the northern lights, it's an absolute must. What makes Fairbanks such a great place for witnessing these vibrant hues of green, blue, red and yellow as they dance against the vast night sky? For starters, it's located pretty far north and in the interior of the state where there is no shortage of darkness in the winter months. Up here where moose outnumber people, there's also not a lot of ambient light pollution competing with the aurora borealis. Not sure exactly when to go? Book a trip with northern lights experts like Alaska Aurora Adventures. This family-owned tour operator even rents out camera equipment and can arrange for professional photographers to be on site for tips. But generally speaking, January through March is peak northern lights watching season.
---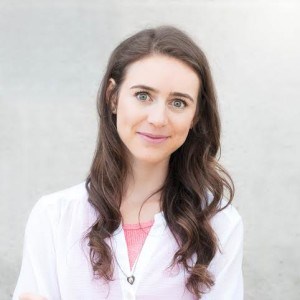 Katie Jackson is a writer and media specialist based in Montana's Big Sky Country. Living and working everywhere from New York to Nicaragua, Katie is no stranger to adventure. When she's not traveling the world (or writing about it!) she's busy chasing after a Leonberger named Zeus. Follow Katie's travels on Instagram @katietalkstravel.