7 Reasons to Try Glamping During Your Next Camping Trip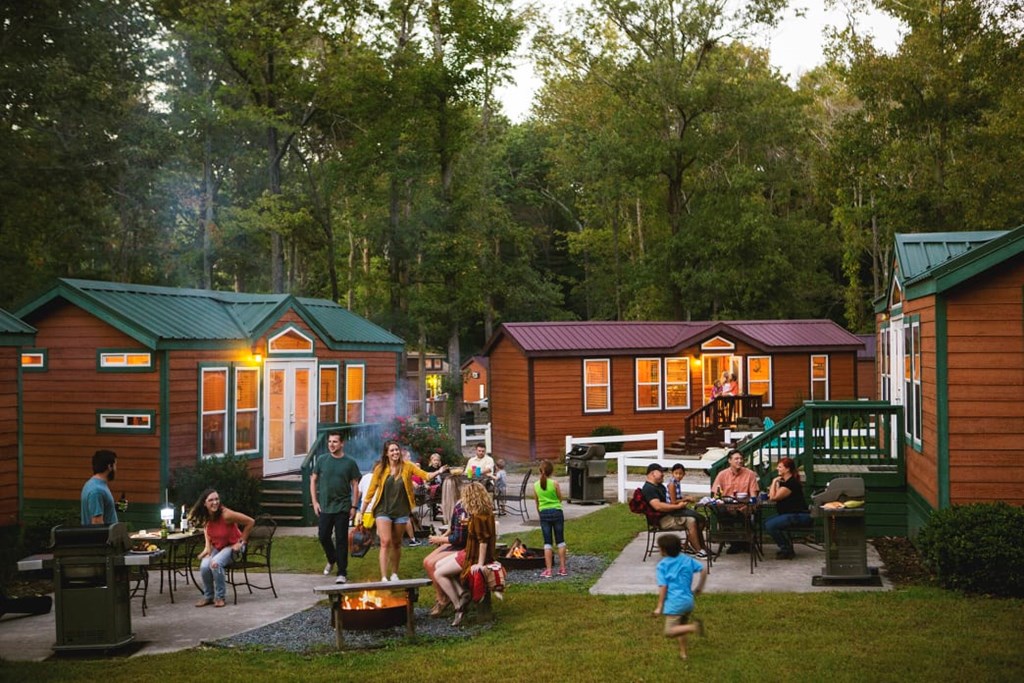 Looking for a getaway that offers proximity to the outdoors, a back-to-nature location, and the comforts of home? For your next camping trip, give glamping a try. Glamping—or glamorous camping—encompasses the experience of a traditional camping trip, but with extra luxuries hard to come by on a basic backpacking excursion or at a car-camping tent site: cushy beds, protection from the elements, flush toilets, and even multiple rooms to spread out in (no tossing and turning in a cramped tent!).
The next time you book a trip to your favorite KOA (or you're trying out a new one), consider one of the 3,500 Deluxe Cabins at unique KOA locations around the country. Here, seven reasons to give glamping a try on your next camping trip.
1. It's a Great Way to Ease into Camping
Interested in a more adventurous vacation, but not sure you want to commit to (and don't have all the gear for) tent camping? Or perhaps you're trying to convince a friend to try an outdoorsy vacation for the first time. A KOA Deluxe Cabin removes the hassle of messing with camping gear, negotiating tent site restrictions, and making sure everyone is comfortable, while keeping things fun. Glamping also makes it a cinch to plan a spur-of-the-moment getaway, since accommodations will be ready upon your arrival—no need to pack up the tent (and the stakes and sleeping bags … ).
2. You'll Get Better Rest
Let's face it: It's really hard to get quality zzz's in a sleeping bag, with just an inch or two of foam padding the only thing between you and the unforgiving ground. And if the weather turns nasty? Forget about it. It's hard to argue with the restorative power of a good night's sleep in a real bed. Instead of slogging through the next day, you can actually enjoy exploring the outdoors—which is why you're here, right? And it's downright blissful coming back from a daytrip adventure to take a hot shower and crash into a comfy bed—for another good night's sleep.
3. Vacation in a Beautiful Location with Creature Comforts
Yes, you can have both: Glamping allows you to connect with nature while still enjoying the comforts of home, like a real bed, television (it comes in handy on rainy days!) porch and grill for your family to relax around. All this while still spending time in some of the most stunning outdoor destinations around the country.
4. Glamping Makes Camping More Accessible
Hiking out to a remote campsite has its benefits, but sticking close to main roads and amenities does too. Not only does glamping make the adventure of camping more accessible, but it can also make it logistically easier and safer for young children or people with mobility issues. KOA's Deluxe Cabins are sturdy and private, so parents won't have to worry about boisterous kids disturbing other campers. In addition, some models are specially built for individuals with mobility issues and equipped with accessible bathrooms and ramps. They're an ideal choice for multi-generational trips, since they make a perfect home-away-from home for outdoor lovers of all ages.
5. It's Virtually Impossible to Overpack
One of the biggest challenges of traditional camping? The meticulous packing involved. With glamping, however, accommodations aren't restricted to a tiny tent. So no need to leave that hardback bestseller you can't put down at home—or that extra change of clothes (just in case), the kids' art supplies, or an entire pantry's worth of food to cook up. With ample storage space, plenty of room to spread out, and no need to worry about weight, a KOA Deluxe Cabin makes packing a non-issue. In addition, if the outdoors are calling and it's hard to choose just one activity, you'll have all the space you need to stash mountain bikes, hiking gear, and water sports equipment.
6. It's a Great Way to Celebrate in Style
Celebrating a birthday, anniversary, or other milestone event with family and friends? Or just looking to get the gang together for a fun getaway? KOA Deluxe Cabins can sleep up to six people (or even more in some cases) in comfort, with plenty of living space, kitchenettes in most units and outdoor grills and fire pits perfect for relaxing around (no more gathering around a pickup tailgate and eating hunks of cheese and salami straight from the cooler for "dinner"). It's the ideal way to keep in touch with your nature-loving side while bonding with loved ones in the outdoors.
7. You Still Get a Fire Pit—the Best Part of Camping!
What would a camping (or glamping) trip be without nights spent around the campfire? Each KOA Deluxe Cabin has its own outdoor fire area, so your family and friends can gather 'round and enjoy a beautiful evening under the stars. Break out the marshmallows, build some tasty s'mores and see who can tell the spookiest ghost story as the flames flicker. And when it's time to turn in, tucking into a real bed, not a sleeping bag, might be the sweetest ending to your day possible.
Written by RootsRated for Kampgrounds of America.
---