6 Tips For Working Remotely from Your RV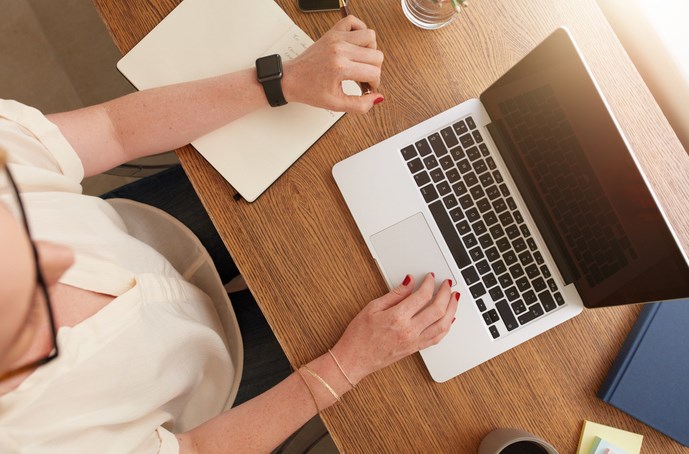 Most of the travelers surrounding you at your campsite are busy with typical vacation activities, like riding bikes, flipping burgers on the grill, loading the kids in the car for a hike or a day at the local waterpark, or just lounging in camp chairs by the fire.
But you may be starting to notice some campers who are combining business with pleasure. They're up bright and early with their laptop and coffee 6at the picnic table, and taking a business call while they walk the dog. During traditional business hours, you'll usually find them in their RV office, working just like they would in a traditional city office building. These digital nomads are forging a new path, outside the confines of commutes and cubicles, that puts travel first and allows them to enjoy vacation during their regular work week.
A recent study indicates almost five million people think of themselves as digital nomads. Some professions that are most likely to fall into this category are in IT, marketing, communications, web design, tech support, and online teaching. Fueled by cloud-based technology and advances in remote communication, as well as RV features like folding desks and cell signal amplifiers, that number is expected to rise.
KOA campgrounds are on top of the trend, with Wi-Fi service for work and on-site activities like swimming, crafts, mini-golf, and boat rentals for play, so parents can meet their deadlines while kids play outdoors. With home, office, and vacation fun at your fingertips, it's a quick transition to spending quality time together at the end of the day. Find out how you can tap into the trend on your next KOA vacation.
1. Setting Up Your Work Space
Having the right mindset is everything when you start working remotely. Think of your RV workspace just as you would your bricks and mortar office and create a dedicated office that you can power up in the morning and step away from at closing time. Using your RV's dinette as your desk can be a good starting point, but better alternatives are ones you don't have to break down at the end of the day, like an upfitted bunkhouse or a fold-out desk in your living room. Make sure you have cabinet storage space and easy access to USB and power outlets. Invest in a chair with back support and adequate lighting, especially if you'll be sitting at your computer for hours at a time. If your job calls for a printer/scanner or specialized equipment like cameras, build storage needs into your RV space and think through how you'll secure fragile equipment during travel.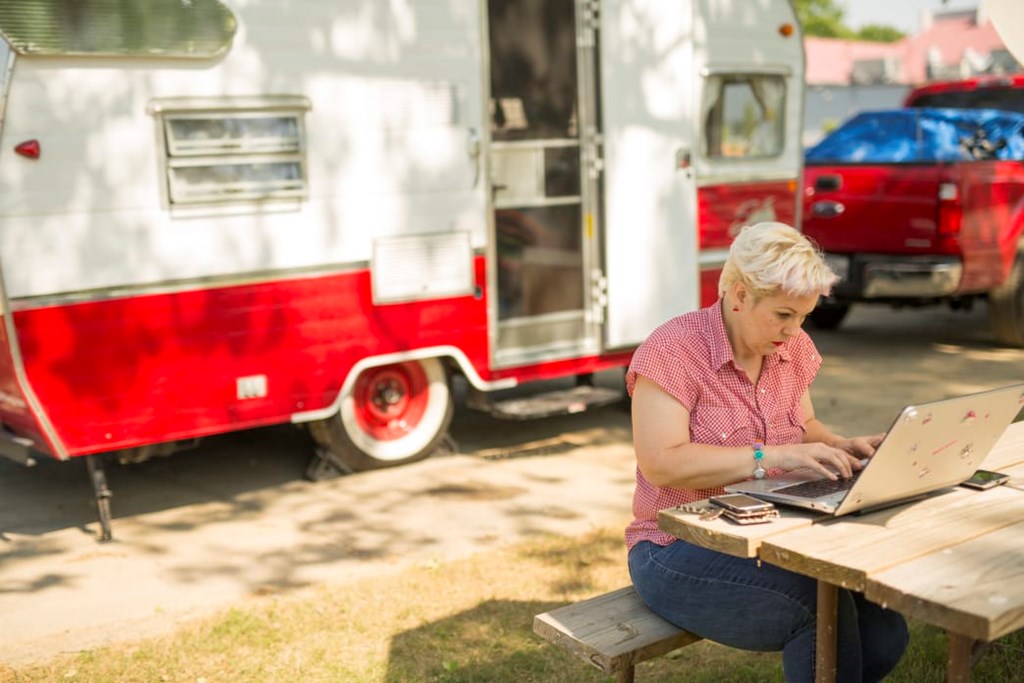 2. Tools of the Trade
In addition to your laptop, there are essentials and nice-to-haves that will make your days go smoothly. Depending on the type of work you do, you'll probably need high speed Internet access with a robust data plan, a second monitor, noise cancelling headphones, cloud storage, and surge protectors for all your office equipment.
A solar powered backpack for charging devices on the go and an anti-glare privacy filter for your monitor are nice but not essential items that allow you to take full advantage of your scenic locale. A portable hard drive gives you additional storage to back up your data.
3. Business Hours
Even if you've never worked overtime before, you'll be amazed how hard it is to fight the urge to work late, log in over the weekend, and squeeze in a project before everyone else gets up once your office is just steps away. To avoid burnout and truly reap the benefits of working from the road, structure your day around the hours when your clients and coworkers are in, and schedule breaks to stay fresh. Take a power walk or allow yourself 10 minutes outdoors on the lake or hiking trail for a reboot. You can always work longer and harder – temporarily – when deadlines are looming.
4. Staying Connected
As a digital nomad, connectivity is your lifeline. Make sure you're available for conference calls, IMs, and quick email responses with tools that amplify your cell signal and Wi-Fi reception. While most campgrounds offer internet access, remote locations can mean service can vary so being prepared with a mobile hot spot is never a bad idea. Research camper feedback on campground cell reception from RV travel websites to plan driving itineraries and campground stays in areas with strong coverage from your cell provider. If you're working from the road most of the time, you might even want to consider investing in cell service from multiple providers for added peace of mind.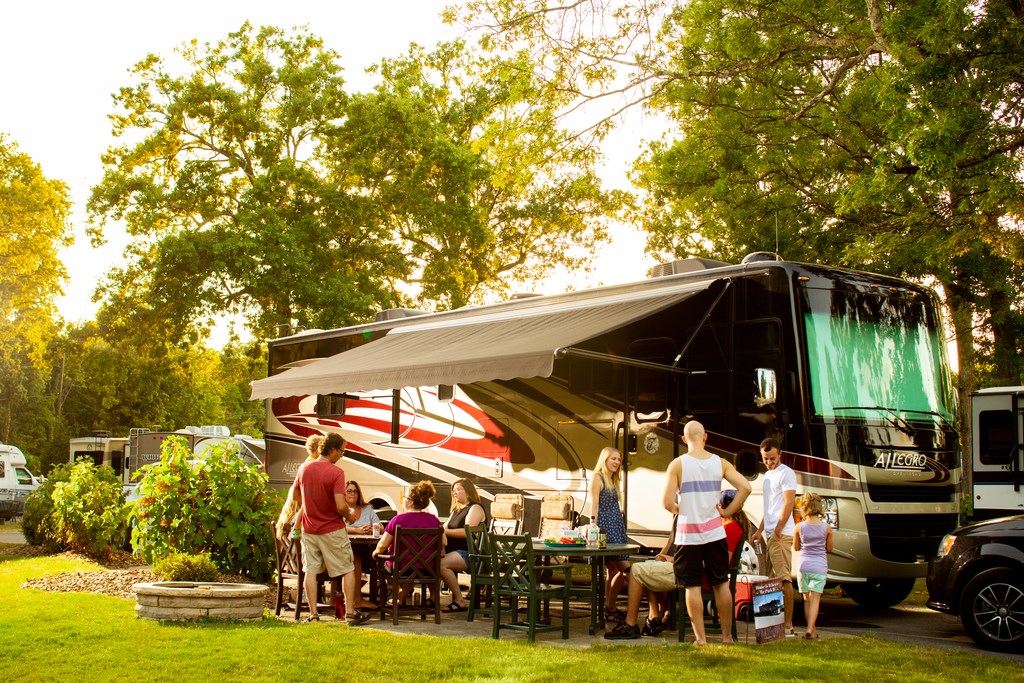 5. Replace the Water Cooler Talk
There aren't many downsides to working on your own schedule from beautiful destinations, but one that can create problems is the isolation of working remotely. Ward off the feeling that you're going it alone by connecting with other digital nomads and professionals in your field through online job-related and RV forums. You can also build social support on the road outside work hours by volunteering in parks and incorporating stays near family and friends into your travel itinerary.
6. Out of Office
Working on the road is likely to look like endless vacation to others, and you'll probably see it that way at first too. But over time, as much as you enjoy the perks, you'll still need a vacation, the kind where put work aside and focus on nothing but relaxation and fun. Avoid the temptation to check email while you're away by packing up your mobile office and immersing yourself in campground activities, local hikes, and all of the things that got you into RVing in the first place.
---
If travel and food writer Ann Gibson isn't hiking, backpacking, paddling, biking, running, or skiing, she's most likely in her RV, writing about the sports she loves and the best destinations to enjoy the outdoors. She splits her time between home base in the Carolinas and the life of a digital nomad, traveling, writing, visiting, and volunteering in America's parks with her husband and two Aussies.
---