Not every campfire marshmallow needs to become a s'more. Check out 5 easy marshmallow recipes that leave the graham cracker behind.
It's no secret that campers love a good s'more (or two). While there are few things better than the combination of marshmallow, chocolate and graham cracker, this campfire classic isn't the only way to make the most of these deliciously ooey gooey treats. It's time for the marshmallow to shine and leave the cracker behind!
We dove into our recipe library and compiled a few of our favorite ways to eat marshmallows that go beyond the typical campfire dessert. Try one or try them all.
Baked Bananas (click to recipe)
Melty marshmallow is perfectly paired with warm banana and your favorite mix-ins. A dessert with options, this campfire treat is sure to please.
Campfire Dessert Wraps (click to recipe)
A few simple ingredients and you'll have dessert all wrapped up! Trust us, tortillas aren't just for burritos anymore.
BBQ Peach Cobbler (click to recipe)
Why make cobbler in a pan when you can make it right in the peach?
Campfire Delights (click to recipe)
Marshmallow meets pie iron in a sweet take on a grilled sandwich.
Loaded Baked Apples (click to recipe)
The all-American flavors of brown sugar, cinnamon and apples are only made better by the addition of marshmallow.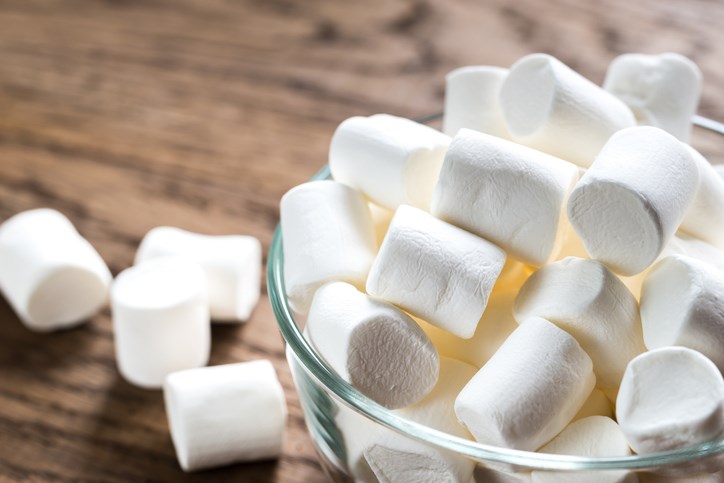 ---
Ingredients
banana
chocolate chips
peanut butter chips
mini-marshmallows
chocolate sauce (optional)
whipped cream (optional)
Preparation
Slice banana down the center with skin on, open slightly.
Fill banana with chips and mini-marshmallows.
Wrap banana in aluminum foil and place on hot coals for about 10-15 minutes, turning frequently to prevent burning and allow inside ingredients to melt.
To serve open foil carefully, add chocolate sauce and whipped topping.
---
Ingredients
flour tortilla
peanut butter
mini-marshmallows
chocolate chips
Preparation
Spread each tortilla with peanut butter and add marshmallows, chocolate chips and/or other items to taste (try toffee bits, fruit sprinkles, or caramel).
Roll up tortilla burrito style and wrap in foil.
Warm on the grill or the campfire for 10-15 minutes.
Carefully remove, let cool before peeling and eating like a banana.
---
Ingredients
2 peaches, cut in half and pit removed
4 tablespoons unsalted butter, melted
1 tablespoon butter
1 teaspoon cinnamon
4 marshmallows
1/2 cup granola
Instructions
Preheat grill on medium heat.
Melt butter and dredge peach halves in butter.
Combine cinnamon and sugar and sprinkle all over peach halves.
Gill until slightly soft, starting with pit side about 5 minutes.
Place marshmallow on top and close grill. Cook for 2 minutes or until marshmallows have melted and browned.
Remove from grill, place on plates and sprinkle with granola.
Serve immediately.
---
Ingredients
peanut butter
sliced bananas
chocolate bars
2-3 marshmallows
2  slices of bread
Preparation
Spread peanut butter on a slice of bread.
Add banana slices, chocolate squares and marshmallows.
Top sandwich with second slice of bread.
Place sandwich in a greased pie iron and cook over a campfire until bread is golden brown.
---
Ingredients
1  large apple
1  large spoon butter
2  large marshmallows
brown sugar
cinnamon
Preparation
Core the center of the apple so there is hole running from the top to bottom.
Stuff one of the large marshmallows into the bottom of the apple before adding a tablespoon of butter and sprinkling with brown sugar and cinnamon to taste.
Top off the apple with the second marshmallow to seal shut.
Wrap the apple in aluminum foil and bake in campfire coals for 5-10 minutes; cooking time depends on size of the apple.
Remove apple from the fire and allow to cool. Once cooled, open and enjoy.Try adding raisins, peanuts, or chocolate bits for an interesting twist to a sweet treat!