The following is the first guest blog post in a series of creative camping-inspired marshmallow recipes. Thanks to The Seaside Baker for her unique take on a peach cobbler, created at the Santa Cruz / Monterey Bay KOA. Check her original post out here: BBQ Peach Cobbler #marshmallowmonth
Like I said in my last post, we are on a rather long family road trip. When all is said and done it will have been 3 weeks. About half of the trip will have been spent camping. After our first 2 nights of camping, I quickly realized that camping is a blast…for one night. After that I want a bed, toilette and shower. I am totally cool with cooking all meals on the BBQ and bonfire though!
That's where KOA comes in. KOA is an awesome campsite that offers campsites, RV sites, and cabins. Not only is the property beautiful and clean, there are a ton of activities for the kids from a heated pool to massive jumping pillow trampoline and train rides. Basically something for everyone! My kids had a blast staying at the KOA in Santa Cruz/Monterey Bay.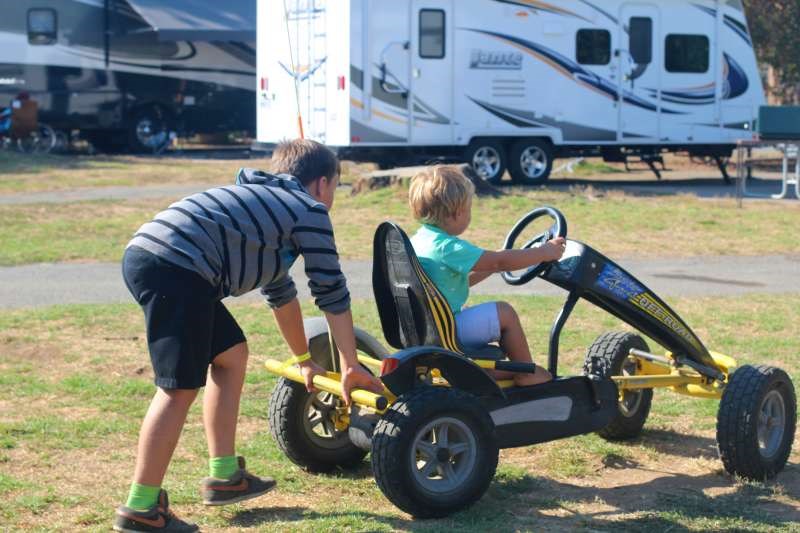 Photo: The Seaside Baker's family enjoying the Santa Cruz/Monterey Bay KOA
They most important thing KOA offered was free wifi. I am not sure why but my phone has decided it no longer enjoys rural coast settings and I have been virtually internet less this entire trip. Having a campsite that offers wifi is huge for me! My Instagram photos aren't going to post themselves!
The cabin we stayed in was perfect for my family of five. The two younger kids slept in a room with bunk beds, my son slept on the pull out couch bed in the living room and my husband and I had our own room. There was a small dinning room table, kitchen and bathroom. The kitchen had a full refrigerator, microwave and sink as well as all the cooking essentials. I was finally able to make a good gourmet meal on the BBQ! We picked up some fresh caught fish and clams at the Old Fisherman's Wharf in Monterey and ate like kings while the kiddos raced around on bikes.
For dessert we made BBQ Peach Cobblers. I used the freshly picked peaches we picked in Pismo Beach, dipped them in melted butter and sprinkled with a bit of cinnamon and sugar and grilled them. I then roasted a marshmallow on top and finally sprinkled it with granola. It was like eating a peach cobbler and ice cream! Soooo good!!!!
If you get a chance, plan your next trip to a KOA. They are located all around the US and Canada. Follow them on Facebook, Instagram, and Twitter for great camping tips, recipes, and locations! When your there, make these BBQ Peach Cobblers. You won't be disappointed!!!!
BBQ Peach Cobbler
Ingredients
2 peaches, cut in half and pit removed
4 tablespoons unsalted butter, melted
1 tablespoon butter
1 teaspoon cinnamon
4 marshmallows
1/2 cup granola
Instructions
Preheat grill on medium heat.
Melt butter and dredge peach halves in butter.
Combine cinnamon and sugar and sprinkle all over peach halves.
Gill until slightly soft, starting with pit side about 5 minutes.
Place marshmallow on top and close grill. Cook for 2 minutes or until marshmallows have melted and browned.
Remove from grill, place on plates and sprinkle with granola.
Serve immediately.