5 Reasons to Download the KOA App Today | KOA Camping App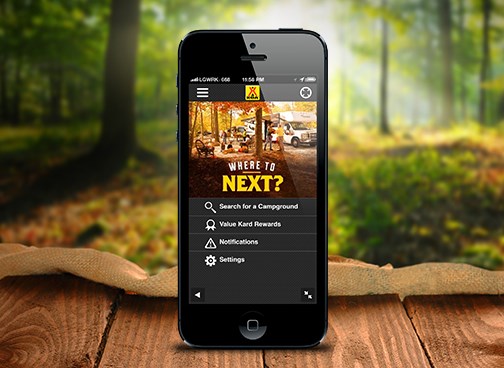 Finding your ideal campground has never been easier than with the KOA App on your iPhone or Android device. Whether you're trekking across the U.S. in your RV or want to plan a weekend getaway with your family, the KOA app is the most convenient camping app on the market.
All 500+ KOA locations throughout the U.S. and Canada are at your fingertips. KOA has an option for every type of camper, so whether you enjoy a tent, cabin or RV, we've got you covered. Using the app, you can find a KOA near you or choose a campground you'd like to travel to.
Top Reasons to Use the KOA App
The KOA App is the perfect method to plan out every detail of your next camping trip all from your handy dandy mobile device. If that's not incentive enough, here are five more reasons you should be using the KOA App.
1. Find the Perfect Campground for Your Next Camping Adventure
Where to next? This is the question every avid camper or vacationer asks themselves before their next outdoor getaway. With the KOA App downloaded on your mobile device, searching through KOA's huge selection of campgrounds is simple.
You can search by city, state or even nearby attractions you'd like to visit. For those on the go, like all you RV enthusiasts, you can even take advantage of the app's location services to find a nearby KOA campground based on your current location.
However, if you're looking for something very specific that you want out of your vacation, the KOA App helps you refine your search even more. Pick the campground that fits your exact needs by filtering your searches. If you know that a KOA Deluxe Cabin is a must, plug that criteria into your search. Or, if you want to ensure fishing or swimming pools are available at the campground, the app ensures you find everything you want before you book your site.
2. Reserve Your Campsite With Ease
When you're ready to make your reservation, the KOA App allows you to easily book just the site you want. Some of our most popular campgrounds fill up fast, especially during peak seasons. So, use the KOA App to reserve your campsite before it's too late. You can even pay with your app ahead of time.
The KOA App also allows you to get detailed campground information, including nearby attractions and activities on offer both at the campground and in the local community.
3. Detailed Driving Directions
When you're traveling somewhere new, it can be nerve-wracking trying to find your way around. The KOA App integrates with your favorite mobile navigation system, so you receive turn-by-turn directions to your campground.
If you want the journey to be part of your vacation, but you're not sure what to do, the camping app tells you exciting attractions which are on your route.
You never have to worry about losing internet access when you have the KOA App. Its special off-line function ensures you have access to your driving directions, search tools and more — even when you're not online.
The best part about traveling with the KOA App is that you'll never be caught off guard because of road closures or storms. The app sends you emergency alerts from the campground where you have your reservation.
4. Easy Access to All the Info You Need
Once you discover your favorite KOA campgrounds, keep their information handy by storing it in your KOA App. You can mark specific campgrounds as a favorite for quick access when you're ready to plan your next camping trip.
For all you KOA Rewards campers, your account info will also be stored in the app, so you can use it when booking campsites and easily keep track of your rewards.
5. Get Notified About Hot Deals and Fun Events
When you have the KOA App, you can plan your trip around the latest KOA Hot Deals or events happening at your favorite campgrounds. You'll always know the best deals and exciting happenings by enabling notifications on your app.
Download the KOA Camping App to Easily Plan Your Next Camping Adventure
Whether you're an avid camper or just enjoy streamlined vacation planning, the KOA Camping App is a must-have tool for your next camping adventure. Download yours today in the App Store or Google Play.
---