The Thornes, 2017's Work Kampers of the Year, bring experience and service to KOA.
Carol and John McMullen didn't have to look far when they decided to purchase their second campground in 2015 and were in need of Work Kamper managers for the Rusk, Texas KOA. They had the perfect team already working at their Burkburnett / Wichita Falls KOA Journey campground.
"We knew Bill and Pam Thorne would be perfect," said John of the Work Kamper couple who had been working for them for about a year. "We asked them to think about the job, and the next day they said they'd give it a try. It was the best decision that we could have made."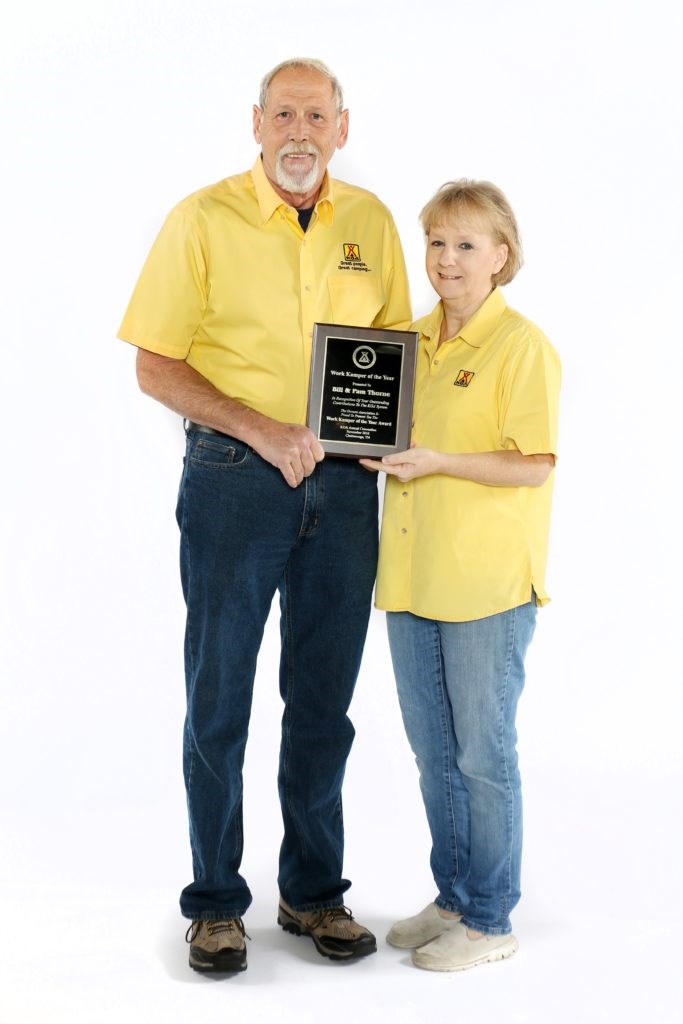 The Thrones were named KOA Work Kampers of the Year for 2017 by the KOA Owners Association during the KOA International Convention in Chattanooga, Tennessee. Selected from hundreds of full-time RVers who are employed in a variety of positions at KOAs across the US and Canada, winning the award is the highest honor a Work Kamper can achieve.
The Thornes had been "doing everything" at Burkburnett / Wichita Falls KOA Journey, and their enthusiasm was being noticed by guests and staff alike.
"Within a week of hiring them, we were just blown away with their enthusiasm, customer interaction and willingness to go above and beyond in every task assigned to them," McMullen said. "Pam showed us some new tricks for our reservation system and they were both always coming up with ideas for new projects. We knew we had to figure out a way to try to keep them."
When the McMullens took the leap and purchased their second KOA in Rusk, they quickly turned to the Thornes. "They take the KOA Work Kamper Code of Conduct and our mission of 'Making it Great' to a whole new level," McMullen said. "When dealing with a difficult camper, we have never seen them lose their cool, and Bill seems to have a way to bring a smile to the camper's face no matter how mad or upset they are."
During the Thorne's tenure in Rusk, the campground's Net Promoter Score (NPS) increased by 37 points in just five months, bringing it to an impressive 179 points.
Camper comments reflect what the McMullens say about the Thorne team:
"Bill and Pam were awesome. They made sure our visit was pleasant and that we were satisfied during our entire stay. The services from Bill and Pam is Five Star in my book," said one happy camper.
"We would give them a 10-plus score," said another. "They are just fantastic hosts."
Want to learn more about KOA's Work Kamper Program? Visit us online to learn about this exciting lifestyle that allows you to enjoy full-time RV living while filling hundreds of seasonal and full-time positions across the KOA system! Read our Top Reasons to Work Kamp to get started.
---