Ever been interested in working at one of the many Kampgrounds of America across the US and Canada? As part of the KOA Work Camper Program, that dream can become a reality! Each year, hundreds of full-time RVers fill a variety of positions on KOA campgrounds. These dedicated employees use the program to combine their love for campground living with campground jobs.
Sound like an interesting lifestyle? Check out these seven reasons work camping might be right for you!
Curious about Work Camping? Here's 7 Reasons Why Work Camping Might be for You
1. Work Where You Live
If you're a full-time RVer, joining the KOA Work Camper Program means combining your lifestyle with your work. This means you'll be able to generate some form of income while enjoying the freedom of full-time RV living. While compensation packages vary according to location and job title, you'll be able to combine work and play effortlessly.
After a busy shift, it'll only be a short walk before you kick back and relax at home. Working and living in your RV on the campground is the best of both worlds.
2. Enjoy Seasonal Variety
Generally hired for a season, work campers often work and travel between a few KOA campgrounds each year. You'll get the security of a bit of extra income while still being able to travel and experience new locations. This means you can move between positions each year, or, like many work campers, return to the same campgrounds season after season. The choice is yours!
You'll have a new adventure at each campground. With the seasonal variety and campgrounds all around the North American continent, you could stay in warm climates year-round or venture into different environments to get a well-rounded experience living in diverse areas while working at campgrounds of your choice.
3. Jobs of All Types Are Available
With so many different jobs that need doing on each and every campground, work campers help fill many types of roles. Management, maintenance, activities directors and desk staff are just a few of the work camper roles that can be found throughout the KOA system.
If you want to work at a KOA Campground, consider becoming a campground host. Many KOA locations offer paid campground host jobs. If you're an avid camper, you already know most, if not all, of the campground's rules and regulations, which is a big part of being a campground host. Hosts care for campers, helping them check in and out, answering questions or concerns, performing light maintenance and assisting with campsite hookups.
4. Work as a Team
Often campgrounds will hire husband and wife work camper teams to fill various positions on their campgrounds. In fact, some locations prefer hiring couples to work together, meaning both you and your spouse will be able to work and receive a paycheck — always handy when you've got expenses to cover!
The positions in which you work as a couple could differ depending on your expertise and capabilities. While you could both work in the same department or area, there's also a possibility you'll serve in different ones. One person could be a campground host who mainly works in the office, while the other works around the campground, performing maintenance or landscaping duties. The diverse roles you could have while working as a couple are endless at KOA.
5. Perfect Job for Post-Retirement
Work campers of all ages fill openings at KOA locations each year. However, many of those who are a part of the KOA Work Camper Program are retirees looking to enhance their travels. These work campers are semi-retired and living the life they love.
Working at a campground as a retiree gives you the freedom to travel while still earning an income. You can go on the adventures you've always wanted to do during retirement while still having financial support from your job at the campground. While working at KOA, you'll also have the chance to share your knowledge and expertise with other campers if they ask for help or advice.
With the diverse job positions at KOA, you could find a job that suits your capabilities and expertise. For example, campground host jobs are excellent positions for semi-retired campers because you can enjoy all the joys of camping while engaging with others who share your interests.
6. Find the Right Compensation for You
Pay for work campers varies by employer, as much of the KOA system is independently owned and operated. In some cases, compensation packages involve a combination of wages and other perks like discounted (or free) campsites and utilities. A variety of offerings throughout the KOA system make finding the right fit for you easy.
When looking to work on a campground, learn their compensation packages to ensure you receive the best option. Some packages may include part of your wages going toward a discounted or free campsite. It all depends on the campground. Working at a campground offers great opportunities for campers seeking extra income.
7. Easily Find Work Camper Openings
Does the work camper lifestyle sound right for you? KOA's Work Camper Program makes finding openings easy via our website. Consider becoming a working camper at KOA. Our easy job search and openings system allows you to easily access positions across all KOA Campgrounds. You'll be able to find the best KOA host jobs, landscaping roles, office staff positions and many other roles anywhere you want to go.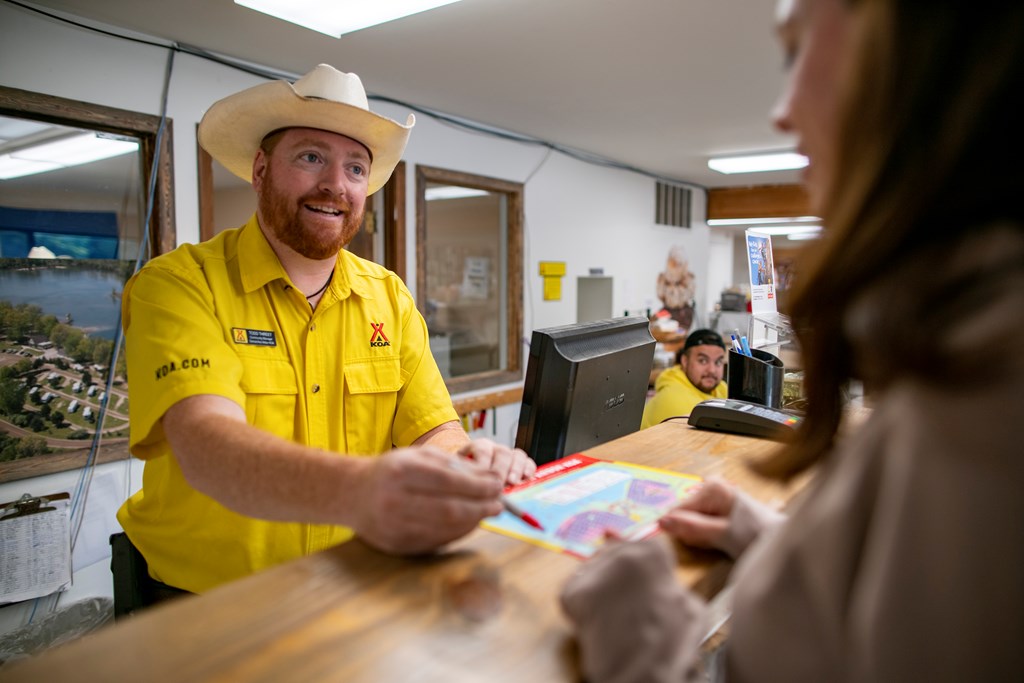 Work at KOA
Do you want to combine your passion for camping and travel while earning money? Consider working at KOA! We offer many seasonal positions for campers looking to work while relishing their time on the campground. Whether you return to the same campground each season or work at several during your travels, there's a job waiting for you.
Get started with work camping at KOA by signing up today!
---
About the Author: Kampgrounds of America
Kampgrounds of America is the largest system of open-to-the-public campgrounds in the world, with over 500 locations across the United States and Canada. Founded in Billings, MT in 1962, KOA's family of campground brands – KOA Journey, KOA Holiday and KOA Resort – today serve more than a million camping families each year. KOA is dedicated to "connecting people to the outdoors and each other" by providing people with a variety of camping experiences and the information they need to make the most of their camping trip. Read more of their camping and travel resources by visiting KOA.com/blog.