When you stay at Kampgrounds of America, your campsite comes with loads of amenities so you can enjoy the outdoors, like picnic tables, fire pits, grills, and even a deck or patio at some sites. But don't be bashful about putting your personality into your site and dressing up your campsite with the comforts of home. Turn your camping into glamping with these 20 tips to create personal touches like specialty lighting, colorful campsite decorations, and gourmet indulgences that will have your whole family asking for the next trip before this one is over.
1. Make people feel welcome
Stake your claim to your campsite when you arrive by hanging out your welcome sign on the road leading to your site. Nothing says you've arrived like a personalized flag with a friendly greeting and your name on it. You can even include your hometown, which makes for a great conversation starter when meeting your neighbors.
2. Create an inviting outdoor space
Set up a patio area to define the space, then add your favorite camp chairs, rockers, and recliners. Toss a few throw pillows and a blanket or two in your chairs so you that early morning golden hour with your cup of coffee is comfortable.
3. Bring a rug
Campground rugs are designed for outdoor use with an open weave to allow sunlight to pass through and avoid holding onto water. They are easy to wash and store and keep your tent or RV cleaner.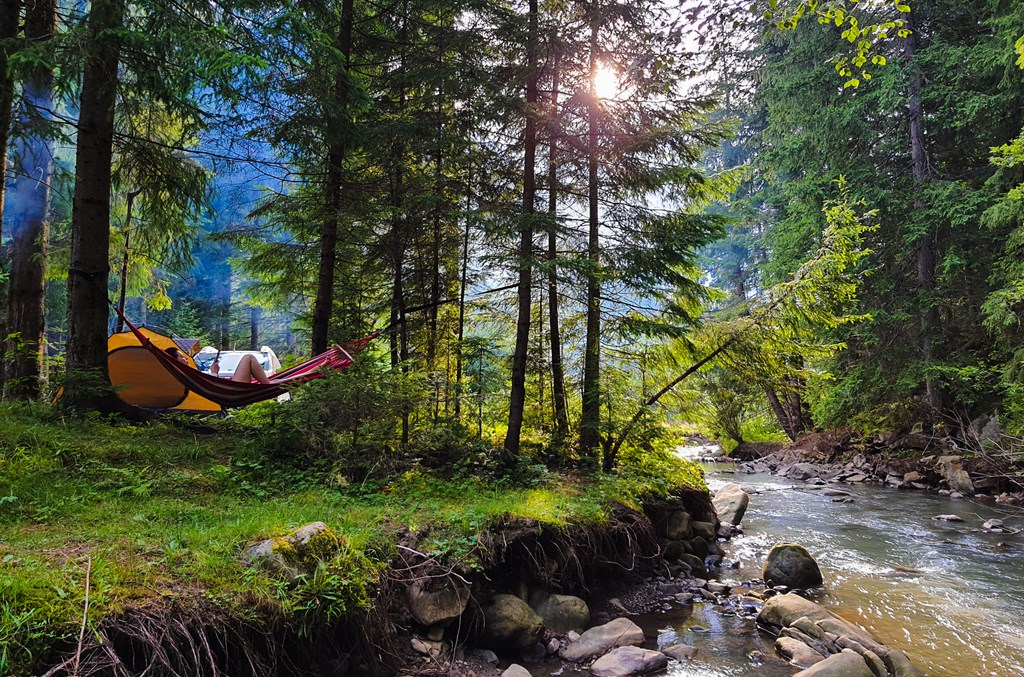 4. String up a hammock
Find some trees nearby to give everyone a quiet place to relax in the shade. And don't forget about the family pet—a portable play yard fence gives your dogs a safe place to join you outside and with plenty of room to rest after that a long hike.
5. Bring a book
A real book. Keep the electronics to a minimum and spend some time away from screens by relaxing with a good read. Unplugging while camping isn't as hard as it sounds, it just takes a bit of planning ahead.
6. Show your team spirit
Your RV awning is another place you can show off your decorating chops. Custom designs like the stars and stripes or sports team logos show your personality and are another great topic of conversation when fans from two campsites down stop by to admire your rig. For tent campers, a custom pop-up tent over your tailgate picnic has the same effect and is a great way to show your team spirit.
7. Outdoor music
Waterproof portable speakers let you enjoy your favorite tunes while you're on the road. For the musicians in the group, an evening campfire is an ideal setting to strum your guitar or jam with friends. Just remember to be mindful of your camping neighbors.
8. Hang a bird feeder (if allowed)
Find a spot in a nearby tree to hang a bird feeder to get a closer look at the native species. Use a bird-watching app (or a good old-fashioned book) to identify different species. Keep a list of all that you see.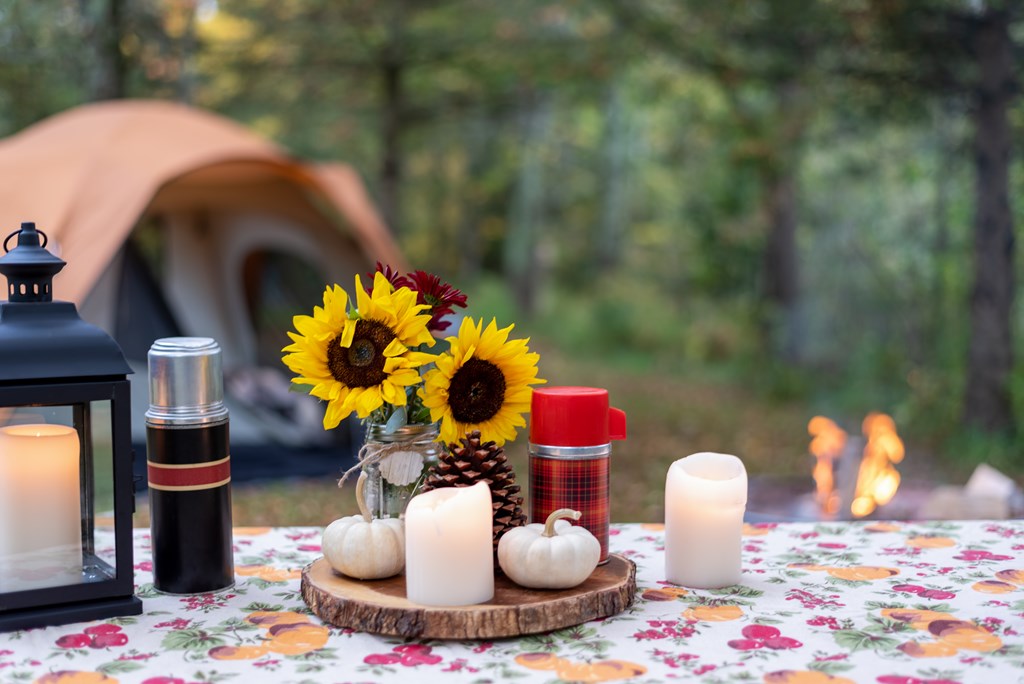 9. Dress up the table
Rather than just eating on the standard picnic table, bring along a vinyl tablecloth to spruce thing up. (Remember the fasteners to keep it from blowing away.) Get the kids on the trails to hunt for flowers, seeds, pinecones, rocks, and other treasures from the forest floor. Back in camp, turn your finds into your picnic table centerpiece, then recap the day's adventures over dinner.
10. Set up a hand-washing station
Take a large plastic container with a push-button spout (empty liquid laundry detergent containers work well), fill it with water and put it onto a table alongside a liquid soap dispenser. Now there's an easy place to wash hands before meals.
11. Find unique lighting options
Create some nighttime magic with unusual lighting options that take traditional propane lanterns and headlamps to the next level. Turn your campsite into a cozy retreat as the sun goes down and go green with solar lights, which you can line up at ground level along the trails and campsite border or hang in the trees for a firefly effect. Or create rope light trails through camp and string lights in the trees or under your awning to turn the cloudiest nights into starry ones.
12. Use Tiki torches
They make for an instant party vibe and they are cost effective. Tiki torches create the ultimate cozy campsite. Just make sure you're following any campground rules before lighting up.
13. Try a table-top firebowl
Want the ambiance of a fire without the smoke and clean-up? The small and steady blaze of a tabletop propane firebowl or the silky fabric flames of a LED-powered electric fire are can mesmerize just like the real thing.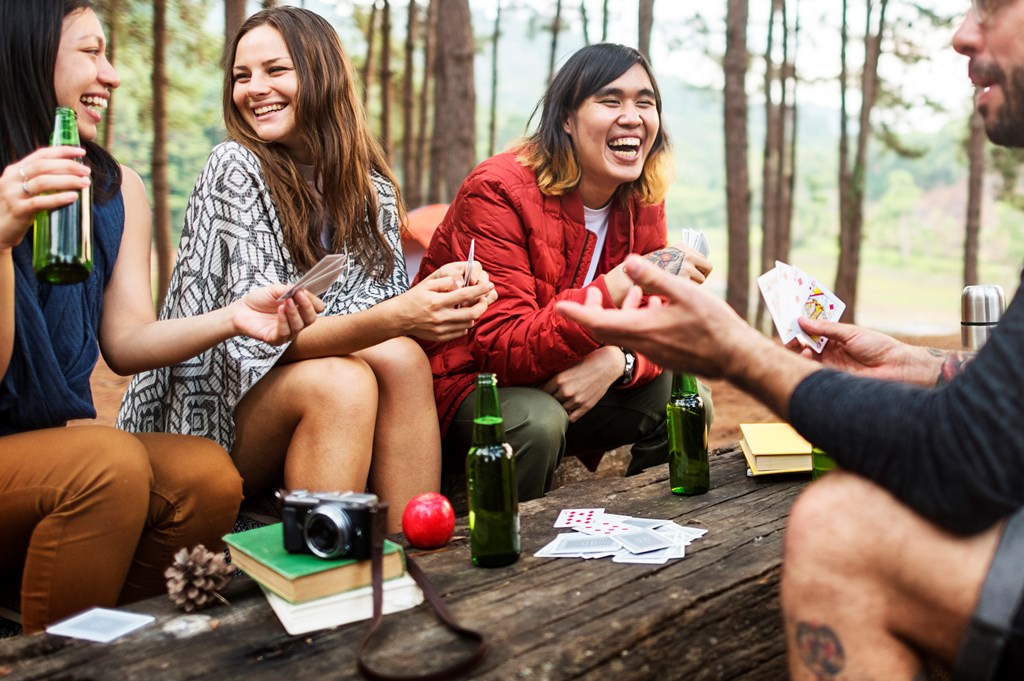 14. Hold a game night
Bring the kids, grandparents, and everyone in between together for some friendly competition with a few easy-to-pack outdoor games that you can play in camp. Pack foldable boards and bags for a cornhole tournament or paddles and balls for some beach tennis, with or without the beach. Clean the leaves and pine needles from a long and narrow stretch of ground next to your patio to create a bocce ball court. Horseshoes and Frisbee are even easier to set up and great games for all ages.
15. Pack glasses and mugs
Think out of the box when it comes to your camping kitchen to enjoy some of your home favorites in the great outdoors. Plastic wine glasses and beer steins make happy hour that much happier.
16. Mix some drinks
A hand-crank blender goes well with your tiki torches for a tropical-themed cocktail.
17. Treat yourself to good coffee
Use a French press to make the morning coffee for richer flavor and easy clean-up.
18. Cook some non-traditional camping meals
Sure, everyone loves hotdogs and burgers, but it's fun to mix things up. Plan ahead for a meal that you don't normally have while camping, maybe something like pasta with pesto and vegetables? Or do a make-your-own taco night, with beef or chicken cooked over the fire and an assembly station with all the toppings.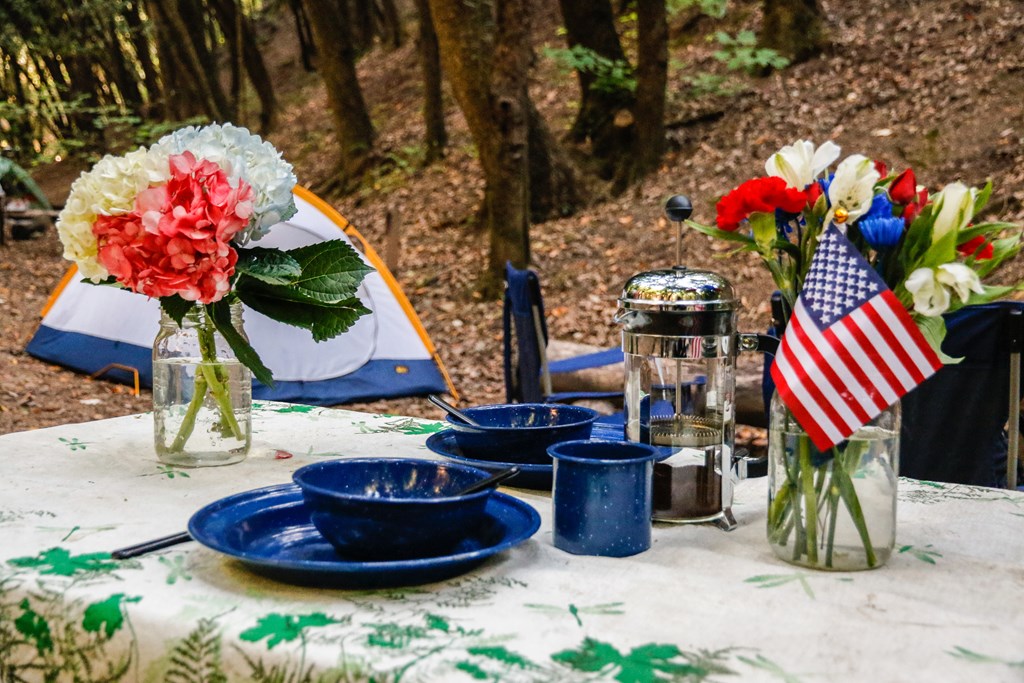 19. Celebrate the holidays outside
Make your trip even more memorable by celebrating the holidays at your campsite. Most KOA campgrounds celebrate major holidays like St. Patrick's Day, Easter, the Fourth of July, and Halloween with special activities all weekend long. Join the fun by decking out your campsite with holiday flags, inflatables, holiday-themed light displays, and wreaths. Then sit back in your comfy camp chair and enjoy the parade of campers walking by to admire your decor.
20. Create your own holiday
The rest of the year, many KOA campgrounds host family weekends with festive themes like the Wild West, Hawaiian Luau, Mardi Gras, the County Fair. Turn your campsite into a Old West cabin with hay bales, 10-gallon cowboy hats, and stick ponies. Or break out the purple, gold, and green for Mardi Gras, with garlands, beads, jester masks, and anything else that glitters. December may be too cold for camping in some places, but many KOA campgrounds celebrate Christmas in July. This is your big chance to create a winter wonderland with Christmas lights, candy canes, inflatable snowmen and reindeer, and more. Maybe Santa will even visit and leave a present or two under the tree.
---
About the Author: Kampgrounds of America
Kampgrounds of America is the largest system of open-to-the-public campgrounds in the world, with over 500 locations across the United States and Canada. Founded in Billings, MT in 1962, KOA's family of campground brands – KOA Journey, KOA Holiday and KOA Resort – today serve more than a million camping families each year. KOA is dedicated to "connecting people to the outdoors and each other" by providing people with a variety of camping experiences and the information they need to make the most of their camping trip. Read more of their camping and travel resources by visiting KOA.com/blog.