If you're looking for a trip that's popular with kids, look no further. Our list of 12 cool trips to take with your kids is sure to please the whole family.
Finding a destination for your family vacation that suits you, your spouse, and your kids can be quite the challenge. Ensuring that there is entertainment for all to enjoy together, and that all members of your family will enjoy equally may sound like you're setting yourself up for disaster.
Thankfully, we've made the decision easy for you. We've narrowed all of the possible family destinations in the U.S. down to our top picks.
Read on to find out the best places to take kids on a family vacation.
Top Places For a Family Vacation

#1. Walt Disney World | Florida
You've likely heard of the "magic of Disney," but experiencing it for yourself is a whole different ball game.
You may roll your eyes at the thought of something "magic," but don't deem this "magical" feeling hocus pocus too fast. Considered by many to be the top family vacation spot in the entire United States, and possibly even the world, Disney World is certainly doing something right when it comes to family vacations.
The feeling that comes over you when wandering through the park, taking in all the life and happiness of Disney is something that cannot be experienced anywhere else.
Whether you're 5 years old or 95, you'll love feeling like a kid here. Say "goodbye" to the stresses of life and "hello" to a world full of love, charm, and fun.
Oh, and Disney World has some seriously delicious food for any foodies in your family to enjoy.
KOAs nearby:
Orlando / Kissimmee KOA Holiday
Orlando / Southwest KOA Holiday
Orlando SE / Whippoorwill KOA Holiday
Orlando NW / Orange Blossom KOA

#2. Disneyland | California
The original Disney park, Disneyland in Anaheim is a place made for family vacations.
Like in Disney World, you'll feel the magic here in California too, and will love stepping away from reality as your entire family has the time of their lives.
From thrilling rides, to a variety of entertainment, fabulous food to shopping and more, Disneyland is guaranteed to win over the hearts of your family.
The hardest part of going to Disneyland will be leaving at the end of the day. So, while you're there, be sure to live by the words that welcome you to the park on your way in: "Here you leave today and enter the world of yesterday, tomorrow, and fantasy."
KOAs nearby:
Los Angeles / Pomona / Fairplex KOA
Banning Stagecoach KOA

#3. Grand Canyon | Arizona
As one of the most iconic sites in the United States, the Grand Canyon is always a great place to take your family on vacation.
The sheer sight of the thing is enough to make it worth the trip.
Measuring in at 277 miles long, and 6,000 feet deep in some places, the Grand Canyon brings with it a rich history that dates way back. In fact, some of the rocks here have been determined to be millions of years old.
But staring at these ancient rocks isn't all that's happening at the Grand Canyon.
There is a fabulous biking trail along the South Rim, as well as some world-famous hiking down into the canyon where you'll be sure to run into some desert creatures.
Just make sure you come prepared if you opt for a hike — this climate is not particularly forgiving.
KOAs nearby:
Grand Canyon / Williams KOA Journey
Williams / Exit 167 / Circle Pines KOA Holiday

#4. Niagara Falls | New York / Ontario, Canada
While looking out into the Grand Canyon is peaceful and quiet, looking out into Niagara Falls is quite the opposite, yet equally as stunning of a sight.
The thunderous roar of the falls has some serious force behind it — six million cubic feet of water every minute, to be exact.
Because Niagara Falls pours over into Canada as well, if possible, try to see the falls from both sides — yes, it does look different. The Rainbow Bridge (and a passport) will get you between the American and Canadian sides.
During the daytime you're sure to spot rainbows, and nighttime visits will showcase the beautifully-lit falls.
KOAs nearby:
Niagara Falls KOA (Canada)
Niagara Falls / Grand Island KOA Holiday (United States)
Niagara Falls North / Lewiston KOA (United States)

#5. Yellowstone National Park | Montana / Wyoming / Idaho
The natural wonders throughout this massive national park will wow all members of your family. Proudly the first national park in the country, Yellowstone National Park has a lot to offer, especially in the area of geysers.
Yellowstone boasts the highest concentration of geysers in the entire world, and your kids will go crazy over watching Old Faithful blow, which happens every 90 minutes.
The active volcano that sits underneath Yellowstone feeds the life of some seriously incredible hydrothermal features including:
Geysers
Hot springs
Mudpots
You'll also get a kick out of the 300+ waterfalls spread throughout the park, as well as the wildlife that flourishes in the park.
Keep your distance, and revel in the beauty of some of the following creatures within the park:
Grizzly bears
Moose
Elk
Bison
And much more
KOAs nearby:
Yellowstone Park / West Gate KOA
Yellowstone Park / Mountainside KOA Journey

#6. Drive Along the PCH (Pacific Coast Highway) | California
Stretching from San Francisco to Los Angeles, the Pacific Coast Highway is considered the #1 road trip in America. The scenery you and your family will experience during this journey is unparalleled.
Winding your way around the coastal cliffs, through the Redwood forests, and so much more, your family will love the natural beauty of the PCH.
You can either choose to embark on the journey from start to finish, or pick a portion of PCH to check out.
With fabulous hiking, camping, sea creature sightings, kayaking, boardwalk hanging, and so much more, this will probably go down as your family's favorite road trip.
Pack along some great snacks, some fun games for the road, and plan to stop quite often to get out and experience the beauty.
KOAs nearby:
Santa Cruz North / Costanoa KOA
Santa Cruz / Monterey Bay KOA Holiday
Moss Landing KOA Express
Salinas / Monterey KOA
Avila / Pismo Beach KOA
Santa Margarita KOA
Acton / Los Angeles North KOA

#7. National Air and Space Museum | Washington, D.C.
Though there is far more than just this museum to see in Washington, D.C., the National Air and Space Museum will be a guaranteed hit with your kids, and adults too!
With incredible pieces of our country's rich aeronautical history, from the actual airplane used for the world's first powered flight, flown by the Wright brothers, to the actual Apollo 11 Command Module from the first time man landed on the moon, and so much more, you will be amazed at how quickly the time flies with all this museum has to see.
The best part? It's totally FREE.
Nothing like free entertainment on a family vacation! Almost all of Washington, D.C.'s Smithsonian museums are free, so check some of the other fabulous ones out, if your kids are interested.
KOAs nearby:
Washington DC / Capitol KOA Holiday

#8. Sleeping Bear Dunes | Michigan
Though a bunch of piles of sand may not sound like its worth a family trip, we promise it is when you're talking about Sleeping Bear Dunes in Michigan.
With some dunes reaching up to 500 feet high, you won't believe it's possible for piles of sand to be so big, until you see it with your own eyes.
The views of Lake Michigan and the Manitou Islands are absolutely stunning from Sleeping Bear Dunes, but there is much more to do than just take in the views.
Here you can hike, climb the dunes, relax on the beach, ride your bike along the park's paved trails, float the rivers on a boat, kayak, or inner tube, check out the wildlife and more.
KOAs nearby:
Traverse City KOA Holiday

#9. San Diego Zoo | California
No trip to Southern California with kids in tow is complete without a stop to the San Diego Zoo. Possibly the most well-known zoo in the country, San Diego Zoo features nearly 4,000 animals all in their natural habitats.
One of the first zoos to promote the concept of open-air, cageless exhibits, San Diego Zoo is applauded for its ability to keep its animals in a safe, happy, and healthy environment.
This makes for a guilt-free visit, and a way to truly enjoy the beauty of these creatures.
San Diego Zoo is home to nearly any animal you could ever think of. From endangered amur leopards to tigers, red pandas to zebras, wolves and so much more, you'll need at least an entire day to work your way through this massive park.
KOAs nearby:
San Diego Metro KOA

#10. Cedar Point | Ohio
Your kids will jump and shriek in joy when they hear they're going to the amusement park with the most roller coasters in the entire world.
Cedar Point in Sandusky, Ohio boasts 17 roller coasters that you and your kids will have a blast riding all day long.
With everything from your classic wooden roller coaster, to the most high tech ones in the industry, there is something for every thrill-seeking member of your family at Cedar Point.
Even just being on the sidelines watching your kids ride these coasters will bring you more joy than you thought possible.
Plus, the opportunity to snack your way through an amusement park is something you should never turn down. Hello funnel cakes and deep fried Oreos!
KOAs nearby:
Sandusky / Bayshore KOA Holiday

#11. Mammoth Cave National Park | Kentucky
Though this may not be one of the most well known national parks in the country, it is certainly worth a visit with your family.
At this park you'll find the world's longest system of caves, and have the opportunity to experience some spelunking for yourself.
Opt to go adventuring on your own, or sign up for a tour that will take you through the incredible formations of this national park.
If you and yours kids are feeling brave (and are not claustrophobic), be sure to explore those tight and dark parts of the caves to really get the authentic experience.
Entrance to the park is FREE, and tours are a screamin' deal.
KOAs nearby:
Horse Cave KOA
Bowling Green KOA Holiday

#12. Kings Dominion | Virginia
Another great spot for thrill-seekers, King's Dominion, located north of Richmond, offers over 60 rides, shows and attractions – including 13 roller coasters!
In addition to a theme park that boasts rides for all ages, you'll also find Soak City water park on the property. This perfect spot for hot summer days make this the perfect theme park destination for a long weekend.
While the rides are definitely a draw, the convenience of campground right next door make this a perfect destination for families with RVs or who want the convenience of a cozy cabin.
Guests at the campground will also enjoy a free shuttle AND discounted park admission.
KOAs nearby:
Richmond North / Kings Dominion KOA
---
Whether you're looking for a big trip, or something small; whether you're willing to spend some serious money, or looking for something on the cheap side (or, even better yet, free), these 11 family vacation spots have you covered.
From the wild outdoors, to the modern marvels of technology, your family better be ready to embark on some seriously fun adventures!
---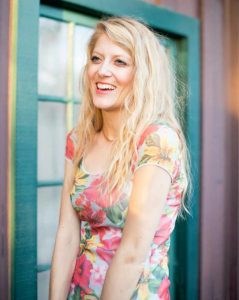 Leslie, a.k.a. Copy Girl, is a copywriter who gets butterflies from telling stories through words.
Her voice comes from a place filled with passion, dreams, and lots of sugar. "Cake over steak" is her go-to motto.
With over 10 years of experience in crafting words, and years of embarking on travels that have taken this Montana girl to some incredible places, Leslie love the adventures of both body and mind her writing takes her on.
Everywhere she goes, she takes this advice with her:
"Hold on to your divine blush, your innate rosy magic, or end up brown." – Tom Robbins, Jitterbug Perfume
To see what Leslie's up to in the writing world, visit her website here.
---