Southern California is home to some of the most iconic places in the country, and possibly even world. From San Luis Obispo to San Diego, and countless places in between, there are some seriously fabulous spots you must check on while you're road tripping through the area.
Each has their own personality and much like the entire state of California, there is something for everyone. Whether you're into the bustling city life or the quiet beauty of nature, you will find a place you love in Southern California.
Here, our top picks of spots you don't want to miss on your road trip.
The Must-See SoCal Road Trip Stops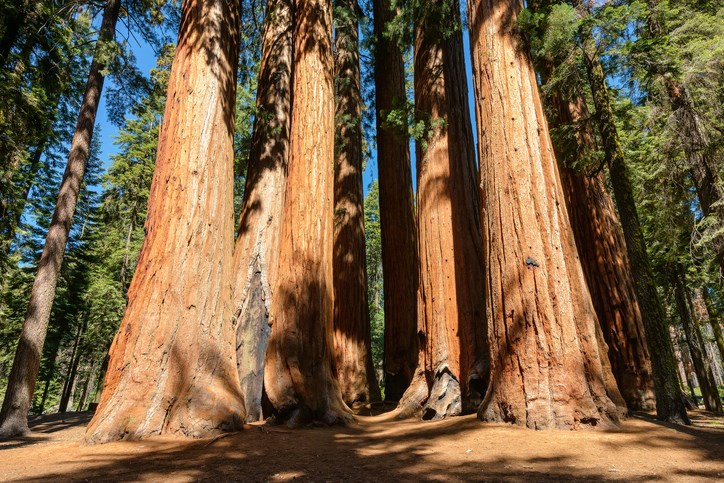 1. Sequoia and Kings Canyon National Park
Though these are technically a bit outside of the SoCal range, they are close enough and fabulous enough for us to make an exception and include Sequoia National Park and Kings Canyon National Park in our spots to check out.
Why are these places worth it? Because they are full of stunning nature. Here you can come to see the famous California Redwoods (without having to trek all the way up to northern California), and really get to take in the splendor that they offer.
Head to Sequoia National Park to see General Sherman Tree, the tallest tree in the entire world. You'll also have a blast driving through a Sequoia tree, thanks to the Tunnel Log attraction. Take advantage of the opportunity to see a house that's been built into a fallen tree, called Tharp's log as well.
The drive through these national parks will really give you perspective on how incredible our planet is, and give you an idea of how diverse nature in southern California really is.
KOAs nearby:
Visalia / Sequoia National Park KOA Journey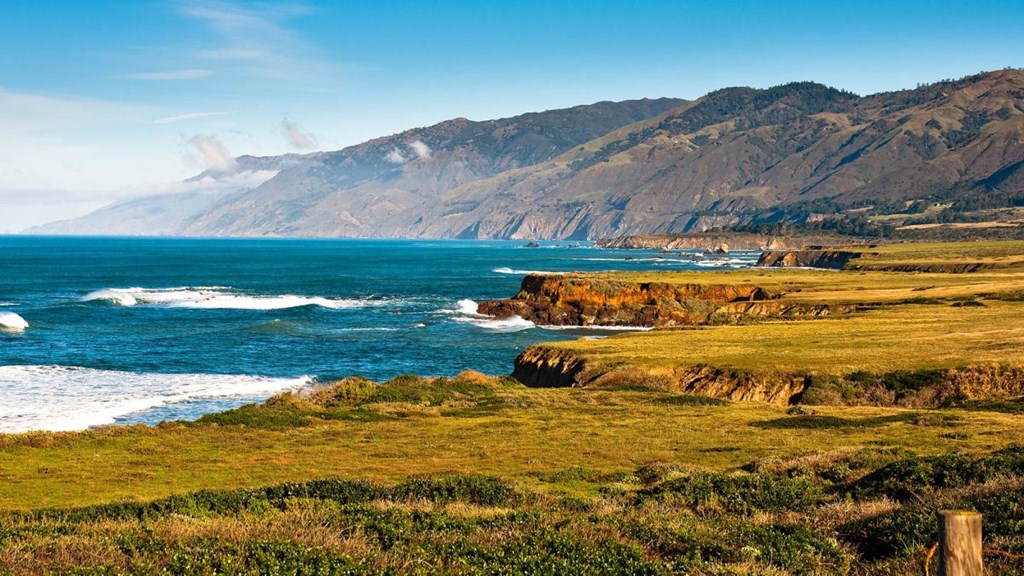 2. San Luis Obispo
This charming beach town offers up both mountains and the ocean, as well as some fabulous wine and beer to go along with it. With over 100 wineries within the county limits, you'll have your fair share to choose from.
In addition to the wine, there are some activities in SLO that you definitely don't want to miss out on.
The first of those is kayaking in Morro Bay. This is a great way to see the area and get some exercise while you're at it.
You'll also want to put Pismo Beach on your list of things to do where you can partake in a variety of things: horseback riding, fishing, surfing and more. Or, if you prefer, you can just sit on the beach and soak up some sun in this nice but not overly crowded spot.
Visiting the iconic Hearst Castle is something you cannot miss out on during your road trip. What once was William Randolph Hearst's estate is now available for visitors to tour, with its 165 rooms and massive gardens that seem to span for eternity. This castle is also known for its incredible art collection, so make sure you give yourself some time to explore all Hearst Castle has to offer.
If speeding through dunes in a buggy is something that sounds like your cup of tea, than San Luis Obispo is a great place to do this. It's made even more fun when you learn that a scene in one of the Pirates of the Caribbean movies was filmed here.
KOAs nearby:
Santa Margarita KOA
Avila / Pismo Beach KOA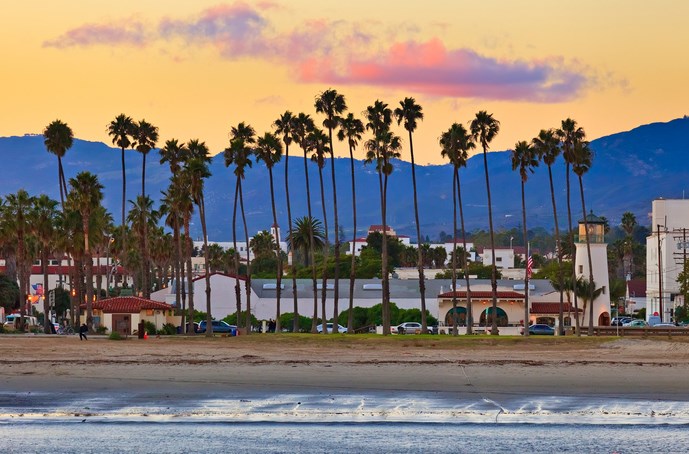 3. Santa Barbara
Quickly climbing up to the top of the list as one of California's top wine destinations, Santa Barbara is a less busy version of Napa that has a lot of things to offer aside from more vino than you'll know what to do with.
The hiking in Santa Barbara is pretty fabulous, and we have some favorite spots that you'll want to check out. If you're looking for a kid-friendly hike with some great views of the city and the ocean, then Inspiration Point is perfect. Lizard's Mouth is another hike that is a bit easier than Inspiration Point, and another kid-friendly spot.
Clearly you've gotta put in some beach time while you're here, and the local favorites are Butterfly Beach and Hendry's Beach. Butterfly Beach is a great spot to go if you plan to bring your own lunch and things you'll need for the day, while Hendry's has great food and drinks to offer.
Santa Barbara also offers to travelers a look at the city's 80-acre Botanical Garden. You can opt for a guided tour or instead explore the grounds on your own. There's also a beautiful Japanese teahouse that is the perfect afternoon hang spot.
KOAs nearby:
Ventura Ranch KOA Holiday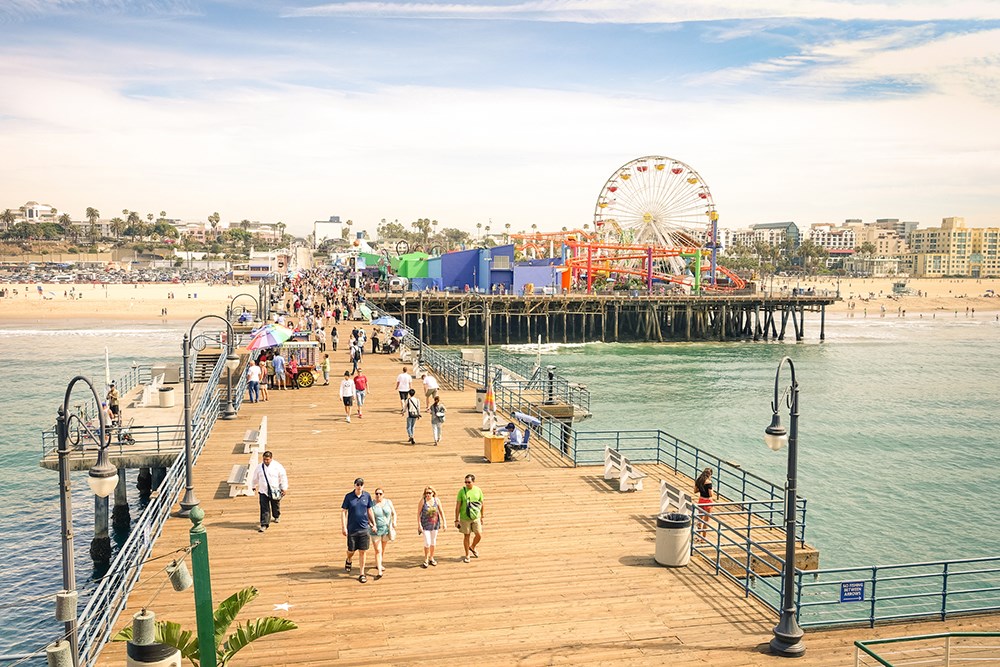 4. Santa Monica
The city of Los Angeles can be quite overwhelming with all it has to offer, all the people, and all the traffic. Thus, we suggest you stick to calling Santa Monica your homebase while you're visiting this major metropolitan area.
There are a number of reasons we love Santa Monica. First of all, the beach. Arguably the best part about California is its beaches, and Santa Monica is no exception. Though a bit more crowded than the other beaches this state has to offer, there is no doubt that there is plenty of fun to be had here.
One of the top things to do in Santa Monica is visit the pier. Here you can take a ride on a ferris wheel that overlooks the ocean, visit the Santa Monica Aquarium, take in an epic sunset, and enjoy some perfectly tourist eateries before closing out your night with some churros bought from a cart.
Santa Monica is in close proximity to some great hiking, which many people are surprised to find in Los Angeles. Temescal Canyon is a great spot that offers a number of different hikes with varying levels of difficulty so you can choose how much adventure you want to get in. Just a short drive from Santa Monica with plenty of parking available, Temescal Canyon is somewhere you're sure to love.
Head down the road just a bit further and you'll hit Malibu where there is some stellar hiking with some wonderful views.
While you're in LaLa Land you also may want to hit up the Griffith Observatory for a unique look at astronomy (and some fabulous 360 views of the city). This is a very photo-worthy spot, especially because it's where everyone's favorite scene of LaLa Land was filmed. Who wouldn't want to stand where Ryan Gosling once stood?
The Getty Villa and Getty Museum are both worth checking out if you're into art and architecture. Not only is the art here spectacular, but the spaces themselves are absolutely stunning.
And Los Angeles is also home to some epic food. We recommend making a stop in K-town, Sawtelle's Japanese district, and downtown for some mind-blowing food that won't break the bank (well, by Los Angeles standards, at least).
KOAs nearby:
Acton / Los Angeles North KOA
Los Angeles / Pomona / Fairplex KOA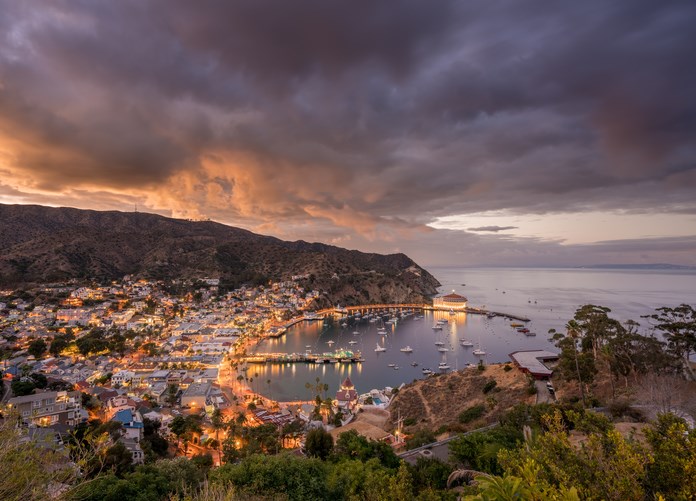 5. Catalina Island
Just a short boat ride from the busy and buzzy Los Angeles you have a completely different experience in Catalina Island. Though it doesn't have the craziness that Los Angeles does, there is still plenty going on here to keep you having a blast.
Think ziplining, dolphin tours, kayaking, stand-up paddleboarding, snorkeling, horseback riding, boating, and off-road tours that will have you flying by the seat of your pants.
If you're feeling a bit more relaxed, then you'll love the Skyline Tour of Catalina Island and the plenty of opportunities for boating and sunbathing.
Whatever your speed, Catalina Island has you covered for a nice break from the norm, with plenty of fabulous photo opps.
KOAs nearby:
Acton / Los Angeles North KOA
Los Angeles / Pomona / Fairplex KOA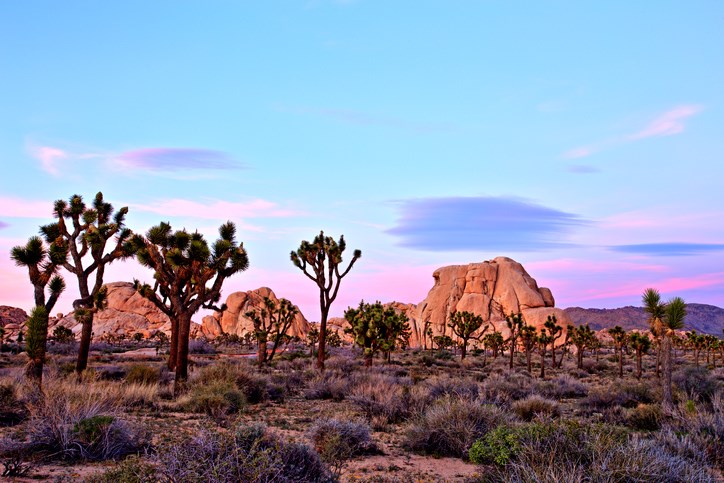 6. Joshua Tree National Park
Speaking of photo opps, Joshua Tree National Park is one of the most photographed national parks in the country.
Why?
Well, the gnarly Dr. Suess-like Joshua Trees after which the park was named take all the credit for the massive snaps on people's cameras. The trees, coupled with the giant boulders spread out throughout the park make for a unique setting, and one that you will surely love.
These interesting sights make for great viewing while you hike through the park's many trails, and also while you bike through its desert-like grounds. Our recommended hike is the Ryan Mountain hike, which will take you on a 3-mile trek that gains 1,000 feet in elevation. The views at the top are fabulous, and work the moderately challenging hike.
Joshua Tree National Park is also a great place to hop on your horse and trot around. All you need is to bring your own horse and you are ready to go, cowboy. The park offers over 250 miles of horseback riding trails, most of which are open year-round.
If rock climbing is up your alley, then you will be in heaven in Joshua Tree National Park. There are over 8,000 different climbing routes throughout the park that offer up some of the best in crack, slab, and very steep climbs.
Be sure to stick around at night if you can to catch the absolutely epic stargazing in the park. Shooting stars zip through the sky at very high rates, and in the summer this park becomes the best spot to witness August's Perseid Meteor Shower.
KOAs nearby:
Palm Springs / Joshua Tree KOA
Banning Stagecoach KOA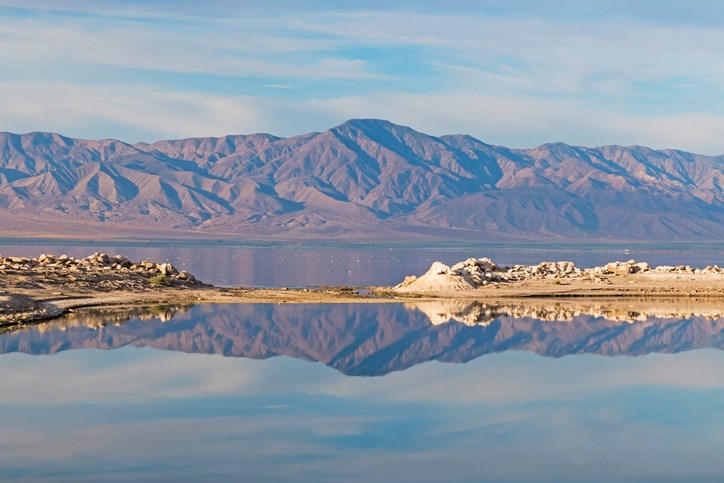 7. Salton Sea
What was once a hot vacation spot over 50 years ago is now likened to a ghost town. Where resorts used to host travelers from all over to enjoy summer fun is now just a memory that sits present-day as abandoned buildings. Runoff from nearby farms was what put the Salton Sea's fun to rest, and it's never recovered.
While Salton Sea doesn't sound too appealing, it is certainly interesting to check out, especially if you experienced this destination during its heyday.
This area is also home to the highly-photographed Salvation Mountain — a hill-turned-art that is painted all the colors of the rainbow, and filled with sayings such as "God is Love." Certainly worth a stop and a few photo memories.
KOAs nearby:
Temecula / Vail Lake KOA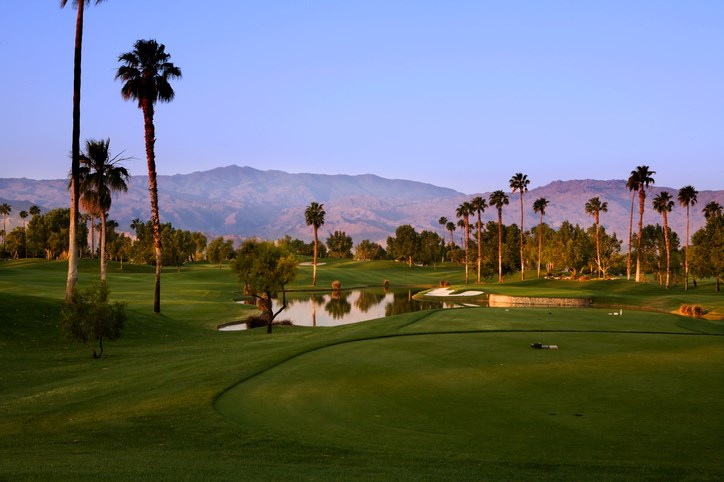 8. Palm Springs
If you're in search of sun, Palm Springs is exactly what you're looking for. This destination boasts 350 days of sun a year, and during the summer, that sun shines extra bright. This desert offers much more than meets the eye, and we know you'll love it here.
One of the best ways to see this city is via the Palm Springs Aerial Tramway. This classic mode of transportation dates back to the 1960s and is a hot spot for visitors to get stellar views of the Coachella Valley that lay below. Once you reach the top you'll have the option to relax, get some food, or explore more of the San Jacinto Mountains with a hike.
While we are on the subject of hiking, the hiking in Palm Springs is great, especially when you opt for the Tahquitz Canyon that takes you to a waterfall. Yes, a waterfall in the middle of the desert. This two-mile hike is very doable, just be sure you have lots of water as it does get hot out there.
The Moorten Botanical Garden is another great Palm Springs nature spot to check out. Though it is small and measures in at just one acre, it has varieties of cacti we are guessing you've never seen before, and may never see anywhere else. With over 3,000 different desert dwelling plants, there is no shortage of things to see here.
If you're feeling adventurous, rent a Jeep and go off-roading through Palm Deserts less-traveled areas for a fun ride and some great views.
Or, if you're feeling like moving a bit slower, head to one of the city's many great golf courses and play a round in the sun. Though on the pricey side, many of them are worth the price tag. And with weather like that in Palm Springs, your chances of getting rained on are slimmer than almost anywhere else.
The food here is something worth mentioning as well, so make sure you take some time to tour the main area of town and try some of the great desert eats.
KOAs nearby:
Palm Springs / Joshua Tree KOA
Banning Stagecoach KOA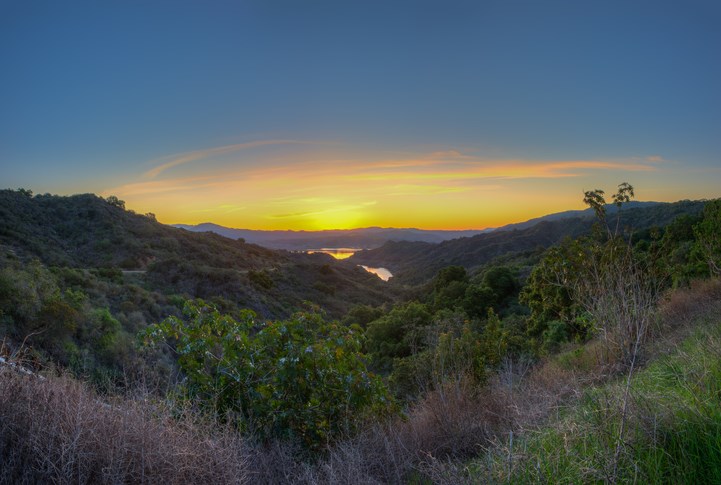 9. Ojai
Think pools, wine, hiking, and biking, and you've dreamt up Ojai.
Let's start with the hiking. You'll want to head to Los Padres National Forest for over 1,200 miles of trails that take you through all sorts of terrain. From redwood forests to more desert-like conditions, you'll get a little bit of everything at Los Padres. Whether you're in the mood for a quick hike or a longer, more challenging one, you're covered here.
And if biking is your thing, then you'll love the Ojai Valley bike trail. This one is great for all levels of riders. It takes just about one hour each way and takes you through some great views of Ojai's mountains as well as the town's rural parts. The major plus about the this trail is that there is a lot of shade, so you won't get too overheated, but be sure to bring some water with you to get through those stretches of in between stops.
Stroll your way through town to check out some great book stores, some cute shops, and wine tasting rooms as well as citrus and olive groves.
And when you want to relax, pop into the Ojai Valley Museum for a look at some Native American history that includes beautiful art, baskets, and much more. Also check out Ojai before it was a poppin' spot with the historical photographs here.
If you happen to be traveling through late spring/early summer, time it so you can attend the Ojai Valley Lavender Festival to enjoy all-things lavender and a taste of the local Ojai culture.
KOAs nearby:
Ventura Ranch KOA Holiday

10. San Diego
This city is a sun-filled, fun-filled spot that will be a favorite stop on your SoCal road trip. From hiking, to shopping, to surfing, and so much more, you will definitely be planning a return trip here.
First off, you must go to Balboa Park. It's a beautiful place to enjoy a nice walk or a great picnic amongst the park's beautiful gardens and stunning architecture. Central to the park is the Botanical Building which is home to over 2,000 plants of many different kinds. Your mind will be blown by it. This park is also home to the world-famous San Diego Zoo, which will cost you a pretty penny to check out, but is worth the money in our opinion.
For some great hiking head to Torrey Pines State Reserve where over 1,700 acres of land await exploration. The trails along this reserve take you through the different terrain of the reserve that include sandstone ravines and salt marshes. However, note that the trails can get pretty packed here, as it is one of the top spots to go in the San Diego area. So, once you're there, be sure to make your trek worth it by spending some good time exploring. Your adventures should definitely include a walk down the Torrey Pines State Beach to take in the stunning sandstone cliffs and ocean combo.
When you're craving a bit of city life, head to the Gaslamp Quarter for some fabulous shopping, great eats, art galleries, and your fill of bars. They are all housed in Victorian buildings that make this a unique experience. This place really comes alive at night, so be aware of that if you prefer a more quiet evening. Parking is hard to come by here, so plan to drive in circles for a bit before securing a spot.
If you want that SoCal surf experience, head to Pacific Beach. Here you'll find all the surfers and sunbathers with a nearby boardwalk full of fun shops and people.
KOAs nearby:
San Diego Metro KOA Resort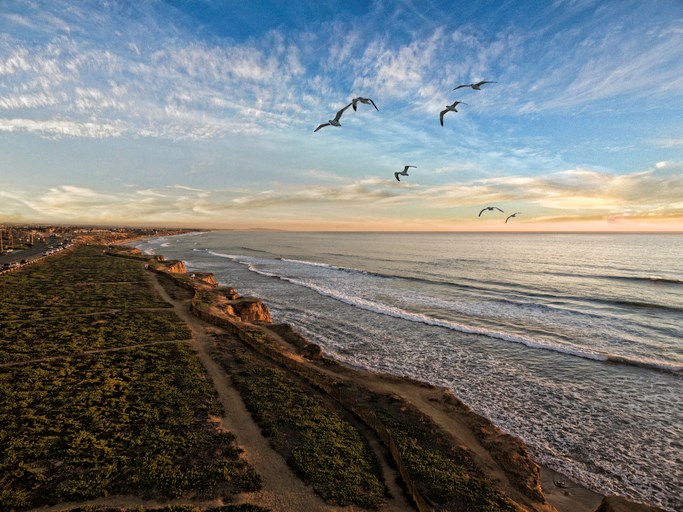 11. Carlsbad
Carlsbad is a more relaxed version of San Diego that just so happens to be right next door. And there are plenty of things you'll want to check out here.
One of those things is a bike ride along the beach. Rent a bike and cruise the views of the iconic Pacific Coast Highway.
Another thing you'll love is the State Street Farmers Market that happens every Wednesday. Here you'll find everything from flowers to jams, cookies to vegetables and so much more.
While in Carlsbad, it's pretty hard to miss LEGOLAND. With over 60 rides and attractions, this place is not just for kids — adults will have a blast here too. There are plenty of interactive experiences that make this a fun place to spend the day.
Always wanted to learn how to surf? Why not give it a shot here in Carlsbad. Kids or no kids, people of all ages will love learning how to surf in these waters with some of the great teachers in the area.
If music is your thing, head to the Museum of Making Music where the evolution of music is on display for all ages to enjoy. However, kids will really have a blast here learning more about instruments and getting the chance to take a closer look at a number of different instruments, and play them too.
KOAs nearby:
San Diego Metro KOA
There is so much to see in southern California that it can be overwhelming. With that said, this is clearly not an all-inclusive list of spots to visit when you're road tripping through SoCal — it's just a list of our favorite spots that we think you'll love too. We helped narrow down the daunting SoCal area into hotspots that are undoubtedly worth a visit.
We hope you enjoy your travels through the wonderful state of California and make some great memories that will stay with you forever.
---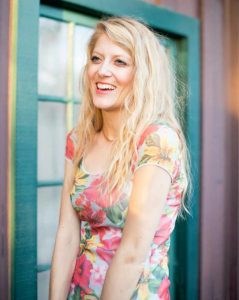 Leslie, a.k.a. Copy Girl, is a copywriter who gets butterflies from telling stories through words.
Her voice comes from a place filled with passion, dreams, and lots of sugar. "Cake over steak" is her go-to motto.
With over 10 years of experience in crafting words, and years of embarking on travels that have taken this Montana girl to some incredible places, Leslie love the adventures of both body and mind her writing takes her on.
Everywhere she goes, she takes this advice with her:
"Hold on to your divine blush, your innate rosy magic, or end up brown." – Tom Robbins, Jitterbug Perfume
To see what Leslie's up to in the writing world, visit her website here.
---