Have you ever taken the time to think about how huge the United States is? Like really think about all the different places you can visit from Maine all the way to California? It is quite a concept to wrap your head around. There are nearly 20,000 incorporated cities, towns, and villages in the United States.
Though they all offer different experiences that may make it worth adding to your RV road trip list, today we are focusing on one specific area of the U.S.: the west coast.
Regardless of where you call home and which coast you think is best, there is no denying that the west coast has some gems that are worth a visit.
Here are some of the top RV destinations along the coast of the western United States.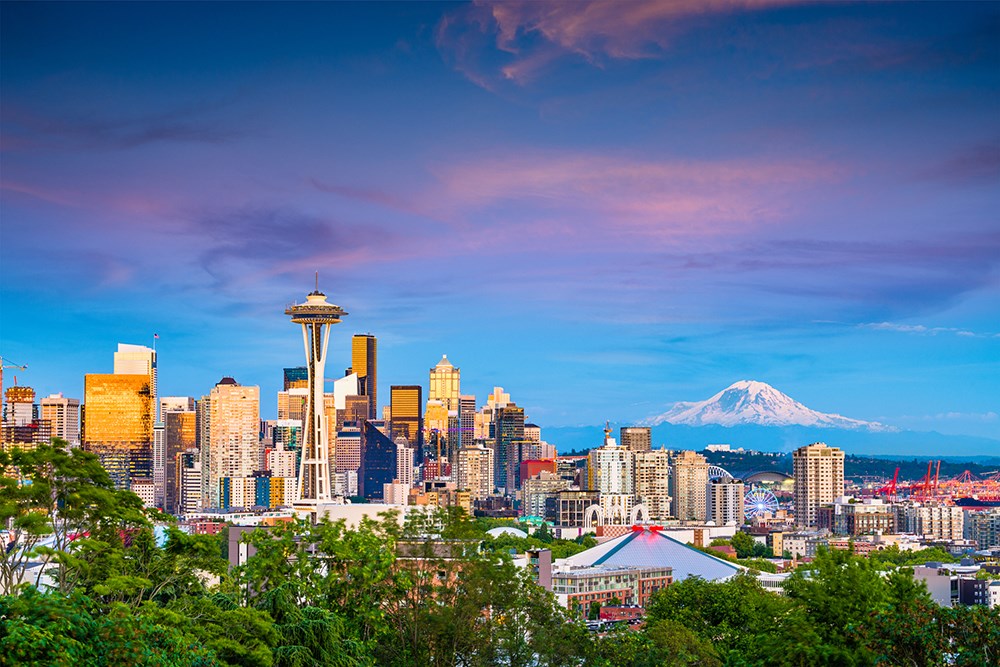 1. Seattle, Washington
If you're a fan of Starbucks you need to pay a visit to Seattle, Washington where Starbucks was born. The Pike Place Starbucks opened in 1971 at Pike Place Market in downtown, Seattle and ever since then has been serving coffee to locals and travelers alike. It has stayed true to its original appearance thanks to the historical design guidelines that have been placed on the building. So, visiting it today will still give you that exciting, authentic feel.
There is much more to Seattle than Starbucks. After grabbing your coffee, walk around the Pike Place Market where you'll find all sorts of tasty eats and a wide variety of entertainment, including the famous guys at the fish market.
In addition to that, Seattle offers some great food (clam chowder is their specialty) as well as a great art scene and a fine glass art exhibit. When it comes to the water, we suggest a picnic at the Olympic Sculpture Park that is on the waterfront as well as hopping on the ferry that takes you along the bay.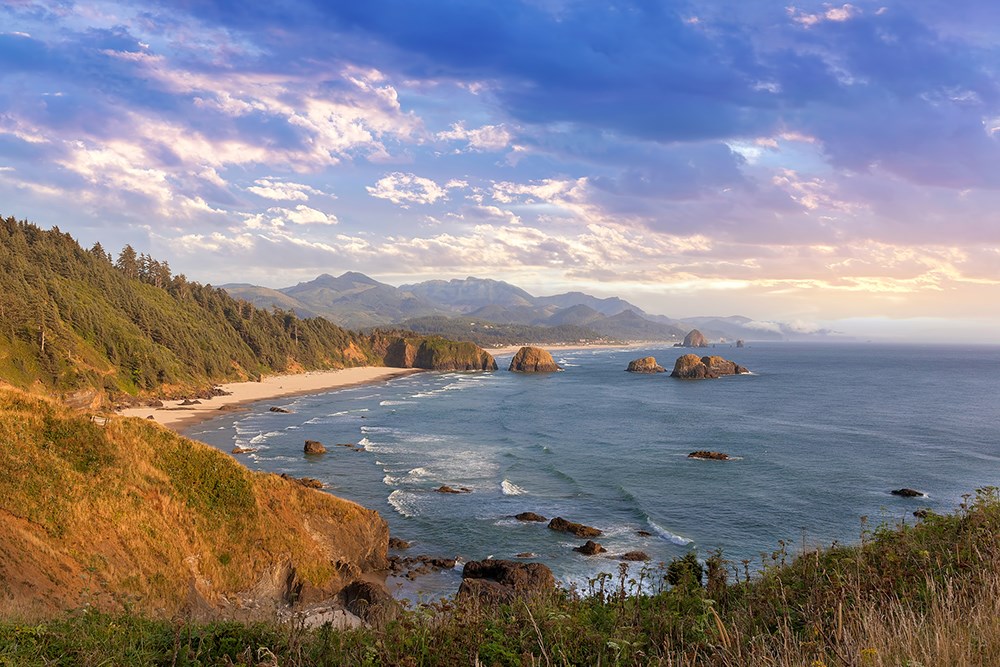 2. Cannon Beach, Oregon
If you grew up watching The Goonies, Point Break, and/or Twilight, then you may feel especially moved to make your way to Cannon Beach, Oregon where parts of these movies were filmed.
One of the reasons this place became a popular place to film is thanks to Haystack Rock. This iconic rock is made of basalt and was formed by lava flows that came down from the Blue Mountains and the Columbia basin around 15-16 million years ago. Today it stands as a 235-foot tall sea stack and is recognized as the third-tallest such structure in the world. You can actually get up-close-and-personal with it when the tide is down and walk out there.
In addition to the giant rock in its ocean, Cannon Beach is a charming beach that has crabs and starfish galore. Head into the small town for a look at some cute boutiques and galleries that will give you all of the Oregon beach town vibes you're looking for.
KOAs nearby:
Astoria / Warrneton / Seaside KOA Resort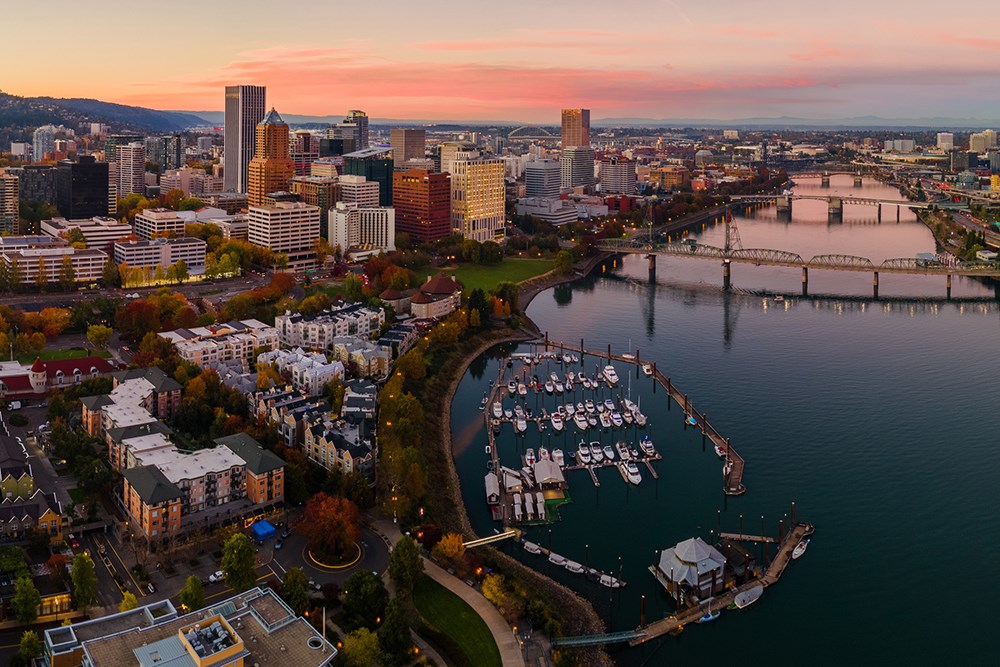 3. Portland, Oregon
Keep Portland Weird is a famous saying you'll see plastered all over this city and once you start to pay attention to your surroundings, you'll see that the locals really do live by this motto.
Portland is a very unique city full of foodies and lovers of craft beer. Riding bikes and getting tattoos is a big deal, but you don't have to do either of those while you're here. Instead, you can choose to indulge in the incredible food scene (you'll love it even more if you're a vegan) and wander around the city to see all of its different eccentricities.
The city is divided into 4 different areas, each of which has a completely different experience to offer.
KOAs nearby:
Cascade Locks / Portland East KOA Holiday
Lincoln City KOA Journey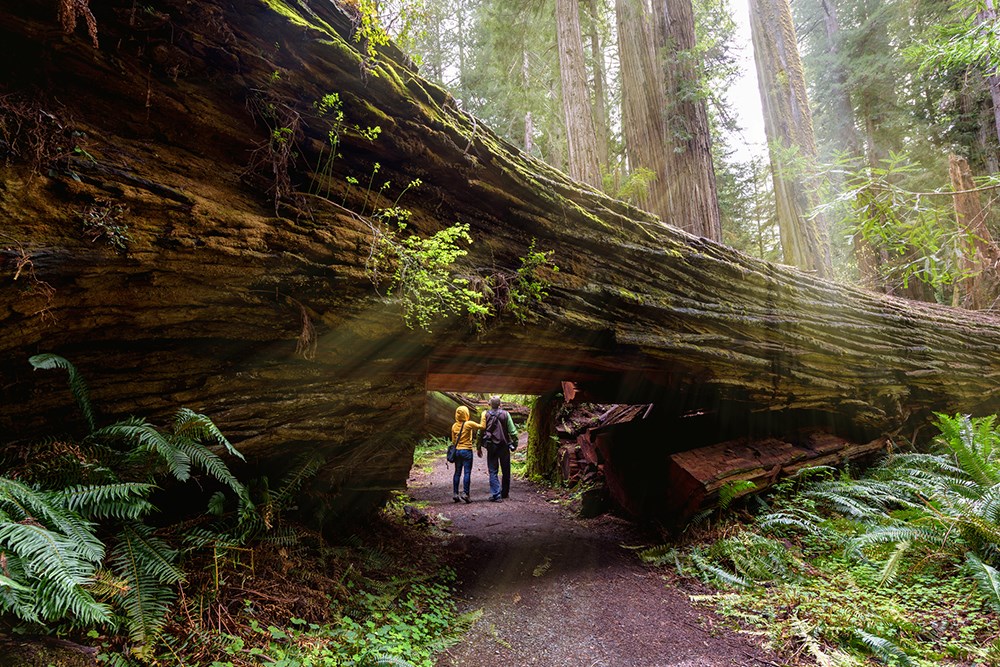 4. Redwood National Park
It's no surprise that we are big fans of national parks here at KOA. And Redwood happens to be one of our favorites.
This place is the home to possibly the most epic trees you will ever experience in your life. The tallest redwood trees are over 300 feet tall and will leave you feeling like just a spec of dust. That's because redwood trees are the tallest trees on the planet, yet their root system doesn't go below 12 feet deep. On top of that, these trees can live for over 2,000 years.
Enjoy hiking around the park or, if you prefer, driving. You can even drive through the trunk of one of the famous trees here, the Chandelier Tree. There are even places you can hop in and do some kayaking inside the park.
KOAs nearby:
Crescent City / Redwoods KOA Holiday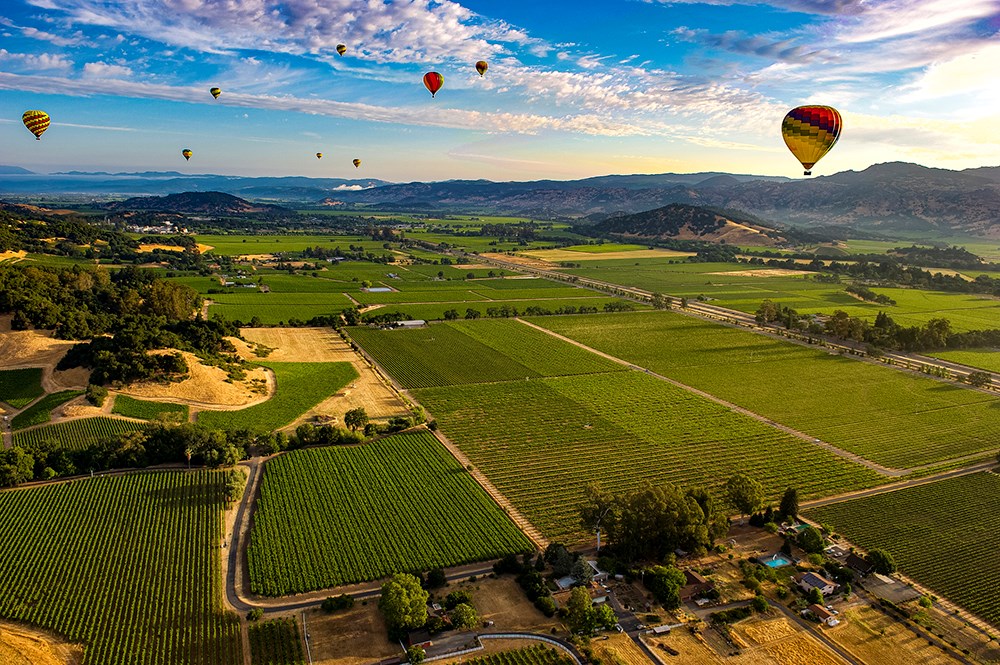 5. Napa Valley, California
If you feel like it's time to wine, down then we suggest heading to California's famous wine country, Napa Valley. This place is home to some of the top vineyards and wineries in the whole country, and the views here aren't terrible either.
You can spend the entire day drinking wine (which we've done, and highly suggest). However, there is more than just wine to enjoy here. There are some nice hikes in this area but if you really want to get up and have a view of the expansive wine country, hop in a hot air balloon and get the view from the top.
You can also play golf, bike, and enjoy the river here.
KOAs nearby:
San Francisco North / Petaluma KOA
Cloverdale / Healdsburg KOA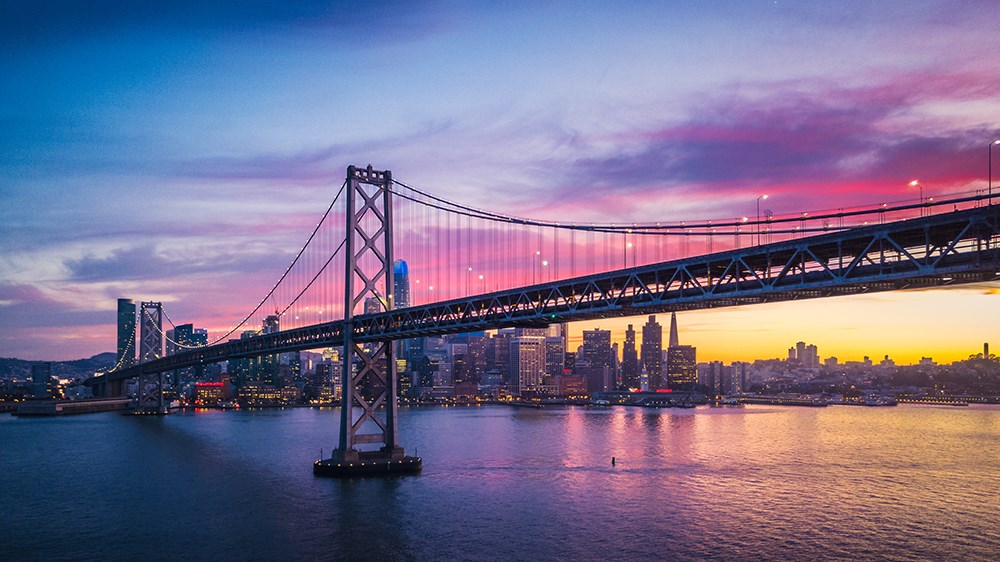 6. San Francisco, California
Head a bit further down the coast to one of the most unique cities in the world, San Francisco. It is the 13th largest city in the United States as well as one of the most expensive to live in. But once you get here, you'll understand why.
The thing that San Francisco is most famous for is the Golden Gate Bridge. It is the bridge that connects San Francisco Bay to the Pacific Ocean and is quite a sight to see. A marvel of engineering in its time, this bridge is still famous today and we suggest driving across it to get a feel of its sheer size.
In addition to the bridge, you may want to head out into the water via ferry to check out the also famous Alcatraz. This was previously a very famous prison that held some of the most famous criminals in U.S. history. There were many attempts to escape from "The Rock" as it was known, but no one ever made it. It closed in the 1960s and stands today as a place for visitors to enjoy tours through its rick past.
San Francisco is also known for its steep streets, some of which you can enjoy from your car or RV (though be careful!), while others you can enjoy from an old-fashioned cable car.
The food here is also a big selling point as well as the many outdoor festivals that happen here.
KOAs nearby:
San Francisco North / Petaluma KOA
Santa Cruz North / Costanoa KOA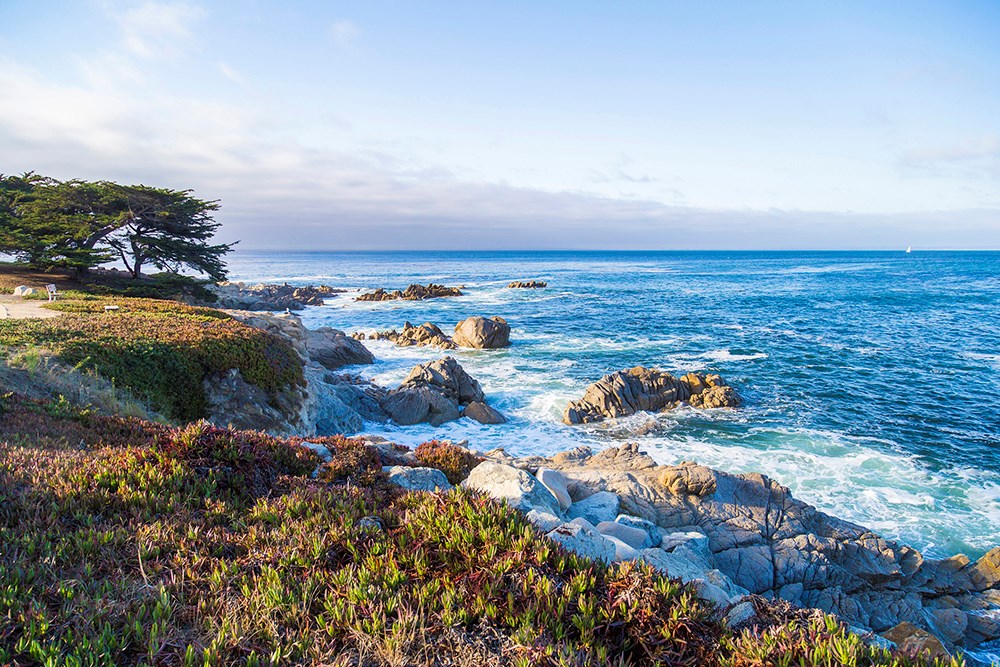 7. Monterey Bay, California
This little fisherman wharf town will have you feeling like you're ready to go out and catch some of your own fish. But please don't. Instead, head to some of the cute restaurants here to indulge in some really good fish.
The famous Monterey Bay Aquarium is here as well, which is not just a place for kids. Adults will love adventuring through this world-class place. If you want to get out on the water yourself, try kayaking through the coves. The water is clear enough here to see all sorts of ocean life underneath you (including whales!).
KOAs nearby:
Santa Cruz / Monterey Bay KOA Holiday
Moss Landing KOA Express
Salinas / Monterey KOA
8. Big Sur, California
We hope that you've heard of Big Sur, as it is known all over the world as one of the best coastal drives in the entire world. If you haven't heard of it, then now's your time to start reading up on it.
It is rare in California to find beaches that aren't covered with houses or tourist attractions, but this is one part of the states that you can find that in. Big Sur is mile after mile of nearly untouched beach that is made even more beautiful thanks to the winding turns and seaside cliffs that really add some dramatic views to the drive.
This part of California is known for its hiking and camping, so be sure to experience some of that while you're here. With 90 miles to explore, feel free to take your time in enjoying all the beauty this place has to offer.
KOAs nearby:
Santa Cruz / Monterey Bay KOA Holiday
Moss Landing KOA Express
Salinas / Monterey KOA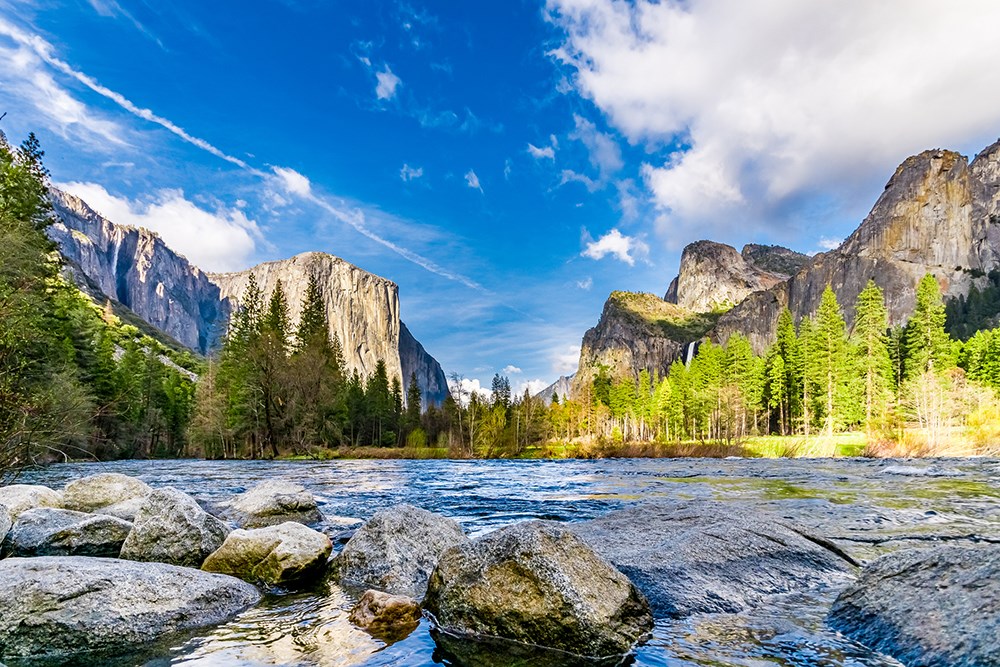 9. Yosemite National Park
You've likely already seen Yosemite Natioanl Park without ever visiting it. That's because it's been known to serve as the default Macbook desktop background a couple of times. The biggest reason for that is that it is one of the most stunning places in the United States.
Yosemite National Park is home to two very famous summits for hiking, El Capital and Half Dome. Though those are not for the faint of heart – they are very challenging hikes that require mental and phsyical preparation. If you're up for the challenge, however, we highly recommend it, as both of them are unlike anything else you'll ever hike.
However, if that sounds too daunting, there is no shortage of other hiking trails to enjoy in the park.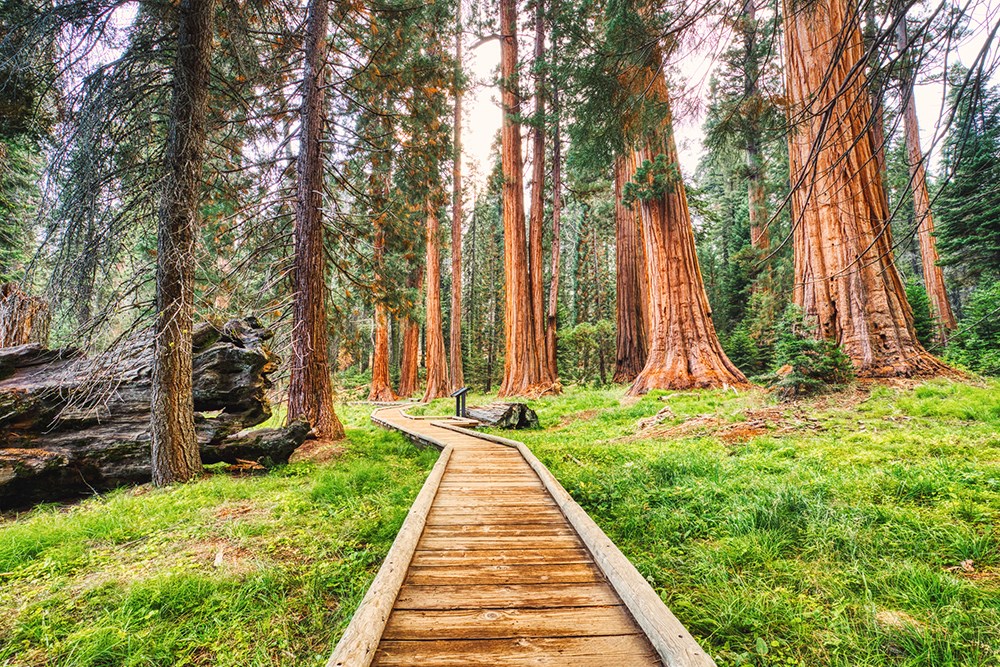 10. Sequoia National Park
Are you surprised we have multiple national parks on this list? National parks are our favorite places to hangout and it just so happens that the west coast has a lot of them that are worth checking out.
Similar to the redwoods, but a bit smaller, the sequoia trees are a sight that will leave you in awe. This area was designationed a national park in 1890 to keep the trees protected from logging. The date of its creation makes it the second national park in the United States, after Yellowstone.
General Sherman Tree is a highlight of this park, as it is the world's largest tree with a height of 275 feet and a base that has a diameter of nearly 40 feet. There is plenty of other hiking trails to explore here as well as caves.
KOAs nearby:
Visalia / Sequoia National Park KOA Journey
Lake Isabella / Kern River KOA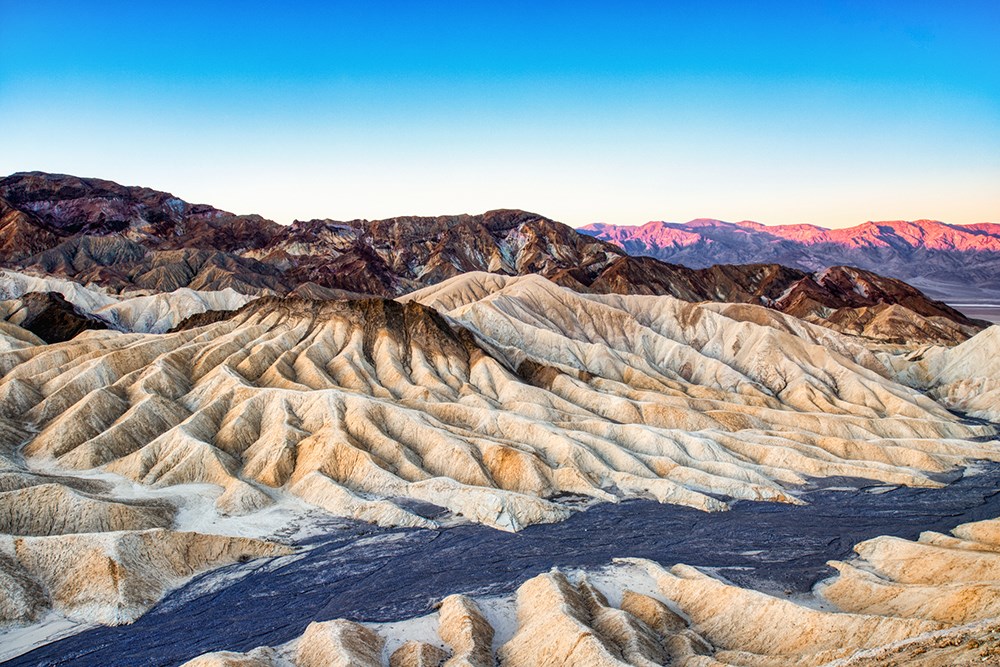 11. Death Valley, California
Don't let the name of this place scare you away, but do let it prepare you for what you're going to experience here: heat like you've never known. Death Valley is one of the hottest places on earth and temperatures here often sit at around 120 during the summer. However, the temperature has reached 134 degrees. Once you get above 110 degrees, it all starts to feel the same – mostly like you need to be inside with air conditioning and some cold water.
This place is quite a sight to see, however, and worth exploring from the safety of your car, or in small spurts outdoors. And if you're able to stick around for the nighttime, you may see some of the best stars of your life in this area. That's thanks to the lack of light pollution since this area is pretty void of people. Heat like this doesn't appeal to many people (only 320, in fact).
Though there are certainly more than 11 spots worth seeing during your trip down the west coast, we suggest using these hot spots as your starting point and then exploring further from there.
The west coast of the United States is so magnificent in that it takes you from one of the hottest places on earth where it seems like nothing can grow to the cool, wet conditions of the pacific northwest where plants of your wildest dreams grow. And you've got everything in between, too.
---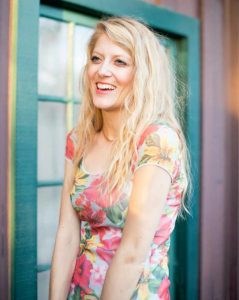 Leslie is a travel writer, copywriter, and web designer who gets butterflies from telling stories through words and visuals.
Her voice comes from a place filled with passion, dreams, and lots of sugar. "Cake over steak" is her go-to motto.
With over 10 years of experience in crafting words, and years of embarking on travels that have taken this Montana girl to some incredible places, Leslie loves the adventures of both body and mind her writing takes her on.
To see what Leslie's up to in the writing and design world, visit her website here.
---