They're the frequent fliers of the RV world. The ones who have their rigs set up and are already three s'mores in while you're still trying to figure out how to back in your RV without taking out a tree. But don't be too hard on yourself. These RV camping veterans were once trying to figure out which tank holds what too. Here is what they wish they'd known from day one.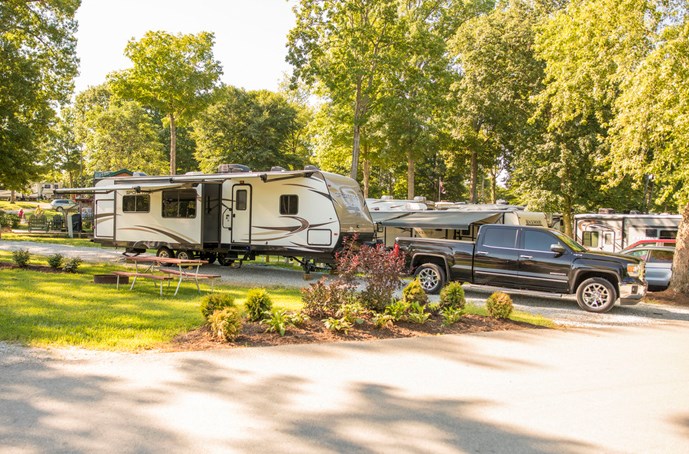 Know how much you can tow
Pam Whyte's family of four has been RV camping for a decade. She's personally talked to many RV owners who were talked into buying bigger RVs than their vehicles could realistically tow for at least five years. "First, figure out your towing capacity and buy slightly under the capacity," recommends the Wisconsin-based teacher who blogs at FamilyFunJoy.com. "There is nothing worse than spending a lot of money on an RV you'll need to sell in a year."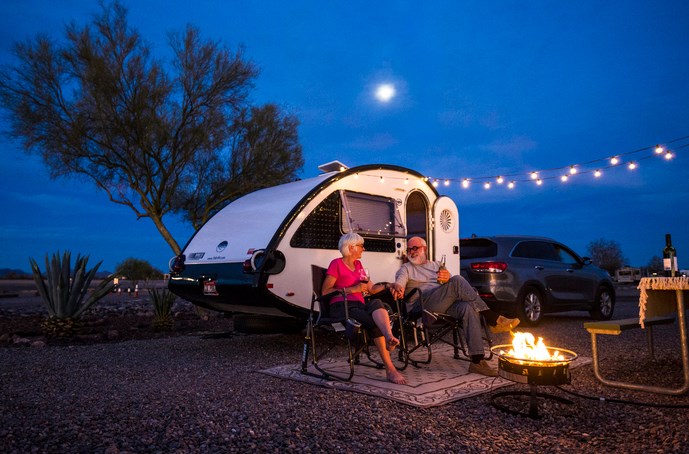 Don't arrive in the dark
When Janine Pettit, an RV camping veteran of 13 years, did a poll for her podcast about rookie camping mistakes, setting up in the dark came up repeatedly. "Arriving at the campground late and tired is a recipe for mistakes," says the founder of Girl Camper and Ambassador for Go RVing. "One woman thought she was filling her fresh water holding tank. But in the dark, she'd put the water hose in her gas tank. Fortunately, she had a dual gas tank so she was able to get home on the untouched reserve tank." She had to pump out her other tank.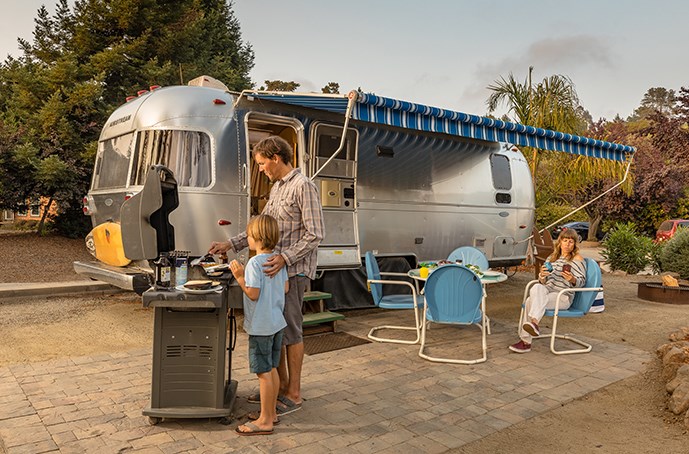 Consider your lifestyle
Ben Veerman and his partner Christine cook every meal. Unfortunately, the two bloggers at Travellers With Time didn't take that into enough consideration when picking out the camper they'd spend two years traveling around the world in. "Our current camper only has a small fridge, meaning we have to shop almost every second day and putting the shopping away in the fridge is like playing Tetris," says Veerman from New Zealand. "We're forever digging around to find things and moving things from a to b."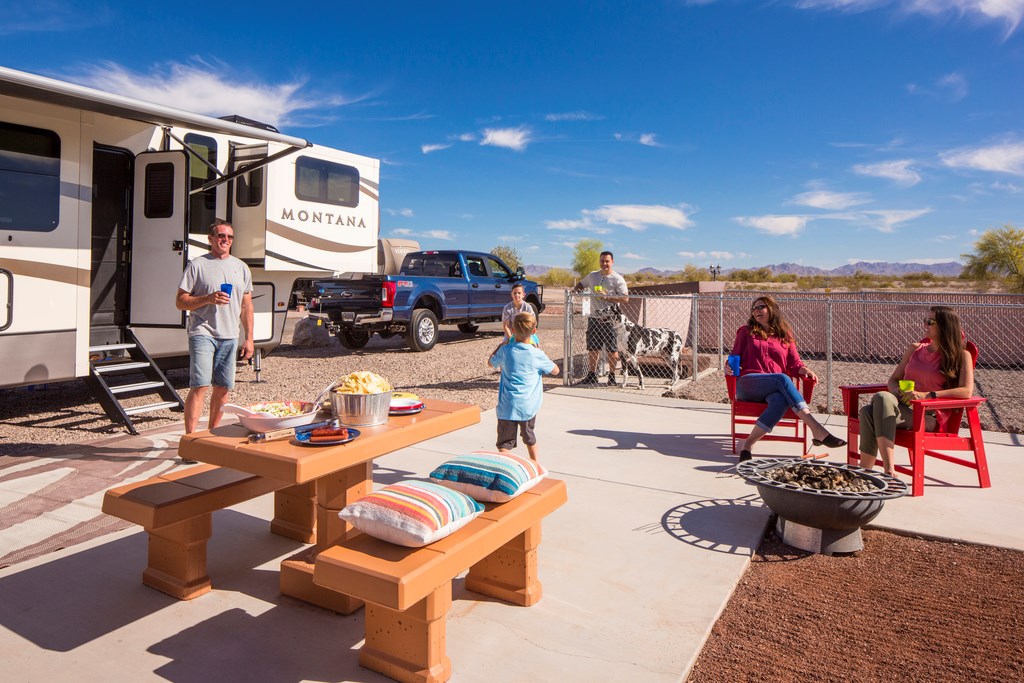 Make friends first
"Even after almost 4 years on the road, I STILL don't know it all," says Kelly Beasley, co-founder of Camp Addict. Her biggest piece of advice is to make friends who RV before you start RVing. For example, learning how to use solar power can be very difficult on your own. But if you have a community behind you or a circle of RV camping friends, you can usually find people happy to help. Beasley suggests finding other RVers through clubs and on social media. "It's been the most valuable thing I've found since starting the RV life." Of course, she says the best part of being a part of a community is not the camping tips. It's the friendships.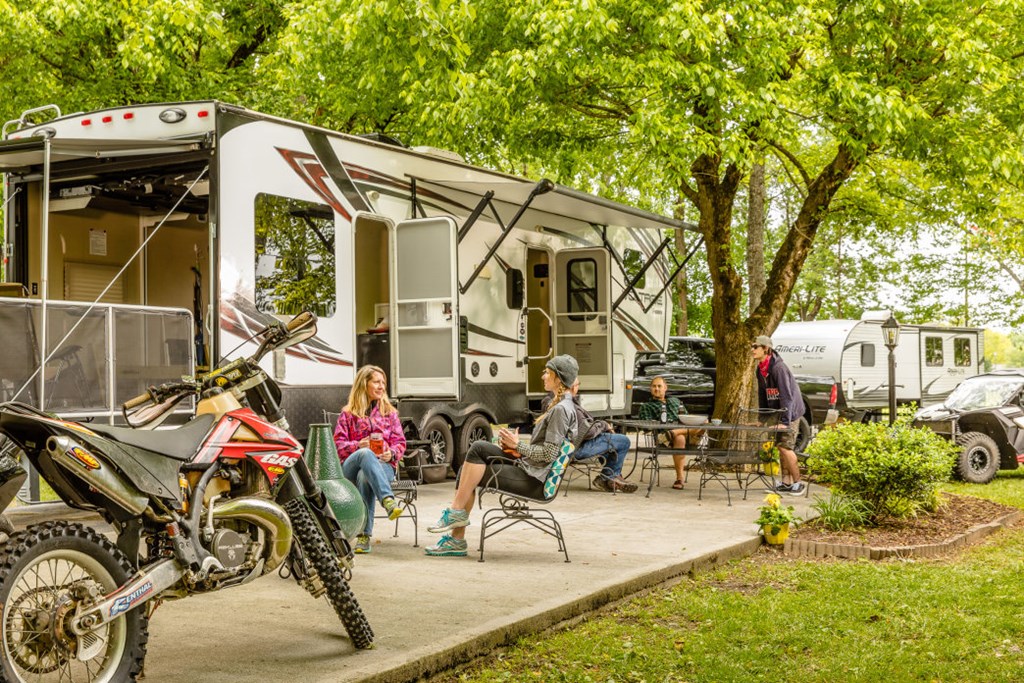 Remember to pick up your chocks
Matt Boyd likes to think he destroys chocks, one campsite at a time. He's actually come to view it as part of the camping adventure. "Some roads are rougher than others and when you forget to pick up your chocks, you just create your own personal mountain pass," says the proud RV owner and founder of Moving.co.nz. His spouse, however, isn't a fan and found a clever way to help him remember to pick up their chocks. "I received an elaborate gift bag loaded with yet another set of brand new chocks and one badly crunched one to serve as a reminder," says Boyd. "We put the new chocks against the wheels and the busted chock in the driver's seat every time we make camp. I can't get behind the wheel until I address the chocks and load them all back into the gift bag."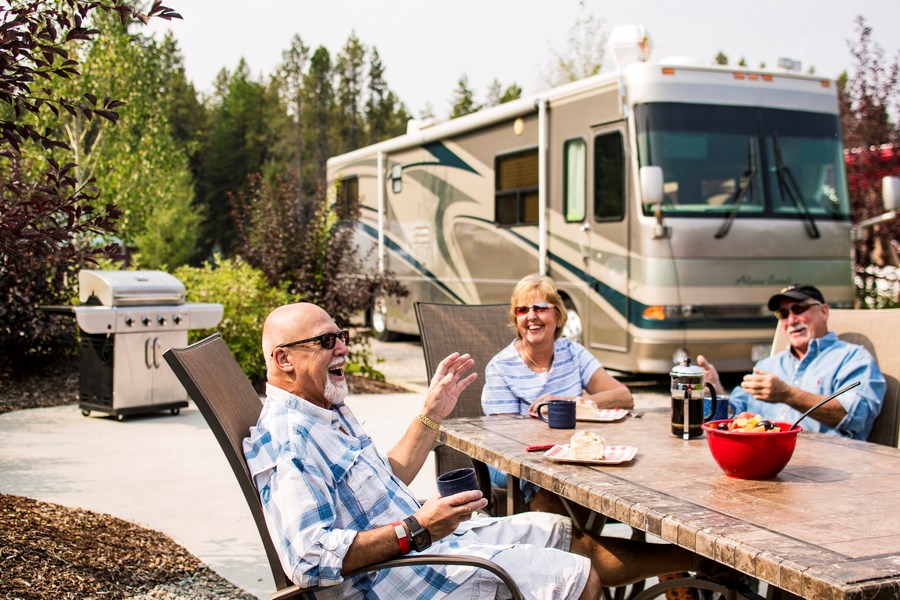 Slow down and enjoy the journey
Julie and Reet Singh of "Where the wild Singhs are" describe their first year of RVing full time as hectic. "We saw a little of each destination we went to, and then we moved on," says Julie. "In our second year, we decided to slow down. We wanted to take in more of the incredible locales we were visiting." Slowing down has allowed them to do things they hadn't planned for in advance. For example, pulling over on the side of the road to paddle glacial lakes in Colorado. "Let yourself be open to what you discover along the way," recommends Julie who has been RVing with her husband for six years. "You will discover so much more if you aren't in a hurry to get to your next destination."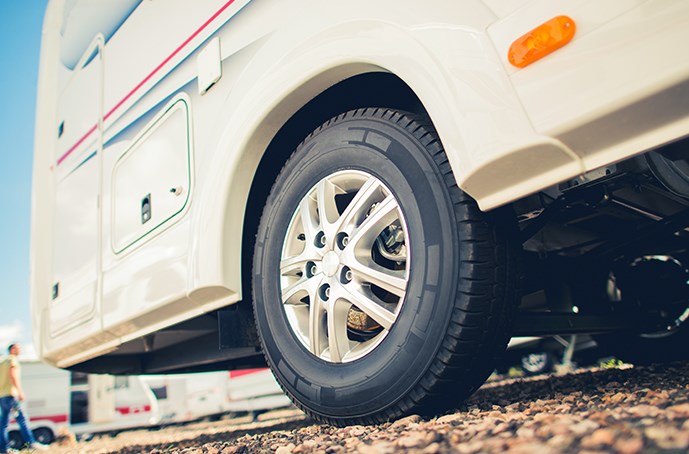 Invest in good tires
Theresa Hewston and her family of five have been RVing full time for five years now. The biggest tip they have for newcomers is to upgrade the tires that come on their RV. "Even with a tire warranty, the tires that come on a new RV are garbage," says the founder of The Globe Trekker. Used RV tires can be even scarier. Hewston speaks from personal experience. Two of their fifth wheel's original tires developed large bulges just a few months into their full-time travels. Fortunately, they discovered this before a blowout which could have damaged their RV. For towables, she recommends high quality 14-ply tires. It's also wise to make sure you have good tires on your towing vehicle.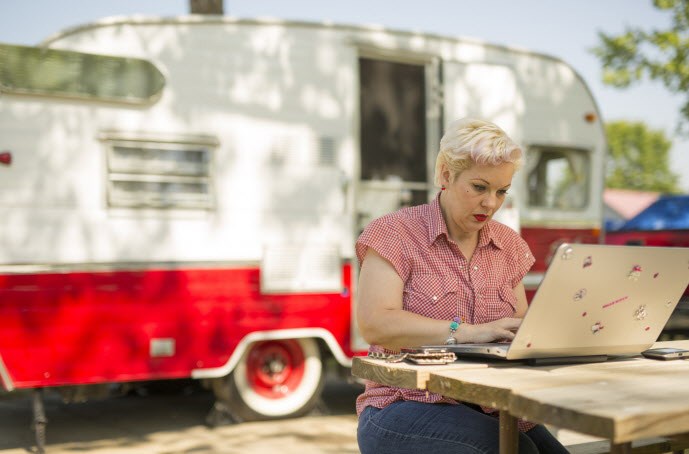 Think small if you can
It's fine if your dream is to own a huge RV with lots of bells and whistles. But if it's too much of a hassle to set up, and you don't end up using it as often as you though you would, what's the point? That's Jeff Wilson's philosophy. Wilson, the host of Real Rail Adventures on PBS spends more than 75 nights per year camping with his family. "With a small rig, hook up and set up times are minimal. We're up and ready within five minutes of arriving at camp." Wilson's family lives in their RV in the summer but also takes it out on weekends during the school year since it's so easy to get out and set up. "A bigger rig would be a waste of money, space, and gas. The point is to be out, so be out!"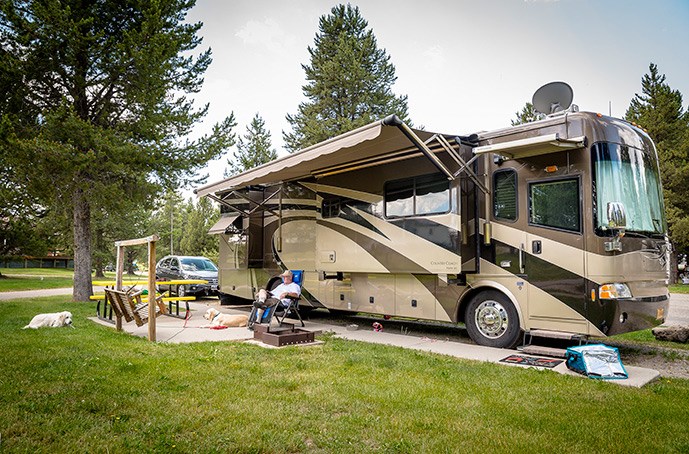 Measure your tail swing
"This is something I learned the hard way," admits Jason Epperson. "The very first time I pulled our bus conversion out of a campsite I dented it on a lantern hanger because I wasn't observing my tail swing." Today, the RV Miles Podcast host knows exactly how much the section of his rig behind the rear axle swings in the opposite direction when he turns. "You can measure your tail swing by pulling up right along a solid parking lot stripe. Make a hard turn away from it and have someone measure how far over the line you go." Most RVs have between a 15-inch and 30-inch tail swing. This tip comes in handy especially at gas pumps where the last thing you want to hit is a fuel tank.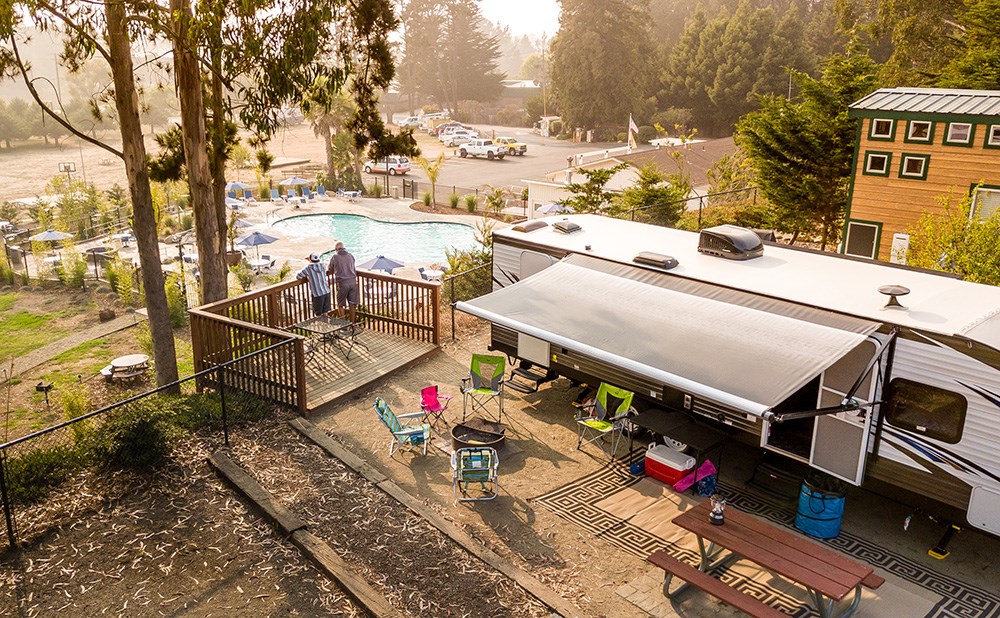 Always take your awning down
Don Schrauth has 30 years of RV camping under his belt. His top tip for those new to the lifestyle is to never leave your awning up if you're not around. "Always put your awning down at night or when you leave your RV unattended," says Schrauth who spends a lot of time camping in Montana with his wife LuAnn. "Unexpected gusts of wine can destroy an awning in a flash."
---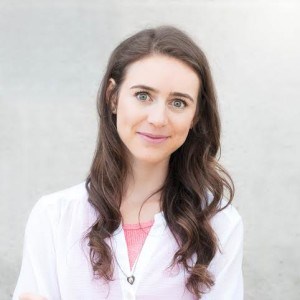 Katie Jackson is a writer and media specialist based in Montana's Big Sky Country. Living and working everywhere from New York to Nicaragua, Katie is no stranger to adventure. When she's not traveling the world (or writing about it!) she's busy chasing after a Leonberger named Zeus. Follow Katie's travels on Instagram @katietalkstravel.

---