If you dust off any Merriam-Webster's Dictionary, you won't find "flyover states." It's a term everyone knows, but no one can precisely define. According to this National Geographic article the origin of the term began as "a way for Midwesterners and Southerners and people from the plains and mountains to define themselves relative to the rest of the country." In 2017, air traffic data was used to rank the most-flown over states based on the ratio of flights passing over to flights landing. West Virginia came out on top. But is it something to brag about? It depends who you ask.
According to Urban Dictionary, flyover states "generally aren't destinations for travelers or tourists and are generally flown over when traveling from coast to coast." However, if you ask anyone who has visited "The Mountain State," they might sing the praises of the same scenery that gave John Denver material for his greatest hit. Other states that are commonly considered to be "fly-overs" also have a lot to offer. From an extinct supervolcano to a cultural center founded by the Dali Llama's brother and even a museum dedicated to one of the most popular fast food chains in the world, here are 10 things you can only see in flyover states.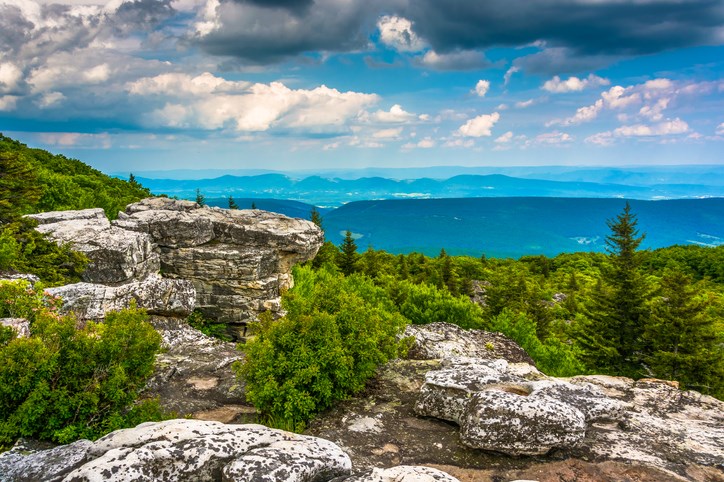 1. West Virginia – Monongahela National Forest
What sets this national forest apart from others is its Dolly Sods Wilderness, home to a high-altitude plateau (the highest east of the Mississippi) with an ethereal landscape and plants you'd normally only see in Northern Canada. The best way to see the forest is to drive the Highland Scenic Highway. This 43-mile National Scenic Byway is especially beautiful in the fall. It has the same colors as the Blue Ridge Parkway but without the crowds.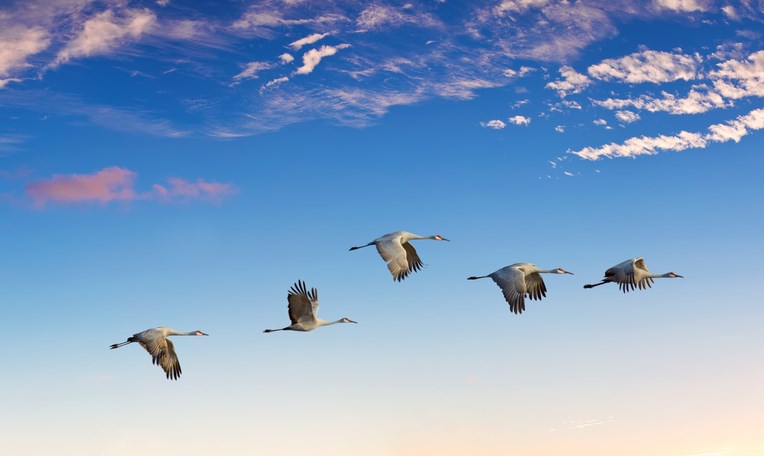 2. Nebraska – Sandhill Crane Migration
Sandhill cranes certainly don't fly over "The Cornhusker State" without stopping. Every spring around 500,000 sandhill cranes – about 80 percent of the world's population – congregate in Central Nebraska's Platte River Valley. Even if you don't know the difference between a crane and a stork, witnessing this gathering of one of the world's oldest species will give you goosebumps. Jane Goodall – yes, that Jane Goodall – has even made the trip (several times) to catch this mass migration. And she's not alone. The cranes attract tourists from more than 60 countries!
Visit Mason City Iowa
3. Iowa – The Music Man Square
Most people know Hugh Jackman who will be returning to theater in 2020 when he stars as Professor Harold Hill. But what most people don't know is that "The Music Man" – one of Broadway's biggest hits – has its roots in small town Mason City, Iowa. This is where its talented writer and composer, Meredith Willson grew up. Today, it's where visitors can travel back to 1912 and walk the nostalgic set design recreations from Warner Bro.'s film adaptation of the musical. The Music Man Square also includes a real ice cream parlor and features a display of trombones. How many trombones? 76 of course.
Linda Schnyder
4. Kansas – The Original Pizza Hut Museum
Architecturally-speaking, the little brick building on the Wichita State University campus isn't that impressive. But, what it represents is beyond significant. When the world's first Pizza Hut opened in Wichita in 1958, brothers Dan and Frank Carney probably never expected to be founding what would become one of the world's most recognized fast food chains. As of 2019, there are nearly 19,000 Pizza Hut locations worldwide, making it the biggest pizza chain. This particular location is special because it was the first (the brothers were Wichita State students). Today, visitors to this niche but noteworthy museum can even see the napkin with the original sauce recipe scrawled on it.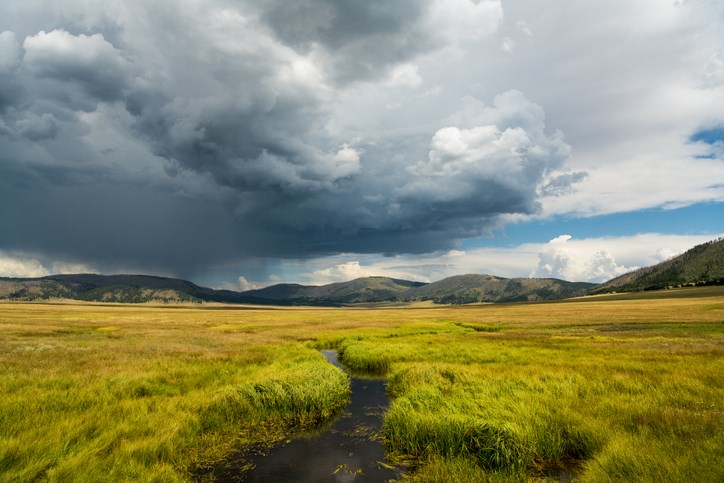 5. New Mexico – Valles Caldera National Preserve
Valles Caldera National Preserve is so picturesque it's easy to think an artist painted it into existence. But science tells us that this 89,000-acre depression about 50 miles west of Santa Fe is the result of a supervolcano that erupted more than a million years ago. Even if you've explored the state known as "The Land of Enchantment" in the past, there's a good chance you haven't been here. It wasn't until 2015 that it became a national preserve. Today, visitors enjoy fly fishing – volunteers from New Mexico Trout host free fly-fishing clinics several times a year – hiking and wildlife watching. The mountain meadows provide the perfect habitat for elk. (Since the population is so healthy, you can even hunt here with a permit.)
Tibetan Mongolian Buddhist Cultural Center
6. Indiana – Tibetan Mongolian Buddhist Cultural Center
If you've ever wanted to learn about Buddhism without traveling to Asia, head to Bloomington, Indiana. It's here, about an hour's drive south of Indianapolis that the Dalai Lama's eldest brother founded the Tibetan Mongolian Buddhist Cultural Center. The center sits on more than 100 acres of lovingly manicured land that provides the perfect backdrop for learning the art of meditation. You can also learn about the Tibetan people – the center is dedicated to them – attend lectures, practice yoga and even volunteer.
Visit Idaho
7. Idaho – 100+ soak-able hot springs
When most people think of Idaho they think of potatoes. But the truth is "The Gem State" has a fascinating geological history. For example, as a result of friction caused by colliding tectonic plates, Idaho is home to several impressive mountain ranges and surprisingly, more soak-able hot springs than any other state. Some involve a mile-long hike to get to while others have hotels built around them. In all, there are more than 130 that you can soak in. If you like Yellowstone's Boiling River, you'll probably like the natural pools at Kirkham Hot Springs right on the South Fork of the Payette River.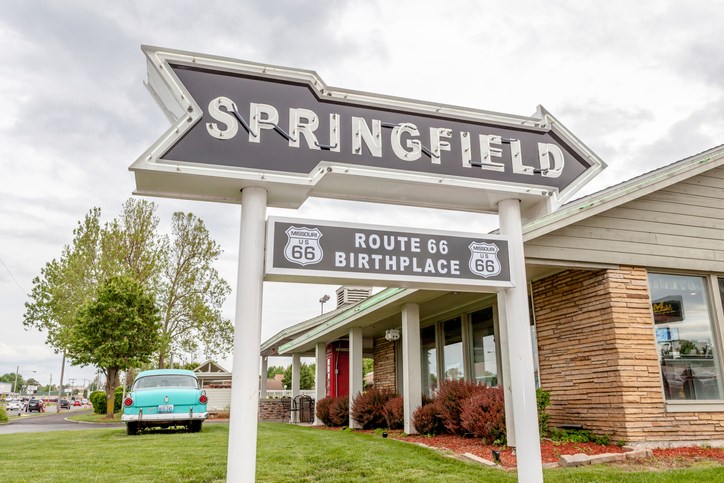 8. Missouri – Route 66 and Rocky Ridge Farm
While Oklahoma has the biggest drivable stretch of Route 66, Missouri trumps it in terms of roadside attractions. It makes sense. After all, Missouri is "The Show Me State." Worthwhile stops along the old Mother Road include the Chain of Rocks Bridge, Purina Farms, Meramec Caverns, the 66 Drive-In theater, the Precious Moments Chapel, the Jesse James Wax Museum, and Devil's Elbow, among others. Plus, if you're up for driving an hour off of Old Route 66, you can even visit the Laura Ingalls Wilder Museum in Mansfield. It was here, on her farm "Rocky Ridge" that the author wrote her best-selling famous children's books about life in the Ozarks and beyond.
Turpentine Creek
9. Arkansas – Turpentine Creek Wildlife Refuge
Turpentine Creek Wildlife Refuge has rescued exotic cats from other flyover states like Kentucky, Ohio, Kansas and Tennessee. Since it's a sanctuary, not a zoo, don't expect a lot of bells and whistles. But visiting the refuge – which is just outside Eureka Springs, about 200 miles northwest of Little Rock – is an even better way to learn about these captivating large cats. The refuge is home to bobcats, cougars, leopards, lions, tigers and even ligers – a tiger lion cross. The refuge is open to the public year-round although keeper talks are only offered in the summer.
Tegan Burkhard
10. Oklahoma – Alabaster Caverns State Park
With the nearest major cities being Wichita – about 144 miles northeast – and Amarillo – about 200 miles southwest – Freedom, Oklahoma really is in the middle of nowhere. But that doesn't mean it's not worth visiting. In fact, this small town near the northern border of "The Sooner State" is home to the world's largest natural gypsum cave. You can even camp in a cave at Alabaster Caverns State Park! Most visitors just take guided cavern tours, but a few come for the Mexican free-tailed bats migration every summer. If seeing more than a million bats in one place at one time is on your bucket list, come here.
---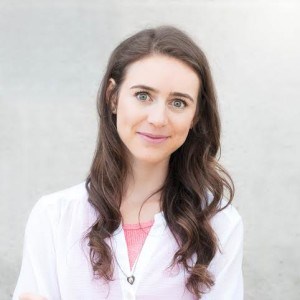 Katie Jackson is a writer and media specialist based in Montana's Big Sky Country. Living and working everywhere from New York to Nicaragua, Katie is no stranger to adventure. When she's not traveling the world (or writing about it!) she's busy chasing after a Leonberger named Zeus. Follow Katie's travels on Instagram @katietalkstravel.

---