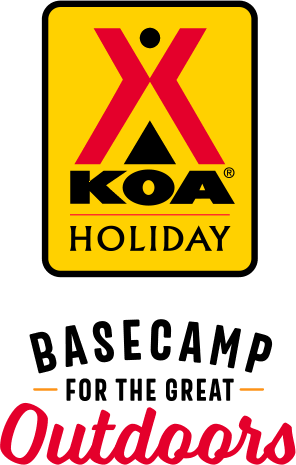 KOA Holiday Campgrounds
Whether you're exploring the local area or hanging out at the campground, KOA Holidays are an ideal place to relax and play. There's plenty to do, with amenities and services to make your stay memorable. Plus, you'll enjoy the outdoor experience with upgraded RV Sites with KOA Patio® and Deluxe Cabins with full baths for camping in comfort. Bring your family, bring your friends, or bring the whole group – there's plenty of ways to stay and explore.
KOA Holidays Feature:
RV Sites with a KOA Patio®
Deluxe Cabins with full baths
Premium Tent Sites
Group meeting facilities
Oct 21, 2021
Very relaxing as usual. My kids really enjoyed all of the activities from Go Carts, jumping pillow, mini golf, and the halloween activities.
Oct 21, 2021
We were given an extra long site so we did not have to unhook the RV, service like that is exceptional. The campground has wonderful amenities especially the large leash free dog run. Employees are terrific we will definitely stay there again.
Oct 21, 2021
sight 38 was good on my way to arizona. sight 47 the sewer line is too high i stayed on the way back. everything else was Great. pad sights are level enough that you dont have to block up your wheels. like i had to do in arizona.
Oct 20, 2021
Camp ground is nice. Neat amenities. Speed limit of 5 is not enforced. Camp sites are on top of each other. Kept burning trash or something in maintenance area and then denied it when asked how long we will have smoke blowing into our camp, couldn't be outside with the kids.
Oct 20, 2021
I really enjoyed my stay. Would prefer if the activities and office were open longer especially during a sold out stay, but overall really enjoyed my stay.
Oct 20, 2021
Very impressed with all the amenities and the friendly staff. Great place for family and kids.
Oct 20, 2021
There was a lot to do-we had fun with the golf, go karts, jump pillow, and dog parks. It was a clean place and the pool was great. The only downfall was how close the sites are to each other. Our neighbors were noisy and had a smoky fire all the time which went right into our trailer. A little more space would have been great.
Oct 20, 2021
Husband and myself are taking in 48 states in our R-Pod and have stayed in many campgrounds, National, State, and private and this KOA in Williams is one of the top campgrounds we have stayed at. Very organized ,clean, and lots to entertain everyone of all ages. Great place for family. Will tell all my RV friends and family. Thelma Wilfong
Oct 20, 2021
Super nice staff, very helpful. Campground is clean and tidy! Wonderful mountain setting, would highly recommend! Thank you!
Oct 19, 2021
Our favorite place to stay!!
Oct 19, 2021
Beautiful area, awesome KOA!!
Oct 19, 2021
wonderfull park had a great time will come back
Oct 19, 2021
Very enjoyable stay in the covered wagon. We enjoyed a campfire and use of the grill. Shopped in the store and the staff were very friendly and welcoming, and the store was very well stocked with a variety of necessities and fun items.
Oct 19, 2021
This KOA is AMAZING. Lots to do for kids and adults. Mitzi at registration was so welcoming, funny and accommodating. We needed to change sites (our fault in booking)and she made it happen. She is definitely an asset. Highly recommend as a destination not just a stop over.
Oct 18, 2021
Lovely place to stay. Next time we would like the outer ring so it would less noise, but that is not your fault we had noisy neighbors who had family on both sides of us knocking on our camper and walking through our camp site. I think they might have wanted us to trade spots with them but when we answered the door they weren't there and they never asked. We were already all set up.
Oct 18, 2021
Sites are uneven and poorly maintained and congested. Bathrooms are exhausted, they were exhausted last year! Plenty of rocks to twist ankles. Mediocre value. Bye, bye.
Oct 18, 2021
We loved the campground! Unfortunately our experience was lessened because of one staff member not being very helpful when there were water issues because of freezing temperatures. We felt like an inconvenience, and communication could have been better so we weren't in the dark about what was going on.
Oct 18, 2021
Stay was fine but the shower in our cabin was filthy with other guests hair all over the shower.
Oct 18, 2021
Great place for adults and kids. Go cart track is awesome!
Oct 18, 2021
We had a nice spot in the back. My only suggestion is to level the space a little more so that large rigs can pull into the space and not have to use blocks. Otherwise the place was awesome as usual.
Oct 18, 2021
Only issue we were on downward incline and out jacks couldn't level us out because it was so steep. Other than that loved the camp site and atmosphere there
Oct 18, 2021
Absolutely loved it. Great campground for families. We will be back!!
Oct 18, 2021
Loved our stay! Up in the ones with wonderful pine scent, spacious site, and helpful/friendly staff. Couldn't ask for more!
Oct 17, 2021
Great Friendly staff. Is a great place for travelers with children. Good size spots with easy access and a lot of great amenities. Anytime we needed anything the staff was on it Immediately. About the only complaint I have is the spot I was in wasn't very level which isn't a very big deal. I will definitely go back again.
Oct 17, 2021
Would love to bring my grandkids here!
Oct 17, 2021
Nice campground. A lot of activities for kids. The bathrooms could use a little better cleaning. The only negative I can say is that the site I was given was a pull thru. You can pull in but there was no way you pull out no matter what size rig you had.
Oct 17, 2021
It was clean, but packed. We purchased a bundle of wood, that would not burn. It just smoked....
Oct 17, 2021
Lots of things to do for kids. Staff is fantastic.
Oct 17, 2021
We love the Cabins . This time it was so cold , the heater provided in the cabin barely blew hot air . We slept with sweatshirts on, beanies etc & were freezing. I would make sure to let people staying their to bring a heater ;) other than this we love coming here with the family & creating memories .
Oct 17, 2021
Safe, clean and an amazing place to stay
Oct 17, 2021
Great KOA! Clean facilities and lots of activities for our kids!
Oct 17, 2021
Nice RV park. We have a 40' motorhome and was hard to get level due to the sloping spots for a pull thru spot. Great location!
Oct 17, 2021
Wish we had more time to experience all they offered. Area was clean and easy to use.
Oct 17, 2021
Pos: staff friendly, everything clean. Negs: old, out dated: pool, restrooms, picnic tables. Very little landscaping. Unpaved roads and Flagstaff dirt is horribly dusty. We try to stay at places with paved roads and level/gravel sites or concrete pads but we since the kids are still young that we chose here for the 'kid amenities'. After older, if the place isn't updated we will go elsewhere.
Oct 17, 2021
Loved that we had a personal heater in the room. It was much needed as the temperature dropped to the 20's!
Oct 17, 2021
Nice campground, friendly staff. Pricing is high though.
Oct 16, 2021
Staff was not friendly or helpful. Sites were terribly unlevel. Asked to move. Were told they were full. Sites remained empty throughout our stay. Showers were moldy. Definitely will not return here.
Oct 16, 2021
Arrival was quick and problem free. The escort to the site made navigating the park simple. Staff were polite, patient , friendly and professional. Facilities were maintained well. Definitely going to schedule a return visit.
Oct 16, 2021
We had a two room cabin and it exceeded our expectations. This was a family friendly campground with lots to do for the kids. We had a wonderful time seeing the sites and coming back to the campground to relax and play. We were there during a sleet/ snowstorm and we were very thankful for the heaters in the cabin. Wonderful visit and we can't wait to go back!
Oct 16, 2021
It was a fun time
Oct 13, 2021
Very nice place. Layout is in a circular pattern with lodge in center which allowed campsites to get a great view. Very nice maintenance guys. All of them were very informative and friendly, my dogs even liked them,. Clean and lots of things to do for the kids. When we arrived late all the campsite,over 100, were burning fires and grilling. We inviting and friendly campers. Fantastic visit. It did have its first snow of the season while we were there!
- Denese G on Google
Oct 10, 2021
Everyone friendly and nice amenities
- Alicia Oliveira on Google
Oct 09, 2021
The cabin my family and I stayed in was so awesome. There was a small television, a heater, a few beds, and a swing seat on the front patio. There was a lot of fun to do, such as go carts and mini golf.
- Miguel Hernandez on Google