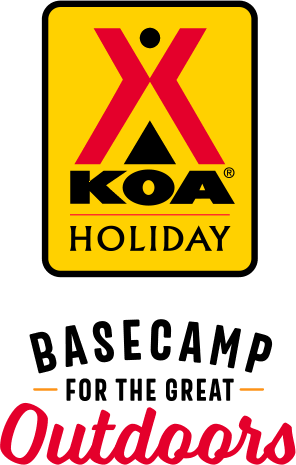 KOA Holiday Campgrounds
Whether you're exploring the local area or hanging out at the campground, KOA Holidays are an ideal place to relax and play. There's plenty to do, with amenities and services to make your stay memorable. Plus, you'll enjoy the outdoor experience with upgraded RV Sites with KOA Patio® and Deluxe Cabins with full baths for camping in comfort. Bring your family, bring your friends, or bring the whole group – there's plenty of ways to stay and explore.
KOA Holidays Feature:
RV Sites with a KOA Patio®
Deluxe Cabins with full baths
Premium Tent Sites
Group meeting facilities
Apr 06, 2021
We only stayed one night in the deluxe cabin with my family and they they enjoyed it a lot. We will definitely be back for a longer stay to explore the Grand Canyon.
Apr 06, 2021
Everything was okay . We wish the office would have had better Hr. Campsite would have been more level. Other than that I'll come back
Apr 06, 2021
It's a nice campground but very expensive. I'm used to paying 50-60 a night.
Apr 06, 2021
Water pump truck came at 7.30 on a Sunday morning and then again at 10 same day. That is not a comfortable or peaceful stay. Want my money back
Apr 06, 2021
My grandchildren had so much fun!!! And so did the adults. The facilities are always so clean (I've stayed there at least 5 times) and the staff is so friendly and helpful. This won't be our last trip.
Apr 06, 2021
I've been coming here over the last few years and it has been great. This last time was not so great. I was pulling in to the campground, maybe 4.7 miles an hour, i don't know. At that time, an old chubby guy on an ATV failed his arms for me to slow down. The next morning, same guy in a white pickup, blocked the one lane road to chat with a coworker, nearly getting her run over.
Apr 06, 2021
Very nice campground with lots of things to do. The staff is very friendly,
Apr 06, 2021
We love our stays here at Circle Pines KOA. So much activity's for the kids. Great memories
Apr 05, 2021
The staff was amazing!! The campground itself was so clean and well kept. So much to do and super family friendly!!
Apr 05, 2021
light dusting of snow for spring break :) Even with the limited services as a result of the weather we are already planning a return later this year.
Apr 05, 2021
We had a great time.. the lady's in the office were awesome and friendly...
Apr 05, 2021
What a great place to bring the kids to.
Apr 05, 2021
Beautiful campground! Well maintained and very organized.
Apr 05, 2021
We loved the campground and will definitely stay there again!!
Apr 05, 2021
Great friendly staff and very helpful with your site
Apr 05, 2021
I don't understand why the "water guy" has to come at 7.30am and start pumping water right outside our tent on a Easter morning (Sunday). And then coming again at 10am same day to pump again. Leaving the hose as a tripping hazard as well. Very bad scheduling from staff. Very poor. Need to be much better if considering camping again there
Apr 05, 2021
It was great staff was helpful and friendly would definitely stay here again.
Apr 05, 2021
Stay was great. Only issue was an incessant squeaky noise from the pool area.
Apr 05, 2021
Great site with tons on amenities and good size spaces
Apr 04, 2021
Clean with great amenities for families like the jumping pillow, mini golf, and dog parks. There is Wi-Fi, but it is slow and not a very reliable connection. I would strongly recommend improving the Wi-Fi system there. The deluxe patio sites are nice with a paved patio area with furniture, a gas grill, and fire pit.
Apr 04, 2021
Beautiful campground. Lots of trees and shade. Nice warm pool. Fun activities. Would stay again.
Apr 04, 2021
It was a great time! We had a cabin, our friends had a cabin with kitchen and restroom, and our kids had motorhome camping. Everyone had a great time. Our public restrooms and showers were very clean and warm, (it was snowing). I was very impressed. Thank you.
Apr 04, 2021
Staff was friendly. Cabin was great. Food from the cafe was hot and fast. Bathrooms were clean and overall the facility was great. Only complaint is that it feels like you are sleeping in the middle of the highway. Extremely loud.
Apr 03, 2021
Loved everything about this place!
Apr 03, 2021
THIS IS A GREAT RV/CAMPING PARK. LOTS OF PINE TREES, GOOD SIZE SITES, PUTT PUTT GOLF, GO KARTS, YOU CAN RENT A TPEE OR COVERED WAGON OR EVEN A CABIN, HIKING TRAIL HEAD RIGHT AT THE PARK, POOL AND JACUZZI, OFFICE HAS LITTLE STORE, ON SITE LITTLE RESTAURANT (TH,F,S,S). WE HAVE STAYED AT ONE OF THE RV PARKS IN WILLIAMS AND AFTER STAYING AT THIS KOA ALWAYS COME BACK HERE. 5 MIN DRIVE TO TOWN.
Apr 03, 2021
Staff were very nice and helpful! We loved our cabin and it was clean and cozy! Tons for the kids to do even with Covid restrictions!
Apr 03, 2021
We had an amazing experience and we will book again!
Apr 03, 2021
Nice place. Too many pine trees.
Apr 03, 2021
it was awesome. Mitsy was a great help. A very nice lady. The night guy was very helpful also he brought us wood on two different occasions for our fire. All in all we had a great time and we will stay there again.
Apr 02, 2021
We are tent campers and we loved the tall pine trees at our site and the soft tent platform, the nice picnic table, and the fire ring and grill. We enjoyed a walk around the camp to see the different kinds of cabins available to guests! We were especially interested in the covered wagons! Great access to campground from I-40.Could tent sites be farther back at the camp (soften freeway sounds)?
Apr 01, 2021
The campground is very clean and well maintained. The staff were friendly and eager to help.
Apr 01, 2021
The employees are all wonderful! Very friendly and nice. The food was so good too! We can't wait to go back and try one of the covered wagons.
Apr 01, 2021
Called 4 times prior to arrival to clarify check in process, no answer. Asked front desk about transportation to the Grand Canyon. Her reply was "I don't know I just work here, you'll have to call the Canyon" Maintenance staff were very helpful however!
Apr 01, 2021
The place itself, amazing. Communication amongst the staff as well as customer service, needs improvement. I should not received TWO voicemails that the staff was going to pack up MY belongings & move me to another cabin after checking in & CONFIRMING I would stay 3 nights in the same cabin, with 2 reservations to extend the stay ... because I never received a return phone call, email, or text.
Apr 01, 2021
Great stay.....however the reservation was messed up. Online did not go through, could have been my connection to internet. I just happened to call and confirm and nope, no reservation. AND, no availability. Called back the day of arrival and a spot was available. When we arrived the campground looked empty.
Mar 31, 2021
Upon arrival all the camp hosts were friendly and helpful. The general store was stocked and prices reasonable. The camp site was clean and all amenities operational. We especially appreciated the warm bathroom/shower areas which were very clean. The indoor pool was perfect and clean too. This was not our first visit and we plan to come back anymore times in 2021..
Mar 31, 2021
Loved loved loved this place! The kids loved all the things that they had available to them to do. Can't wait to plan our next stay!!
Mar 31, 2021
I love the camp. The staff were great to deal with and very clean. My only complaint is I stayed during a snow storm and the cabin was cold due to a space at the bottom of the door, that could be covered by a door flap.
Mar 31, 2021
Even though it snowed during out trip, we truly enjoyed our stay. It was one of the better KOA campgrounds we stayed during out 5 state stay.
Mar 31, 2021
The best KOA
Apr 06, 2021
Nise people
- Amanda Wattenburg on Google
Apr 05, 2021
This KOA is extraordinary for sure!!
- Donna Cantley on Google
Apr 04, 2021
This place is like the camping resorts from the 70s and 80s. So much family fun. The noise from the interstate can be a little much if you're staying in the front of the campground. We loved the fact that we could pull into our spot and in less than 10 minutes our rig was ready for the night. We will be returning for a couple more nights in May.
- Steven Peterson on Google