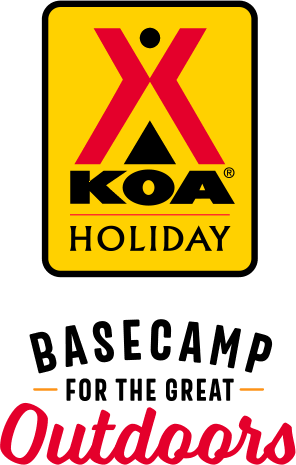 KOA Holiday Campgrounds
Whether you're exploring the local area or hanging out at the campground, KOA Holidays are an ideal place to relax and play. There's plenty to do, with amenities and services to make your stay memorable. Plus, you'll enjoy the outdoor experience with upgraded RV Sites with KOA Patio® and Deluxe Cabins with full baths for camping in comfort. Bring your family, bring your friends, or bring the whole group – there's plenty of ways to stay and explore.
KOA Holidays Feature:
RV Sites with a KOA Patio®
Deluxe Cabins with full baths
Premium Tent Sites
Group meeting facilities
Dec 01, 2020
Such a great little place to stay!
Dec 01, 2020
Kids loved the activities, staff was great.
Dec 01, 2020
My family had a great time staying in one of your wagons. It was very comfortable and warm. We hope to see you guys soon.
Nov 30, 2020
Very friendly staff and beautiful location
Nov 30, 2020
Very clean and well managed KOA. We love bringing the family and staying in their Cabins.
Nov 30, 2020
It was a real pleasure to spend time at this KOA. The cabin was perfect for my family. Hope the table top gets sanded over the winter as it is very sticky. (and that it my only complaint) thank you so much. Everyone was very friendly and helpful. Hope to stay there again next year.
Nov 30, 2020
Very nice, clean, quiet campground!
Nov 30, 2020
The park was very clean and the store was well stocked. The staff, both office and field, were wonderful: very pleasant and courteous. We love staying there. Even with the cold weather, the indoor pool was warm, cleaned and checked often. We had a good time in spite of Covid-19 restrictions, which were followed by everyone.
Nov 30, 2020
Large, clean park. Friendly and helpful staff.
Nov 30, 2020
I was impressed even b4 we arrived due to excellent customer service received from Mitzi. She responded quickly to voicemail and not only did she take care of getting this reserv, but she helped me w/ another one I had &even took time to call me back and let me know of some other options also! Id never been to KOA b4 &my husband "warned" me, but we were both DELIGHTED in what we experienced here
Nov 30, 2020
Stayed over Thanksgiving 2020 off exit 167! Very friendly and helpful staff, nice and clean facilities. Good nature and tree cover compared to nearby RV spots w/ full hookups. Great base for visiting the Grand Canyon and Kaibab Petroglyphs
Nov 30, 2020
What a nice establishment! I enjoyed this place very much.
Nov 30, 2020
Pulled in at 1 a.m. with our two young kids. Late check in was so easy! Camping cabin had the space heater already on. Such a warm welcome for a tired family. Warm bathroom, too! Morning fire in the fire pit and a hike to the keyhole sink for petroglyph viewing. Lovely stay! We'll be back. Thank you!
Nov 29, 2020
This was our first KOA stay with our new RV. Everyone was super friendly and helpful. The playground, bikes and mini golf course were a lot of fun for our family! Our kiddos really enjoyed themselves. Thank you for a great stay - looking forward to many more KOA adventures!
Nov 29, 2020
Although much was closed due to the time of year, I could tell everything was well kept and in very good condition. Great amenities. I'll definitely come back when it's warmer so the family can enjoy more.
Nov 29, 2020
One of our favorite places to stay. Staff are so friendly, the place is beautiful and clean.
Nov 29, 2020
Bathrooms could be cleaner
Nov 28, 2020
This was my second time staying at this particular KOA and my family is already talking about returning for a future trip. We arrived at the end of the season so a few items were closed. One of these days, we're hoping to make it back to use the go-karts! My only complaint is the shower - the water pressure was just above a drip & the push button turned off too quickly. Otherwise, we loved it!
Nov 28, 2020
Staff is friendly and helpful. Campsite is clean and all infrastructure is working order. Love Williams and will come and visit again. Great place to stay and very close to all attractions. Spent Thanksgiving at the campground and really enjoyed our stay!
Nov 28, 2020
My wife and I really enjoyed our stay there. We will be back. The staff were very friendly. It's also a nice drive to the Grand Canyon from here.
Nov 27, 2020
COLD but fun. 16 degrees
Nov 27, 2020
Great staff and location.
Nov 24, 2020
This was our first visit to your campground. We were overwhelmed by the kindness of each of your employees. Ron, Mitsy, and Jan are exceptional people. We enjoyed our interaction with them all. Our spot was amazing. The campground was clean with lots of activities to do right on the grounds. We will surely recommend your KOA to our friends. We will hopefully see you in the spring. See you then.
Nov 24, 2020
Clean facility, friendly staff. Lots of activities for the kids and family.
Nov 24, 2020
Friendly staff. Relaxing landscape! I'd stay every time I came thru.
Nov 23, 2020
Had a great stay at Circle Pines KOA - as always! Was so excited to be able to camp in November :) Ron was such a great help with our propane. Can't wait to go back.
Nov 23, 2020
Was celebrating our anniversary went to Bearzona, Grand Canyon and spend a full day Williams . Was a beautiful place to see as well as the camp ground everything was nice and clean. Everyone from staff to campers where very kind and respectful . Can't wait to go back . I already told my family about you guys we will be going next year as a family trip . Thanks again Happy holidays
Nov 23, 2020
Clean, super friendly staff
Nov 23, 2020
We loved the pine setting. The cleaniless of the pool and bathroom areas.
Nov 22, 2020
The facility was very nice but in the morning when we went to the office to ask questions the lady there was extremely rude. Very poor service. If it wasn't for that I'd have given it 5 stars.
Nov 22, 2020
Very cute KOA among tall pines. Campground had lots of amenities and very clean
Nov 21, 2020
Beautiful park amidst the Pine trees. Easy access and nice spot to spend two nights and see the Grand Canyon. No problems. We loved the train whistles all night!!
Nov 19, 2020
One if the best KOA sites ever! Everything was perfect!
Nov 19, 2020
Beautiful campground and nice staff. Wish the office had stayed open until 6pm.
Nov 19, 2020
Just a quick overnighter, but going back when it warms up a bit.
Nov 28, 2020
Great place to stay. Very clean and the staff very friendly and helpful. Easy check in as we arrived after the office was closed. Spent Thanksgiving there and enjoyed our stay. We are lookin forward to coming back. Close to attractions and things to do with the family. .
- cindy luna on Google
Nov 21, 2020
Really liked this one. MUCH bigger than most KOAs sites very spacious. Shady and we'll done. Wish we could have stayed longer.
- Sandi Wicklund on Google
Nov 21, 2020
Always a great time at Circle Pines KOA. Our go to camping spot!
- Michelle Winegard on Google