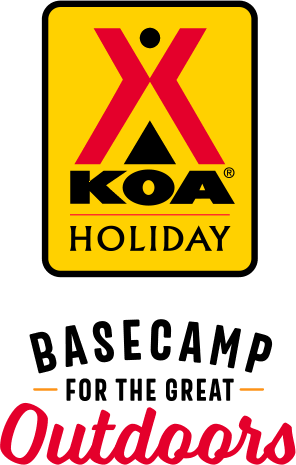 KOA Holiday Campgrounds
Whether you're exploring the local area or hanging out at the campground, KOA Holidays are an ideal place to relax and play. There's plenty to do, with amenities and services to make your stay memorable. Plus, you'll enjoy the outdoor experience with upgraded RV Sites with KOA Patio® and Deluxe Cabins with full baths for camping in comfort. Bring your family, bring your friends, or bring the whole group – there's plenty of ways to stay and explore.
KOA Holidays Feature:
RV Sites with a KOA Patio®
Deluxe Cabins with full baths
Premium Tent Sites
Group meeting facilities
Jun 16, 2021
We stayed in a pull through patio site and loved it. All of the amenities on site are just wonderful. The Go-Kart track is amazing and the mini golf is well maintained and fun. The bike path going around the playground and jumping pillow is a great touch as well, and the KOA store is well stocked! We really enjoyed our stay and will be back if we return to the area.
Jun 16, 2021
The people working at this site were amazing! We had such a great time and everyone was so friendly and helpful.
Jun 16, 2021
Our stay was great , everyone was so nice , we stayed in one of the cabins for a second time. Was nice to be able to take the jeep out on some trails right outside the campground.
Jun 16, 2021
Nice campground with great access to RT. 66 and to the Grand Canyon.
Jun 16, 2021
This RV campground was simply amazing! It was quiet, clean, friendly staff, close to town/Grand Canyon and most importantly for us offered SO much for our kids to do. There wasn't a favorite activity they did but they did try everything! We will be back someday and we will be recommending this place to others with kids.
Jun 16, 2021
Amazing experience we will be back. Everyone was extremely helpful and the campsites are well taken care of. Plenty of space between sites.
Jun 15, 2021
Very nice family park. Enjoyed our stay.
Jun 15, 2021
Our AC didn't work in our cabin, but stay tried to make it comfortable. All staff except Mitzi is amazing. Mitzi is so rude.
Jun 15, 2021
Awesome, thanks
Jun 15, 2021
One of our cabins was not available until after 3. Otherwise was an awesome stay. Friendly staff.
Jun 15, 2021
My husband and I have stayed here multiple times in the last few years with our grandchildren. Although it has a lot of things to offer for the kids to do, everything has been steadily going down hill. In a nutshell, customer service and friendliness is gone and nothing is being maintained as it should.
Jun 15, 2021
One of the best kid friendly KOA's in AZ. Our son had a blast. Great staff and well kept grounds. Our site was nice and level, although we did see some others that were not, but didn't look like they had to level too much.
Jun 15, 2021
Great quiet. Late check in. No issues
Jun 15, 2021
The campground is clean and organized. We had made the reservation for two of us but at the last minute we had our 4 granddaughters to take with us. Perfect place for the kids. Tons to do for them and we were there for a car show in Williams. Our site held 2 trucks and they had a nice place just down the way for my trailer. We will definitely be back next year.
Jun 15, 2021
It was nice. Friendly & helpful staff. Just wish I'd known the Gocarts weren't open Mon-Thurs, as our grandson was only able to stay Sun-Wednesday, the days this was closed. Very nice place to stay though & visit other places.
Jun 15, 2021
Very friendly and accommodating
Jun 15, 2021
Very irregular sites. Takes some work to get your trailer level
Jun 15, 2021
So much better than the other KOA just a few miles away. Can't believe they have the same owner. Everything is run top notch. Checking in very well organized with nothing but professional curious employees everywhere. Bobby let us check in early because we were having mechanical issues with our tow vehicle, she showed great concern and did everything to help us get back on the road safely.
Jun 15, 2021
Really enjoyed our stay. The amenities are great and the prices are reasonable. If I have one complaint it is only that the WiFi was really awful. A big reason why we stayed here was because of the "free WiFi" but it pretty much didn't work the entire time we were there.
Jun 15, 2021
We absolutely Love this park! There is so much for the grandkids to do right on site plus great attractions close by. All of the staff is so friendly and helpful and the gal that cleans the restrooms does an amazing job!
Jun 15, 2021
The staff was very friendly and helpful, and attentive to my needs. The site was clean, well maintained and quiet! Keep up the good work!
Jun 14, 2021
Had a great stay But pool and spa was very dirty Temperature in spa was 96 Plus they allowed kids in the spa The restaurant's food was very poor Last year it was very good
Jun 14, 2021
Only problem our cabin was not ready till 3 pm.
Jun 14, 2021
Everything was great up until our last night. A guy riding around on a golf cart flagged me down as I was driving to the bath house. He was rude; corrected me for going the wrong direction (which was fine, but he didn't correct anyone else doing the same thing), he asked where my pass was and if he could help me;I informed him it was in my RV as to where I was told to place it when I checked in.
Jun 14, 2021
We loved it here at circle pines! Staff was so nice and friendly very clean park so much for the kids to do like go karts, horse back ridding great play area. It was close enough to the Grand Canyon just over a hour away. The only down side I have to say is the dust it all gravel except for the entrance it was super dusty but that won't stop us from returning! Great place!
Jun 14, 2021
The owners were accommodating my friend and I camped there we were attending the historic Williams car show so we had more vehicles than we should have.The owner didn't give us a hard time nor charged us extra,the owner and awesome staff made our stay absolutely great.
Jun 14, 2021
We loved it! Nice amenities for everyone. The restrooms were always clean. The help were friendly, caring and helpful and helped you ASAP. It was also very close to the deer feeding park and Bearizona and Williams. We went to all these places and it was very conveniently located. The only reason I wouldn't rate it a 10 is the freeway noise. Also the pool is old and could use a makeover.
Jun 14, 2021
The staff was amazing during a stressful time. Over the top helpful. Great place to take the kiddos with lots of things to keep them busy and active for all ages. Pet play area was nice and big for the pups to have off leash running space. Well kept facilities. Mostly we stay at state parks or boondocks so not used to camping in our tiny trailer close to other campers. Highway noise was a bummer
Jun 14, 2021
For us, it was a quick one night stay. The amenities were great!! loved the dog areas and how clean everything was. The staff I encountered were very helpful!!
Jun 14, 2021
My favorite Campground so far. Did not want to leave!
Jun 13, 2021
Campground was clean & staff friendly. Sites are a little close but OK. Nice shade trees. Some vehicles travel over the posted speed limit & kick up a lot of dust but not the fault of the KOA. There is some noise from interstate traffic & trains but it didn't bother us. Our grandkids enjoyed the playground & go carts. It was a multiple family trip & we all enjoyed our time there.
Jun 13, 2021
The cabin was cute, double bed was tight, a queen would have been better, and a coffee maker too. I assumed a full kitchenette but only fridge and microwave. We made it work but it was a bit expensive for that. I will be reserving one for next year, just be better prepared. Love porch swing!
Jun 13, 2021
Always a great stay at circle pines!
Jun 13, 2021
Staff was helpful and friendly.
Jun 13, 2021
Best part: Quite, Close to Williams, but away from noise, traffic, Facilities clean, Laundry great. Staff very friendly and helpful. Some food items stocked in camp store. Great playground for kids, (we did not have children with us). Worst: camp ground is on a slope ,most sites appeared leveled, ours wasn't. After leveling camper, we had to use a step stool just to get on the camper step.
Jun 13, 2021
We were a stop and go, but this would be a Fantastic location for families with kids. Lots of amenities.
Jun 13, 2021
Loved everything about this site!! Lots of trees, friendly staff. The kids had so many activities to do. We will definitely be back.
Jun 13, 2021
The whole family was there . Some rented camping spaces, others RV spaces , and we and another members rented cabins. We are all very satisfied with your facilities and prices.
Jun 13, 2021
Wish I had known about this camp site before I booked the one only slightly closer to the Grand Canyon. This one was much better. Plenty of fun opportunities for the kids and the lodging was perfect. Only thing that could have been better is having the go karts and meal options available more than just Thurs-Sun. Would definitely stay there again.
Jun 13, 2021
Beautiful as always! Food at the cafe was great! The staff is very helpful and accommodating.
Jun 13, 2021
This RV park is always friendly and someone is always there to help you to your spot. We love staying here!
Jun 12, 2021
Great campsite, friendly staff, lots to do for the kids. Our only recommendation to make it better would be that the showers be a kept a bit cleaner.
Jun 12, 2021
Had a great time! Your campground is clean and very well maintained. The staff was wonderful, Ron Poe was like having family welcoming us home! We enjoyed the hiking, horseback riding, golf carts and my grandson even got me on the jumping thing …had a blast! Thank you, thank you, thank you for a great family vacation!
Jun 18, 2021
Lots of fun, great staff
- John Alpers on Google
Jun 17, 2021
Arrived late did their best to accommodate us on short notice Will definitely return.
- MARY DELGADO on Google
Jun 15, 2021
A beautiful camp very close to the grand canyon!
- Carl Jr Ruggeri on Google