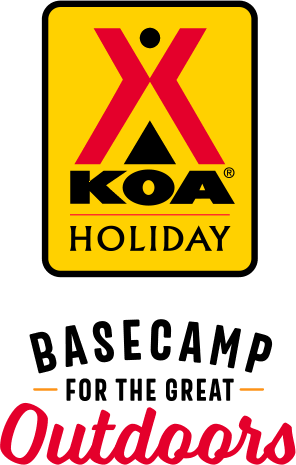 KOA Holiday Campgrounds
Whether you're exploring the local area or hanging out at the campground, KOA Holidays are an ideal place to relax and play. There's plenty to do, with amenities and services to make your stay memorable. Plus, you'll enjoy the outdoor experience with upgraded RV Sites with KOA Patio® and Deluxe Cabins with full baths for camping in comfort. Bring your family, bring your friends, or bring the whole group – there's plenty of ways to stay and explore.
KOA Holidays Feature:
RV Sites with a KOA Patio®
Deluxe Cabins with full baths
Premium Tent Sites
Group meeting facilities
Directions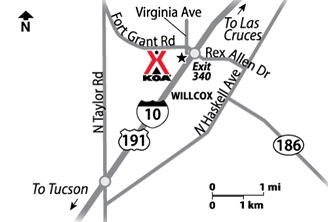 Exit 340 off I-10. From the west: Turn left; left again at 2nd light onto Virginia Ave, just beyond Super 8.
From the east: Turn right; take immediate left onto Virginia Avenue.
Get Google Directions
Feb 08, 2021
This may be the nicest KOA I have ever visited. The people were friendly, the facilities were exceptional. I will definitely stay here again.
Feb 07, 2021
Great service and amenities. Very helpful staff. Only downside is the freeway noise. The upgraded spot with swing and barbecue and fire pit is nice.
Feb 06, 2021
Great camp area and services. Very easy access to the 10 and great staff.
Feb 06, 2021
Nice and neat. Friendly staff. Easy access. Would definitely stay again
CAMPGROUND RESPONSE / COMMENTS:
We will look forward to your next stay. Thank you.
Feb 05, 2021
We stayed a month and this was one of the best KOA's we have stayed at. The sites were big and long for a big 42' 5th wheel. The staff was amazing and tithe Cafe has great food. Wilcox has a lot of history in it's historical downtown are only a few miles away. A lot of other places to visit within an hour away, Tumbstone, Bisbee, Tucson, Benson. A few National parks as well.
Feb 05, 2021
3rd time staying there. Great place good stopping point.
CAMPGROUND RESPONSE / COMMENTS:
WOW! Thank you for coming again and again. It says we are doing something right. Safe journey, lloing forward to your 4th visit.
Feb 03, 2021
Very nice campground with excellent staff. Could not have worked with a better group of people.
Feb 03, 2021
Nicest place I've ever stayed. Friendly and very professional staff.
Feb 03, 2021
Stayed for just one night - as all ways staff was great. Ordered a pizza from the cafe - arrived hot. Will stay here again.
Feb 03, 2021
This is an immaculate campground and would stay over and over. The bathrooms are incredibly clean. We love this KOA and the folks running it are so nice.
Feb 03, 2021
Great staff, easy access from the interstate, easy to get into the level sites, the on site restaurant is delicious. Very nice campground
Feb 02, 2021
Clean bathrooms, helpful employees, nice restaurant .
Jan 31, 2021
The good thing about the KOA is the easy way to get off interstate and back on. The bad is the traffic noise but the people make the stop. Will plan to stop again when in the area.
Jan 31, 2021
The park was beautiful and the staff is amazing. We had breakfast in the restaurant and the food was delicious. I would definitely recommend this KOA to anyone and can't wait to return!
CAMPGROUND RESPONSE / COMMENTS:
Thank you so much for your great review and look forward to your next visit.
Jan 31, 2021
Very clean campground �ϋ�
CAMPGROUND RESPONSE / COMMENTS:
Thank you!
Jan 31, 2021
Friendly staff. Clean. Kafe food good. It's a small KOA, sits directly next to I-10������ Horribly noisy 24 hours!! Would not stay here again....there's a beautiful State Campground Kartchner Caverns in Benson, 36 miles away ������ Unfortunately we discovered after our stay.
CAMPGROUND RESPONSE / COMMENTS:
Thank you ever so much for your great review on our staff, clean campground and kafe. So sorry you didn't realize we were right on I-10, although I think it is easy to see when you arrive. We try not to tie our guests to their site. We would prefer happy RVers to unhappy RVers.
Jan 30, 2021
Nice folks, nice place. A little noisy from highway but oh well.
Jan 30, 2021
Nice camp ground lots of room the people are very nice
Jan 30, 2021
Very clean. People helpful and friendly. Right off the fwy for quick overnight camping while traveling. If there is a downfall, people needing complete quiet may have issues with fwy noise. I really heard nothing much after closing the doors. A very pleasant night.
Jan 30, 2021
I was not that thrilled to be within a few dozen yards of the Westbound lanes of I-10. I was called to make sure I knew this in advance, but the approach taken by KOA was to offer me a more expensive site option, not to price the site based on relative value. While I appreciate being warned in advance of arrival, the offer to upgrade at a premium was not good customer service in my opinion.
Jan 30, 2021
No fuss no muss, got us in for 1 night no problems
Jan 28, 2021
Beautiful scenery, helpful friendly staff, good food!
Jan 27, 2021
Loved it here, friendly staff, nice big clean sites. Kafe had great food!
Jan 27, 2021
Loved it here, friendly staff, nice big clean sites. Kafe had great food!
Jan 27, 2021
Loved it here, friendly staff, nice big clean sites. Kafe had great food!
Jan 27, 2021
We stayed two nights. We found the staff to be very friendly and the facilities to be very clean. It was also quite peaceful even though it was located right off the highway.
Jan 26, 2021
Good stay great staff the owner was the best
Jan 25, 2021
Mike and Bob were very friendly and helpful hosts/workers. Campground was clean and well taken care of with nice gravel covering the grounds. Site #35 had a tree in the way of our slide and Mike quickly got us moved to site #36. This campground is big rig friendly. The only drawback is the highway noise is loud being so close to HWY 10.
Jan 25, 2021
Was a great stay. Great location, Very clean and friendly staff. Would stay again.
Jan 25, 2021
Reservation system went well. Requested a satellite friendly spot with reception very good. Entire grounds was a well manicured gravel area with no holes or dips, nicely compacted. Pull into the spot was very easy with the escort person. We did not use the facilities as we are self contained. Entire camp ground had the look of being very well maintained. We would stay again.
Jan 24, 2021
We love this park. Cafe is great. Had dinner. Last stop we had breakfast. Both very good. WiFi is great. We met new owner on one of our previous visits & he said it cost a pretty penny but knows how important it is. We normally do overnights but have on occasion stayed a few days to visit sites. Lots to see & do in the area. Good steak house in town last time we were here. Definitely recommend.
Jan 23, 2021
Office staff and Covid guidelines followed however the restaurant did not enforce mask wearing
Jan 23, 2021
Great sites easy access to National Monument
Jan 22, 2021
Park was okay.... site is very plain with gravel and uneven. The WIFI and cable did not work. We were there for only a stop over so we did not make an issue of it. Park staff were very friendly.
Jan 22, 2021
Very clean campground and laundry. Well supplied store. Friendly helpful people working there. Love having dinner delivered to our site. Only negative is road noise which can't be helped
Jan 20, 2021
Very good stay. Friendly staff.
Jan 20, 2021
We were towing a trailer behind our 5th wheel so we needed a long site. I called about 30 minutes before we arrived to get a reservation and by the time we had arrived they had selected a couple sites they thought would work, took us to check them out when we arrived and so we had no issues. Super nice people, nice long level site, and the entire place was very well maintained.
Jan 18, 2021
We really were impressed with the cleanliness of the place and the friendliness of the staff. Special recognition goes to Mike and Trish who helped us so much with hooking up the TV and recommendations. We will definitely return to this place. Also the dog park was super nice and roomy with toys for the fur baby.
Jan 18, 2021
Very clean and organized. All points of hookup were in good working order. Extremely friendly and helpful staff. This will definitely be our place of choice in this area from here on out.
Jan 18, 2021
Really clean spacious lots .. good dinner
Jan 18, 2021
Excellent campground excellent friendly staff appreciated breakfast at the restaurant in the morning!!!
Apr 18, 2021
Muy limpio
- Jesus Montana on Google
Apr 18, 2021
Friendly staff. RV sites roomy and level, restrooms VERY clean! Would definitely stay there again!
- Janice Reeve on Google
Apr 14, 2021
Great staff nice park
- Tony Peterson on Google