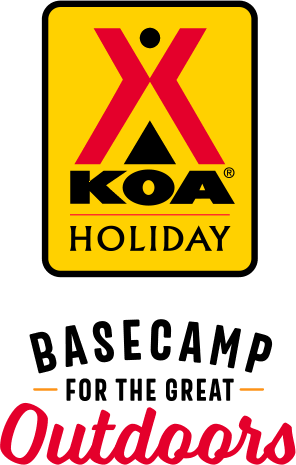 KOA Holiday Campgrounds
Whether you're exploring the local area or hanging out at the campground, KOA Holidays are an ideal place to relax and play. There's plenty to do, with amenities and services to make your stay memorable. Plus, you'll enjoy the outdoor experience with upgraded RV Sites with KOA Patio® and Deluxe Cabins with full baths for camping in comfort. Bring your family, bring your friends, or bring the whole group – there's plenty of ways to stay and explore.
KOA Holidays Feature:
RV Sites with a KOA Patio®
Deluxe Cabins with full baths
Premium Tent Sites
Group meeting facilities
Directions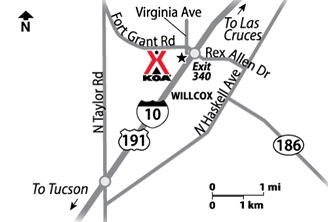 Exit 340 off I-10. From the west: Turn left; left again at 2nd light onto Virginia Ave, just beyond Super 8.
From the east: Turn right; take immediate left onto Virginia Avenue.
Get Google Directions
Apr 05, 2021
Friendly staff, clean, no make that CLEAN restroom, well kept grounds, great on-site restaurant. After a long day of driving, great place to spend the night. Stayed twice... will be back!
Apr 01, 2021
Lovely, quiet campground. Tent sites were situated away from the RVs and playground. Super clean facilities and friendly staff. Great service and food at the Roadrunner Kafe.
Mar 17, 2021
My first stay at a KOA. It was pleasant. The staff were helpful.
Mar 14, 2021
Awesome clean bathrooms fun recreation room with games a great pool and hot tub amazing employees really nice tent campsites great ice cream at the cute restaurant great dog park we had a terrific 3 day vacation thank you for making it a wonderful trip to Arizona!
Mar 08, 2021
Very clean bathrooms/shower and campgrounds. Very nice and helpful staff.
Feb 27, 2021
We truly enjoyed our stay here. Every single staff member was polite, helpful, and friendly. The Roadrunner Kafé was a really nice benefit as well! We will definitely stay again when we're in the area!
Feb 23, 2021
great place to stay and catch up on rest/get laundry done/take a shower and have a hot meal after camping and backpacking sites with no amenities! super easy and affordable and the staff was wonderful.
Feb 22, 2021
great time, staff were very helpful and friendly
Feb 14, 2021
Great experience all around, great staff. Close to the 10 for tent campers but I would camp there again !!!
Jan 09, 2021
Amazingly nice staff and very very clean. Had an overall wonderful experience. I will be back!
Dec 29, 2020
I would give it 5 stars except for the fact that I am not leaving town until after January 5th, because of their policy of 14 day maximum stays, I am now staying at their competition until I leave. It must be great to have enough money to turn business away considering this establishment is only filled to about 15-20%capacity. They basically, because of this policy, threw away $300 in net profit.
Dec 16, 2020
Check "Google maps" for the review I wrote yesterday. I know you will be pleased with it, also, I have already informed the owner that I plan on staying here until after New year's day.
Nov 24, 2020
Campground facilities are excellent. Staff was great
Nov 18, 2020
Staff friendly, everything was clean. Would recommend.
Oct 30, 2020
Pleasant staff, very comfortable, safe park. Extremely clean facility.
Oct 23, 2020
Place was very clean and quiet. Staff members were courteous and polite. Originally booked a tent site with water and electricity, but upon arrival found out that there was no electricity hookup available on my site (Site T2). This was crucial to my trip since I had eBikes to charge up. The clerk in the cafe was extra helpful in answering my questions though so that helped. I'd book again. :)
CAMPGROUND RESPONSE / COMMENTS:
Thank you for nice review and we are glad you will plan to stay with us again. All of our tent sites have electric and I am so glad one of our staff was able to help you. Enjoy your trip by car and have fun on your ebikes!!
Oct 09, 2020
Extremely Friendly Staff, Road Runner Cafe had Great Food at an affordable price, definitely a KOA worth visiting! Wish we had more time to enjoy the area.
CAMPGROUND RESPONSE / COMMENTS:
We hope you will come back another time to explore the wonders of Cochise county there is so much to do. It is so nice to know you enjoyed your stay in one of our deluxe tent sites and had great food in the Roadrunner Kafe. We love to know we are definitely a KOA worth visiting. Safe Travels.
Oct 07, 2020
Nice property enjoyable staff. Very clean great food.. Thank you guys
CAMPGROUND RESPONSE / COMMENTS:
Thank you back for the nice comments. So glad you enjoyed our staff and your tent site. It is great to hear you were also a fan of the Kafe. It was our pleasure having you stay with us. We look forward to having you stay with us again.
Oct 06, 2020
Very noisy, not much to do
Oct 02, 2020
We were originally going to stop for one night, ended up staying a week. The restaurant under management of Spiro and his wife Allie are doing a fantastic job of making this restaurant more than just fast food. They fixed my wife and I a special dinner for our anniversary. The owner Joe Ben and his wife joined us in our celebration. This is one special KOA. Joe Ben has done an outstanding job.
CAMPGROUND RESPONSE / COMMENTS:
WOW - intended to stay one night but ended up staying a week - thank you. Yes - Spiro and Allie work very, very hard to make the Roadrunner Kafe a great addition for our campground and for our community. Our entire staff takes pride in making this the Special KOA you enjoyed.
Sep 13, 2020
Place was very well kept. Probably nicest place in the town. Bathrooms were nice and clean. Freeway noise wasnt too bad. The only employee i seen was wearing a mask but campers ignored all the signage. Would definitely stay here again. Good job. Real nice place.
Aug 15, 2020
Fantastic place. VERY CLEAN and very heartwarming surroundings. The owner was very nice and the KAFE' was delicious. You have to stay here and we will come back.
CAMPGROUND RESPONSE / COMMENTS:
WOW - thank you for sharing such wonderful feedback on your stay with us. We sincerely appreciate you providing others with such valuable insight about our campground and Kafe. We will look forward to seeing you again. Until then we hope the rest of your trip is just as fantastic.
Jul 29, 2020
Very clean, well organized and great service.
CAMPGROUND RESPONSE / COMMENTS:
We sincerely appreciate you providing other potential tent campers with such valuable insight. Thank you for staying with us and we look forward to see you again the next time your are traveling through southern Arizona.
Jun 28, 2020
Super clean, modern amenities, friendly people. Thank you.
May 09, 2020
My wife and I were just looking for a place to park and sleep for a few hours but once we pulled up to Wilcox/Cochise KOA we got so much more than we were looking for. This place is so nice, clean and FRIENDLY. We are planning on driving more between Calif and Texas to see our new grand kids and this will be our stopping point on the way out and back. We may take a couple days to look around.
May 03, 2020
Friendly staff, clean facilities, good food, close to Chiricahua for visiting but not great for tent campers. Too close to the highway lots of noise, pad was hard to hammer in stakes.
CAMPGROUND RESPONSE / COMMENTS:
Thank you for your nice comments about our staff, facilities, and restaurant. I am so sorry to know, now, that you were unhappy. We would have been more than happy to help you find a campground more to your liking rather than have you give us a negative rating over the highway, which we can do nothi
Mar 25, 2020
Very friendly. Great WiFi.
Mar 02, 2020
Great place - interstate noise 'overrated' :) ..I had my small rig in a tent site and only distant 'rumbles' of truck heard. Clean, friendly, great wifi!!
Feb 19, 2020
Fantastic! Wonderful people! Easy access! Sorry I had to leave so soon! Great little store! Super clean and bright! Love you, Sally J.
Feb 19, 2020
Awesome group of staff at this KOA. Very nice and very helpful. Great little cafe on site that stays open til 8pm and opens at 6am. Good food too!!! Bathrooms/showers were lovely, can't remember the last time I called a KOA shower lovely!!!! Owner circles the table to visit with you and a very nice couple from New York that are full of information about the Wilcox area. Thank you Wilcox staff!
Apr 18, 2021
Muy limpio
- Jesus Montana on Google
Apr 18, 2021
Friendly staff. RV sites roomy and level, restrooms VERY clean! Would definitely stay there again!
- Janice Reeve on Google
Apr 14, 2021
Great staff nice park
- Tony Peterson on Google