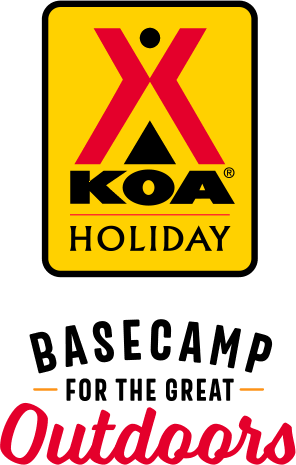 KOA Holiday Campgrounds
Whether you're exploring the local area or hanging out at the campground, KOA Holidays are an ideal place to relax and play. There's plenty to do, with amenities and services to make your stay memorable. Plus, you'll enjoy the outdoor experience with upgraded RV Sites with KOA Patio® and Deluxe Cabins with full baths for camping in comfort. Bring your family, bring your friends, or bring the whole group – there's plenty of ways to stay and explore.
KOA Holidays Feature:
RV Sites with a KOA Patio®
Deluxe Cabins with full baths
Premium Tent Sites
Group meeting facilities
Directions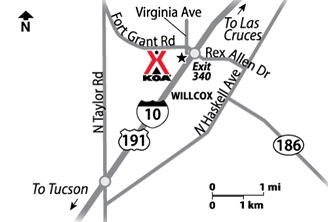 Exit 340 off I-10. From the west: Turn left; left again at 2nd light onto Virginia Ave, just beyond Super 8.
From the east: Turn right; take immediate left onto Virginia Avenue.
Get Google Directions
Apr 04, 2021
Very clean, Roadrunner Cafe excellent as well....
Mar 31, 2021
Friendly, welcoming, you could tell they were smiling even with a mask - Every single staff member. They were readily available if needed. Clean restrooms. Clean cabin.
Mar 30, 2021
Oh my, we loved it! Every person working there was so friendly. The Road Runner Cafe right there had great food. We walked, sat around the fire pit, and ate on the patio. The bathrooms were outstanding. Up dated appearance, sparkling clean, and a great shower. We stayed leaving the state, and coming back in to Arizona. We are planning a trip out that way again.
Mar 29, 2021
Wonderful stay!!! The cabin was perfectly clean and ready to use. The restaurant and amenities were superb. The staff was welcoming, friendly, helpful, inviting, and made us feel like we were part of their family. We look forward to returning in the future.
Mar 07, 2021
It was great! We loved the area and although the campground was near a Highway, the cabin was tucked away enough to provide privacy!
Mar 01, 2021
We stayed at your K1 Kabin. Worked well.
Feb 22, 2021
i would like the deluxe kabins added back into the online reservation process.
Feb 15, 2021
Fantastic amenities, a beautiful site, and excellent customer service. Every staff member we had an interaction with was a great ambassador of their KOA and the greater Willcox area.
Feb 09, 2021
This location is very clean and the staff is very helpful. The on-site cafe dis very good and can deliver meals to your site. We stayed in the primitive cabin and enjoyed the mini fridge and Tv. We will be back.
CAMPGROUND RESPONSE / COMMENTS:
Thank you for your nice comments. We are so glad you enjoyed your stay in our cute primitive cabin and we are so happy you took advantage of our Kafe delivery. We look forward to seeing you can soon.
Jan 01, 2021
We had a great time celebrating Christmas Eve with our family at your campground!
Dec 17, 2020
Staff was very friendly and accommodating. Thank you
Nov 30, 2020
Everyone was super friendly & helpful
Nov 03, 2020
My family (2 adults,1 teen and 1 toddler) had a wonderful time in Wilcox, AZ, due in large part to the wonderful KOA campsite & its employee, including the staff & food @ the Roadrunner. We stayed in a 2 bedroom cabin which was new, clean & beautiful inside and out. The KOA staff were all so accommodating and friendly. We will be back in October 2021 for our family's fall vacation!! Thank you KOA!
Nov 01, 2020
We enjoyed our stay in the Deluxe Cabin! The food in the Kafe was great and the staff was very nice. We will definitely be back.
CAMPGROUND RESPONSE / COMMENTS:
We couldn't be happier to hear you had such a wonderful stay in one of our Deluxe Cabins. It was a pleasure having you, and it's great to hear you were a fan of the friendly service, Kafe and facilities. We can't wait to have you back again soon.
Oct 29, 2020
"GREAT STAY"
CAMPGROUND RESPONSE / COMMENTS:
So great to hear your stay in our camping cabin was to your liking. If you are ever in our area again we would loved to have you stay again. Enjoy your trip. Safe travels.
Oct 26, 2020
Cozy, comfortable cabin. Loved the porch with the swing and the outdoor sitting area with a fire pit. The staff and owner there were so nice and helpful. The only drawback was the noise from the freeway which they cannot control. Otherwise everything was very enjoyable!
Oct 11, 2020
We stayed 3 nights in a deluxe cabin. Everything was spotless and the people were very friendly and helpful. Thanks for a very nice first visit to Willcox.
Oct 05, 2020
I booked here thinking it would be a change from hotels. I didn't realize that when booking a cabin that "sleeps four", that I was only renting the space and that I would have to pay for the 4 people that were going to use it. and pay for an extra vehicle to park nearby. Cost was the same as a hotel but didn't even have a bathroom. not sure I would ever do it again.
Oct 03, 2020
Our cabin that we stayed at was perfect in every way.
CAMPGROUND RESPONSE / COMMENTS:
We are so glad you enjoyed your stay in one of our deluxe cabins. We all thank you for your compliments and hope you will stay again the next time you are in Willcox.
Oct 01, 2020
Everything about this location and the cabin were wonderful. Clean, more than accommodating. Beautiful restroom and shower facilities. The restaurant/cafe had good food and reasonable prices, as well as a fantastic and hard-working owner and staff - a local place for coffee it was fun to interact with people in this comfortable friendly place.
Sep 28, 2020
Staff was excellent. Facilities were immaculate. The cafe was delicious and reasonably priced. Conveniently located near stores to resupply and Apple Annie's for fun.
Sep 26, 2020
We've stayed here before. Staff is always nice, and very clean cabin. The Roadrunner Cafe was fabulous.
Sep 22, 2020
Wonderful, Clean, Safe. Very comfortable. We hope to stay again!!!
Sep 21, 2020
We really enjoyed our stay. It got a little noisy at night due to the activities in town, but it was enjoyable. The cabin we stayed was real nice. Only problem we had was the door squeaked each time it was opened. Will plan to go back in the future.
CAMPGROUND RESPONSE / COMMENTS:
So glad you enjoyed your stay. Will make sure to have the door lubed. Thanks for letting us know.
Sep 14, 2020
Gave us a extra email to inform us about coming in late and how to still find our registration and cabin! Thanks much!
Sep 11, 2020
Excellent stay at KOA-Willcox! Will definitely stay again!
Sep 04, 2020
Very clean and tidy campground with a marvelous restaurant!! Sparkling bathrooms!
CAMPGROUND RESPONSE / COMMENTS:
WOW 5 stars! Very clean, tidy, marvelous restaurant and Sparkling bathrooms. We are thrilled to know everything met with your satisfaction during your "staycation" in our cute camping cabin. We look forward to your next visit.
Sep 01, 2020
Super friendly welcoming staff.. Ultra accommodating. Nice clean facilities. I loved our little cabin.
Aug 16, 2020
Though we can in after hours, the staff we met was friendly and welcoming. Our little cabin was clean with nice touches. The campground was clean and the bathrooms were too! Thank you for making our short stay comfortable.
CAMPGROUND RESPONSE / COMMENTS:
So glad you had a 5 star stay in our cute camping cabin. Our staff takes pride in keeping the campground in excellent condition. Thank you for noticing. We hope you will join us again in the near future. Wishing you continued Safe travels.
Aug 10, 2020
Amazing staff, clean, peaceful
CAMPGROUND RESPONSE / COMMENTS:
So glad your family enjoyed your stay last weekend in our deluxe cabin. We hope you will join us again when you want to get away from the hustle and bustle of Phoenix. Thank you for your nice comments and 5 star rating.
Aug 08, 2020
Really nice facility and friendly staff.
CAMPGROUND RESPONSE / COMMENTS:
You are very kind. Thank you and please stop back again - soon.
Jul 19, 2020
Everything was super clean, very well organized, and excellent personal attention from front desk staff given, and great amenities! Our one recommendation would be to have the pool stay open later than 7pm. It's hot hot hot in AZ, and after a long day of travel only got to enjoy for about 25 minutes with our 3 kids who desperately needed to cool off and get wiggles out.
Jul 13, 2020
Staff was very friendly and helpful! Beautiful place to stay and kid friendly. Had an amazing time and hope to be back soon!
Jul 11, 2020
Wonderful stay, cabins were perfect for our family. It was nice to have a store and restaurant on the property. The pool and spa were perfect. Great location.
CAMPGROUND RESPONSE / COMMENTS:
Thank you for providing such a wonderful review. We truly value the feedback of our Guests. Each of us appreciate you taking the time to give us these wonderful compliments and hope to see you again in the near future.
Jul 09, 2020
Stay was very enjoyable; deluxe cabin had everything that we needed. Staff was friendly and helpful. Limited capacity for the pool due to COVID was annoying and prevented us from using the pool a few times. Food at the Cafe was good. Would definitely go back
CAMPGROUND RESPONSE / COMMENTS:
So glad you enjoyed your stay in one of our deluxe cabins and our Kafe. What can I say about COVID restrictions except so sorry we really have no control over the Governor. We will look forward to seeing you again.
Jun 08, 2020
We were pleasantly surprised on what a great little getaway this was for us. The site is very well kept and has everything you need. We stayed in a cabin and it was fully stocked with everything we needed and it was spotlessly clean. The staff and owners are very friendly and helpful. The pool and hot tub were open and also very well kept, we will be returning soon!
Mar 30, 2020
It was our 40th Anniversary and everyone (staff members) were nothing but kind, accommodating, thoughtful and considerate. The food was great, the staff was great, the campground was great, we were able to come and go as we wanted and do the activities that we had planned ahead of time. The DK1 was beautiful and comfortable. We really enjoyed it and will return again! Thank you for everything!!!
CAMPGROUND RESPONSE / COMMENTS:
It was an honor for all of us to be your hosts on your 40th anniversary. We are so glad to hear you enjoyed your stay, and we look forward to seeing you again soon!!
Mar 12, 2020
Everything was great, from the front desk staff to the food and staff serving the food. This was our 2nd year in a row coming back - what a nice place.
Mar 11, 2020
This was a delightful experience! Recent updates have kept the place clean and attractive! The staff were all super nice! The store was well stocked and even included unique gifts!
Mar 09, 2020
Quite pleasant. The staff was friendly and helpful, which we greatly appreciated.
Mar 03, 2020
We loved the deluxe cabin! It was clean, cozy, and well stocked. The only thing we didn't like was being right on the highway. But the park and the people were wonderful!!
Feb 27, 2020
Great place, clean. Very friendly owner who spent time talking with me over breakfast. They have a very good little restaurant on site.
Feb 25, 2020
best run koa! if the dk's had a small built in stove it would be perfect for us longer term kampers.
Jan 18, 2020
Noisy, noisy, noisy. They even have COMPLIMENTARY ear plugs. Clean , well kept. Little cafe onsite. Early crew was nice and friendly, evening crew, not so much. Dont think we will stay here again. Did I mention its NOISY?
Apr 18, 2021
Muy limpio
- Jesus Montana on Google
Apr 18, 2021
Friendly staff. RV sites roomy and level, restrooms VERY clean! Would definitely stay there again!
- Janice Reeve on Google
Apr 14, 2021
Great staff nice park
- Tony Peterson on Google