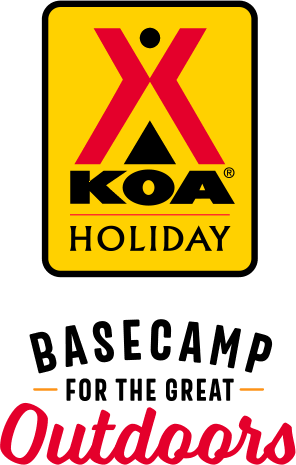 KOA Holiday Campgrounds
Whether you're exploring the local area or hanging out at the campground, KOA Holidays are an ideal place to relax and play. There's plenty to do, with amenities and services to make your stay memorable. Plus, you'll enjoy the outdoor experience with upgraded RV Sites with KOA Patio® and Deluxe Cabins with full baths for camping in comfort. Bring your family, bring your friends, or bring the whole group – there's plenty of ways to stay and explore.
KOA Holidays Feature:
RV Sites with a KOA Patio®
Deluxe Cabins with full baths
Premium Tent Sites
Group meeting facilities
Directions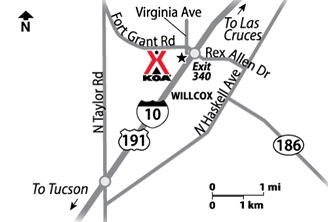 Exit 340 off I-10. From the west: Turn left; left again at 2nd light onto Virginia Ave, just beyond Super 8.
From the east: Turn right; take immediate left onto Virginia Avenue.
Get Google Directions
Mar 01, 2021
Our 3 night stay was perfect. Friendly staff, clean park, dog gy area was perefect for our 2.
Mar 01, 2021
A very well ran and maintained KOA. WiFi and cable TV are the best I've experienced.
Mar 01, 2021
Very friendly staff. They switched us to a space a little further from the highway and nice clean restrooms. We really enjoyed it, and weren't looking for a quiet forest stay, so it worked great for us. I would recommend it to my friends, but would need to make sure they were aware of the highway noise.
Mar 01, 2021
First time at the Wilcox location. As always ( been to a few different KOA) the site was clean, staff was friendly, and neighbors were nice. The food at the kafe was good with big serving and reasonable prices. Over all, it was a great weekend stay! Would stay again.
Mar 01, 2021
Great food and service at the Kafe. The campsite was clean and the workers were very friendly!
Mar 01, 2021
We thoroughly enjoyed our time there easy to find you clean easy to register since we came late the Brkfst was good Thank you for your service
Mar 01, 2021
We stayed at your K1 Kabin. Worked well.
Feb 28, 2021
Big sites, friendly staff, clean restroom. Too close to freeway..very very noisy.
Feb 27, 2021
We truly enjoyed our stay here. Every single staff member was polite, helpful, and friendly. The Roadrunner Kafé was a really nice benefit as well! We will definitely stay again when we're in the area!
Feb 27, 2021
Neat, clean, friendly, with good food delivered to your door. Very good upgrade to sites. Super clean.
Feb 26, 2021
Friendly folks, very clean grounds, great amenities.
Feb 26, 2021
We stayed three nights while we visited Chiricahua National Monument and Fort Bowie NHS. The campground was immaculate, the staff friendly and welcoming, and the weather was great. Aside from some freeway noise it was perfect. I give this KOA my wholehearted recommendation.
Feb 25, 2021
By far THE BEST KOA we've ever stayed at! Everything was spotless and the bathroom showers were the best ever. Restaurant food was good especially the burgers. I was most impressed with the fact that your staff thoroughly cleaned and sanitized each site as someone left. Thank you for making our stay so comfortable.
Feb 25, 2021
The staff was wonderful and the food was great. The whole family had a great time. We will definitely be back.
Feb 24, 2021
Great services. Very clean. Very enjoyable stay. Love the pull throughs
Feb 24, 2021
Very helpful staff
Feb 24, 2021
Everyone was so helpful. The on-site restaurant was perfect for coming back from exploring late in the day.
Feb 24, 2021
Super nice owners, staff and facility! We were only going to stay one night, and after talking to the owner about the Pecan farm down the street, the Totally amazing Chiricahua National Monument, and the Wineries, we decided to stay another day. The pool is clean, and so are the showers and laundry. You are very near the freeway, but if you get a spot near to back of the lot, you can hardly hearit
Feb 23, 2021
Perfect Exactly What I Expect from K O A Thanks so much
Feb 23, 2021
Very nice and hospitable folks.
Feb 23, 2021
We had a wonderful experience at the Willcox KOA. The owner and staff were so friendly. We were scheduled initially to stay for 4 days and we ended up staying for 10. The facility was extremely clean and their COVID cleaning protocol was outstanding. We will definitely stay here again and would recommend this park to anyone looking to stay in this area.
Feb 23, 2021
Love this KOA, the owners have worked so hard making this a great stay. We will be back soon!
Feb 23, 2021
great place to stay and catch up on rest/get laundry done/take a shower and have a hot meal after camping and backpacking sites with no amenities! super easy and affordable and the staff was wonderful.
Feb 22, 2021
i would like the deluxe kabins added back into the online reservation process.
Feb 22, 2021
great time, staff were very helpful and friendly
Feb 22, 2021
Staff was very friendly and accommodating
Feb 22, 2021
Easy access on and off I10(which is a blessing and a curse) due to noise from trucks . Besides that excellent friendly staff..nice cafe on property and a dog park as well
Feb 22, 2021
Super friendly staff and they have a great little restaurant.
Feb 20, 2021
Staff very friendly and helpful. Cafe has good food
Feb 20, 2021
Great place to stay more than just and overnight stop.. Staff is great and good food in the cafe.
Feb 19, 2021
Very clean and organized. Nice store
Feb 18, 2021
We really liked this campground. It was not fancy but the staff was helpful and friendly, full hookup sites were plenty large, the Roadrunner Cafe serves breakfast, lunch and dinner (our burgers and fries were very delicious), restrooms included showers were very clean, loved the little gift shop when you checked in, the camp store had a nice supply of RV necessities.
Feb 18, 2021
Everything great!
Feb 17, 2021
Great staff, clean restaurant is pretty good a little slow but food is good
Feb 17, 2021
The staff was very pleasant
Feb 16, 2021
The staff was amazing the restaurant was wonderful and the hot tub was awesome. The place was clean and tidy.
Feb 16, 2021
Everyone was welcoming, friendly, and helpful. Definitely planning a return trip when the weather is a little warmer to explore more of Cochise county. Loved the onsite cafe, great burger, great option when we didn't feel like cooking. Daughters loved the playground!
Feb 16, 2021
We stayed for almost two weeks to test out a new RV. They are putting a lot of work into the campground and the personnel are very nice. Highly recommend when you are in the area.
Feb 16, 2021
Super friendly and extremely helpful!
Feb 28, 2021
Mike and Trish were excellent camp host the best I've seen in a long time. I would recommend this KOA most definitely. You will not be disappointed.
- Ronald Kirk on Google
Feb 27, 2021
It's one of those individual places where you can be oneself and not be what's you are not your citizens friend Walter Brusic.
- Walter Brusic on Google
Feb 16, 2021
Looooooove the pizza here 😋
- Lindy Hinton on Google