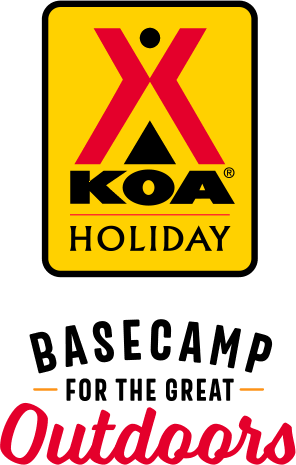 KOA Holiday Campgrounds
Whether you're exploring the local area or hanging out at the campground, KOA Holidays are an ideal place to relax and play. There's plenty to do, with amenities and services to make your stay memorable. Plus, you'll enjoy the outdoor experience with upgraded RV Sites with KOA Patio® and Deluxe Cabins with full baths for camping in comfort. Bring your family, bring your friends, or bring the whole group – there's plenty of ways to stay and explore.
KOA Holidays Feature:
RV Sites with a KOA Patio®
Deluxe Cabins with full baths
Premium Tent Sites
Group meeting facilities
Directions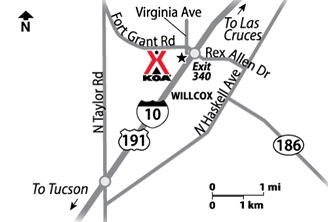 Exit 340 off I-10. From the west: Turn left; left again at 2nd light onto Virginia Ave, just beyond Super 8.
From the east: Turn right; take immediate left onto Virginia Avenue.
Get Google Directions
Apr 06, 2021
The staff was fantastic however we payed extra for a "premium" site and we were right next to the highway! They need to at least build a wall along the back there to try and reduce the noise, we could not enjoy our nice outdoor patio with all the traffic - way to loud. Otherwise it was a decent campground.
Apr 06, 2021
We have been used this park several times for an over night stop during our annual travel from CA to NM. This is our first visit since it became a KOA...what an improvement!! Very impressed with upgrades, staff and restaurant.
Apr 06, 2021
The check-in went smoothly. The site was clean, and all the services worked well. It was convenient to both Fort Bowie NHS and Chiricahua NM. After a long day hiking at Chiricahua, we enjoyed ordering dinner at the restaurant on site.
Apr 06, 2021
Everyone was friendly and helpful from registering on. It was especially nice to have the cafe and gift shop there.
Apr 05, 2021
Always love to stay here.Staff and owner are outstanding
Apr 05, 2021
Great campground with friendly and professional staff. Highly recommend.
Apr 05, 2021
Very clean and quiet. Everyone was very nice. Don't stay in a back in spot as they are close to the freeway. The pull through spots are all great.
Apr 05, 2021
Interstate 10 in your backyard is not inviting!
Apr 04, 2021
Sites were a good size. Very clean and safe. Food at Kafe was excellent! Younger staff running the restaurant and they were so friendly! Wish it would have been more than an overnighter. Would definitely stay again!
Apr 03, 2021
The campground, the staff, the facilities, were all excellent. Would Like to have some shade from trees. If Wilcox wasn't so bleak, I could see us planning another trip around that corner of the state.
Apr 03, 2021
Located right off the freeway yet little freeway noise. Easy access to fueling stations and the newer part of town. The restaurant on the property was awesome, with both great service, friendly people and good food. They'd even deliver to your site. Store was well stocked. All gravel sites and roadways, but little to no dust. Wide and long sites with easy access for big rigs. We'd stay again.
Apr 02, 2021
We were only there for 1 night but it was a very nice, clean park. Everyone was very friendly. Loved having the little cafe right there in the park.
Apr 02, 2021
From the minute we rolled up, till when we left, it was a great experience. Friendly office and grounds employees, and first time ever we were given a present for being vip members. The on-site restaurant delivered a very tasty dinner to us and very affordable. Would I stay again, you betcha. Big rig friendly, super long spots and a quiet night. Didn't hear any road noise.
Apr 01, 2021
The campground was tidy, the employees friendly and helpful and the WiFi signal was very strong. Highly recommend this KOA.
Apr 01, 2021
Excellent staff and RV facilities with all the appropriate amenities, but obviously everyone who stays here comments on its extreme proximity to Interstate 10 and the associated volume of the traffic noise of semi trucks 24-7.
Apr 01, 2021
Updated facilities made this KOA a great place to stay. Camp host were helpful and very friendly and grounds and bathroom clean. Close to Willcox made grocery shopping easy. Centrally located near Fort Bowie, Chiricahuas National Monument and Cochise's Stronghold makes it a good stopover for several days. Only drawback is that it's very close to a busy I-10. It's a little noisy.
Apr 01, 2021
Everything and everyone was wonderful!
Mar 31, 2021
Third time we stayed there, and we'll be back. Convenient location, nice people and nice place to stay.
Mar 30, 2021
Only a one night stay, but the place was very clean and well-kept, and the people were helpful and friendly. Thanks for a wonderful stop!
Mar 28, 2021
Nice clean, well maintained campground. Staff very friendly & helpful. Roadrunner Kafe is great.
Mar 28, 2021
Like most, was just traveling through. Park was fine for that, however it's so close to the interstate that you hear freeway traffic all night. If you are a light sleeper may want to ask for something farthest away from the interstate.
Mar 28, 2021
Salad at the restaurant was very good. Pool and picnic area looked clean, too cold to enjoy this time. The bathrooms were some of the cleanest and best we have seen even though they are not real large. Only two showers. We would definitely stay here again for an overnight.
Mar 28, 2021
Friendly staff immaculate restrooms and shower facilities.
Mar 27, 2021
My Kids loved your dump truck play area! We liked the "fire place" you provided outside our RV!
Mar 26, 2021
A nice, clean KOA; close to the vineyards, nice hiking nearby! Great little restaurant on site, great customer service, friendly people! We thoroughly enjoyed our stay! The Highway road noise is a bit much, but not a determining factor to us. Thank you KOA!
Mar 26, 2021
Unbelievable KOA!!! Nicest campground, store, restaurant & staff!!! Best ever!!!!
Mar 26, 2021
Going 400 miles in an RV isn't easy. We'd done that and planned on doing the same thing the next day. Details, details, details! My husband didn't get the lave water shut off so when I got up a couple hours later, I was walking in water. We spent the next day cleaning up water, using a carpet cleaner that extracts water, washing rugs, etc. We did have a meal at the Road Runner cafe. Yum!
Mar 25, 2021
We had a great stay. The staff is friendly and helpful. The onsite restaurant is delicious and will seliver to your site! The pool is heated and the hot tub is very nice! They have a great little dog park. The highway road noise takes some getting used to, but they so offer complimentary ear plugs if you need them. They have a cute selection of Arizona themed goods in their gift shop. 5 Stars
Mar 25, 2021
Absolutely one of the best organized and facilitated of nearly any Rv site in which we have stayed. I have come to rely on KOA for great standards and I found the Wilcox/Cochise KOA exceeded those standards. The young lady at check in was absolutely cheerful and excellent. Sorry I can not remember her name. East to West and vice versa I will adjust my trip to stay here. Thank you.
Mar 25, 2021
Everyone was very friendly and helpful. Wish it was a little warmer for swimming. Water was warm but the wind was very chilly Thank you for a good time.�
Mar 24, 2021
I was there with a group from our RV Club for 4 nights. The staff went above and beyond to help us have a great time. The pool and hot tub were spotless. The gas fireplace outside was very enjoyable. It was convenient to have the Kafe on the grounds. The use of the rec room for all 4 nights was so convenient for us. Thanks for the great stay!
Mar 24, 2021
Friendly, clean, easy access. Great gift shop!
Mar 24, 2021
Nice park. Good spacing and bonus good restaurant on site
Mar 24, 2021
This KOA was probably one of the best that we've stayed at. Super clean and everyone there was incredibly friendly. We had a fantastic time and will absolutely be back!
Mar 24, 2021
stayed there from Fri pm till mon am. all the campground people were very personable and we had a very nice spot. will definitely stay there the next time we travel.
Mar 24, 2021
The facility was very clean and the staff were friendly and efficient. They went the extra mile.
Mar 24, 2021
The staff were all extremely helpful and pleasant to work with. We had an unfortunate problem at the local Elks Lodge RV Park and last minute had to find a place. The staff at Willcox/Cochise KOA were very accommodating and exceeded our expectations. The park was clean and sites were very level. Highly recommend.
Mar 23, 2021
We had a great time. Staff was friendly and accomodating!
Mar 23, 2021
Easy site access. Spacious and had great FOOD.
Mar 23, 2021
Friendly, wonderful, helpful staff. We have stayed here on two occasions now and I was pleased both visits. The campground needs more shade trees and the traffic noise from the nearby freeway is deafening at times, but overall, a very enjoyable stay! Would highly recommend.
Mar 23, 2021
Everyone associated with the park was courteous and helpful.
Mar 22, 2021
Very clean, well appointed and friendly KOA.
Mar 22, 2021
Very professional and friendly staff at this campground. They go out of their way to assist you.
Apr 18, 2021
Muy limpio
- Jesus Montana on Google
Apr 18, 2021
Friendly staff. RV sites roomy and level, restrooms VERY clean! Would definitely stay there again!
- Janice Reeve on Google
Apr 14, 2021
Great staff nice park
- Tony Peterson on Google