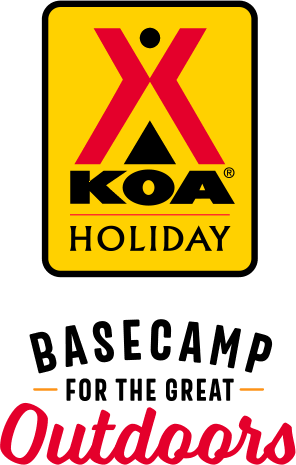 KOA Holiday Campgrounds
Whether you're exploring the local area or hanging out at the campground, KOA Holidays are an ideal place to relax and play. There's plenty to do, with amenities and services to make your stay memorable. Plus, you'll enjoy the outdoor experience with upgraded RV Sites with KOA Patio® and Deluxe Cabins with full baths for camping in comfort. Bring your family, bring your friends, or bring the whole group – there's plenty of ways to stay and explore.
KOA Holidays Feature:
RV Sites with a KOA Patio®
Deluxe Cabins with full baths
Premium Tent Sites
Group meeting facilities
Directions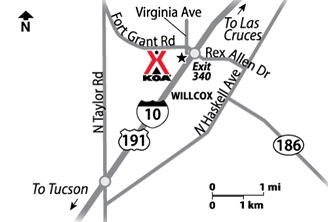 Exit 340 off I-10. From the west: Turn left; left again at 2nd light onto Virginia Ave, just beyond Super 8.
From the east: Turn right; take immediate left onto Virginia Avenue.
Get Google Directions
Feb 23, 2021
Very nice and hospitable folks.
Feb 23, 2021
We had a wonderful experience at the Willcox KOA. The owner and staff were so friendly. We were scheduled initially to stay for 4 days and we ended up staying for 10. The facility was extremely clean and their COVID cleaning protocol was outstanding. We will definitely stay here again and would recommend this park to anyone looking to stay in this area.
Feb 23, 2021
Love this KOA, the owners have worked so hard making this a great stay. We will be back soon!
Feb 23, 2021
great place to stay and catch up on rest/get laundry done/take a shower and have a hot meal after camping and backpacking sites with no amenities! super easy and affordable and the staff was wonderful.
Feb 22, 2021
i would like the deluxe kabins added back into the online reservation process.
Feb 22, 2021
great time, staff were very helpful and friendly
Feb 22, 2021
Staff was very friendly and accommodating
Feb 22, 2021
Easy access on and off I10(which is a blessing and a curse) due to noise from trucks . Besides that excellent friendly staff..nice cafe on property and a dog park as well
Feb 22, 2021
Super friendly staff and they have a great little restaurant.
Feb 20, 2021
Staff very friendly and helpful. Cafe has good food
Feb 20, 2021
Great place to stay more than just and overnight stop.. Staff is great and good food in the cafe.
Feb 19, 2021
Very clean and organized. Nice store
Feb 18, 2021
We really liked this campground. It was not fancy but the staff was helpful and friendly, full hookup sites were plenty large, the Roadrunner Cafe serves breakfast, lunch and dinner (our burgers and fries were very delicious), restrooms included showers were very clean, loved the little gift shop when you checked in, the camp store had a nice supply of RV necessities.
Feb 18, 2021
Everything great!
Feb 17, 2021
Great staff, clean restaurant is pretty good a little slow but food is good
Feb 17, 2021
The staff was very pleasant
Feb 16, 2021
The staff was amazing the restaurant was wonderful and the hot tub was awesome. The place was clean and tidy.
Feb 16, 2021
Everyone was welcoming, friendly, and helpful. Definitely planning a return trip when the weather is a little warmer to explore more of Cochise county. Loved the onsite cafe, great burger, great option when we didn't feel like cooking. Daughters loved the playground!
Feb 16, 2021
We stayed for almost two weeks to test out a new RV. They are putting a lot of work into the campground and the personnel are very nice. Highly recommend when you are in the area.
Feb 16, 2021
Super friendly and extremely helpful!
Feb 16, 2021
Very nice park saw workers spraying everything down when sites became empty which was reassuring.
Feb 16, 2021
Very polite, grounds were very clean and well kept, easy access off freeway. Would stay again in a heartbeat
Feb 15, 2021
We loved the premium spot with the table and chairs, swing and Gas BBQ! The dogs loved the doggie playground! Very Clean!!!!
Feb 15, 2021
Fantastic amenities, a beautiful site, and excellent customer service. Every staff member we had an interaction with was a great ambassador of their KOA and the greater Willcox area.
Feb 15, 2021
It was too cold to really get out and explore but campground was clean With good size sites
Feb 14, 2021
Great experience all around, great staff. Close to the 10 for tent campers but I would camp there again !!!
Feb 14, 2021
Nice to have the Cafe on site. Food was good and reasonably priced! Park was clean, people friendly.
Feb 14, 2021
Great Campground! Friendly Staff and Great food at the Cafe. Grounds are clean and clean electric. Big sites. We will definitely stay here again when in the area. Special Tanks to Linda in the store and Bob on the grounds.
Feb 14, 2021
The service and site were the best of any KOA we've stayed at
Feb 13, 2021
3 nights. Good trips to local attractions. Good cafe! Friendly staff. Highway noise from I-10. Great sunsets!
Feb 12, 2021
Their Cafe is great. Ate both breakfast and lunch/dinner. Food was great.
Feb 12, 2021
This was our second time staying at this KOA. We would highly recommend this campground. Excellent customer service skills, very clean and well maintained. The pool Is beautiful. The food at the Roadrunner cafe is outstanding. Allie and Spiro are the best!!
Feb 12, 2021
Excellent resort but it is right on I-10. We reserved their best spot with an incredible patio that we really used but these spots should be the farthest from the freeway, not the closest. Interfered with outdoor time and kept us up at night. Great Webber grill and good Internet.
Feb 12, 2021
Had a wonderful night at Willcox KOA! Cafe food was excellent, everyone was friendly and helpful, everything was clean and nice. Had a great early breakfast before we headed east! Thank you!
Feb 12, 2021
Great job upgrading this location
Feb 11, 2021
This KOA location was a blessing. We realized we were not going to make are goal for the day with driving. We saw their adv. sign and decided to call. They were very professional on the phone. A site was available and we were only 20 miles away. This KOA has a beautiful gift shop. They also have a dog great park which is lite at night. Will return for sure!
Feb 10, 2021
The park is very well managed and maintained. Everyone wore masks. The restaurant had the best food I've ever eaten at an RV park.
Feb 10, 2021
Great! Friendly and helpful staff. Clean and very nice bathrooms/showers. Probably the best we have seen across the states. Restaurant has good and reasonably priced food.
Feb 09, 2021
Very clean and modern facilities with an extremely friendly and helpful staff.
CAMPGROUND RESPONSE / COMMENTS:
We all work hard to make this a Great KOA. We think our staff is amazing - thank you for noticing. Please come stay with us again when you are in Arizona.
Feb 09, 2021
This location is very clean and the staff is very helpful. The on-site cafe dis very good and can deliver meals to your site. We stayed in the primitive cabin and enjoyed the mini fridge and Tv. We will be back.
CAMPGROUND RESPONSE / COMMENTS:
Thank you for your nice comments. We are so glad you enjoyed your stay in our cute primitive cabin and we are so happy you took advantage of our Kafe delivery. We look forward to seeing you can soon.
Feb 08, 2021
My wife and I had a wonderful stay. Very nice clean sites with great access. Our escort, Mike, was absolutely wonderful. He was extremely courteous and attentive. He checked on us a few times each day to see if we needed anything and to make sure that we were fine. The campground was very accessible from the highway. The only draw back was the road noise from I-10 but we will definitely be back.
Apr 18, 2021
Friendly staff. RV sites roomy and level, restrooms VERY clean! Would definitely stay there again!
- Janice Reeve on Google
Apr 14, 2021
Great staff nice park
- Tony Peterson on Google
Apr 12, 2021
Whilst close to the highway, this was a surprisingly nice campground for a big class A. Wide, long spots. No need to unhook the toad. They had a cafe that did food delivery, including pizza, to your spot. They had rental fire pits delivered to your spot.
- Kimberly Peterson on Google