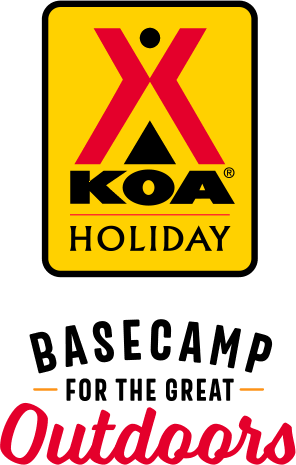 KOA Holiday Campgrounds
Whether you're exploring the local area or hanging out at the campground, KOA Holidays are an ideal place to relax and play. There's plenty to do, with amenities and services to make your stay memorable. Plus, you'll enjoy the outdoor experience with upgraded RV Sites with KOA Patio® and Deluxe Cabins with full baths for camping in comfort. Bring your family, bring your friends, or bring the whole group – there's plenty of ways to stay and explore.
KOA Holidays Feature:
RV Sites with a KOA Patio®
Deluxe Cabins with full baths
Premium Tent Sites
Group meeting facilities
Directions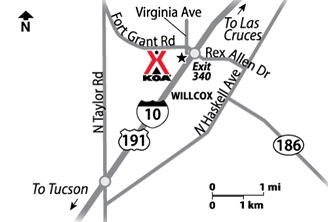 Exit 340 off I-10. From the west: Turn left; left again at 2nd light onto Virginia Ave, just beyond Super 8.
From the east: Turn right; take immediate left onto Virginia Avenue.
Get Google Directions
Mar 11, 2021
Staff was very friendly and helpful. The sites were easily accessible. The "Kafe" food was excellent and reasonably priced.
Mar 11, 2021
VERY NICE PEOPLE, EXCELENT RESTARUANT ONLY DOWNSIDE TO STAYING THERE IS THE DUST
Mar 10, 2021
All of the employees were so friendly and went above and beyond to help us out. The grounds were in excellent condition, and all of the amenities were up to date and clean.
Mar 10, 2021
Excellent park, clean and well organized Fastest Wi-Fi we have ever had at any RV park. Trash is picked up daily at your doorstep. Excellent restaurant on site and they deliver. We will be back.
Mar 10, 2021
Just an overnight stop but we love your cafe. The best Hamburgers around! Anyone traveling through this area, this is a must stop just for the food! The owners are super nice also!
Mar 09, 2021
Extremely noisy. Didn't like we were forced to keep the light by our site on. It streamed through the windows of our small trailer all night, adding to our inability to sleep due to noise. Very little ambiance. Pool area looked nice, but was dominated by families. Laundry room was best feature: clean and up-to-date. Staff in their carts, particularly older men, weren't friendly.
Mar 09, 2021
Beautifully kept and the staff was awesome. Great experience we will certainly come back
Mar 09, 2021
Another great campground. Great staff and immaculate facilities. Had a great meal at the onsite restaurant.
Mar 08, 2021
Very clean bathrooms/shower and campgrounds. Very nice and helpful staff.
Mar 08, 2021
Very friendly staff, clean sites and large sites. The restrooms are the cleanest we've ever seen! Nice little cafe that is open 7 days a week with good food. We had breakfast burritos one morning. The campground is right off the highway, so the road noise is a ever-present. But sunset behind the mountains sand hill cranes flying overhead compensated!
Mar 08, 2021
Nice people, nice place
Mar 08, 2021
wonderful, clean shower house and grounds. my only complaint was proximity to the freeway noise and relaxed masking.
Mar 07, 2021
Great staff!!
Mar 07, 2021
It was great! We loved the area and although the campground was near a Highway, the cabin was tucked away enough to provide privacy!
Mar 06, 2021
Too expensive for what they offered. Cafe food was sub standard. Couldn't eat the chicken strips for they were over cooked. $6.00 for a root beer float is ridiculous. This was my first experience with a KOA campground and if this is what I can expect at future KOA's then I will never return nor recommend to any of my camping friends.
Mar 06, 2021
We only stayed 2 nights and were gone during the day, so our experience is somewhat limited. However, bathrooms were clean and staff was helpful. Our breakfast there was good. The whole KOA seemed well run and clean. No problems, It is close to the highway, but the noise wasn't bad.
Mar 02, 2021
Clean campground- There is convenient KAFE on site that will deliver a cooked meal to your site- Nice if you are too tired to cook!
Mar 02, 2021
The isles are a bit too close, because if one RV is pulled even slightly in front of the the site or slightly too far back then it's difficult to clear the vehicles without hitting them. Also the loose large rocks used for "curbs " can be dangerous for tires! The food at the restaurant was overpriced for portion sizes and was nothing to write home about.
Mar 02, 2021
Liked the camp very much. Convenient to interstate and activities in area, well laid out, polite and helpful staff, clean gacilities.
Mar 01, 2021
Our 3 night stay was perfect. Friendly staff, clean park, dog gy area was perefect for our 2.
Mar 01, 2021
A very well ran and maintained KOA. WiFi and cable TV are the best I've experienced.
Mar 01, 2021
Very friendly staff. They switched us to a space a little further from the highway and nice clean restrooms. We really enjoyed it, and weren't looking for a quiet forest stay, so it worked great for us. I would recommend it to my friends, but would need to make sure they were aware of the highway noise.
Mar 01, 2021
First time at the Wilcox location. As always ( been to a few different KOA) the site was clean, staff was friendly, and neighbors were nice. The food at the kafe was good with big serving and reasonable prices. Over all, it was a great weekend stay! Would stay again.
Mar 01, 2021
Great food and service at the Kafe. The campsite was clean and the workers were very friendly!
Mar 01, 2021
We thoroughly enjoyed our time there easy to find you clean easy to register since we came late the Brkfst was good Thank you for your service
Mar 01, 2021
We stayed at your K1 Kabin. Worked well.
Feb 28, 2021
Big sites, friendly staff, clean restroom. Too close to freeway..very very noisy.
Feb 27, 2021
We truly enjoyed our stay here. Every single staff member was polite, helpful, and friendly. The Roadrunner Kafé was a really nice benefit as well! We will definitely stay again when we're in the area!
Feb 27, 2021
Neat, clean, friendly, with good food delivered to your door. Very good upgrade to sites. Super clean.
Feb 26, 2021
Friendly folks, very clean grounds, great amenities.
Feb 26, 2021
We stayed three nights while we visited Chiricahua National Monument and Fort Bowie NHS. The campground was immaculate, the staff friendly and welcoming, and the weather was great. Aside from some freeway noise it was perfect. I give this KOA my wholehearted recommendation.
Feb 25, 2021
By far THE BEST KOA we've ever stayed at! Everything was spotless and the bathroom showers were the best ever. Restaurant food was good especially the burgers. I was most impressed with the fact that your staff thoroughly cleaned and sanitized each site as someone left. Thank you for making our stay so comfortable.
Feb 25, 2021
The staff was wonderful and the food was great. The whole family had a great time. We will definitely be back.
Feb 24, 2021
Great services. Very clean. Very enjoyable stay. Love the pull throughs
Feb 24, 2021
Very helpful staff
Feb 24, 2021
Everyone was so helpful. The on-site restaurant was perfect for coming back from exploring late in the day.
Feb 24, 2021
Super nice owners, staff and facility! We were only going to stay one night, and after talking to the owner about the Pecan farm down the street, the Totally amazing Chiricahua National Monument, and the Wineries, we decided to stay another day. The pool is clean, and so are the showers and laundry. You are very near the freeway, but if you get a spot near to back of the lot, you can hardly hearit
Feb 23, 2021
Perfect Exactly What I Expect from K O A Thanks so much
Apr 18, 2021
Friendly staff. RV sites roomy and level, restrooms VERY clean! Would definitely stay there again!
- Janice Reeve on Google
Apr 14, 2021
Great staff nice park
- Tony Peterson on Google
Apr 12, 2021
Whilst close to the highway, this was a surprisingly nice campground for a big class A. Wide, long spots. No need to unhook the toad. They had a cafe that did food delivery, including pizza, to your spot. They had rental fire pits delivered to your spot.
- Kimberly Peterson on Google