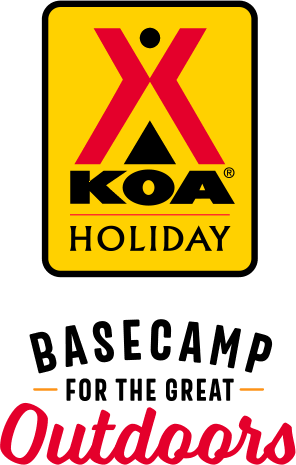 KOA Holiday Campgrounds
Whether you're exploring the local area or hanging out at the campground, KOA Holidays are an ideal place to relax and play. There's plenty to do, with amenities and services to make your stay memorable. Plus, you'll enjoy the outdoor experience with upgraded RV Sites with KOA Patio® and Deluxe Cabins with full baths for camping in comfort. Bring your family, bring your friends, or bring the whole group – there's plenty of ways to stay and explore.
KOA Holidays Feature:
RV Sites with a KOA Patio®
Deluxe Cabins with full baths
Premium Tent Sites
Group meeting facilities
Directions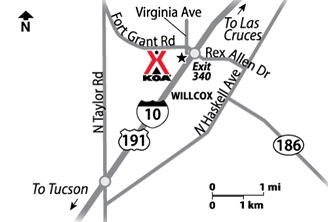 Exit 340 off I-10. From the west: Turn left; left again at 2nd light onto Virginia Ave, just beyond Super 8.
From the east: Turn right; take immediate left onto Virginia Avenue.
Get Google Directions
Mar 23, 2021
We had a great time. Staff was friendly and accomodating!
Mar 23, 2021
Easy site access. Spacious and had great FOOD.
Mar 23, 2021
Friendly, wonderful, helpful staff. We have stayed here on two occasions now and I was pleased both visits. The campground needs more shade trees and the traffic noise from the nearby freeway is deafening at times, but overall, a very enjoyable stay! Would highly recommend.
Mar 23, 2021
Everyone associated with the park was courteous and helpful.
Mar 22, 2021
Very clean, well appointed and friendly KOA.
Mar 22, 2021
Very professional and friendly staff at this campground. They go out of their way to assist you.
Mar 22, 2021
Very nice and well maintained KOA. Staff are top notch, friendly, and helpful especially the park manager. The store and restaurant are great additions. We were hoping to find some local wine but it didn't look like they sold any in the store or restaurant. With so many nearby vineyards it would be awesome to be able to purchase a wine flight like some of the other KOAs offer!
Mar 22, 2021
We loved the deluxe patio! The staff is super helpful and friendly. Quick drive to Chiricahua National Monument. Would stay here again!
Mar 22, 2021
Spent 3 days at this KOA. Staff are awesome as they do whatever they can to make your stay better. They pick up your trash bag if left out for them. The small cafe has good food at very reasonable prices and plenty of seating both inside and outside. The camping spaces are large and very clean. Great place
Mar 22, 2021
Friendly and courteous staff
Mar 21, 2021
Nice people, any the park had something for everyone.
Mar 20, 2021
Staff very friendly. Restroom and park very clean.
Mar 19, 2021
Super clean facilities! Everyone was kind and helpful. Kids loved the pool. We enjoyed the quiet. Our family had a wonderful time!
Mar 19, 2021
The KOA itself is fine... but the back-in sites next to the highway are remarkably noisy and not conducive to getting a good night's sleep. It would have been nice if the back-in sites on the other side of the park were assigned, but alas they were not. Constructing some type of noise reducing wall would be my recommendation if we were to stay here again.
Mar 17, 2021
This is a nice campground. The office/store is great, the staff is friendly and the little restaurant is nice. The only draw back s the noise. Right next to I-10 which roars day and night. need earplugs to sleep.
Mar 17, 2021
My first stay at a KOA. It was pleasant. The staff were helpful.
Mar 16, 2021
This is a great campground. This KOA could be a model for some other KOA's we've stayed in.
Mar 16, 2021
Very clean! Friendly staff, great little cafe on premises. Gift shop with some local crafts/art as well as basic RV necessities. Spots were spacious, comfortable, easy to park/hook up. Super impressed. Usually, AZ desert RV parks are dusty, a little weedy...but this one had gravel surface, dog stayed clean and burr-free, so happy with our choice to stay there!
Mar 16, 2021
Such clean and attractive facilities, including a nice restaurant! Highly recommended for a night or an extended stay. There are interesting historic sites in the area.
Mar 16, 2021
Usually stop on our way from CA to FL & back. Most of the time overnight. This time we stayed 2 nights. Once before 3, and toured the area. All of the times we enjoyed our stays. Sites are long & wide, so don't feel claustrophobic. Long enough to not unhook if just overnight. Cafe is great. Enjoy breakfasts. Lots of items on menu if you don't feel like cooking when you get in. Staff friend
Mar 16, 2021
One of the best KOA R.V. parks in the USA! Very clean bathrooms and showers, well maintained park grounds and sites, very clean and well maintainewd pool and Hot Tub! Friendly and helpful staff!
Mar 16, 2021
Extremely noisy due to trucks on I-10 and a little pricey but we were only staying one night because of the wind. Friendly staff and clean facility.
Mar 16, 2021
While the proximity to the freeway was uncomfortably close, the noise level was very low and we had no trouble getting rest. Everyone on the staff was welcoming, polite, and informative. The on-site cafe delivered a delicious meal at an affordable price. The grounds were flat and clean. It was a good stay.
Mar 15, 2021
Customer service is top notch! One of the cleanest and well maintained KOA campgrounds so far. The staff is friendly, helpful, and hardworking. The Restaurant on site is very good- had a dinner and breakfast.
Mar 15, 2021
Terrific!!! Visit here every year. Wonderful people!!!!
Mar 15, 2021
Great campground. Great staff.
Mar 15, 2021
perfect clean and warm bathrooms
Mar 15, 2021
Always a nice stay. Great cafe too! Dog run is nice and open plus fenced!
Mar 14, 2021
Staff is super nice. The kafe has good food and nice menu options. Very clean. We have stayed there several times and will stop again.
Mar 14, 2021
Awesome clean bathrooms fun recreation room with games a great pool and hot tub amazing employees really nice tent campsites great ice cream at the cute restaurant great dog park we had a terrific 3 day vacation thank you for making it a wonderful trip to Arizona!
Mar 14, 2021
We will stay there again soon. Very nice place to go and relax. Friendly people that work there. The restaurant food is delicious.
Mar 14, 2021
Awesome managers and cafe. Very well managed. Very helpful. Very clean.
Mar 13, 2021
Excellent spot to stay the night, very clean and open spots
Mar 13, 2021
Staff are incredible and so helpful if you have any special needs. RV campground is set up so no one seems right next to you. One special note here is that this KOA has a restaurant that is within the campground. So cool that they will actually deliver what you order... RV room service.
Mar 13, 2021
The staff was friendly and helpful! The place was clean and well taken care of. We enjoyed soaking in the jacuzzi each day. The only negative for us was the distance to the freeway. It is ever present.
Mar 13, 2021
Very nice campground and staff is super friendly and helpful. It is kind of close to the highway, but that didn't really bother us.
Mar 13, 2021
Nice, well maintained campground, decent level sites, fenced & clean dog park, friendly helpful staff, and great stocked store! Also lucky they have a very nice Cafe right close with real good food! We would stay again on our travels for sure.
Mar 13, 2021
Clean RV park. Staff very friendly. Only complaint is the RV park is so close to the freeway, you can hear traffic driving by at all hours of the night and day.
Mar 12, 2021
The park is very clean. Sites are nice and big. Restrooms immaculate. All the staff are super kind, helpful and care about you.
Mar 12, 2021
Great park. Super clean and they even have a restaurant in the KOA that allows seating, pick up or delivery to your RV. Now that's cool. Everyone was so helpful and the park was only 2/3 full
Mar 11, 2021
This is my second visit. Along interstate so expect road noise. Sleeping no problem for me. Rest rooms clean. Camp workers all very nice. Sure at some point I will be back there again.
Mar 11, 2021
The best KOA I've ever been too! You must also try the restaurant. Our meal of Greek salads was awesome!
Apr 18, 2021
Muy limpio
- Jesus Montana on Google
Apr 18, 2021
Friendly staff. RV sites roomy and level, restrooms VERY clean! Would definitely stay there again!
- Janice Reeve on Google
Apr 14, 2021
Great staff nice park
- Tony Peterson on Google