Directions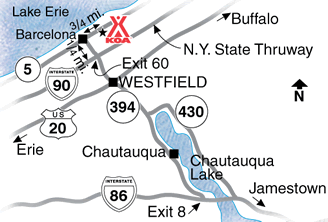 60 miles west of Buffalo, NY, 30 miles east of Erie, PA.
Exit 60 from I-90: Follow signs.
On Rt 5: Go 1 mile east of Rt 394 or 16 miles west of Dunkirk.
From I-86 Exit 8: Go north on Rt 394 to Rt 5, turn right, 1 mile to KOA.
GPS: N42.344141, W79.579864
Get Google Directions
Sep 21, 2020
It was a great stay and exactly what we needed. The interstate as louder than I thought it would be but it did not bother me when we were sleeping.
Sep 20, 2020
The staff were very accommodating, especially since we were arriving late in the day. We had to leave early the next morning so we didn't get a chance to experience any of the accommodations. I've never stayed at a KOA before, but thought it as rather pricey for the size of the camping area were were in. The grounds appeared to be in good condition and well kept. We didn't use the water or e
Sep 18, 2020
Very nice stay but the cabin we stayed in needs work porch floor rotten and porch posts to hold roof up not even attached to floor and very wobbly. Very unsafe
Sep 18, 2020
Staff were very friendly and guided us to our site. The site was fairly level and connections easily accessible. They have some of the best wings I have had in a very long time. On the down side the water had a very strong rotten egg smell to it, so bad that you didn't even want to wash your hands in it and took around 40 to 50 gallons of flushing at our next site to get it cleared out.
Sep 17, 2020
Awesome!!!!!
Sep 17, 2020
One of the cleanest campgrounds ever! The restrooms and showers are immaculate. The store has anything and everything you'd ever need. They also have a nice food truck menu delivered hot to your campsite. The Lake Erie park is directly across the street. Lastly the owners and staff were very friendly and so helpful.
Sep 16, 2020
Enjoy the food truck, 1st time ordering from it and the wings were good but needed to be hotter( as in taste wise). The fingers/ fries ever awesome ( big and and juicy. And the fries done perfectly! And as always the crew was awesome! !! Thank you � just this summer i have been there 3 times
Sep 15, 2020
We have stayed at your KOA several times, and we keep coming back because of the wonderful staff, clean camp sites, and the restrooms & shower facilities are top notch. We stayed at a couple of other KOA's this past summer and while they were good Westfield is still number one with us.
Sep 15, 2020
Quaint RV park right near Lake Erie (beach access ~ 1 mile away). Everyone is very helpful & the facilities are clean & well kept. Train and highway are nearby so if those disturb your sleep ~ this site is not for you.
Sep 15, 2020
My family and I had a wonderful time there. Not enough to be said, it was very clean and the staff was great. I felt very safe, ever one was obeying the new norm with face mask. The place is small and you can the noise from the interstate 90, and the train at night. I did not mind it, it was not enough to not enjoy. The bathrooms was clean and updated.
Sep 15, 2020
Wounderful people and staff nice clean facility I was just disappointed because I wanted to camp and fish but there was only a blue gill pound if it had a bigger and more devirse fishing pound it would be perfect
Sep 15, 2020
This is a beautiful campground run by a friendly and helpful staff. Stream and vineyard a great plus. Only downside is proximity to NY Thruway.
Sep 14, 2020
Very friendly staff and a nice campground overall.
Sep 14, 2020
Sites are too crowded but facilities are extra clean and staff very helpful
Sep 14, 2020
All the employees we encountered were very friendly and helpful.
Sep 13, 2020
Excellent Only issue may be the proximity to the NYS Thruway noise but your near lake Erie which makes it alright in my book
Sep 12, 2020
Very nice campground friendly people
Sep 12, 2020
Wonderful, as always.H.ave been coming here for 18 years, always clean, staff friendly and helpful
Sep 12, 2020
Lake Erie is just across the road and easy to sell to. Sites are typical KOA, roads narrow and sites tight. Good food truck on premises and laundry is inexpensive. Road noise from I-90 is reallynoticeable if you sit outside and keep your windows open.
Sep 11, 2020
Love Westfield KOA! Staff is so friendly!
Sep 10, 2020
It was a nice time
Sep 10, 2020
Loved it! What a great area to visit. Will definitely be back.
Sep 09, 2020
Nice people, all was good.
Sep 09, 2020
Everyone was friendly and eager to help in any way. Great stay and Beautiful view of Lake Erie from across the street.Thank you for having us the Hug Family.
Sep 09, 2020
Enjoyed meeting and conversing with Cliff. Very friendly and helpful.
Sep 08, 2020
Loved the friendly staff and the super nice, updated bathrooms. They are the best we have ever seen at a campground. We cannot wait to come back again next year!
Sep 08, 2020
Very friendly staff. Brenda and cliff where welcoming the whole experience. Definitely making it a yearly trip. Thank you so much Brenda and cliff for everything.
Sep 08, 2020
Dennis and his staff are the ultimate hosts. Always welcoming and accommodating. Service is phenomenal. Property is extremely well groomed and facilities are immaculate. As a bonus, the food is fantastic! 2 thumbs up! They never disappoint.
Sep 08, 2020
This is an awesome campground to stay at...everyone is very friendly and helpful
Sep 08, 2020
Great people! Great facilities. Great view and Lake park across the street! Cliff was a great staff member i wanted to mention -
Sep 08, 2020
Everything about this KOA is wonderful. The staff couldn't have been more helpful. The food was delicious. The bathrooms were cleaned and checked several times a day. The price wasn't outrageous. Unfortunately with it being right next to the thruway, I was kept awake most of the night due to traffic.
Sep 08, 2020
Staff was very accommodating and helpful.
Sep 07, 2020
Positive was that our camping area was spacious and bathrooms clean, nice atmosphere. Negative...pools were very small, hard to sleep at night due to loud trains and very loud tenters next to us that stayed up until 2 pm, so curfew of 10 pm was not being enforced.
Sep 07, 2020
Cost of a tent site was 2 times what it was at nearby KOA's. Granted, it was Labor Day Friday, but that still seems like a ridiculous amount for a tent site, $67. It was to be a deluxe site with a tent pad, and there was nothing there except dirt. We were told virtually nothing by the man who checked us in. Our escort never came, so we found our own way. The shower rooms were wonderful, tho.
Sep 05, 2020
Everyone & everything was great. Only issue we personally had was having to close windows & run A/C when immediate camper in next site had campfire going nightly. Please realize with our health issues we go to sleep 9pm and we don't expect anyone to change their camping enjoyment. All comfort buildings and laundry are the best as well as the camping store we have ever seen. Camping over 35 years.
Sep 05, 2020
Great people and even delivered our order to the camp site.
Sep 04, 2020
Extremely polite and helpful staff, very considerate and eager to assist.
Sep 04, 2020
The campground is in a great location and had the best showers, kind of like being at your own hotel. We were given a site near the freeway and that was disappointing especially when my booking said near the playground. There should be more of a description so folks aren't surprised by all the road noise. Additionally you aren't 300 yards from a beach, it is a park and you can't swim there.
Sep 04, 2020
Delicious crispy honey garlic chicken wings. Amazing Lake Eerie sunset from the park across the street. Pretty walks along the creek. Great clean showers.
Sep 03, 2020
Awesome stay! Campground was very clean and took appropriate social distancing measures and covid precautions. No matter what we needed we could have it delivered to our campsite... food, wood, ice, etc. The bathrooms were clean and the shower rooms were beautiful.
Sep 03, 2020
This is my 3rd stay this summer. Very pleased. Wonderful Shaded site up front . Super clean bathrooms. Delicious food from the food truck with food and firewood delivered rite to my site everyday. Super friendly workers . Fabulous stay.
Sep 02, 2020
Very nice campgrounds and excellent location. Staff is very friendly. I will definitely stay here again.