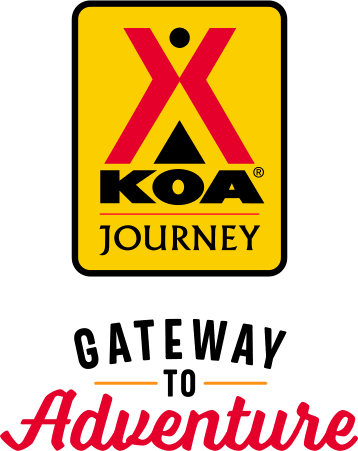 KOA Journey Campgrounds
KOA Journey campgrounds are the perfect oases after a day on the road. Whether it's along the way or a quick getaway, they've got you covered. Located near the highways and byways of North America with long Pull-thru RV Sites, they deliver convenience to the traveling camper. Pull in, ease back and take a load off.
KOA Journeys Feature:
Pull-through RV Sites with 50-amp service
Premium Tent Sites
Well lit after hours check-in service
Directions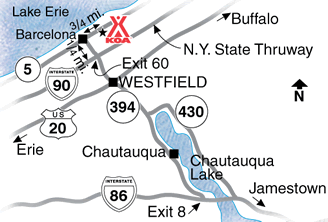 60 miles west of Buffalo, NY, 30 miles east of Erie, PA.
Exit 60 from I-90: Follow signs.
On Rt 5: Go 1 mile east of Rt 394 or 16 miles west of Dunkirk.
From I-86 Exit 8: Go north on Rt 394 to Rt 5, turn right, 1 mile to KOA.
GPS: N42.344141, W79.579864
Get Google Directions
Oct 25, 2021
Nice park. They had a food truck with excellent Wing's, but if you stay there, make sure you visit Calarco's Italian Restaurant in Westfield. Park was clean, well maintained. Friendly and helpful staff. Gravel and grass. We had major rains, but it was not an issue. You are literally 100 yards from Lake Erie, but can't see it from the park. Easy on and off. We were in 40 ft MH with tow.
Oct 25, 2021
Very clean campground with all the hookups. Camp store on-site.
Oct 25, 2021
overnight stay was ok
Oct 25, 2021
There should be a discount when it is late in the season. Especially when the pool is shut down and it rains the whole weekend.
Oct 24, 2021
Enjoyed our stay at Westfield KOA in the past and this time it was super! Staff helped us sort out an issue with our motor home and got us on the road again. Good friendly, professional folks, well kept facilities. We'll be back! Thanks again.
Oct 24, 2021
The hosts were very nice and extremely helpful. Clean and quiet campsites
Oct 23, 2021
Couldn't believe how clean and organized everything was. Well done!
Oct 22, 2021
Always fun to stay at this KOA, Lake Erie is right across the road and a short walk through a lovely park, the campground is clean, well kept and the owner is friendly.
Oct 22, 2021
Average campground, friendly people, location is great when you stop for a night but very very loud because its very close from the highway.
Oct 22, 2021
Host was FANTASTIC. Everything was great. Except for the highway noise, stayed awake all night.
Oct 20, 2021
The host was very helpful and flexible. Our site was spacious and had full hookup as we wanted. It was quiet. The bathroom was recently renovated and was the best we have seen in our month long trip.
Oct 19, 2021
When we got there they were friendly and accommodating. They put us in a pull through so we didn't have to unhitch our tow vehicle. When the battery was dead on our tow car they loaned me a jump starter pack . Place is clean and well taken care of! We stay here every time we are in the area!
Oct 19, 2021
Just spent the night, but nice spot, lots of trees and friendly folks
Oct 19, 2021
Great location. Bathrooms were great with large showers.
Oct 18, 2021
The cabin was exactly as described. The facilities were clean and the staff was very accommodating and friendly.
Oct 18, 2021
Staff was excellent!All very professional!Great campsite,great location,will come back next year
Oct 18, 2021
This campground is perfectly placed by rt 90, we stayed for the wkend to have a midway to Niagra Falls. About 1.5hr drive. Great local food stops. Bathrooms clean, and central.
Oct 18, 2021
The sites were crowded when we got there someone was plugged into our electrical it was late it was muddy which was weather-related I understand but it was so bad that we did not stay there the second night and forfeited our camping fee I would love a refund but I know that is highly unlikely
Oct 17, 2021
Close to highway. Did not have acceptable site due to rain. Was provided a different site adjacent to the bathrooms/ slop sink with extra cost because it had sewer (which we didn't need or use). We requested an empty sight further from the bathrooms but employee indicated it was reserved. Site was still unoccupied the next morning.
Oct 16, 2021
On the upside: Owners were friendly. Park was quiet and mostly empty in mid-October. Nice little park across road on lake. Worked fine for a quick stop over. On the downside: Internet spotty, at best. Sites short. (Able to stay hitched, but barely.) No full hookups available on booking yet plenty went unused during our stay. Sites were all gravel.
Oct 16, 2021
we had a lot of trouble finding your place, but Part of it was my fault. It was clean and nice and very greatful to have found it. the guy working was very helpful in tgrying to get us back there. We didn't see a KOA sign on the corner where we should have made the right hand turn.
Oct 15, 2021
Everything was awesome, bathrooms/showers were great and clean. Quite a bit of highway noise.
Oct 13, 2021
Awesome place nice people
Oct 13, 2021
Great experience.
Oct 12, 2021
We've been staying here for years and usually love it; however, we were very disappointed this trip, as we were greeted by a rude clerk and an error in our reservation. So much for the 'customer is always right', she lectured me repeatedly for not booking correctly, when it was clearly on them. Regardless, she could have handled it professionally, but chose to be rude. Very disappointing.
Oct 12, 2021
Had a great time. Loved the food truck. Very friendly staff.
Oct 11, 2021
Friendly people, clean campground, great showers. Would stay again.
Oct 11, 2021
The owner so amazing and very helpful one of the best places to stay
Oct 10, 2021
Had to stay for work, glad I chose the area. Quiet and packed with amenities
Oct 10, 2021
From our previous stay at your campground, we expected to hear the freeway and train in the tent sites but wished we had brought our battery operated fans to help even out the noise. I did not check to see if you sold them in your store. We love the friendliness and our pizza delivered to our campsite. Thank you.
Oct 10, 2021
Lovely campground
Oct 09, 2021
The staff are friendly, the location is very convenient to I-90, and there's lots to do in the area. The only downside is the traffic noise from trucks from highways on both sides as well as the train tracks.
Oct 09, 2021
Ranger directed us to site thru a deep gravel washout and we dragged the rear of our class c diesel 25 long MH. No damage to date. Went to registration desk to find directions to a diesel filling station. Drove 5 mile two stations clerk gave us to fine one closed under repair/construction, second one did not have diesel, A local person gave use directions to a station with diesel 15 miles s on I90
Oct 08, 2021
Nice clean site, clean restrooms, easy pull in sites. Nice walk to park across road. Down side is New York highway at back of campground. Also, understand hiring difficulties during pandemic, just wish camp store was open a bit more. Had sign on door to call number and they would come and open up, however, if busy on grounds, didn't want to stop something that needed done just for browse time.
Oct 07, 2021
Pros- Great pizza and wings on the food truck! The showers were nicely updated and the store was nice. Cons- The sites and roads were mud pits with large holes and your right on top of your neighbor. If your at the back of the park just know it's next to a freeway with a lot of road noise. The road noise didn't bother us though.
Oct 07, 2021
We checked in at 11:00 pm and checked out by noon. Short stay but campground was very neat and clean!
Oct 06, 2021
very well kept, full hook up, bathroom and shower clean
Oct 05, 2021
I think this is the cleanest KOA I have been too. It is a great location and as I said extremely clean.
Oct 05, 2021
Love this KOA!!! Staff is super friendly and helpful. Bathroom n showers are very clean. The food truck food is convenient and delicious . Pool is beautiful!