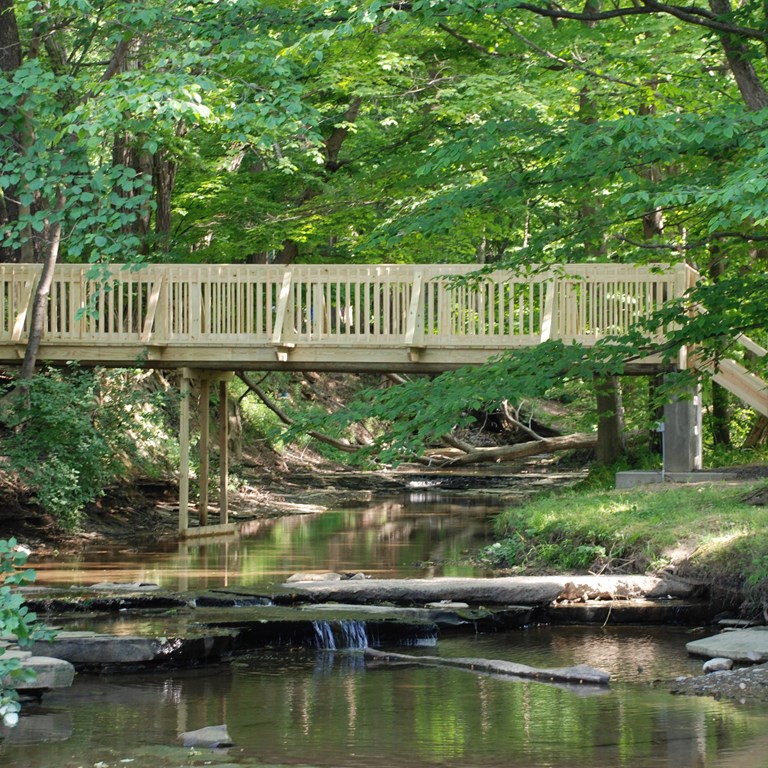 Westfield / Lake Erie KOA Reviews
Directions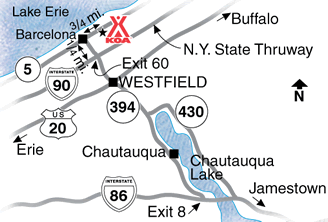 60 miles west of Buffalo, NY, 30 miles east of Erie, PA.
Exit 60 from I-90: Follow signs.
On Rt 5: Go 1 mile east of Rt 394 or 16 miles west of Dunkirk.
From I-86 Exit 8: Go north on Rt 394 to Rt 5, turn right, 1 mile to KOA.
GPS: N42.344141, W79.579864
Get Google Directions
Sep 16, 2020
Enjoy the food truck, 1st time ordering from it and the wings were good but needed to be hotter( as in taste wise). The fingers/ fries ever awesome ( big and and juicy. And the fries done perfectly! And as always the crew was awesome! !! Thank you � just this summer i have been there 3 times
Aug 24, 2020
It was very peaceful..The food was great delivered to our cabin.
Aug 24, 2020
Wonderful place for a family with dogs to stay.
Aug 15, 2020
Very relaxing Employees are very helpful
Aug 15, 2020
Renee in the office/camp store was extremely rude and difficult to deal with.
Aug 12, 2020
Check in was quick and easy. Only one problem and was solved between me and the other party.. Between other camper parking at campsite I was assigned. Food was great delivered right to the campsite. Campsite was clean. Seen them roaming around every day cleaning the area Thanks
Aug 10, 2020
Its was amazing to stay in a cabin camping!
Aug 10, 2020
Very nice one night stay in one of the camping cabins. Cabin was very basic as expected. Shower house/bathroom was convenient and clean. The staff was friendly and helpful. It was a great place for a last minute get away.
Aug 05, 2020
Super Friendly staff! We stayed in one of the cabins. They're very clean and much more spacious than we expected. The cabins are well spaced so that it didnt feel overcrowded. The restrooms and showers were a close walking distance. My son enjoyed the playground and the pool. Was also pleased to find that the store had everything we needed at a reasonable price.
Aug 03, 2020
Cabins are beautiful!! Very nice to have AC, but also have a camping feel at the same time. Personally I would not enjoy tent camping here. It is too open, close to the highway, and no privacy. Bathrooms are gorgeous!! Staff was very kind and professional. Everything is delivered to your campsite. Payment is super easy bc you can just use the card on file without having it on you!
Jul 27, 2020
Cabin was very nice, a little small but we knew that before hand. They were well maintained and the air worked great. Restrooms and showers were extremely clean and modern. Campground was well maintained.
Jul 25, 2020
We love this campground the people there are always friendly
Jul 15, 2020
I have stayed there every year and was surprised at the New employees. They differently not as happy and friendly like I'm use to from staying there so many times.!!
Jul 06, 2020
Staff was great.
Jul 04, 2020
last stay the AC woldnt turn off and we froze. this time it worked. happy.
Jul 02, 2020
I had one of the cabins. I was not impressed with the cabin. It had a infestation of big black ants and a couple spiders crawling around and there about a 2 inch gap under the door so anything could climb under the door! It was really expensive for such a small primitive cabin ! But the customer service was excellent though! They were very polite and prompt!
Jun 24, 2020
Area was beautiful, cabin was really nice and friendly staff. Bathroom was a little far away for little kids and had to cut through campers to get there.
Jun 15, 2020
was nice but the air conditioner was difficult to use. it was on full blast and wouldn't shut off. I called the camp phone number at 2am abut the grumpy guy who answered just told me to keep playing with the remote, he was in bed and couldn't help us with it. What customer service.... someone should be available overnight in case of issues like this. we and the dog shivered all night long.
Oct 20, 2019
The owner and staff very friendly and helpful
Sep 11, 2019
I loved my experience. Dennis and the entire crew always make my stay a great experience. Location close to Barcelona Beach where beach walking and beach glass collecting are very rewarding.Close to the campgrounds are great restaurants and many places of historical significance. Make sure to visit Jack's Diner, The Johnson Estate Winery, and The Parkview Restaurant.
Aug 16, 2019
Wonderful area to visit, very relaxing and pretty. Kabin 99
Aug 15, 2019
Enjoyed the setting and the stream-side walk.
Jul 23, 2019
Great location. Staff was very friendly. We had an excellent time. Will return again.
Jul 12, 2019
Friendly staff. Little bit of noise from nearby interstate.
Jun 25, 2019
Great locations! Best showers and bathroom house - I really appreciated how clean and new they were. Wish i could have stayed longer. Thank You!
May 28, 2019
My friends and I enjoyed our stay at the Westfield KOA. The cabin was nice the restrooms and showers were clean. We will definitely stay here again.
Oct 16, 2018
I found my stay very enjoyable any questions I had management and KOA employees were very helpful the campground itself was quiet convenient and clean the bathrooms were great the shower was fine overall I enjoyed my experience very much . I have in fact already recommended this campground to several people ,I do intend to stay there again
Oct 13, 2018
Great KOA for weary travelers. The camp cabin was very cozy, clean , and had a good air conditioner. The bathroom and bath houses were also very clean and modern. My only complaint is this, I was hoping for a nice, peaceful camping experience. The KOA is located between I 90 and RT.5, both very busy semi routes. The drone of traffic noise was constant and annoying.
Sep 08, 2018
Very helpful staff, very clean , pool open even after season , very helpful on one of the hottest days . traffic noisy but no loud campers and lovely wooded area in the creekside cabins.
Sep 04, 2018
Our three night stay was so much fun as it has been for years. Always look forward to our annual stay. Very kid friendly with so much to do at the campgrounds. Close to plenty of other activities as well. Excelent job on shower bathroom remodel. Dennis is always so friendly nice and accommodating. Free icecream socials. Movies etc. Cant wait till next year. Thanks for another great weekend camp!!
Sep 04, 2018
Very friendly, clean, and quiet. Loved the cabin and the little creek.
Sep 02, 2018
We bring our grandkids every year. Always clean and everyone is friendly. They love camping in the cabin at Westfield KOA so much they don't want to go any place else! Love the pools and playground. Looking forward to coming back again next year.
Aug 21, 2018
We had a very relaxing weekend. Everyone there very friendly.
Aug 20, 2018
great facilities, clean bathrooms and showers. All employees we came in contact with were helpful and friendly.

Westfield / Lake Erie KOA
Open March 27 - November 1
8001 East Lake Road
Route 5
Westfield, NY 14787
Check-In/Check-Out Times
All Sites
Check-in: 1:00 pm, Check-out: 12:00 pm
Westfield / Lake Erie KOA
Get Google Directions

© 2020 Kampgrounds of America, Inc.